For decades, music festivals have been popular in different cultures.
Their popularity is increasing over the years as more people realize how magical they can be, and the rush of social adrenaline and memories for their attendees.
If you have a plan to visit one this year, and wondering which one is best among them, to ease your doubt I have listed down best music festivals in the world:
10. Summerfest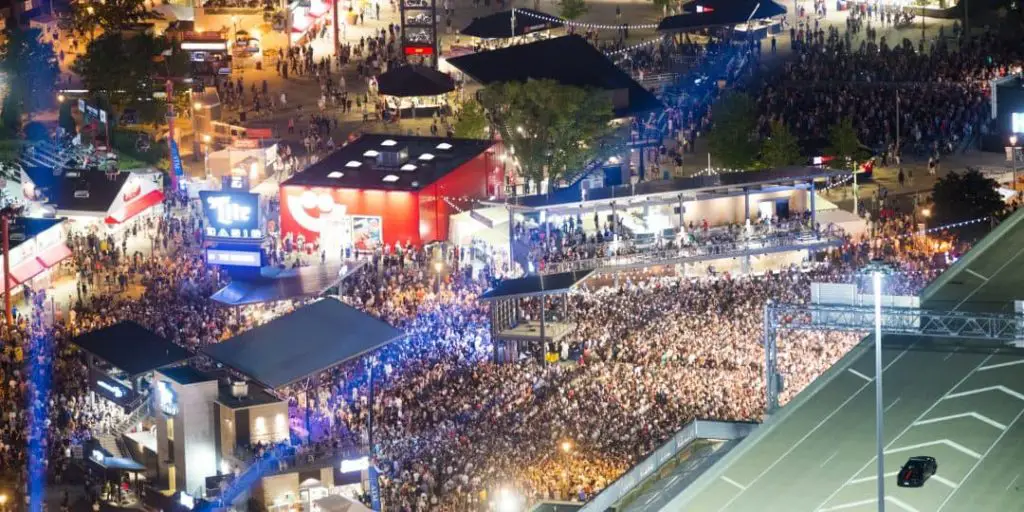 Where: Milwaukee, Wisconsin, United States
When: June-July
Genre: Blues, Contemporary, Country, Electronic, Folk, Funk, Gospel, Hard rock, Metal, Hip hop, Indie, Jam band, Jazz, Pop, R&B, Reggae, Rock.
Crowd: 800,000–900,000
We can term "People's Party" for Summerfest.
As it is, if not one of the best music festivals in the US with a daytime ticket of just $20.
More than 800 events and over 800,000 attendees will be held over 11 days.
Throughout 2016, Paul McCartney led the party, and in 2017 the Red Hot Chili Pepper, Pink, and Bob Dylan celebrated Summerfest's 50th birthday.
9. EDC Las Vegas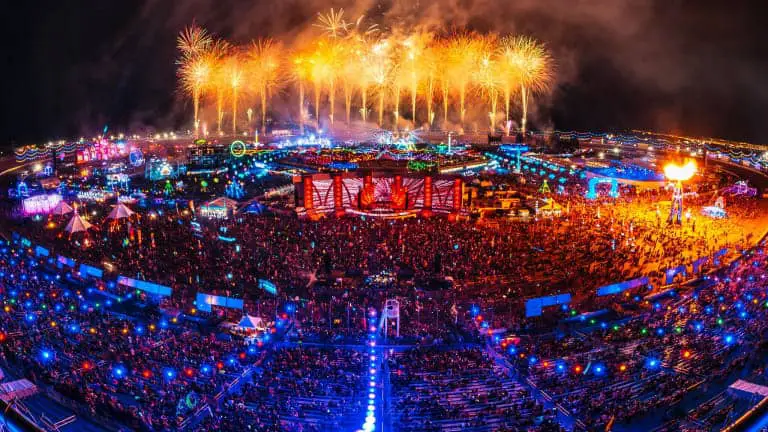 Where: Las Vegas, United States
When: May
Genre: EDM, Dubstep, House music, Techno
Crowd: ~450,000
Electric Daisy Carnival (EDC) Las Vegas is one of the biggest EDM festivals.
This is the flagship festival of the worldwide EDM group and will celebrate in May 2020 for its 23rd year.
You'll be under pressure to find a more dance music temptation anywhere else, year after year curating the biggest and brightest star line-up from across the house, techno, Hip Hop, hardstyle and, of course, EDM.
EDC LV features state-of-the-art production, pyrotechnics and everything else that you can imagine making it the most immersive and commemorative memories possible this year since it moved to its home in Las Vegas motor speedway.
Together with EDC 2013: Under the Electric Sky, which was based on the event, the festival grew from the underground in 2014, in Puerto Rico, Mexico, and New York City.
DJs like Armin van Buuren, Dimitri Vegas and Like Mike have been included in the headliners.
8. Donauinselfest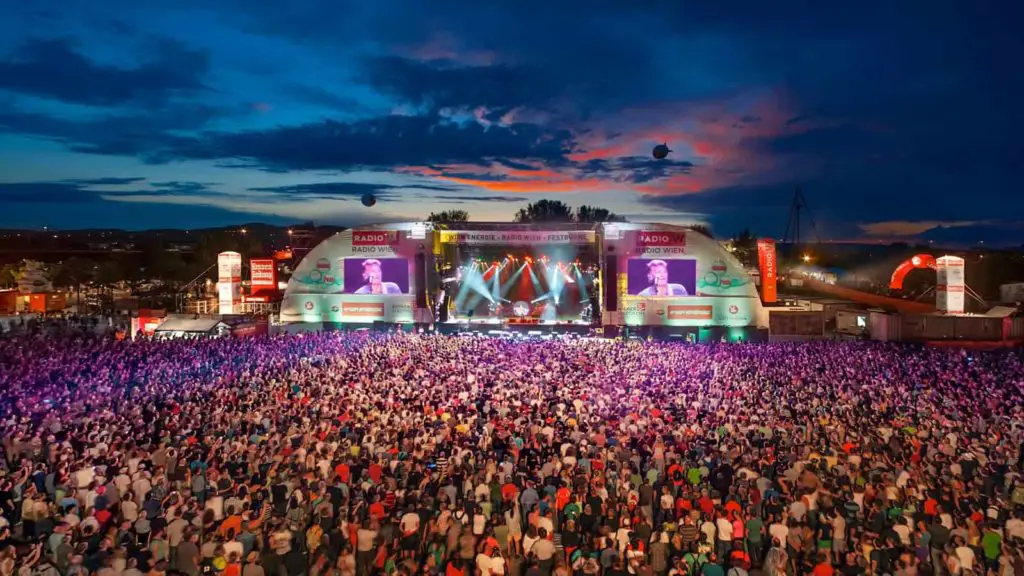 Where: Donauinsel, Austria
When: June
Genre: rock, pop, rap, hip hop, electronic music, swing, folk, and metal
Crowd: 2,000,000 to 3,000,000
Over 2 million festival attendees regularly come to Donauinselfest or the Danube Island Festival.
According to Guinness World Records, visitors during the three days in 2015 exceeded 3.3 million, earning the title of "the biggest music festival in the world."
Since 1983, the open-air festival is organized. At first, the Donauinselfest aimed at promoting the island's recreational area to the local people.
Thanks to the extraordinary number of people, though, it was not only an annual festival but also one of the biggest open-air events in Europe.
In contrast to all the music performances, you should know a few basic elements.
Firstly, the Danube Island comprises several stages 11 to be precise. They divide the island into four areas with about 16 different themes.
So, there will be plenty of sounds to please any musical taste!
7. Lollapalooza Chicago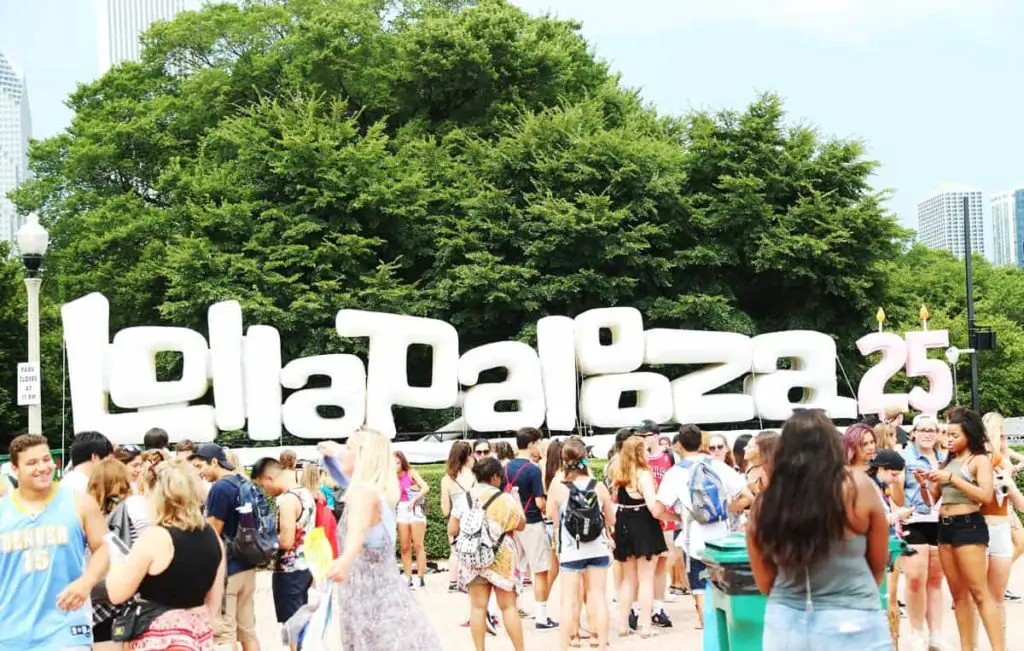 Where: Chicago, United States
When: August
Genre: Alternative rock, heavy metal, punk rock, hip hop, and EDM.
Crowd: ~400,000
Lollapalooza's story began somewhere in 1991. ⠀
From that time until now, it has developed into one of the best music festivals in the world.
Each Lolla lineup makes hands wave, heads nod, and fans shout for their favorite stars.
With eight stages and 170+ bands from all over the world, Lolla has nice photogenic locations, engaging rooms with gifts and lots of merchandise, enough to complete their marketing needs.
Want more? Even there is a mini-fest for your kids.
Chow Town provides the finest of Windy City's favorite restaurants for the festival fare, drinks, and sweets.
With an emphasis on new, reasonably priced items from the city of Chicago, they give their patrons far more than the traditional 'carnival fare.'
One of the greatest things to bring together thousands of people who are passionate and closely related.
6. Rock in Rio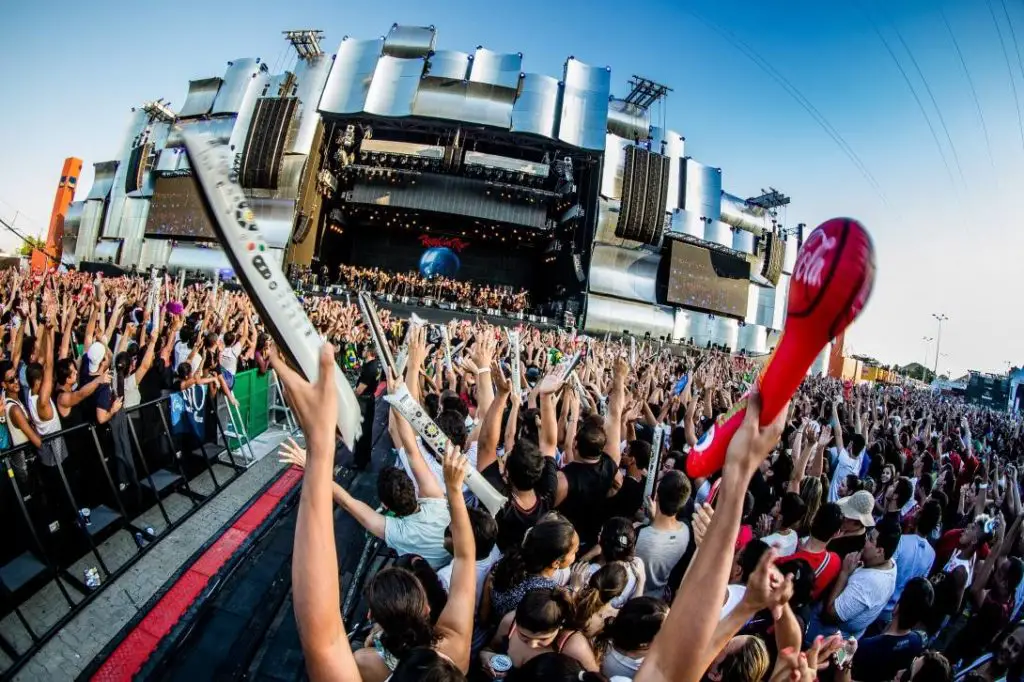 Where: Primiraly Lisbon & Rio de Janeiro (also in Madrid, Las Vegas and Santiago)
When: Sept to Oct
Genre: Rock, Pop music, Indie rock, Heavy metal
Crowd: ~1,000,000 per event
Rock in Rio is a recurring music festival which occurs alternatively in Rio and Lisbon, originating from Rio de Janeiro, Brazil.
It subsequently branched out in other places like Santiago, Madrid and Las Vegas.
Rock in Rio is one of the world's largest festivals with 1.5 million attendees for the first event, 700,000 attendees at both the fourth and second, some 1.2 million at the third event, and approximately 350,000 at each of the three Lisbon events.
In 2019, the city of rock was once again filled with world music icons, not only from the rock but also from pop, funk, soul, MPB, electronic music, and so on.
5. Ultra Music Festival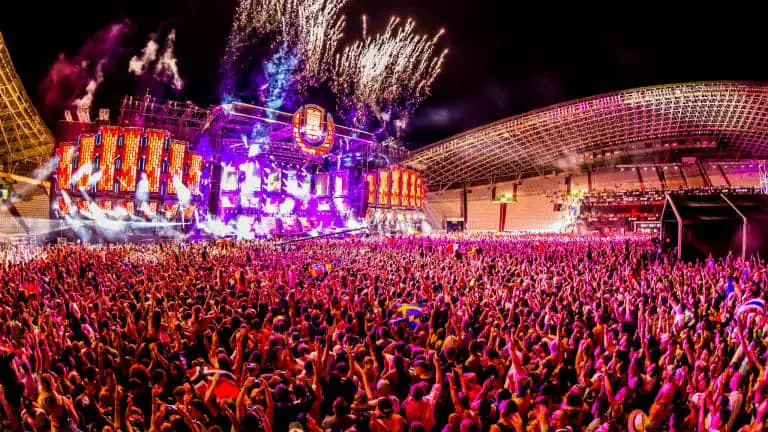 Where: Miami, Florida, United States (+ Worldwide)
When: March
Genre: EDM
Crowd: ~170,000
In 1997, Executive Producer, President, and CEO Russell Faibisch founded ULTRA Live Events, which began with electronic music events that led to introducing the Miami Beach Ultra Music Festival ® in 1999.
Every March, since its start, the international festival celebrated its 20th anniversary on 23-25 March 2018 by bringing over 165,000 music enthusiasts to the sell-out waterfront event in the heart of Miami.
DJ Mag recently voted for the third consecutive year in a world-level #1 Festival.
On 29-31 March 2019, Ultra Music Festival was back in Miami for its 21st annual edition.
Organizers have confirmed the first lineups for the Ultra Music Festival 2020. After months of speculation this year about the venue of the event,
Ultra returns to the Bayfront Park for the 22nd iteration in the coming March.
It has been confirmed that Belgium DJ Amelie Lens as a headline DJ at the event, alongside Adam Beyer, who plays B2B with Cirez D AKA Eric Prydz, Richie Hawtin, and Tale Of Us.
4. Coachella Valley Music and Arts Festival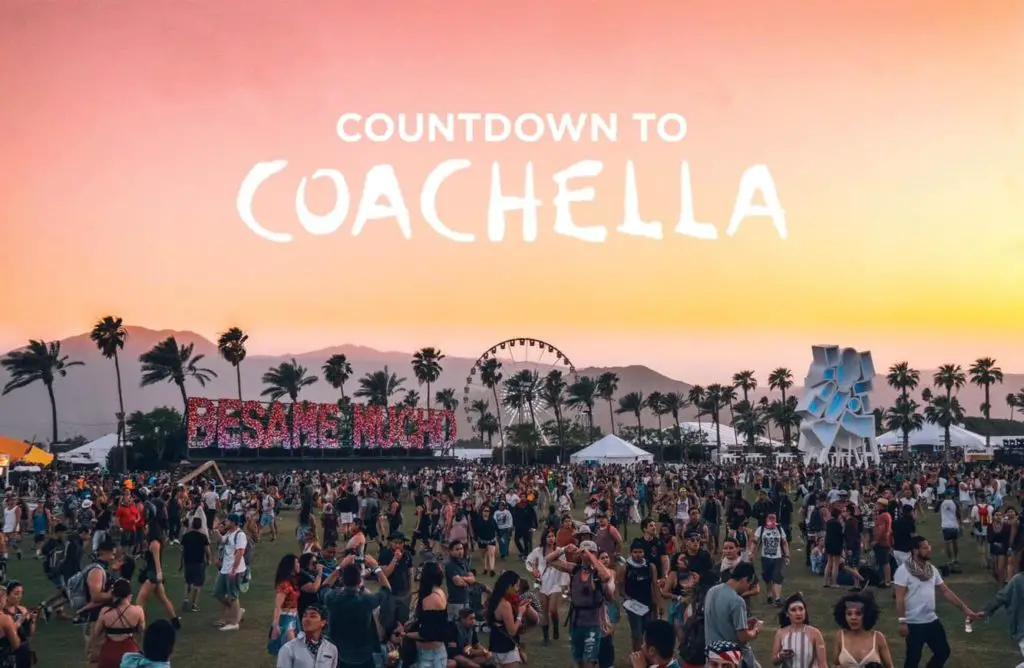 Where: Indio, United States
When: April
Genre: Rock, Pop music, Independent music, Hip hop music, Electronic dance music
Crowd: ~100,000 per day
This festival may only be the most prestigious festival of music out there, as somehow one must have heard of it.
Together with the Empire Polo Club, in Indio, California, this big-league event takes place three consecutive weekends every April annually and is always the subject discussions among music enthusiasts.
The lineup is identical all weekends and is covered in a wide range of genres, which offers a single venue to all types of music fans.
After 2003 the organizers allowed spectators to camp, which contributed to the festival is one of the most impressive even after being skyrocketing in numbers.
The festival facilitates associations between music and visual art with various artwork from the best artists' installations annually.
3. Pol'and'Rock Festival (Woodstock Festival)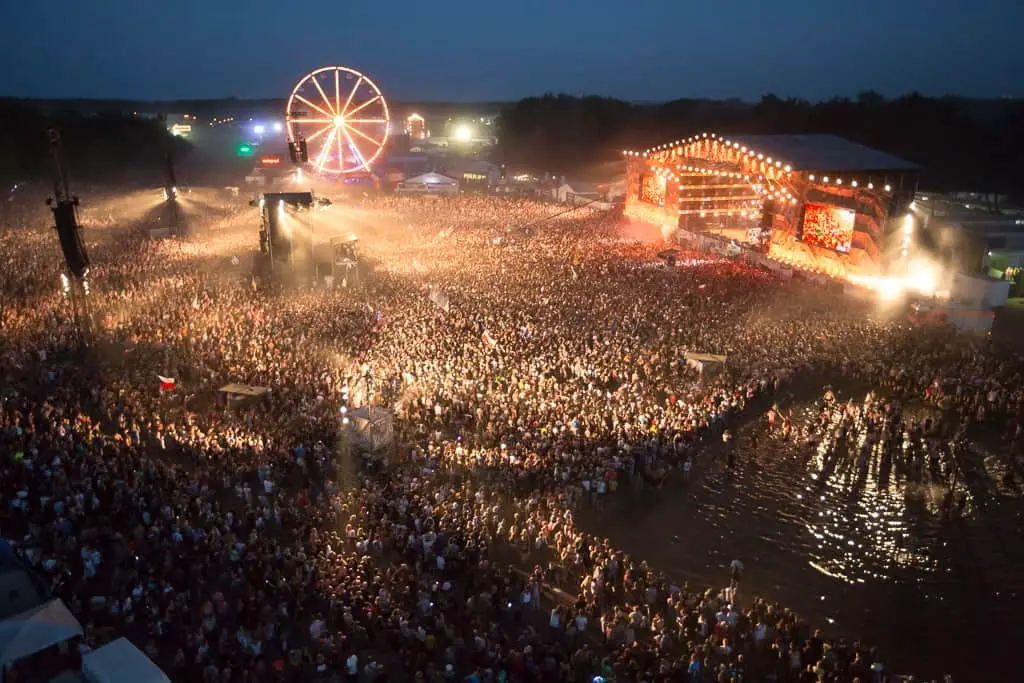 Where: Kostrzyn, Poland
When: August
Genre: Rock, punk rock, reggae, rap core, folk music, heavy metal, electronic music
Crowd: ~600,000 to 700,000
Pol'and'Rock was formerly known as the Woodstock Festival Poland.
It is the second biggest music festival in Europe after the Donauinselfest.
Its uniqueness is that this festival promotes having fun in the dusty mud and sleeping in tents while enjoying outdoor music.
Polish Woodstock is a fitting tribute to rock, pop, metal and folk, named and inspired after the famous New York 1969 festival.
The event has a tradition special vibe of huge crowds and different countries, with headliners like The Prodigy performing for over 1 million fans.
Personally speaking, if you are planning a trip to music festivals in august, Woodstock Festival Poland is the best option.
2. Glastonbury Festival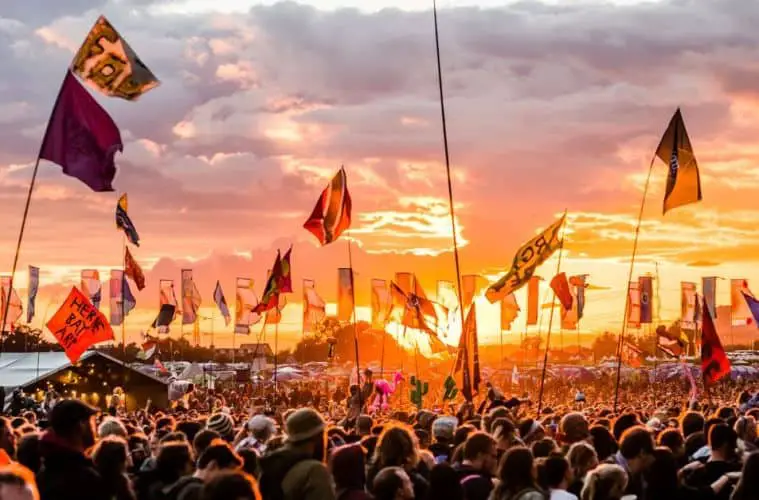 Where: Somerset, United Kingdom
When: June
Genre: Every major genre from rock to minimal house
Crowd: ~200,000
Glastonbury began its long journey to the early 1970s, without surprise emerged as the most popular music festival ever. 
Glastonbury has become a mecca of contemporary music, based largely on the hippie ethic of free art and expression. 
It features many famous artists today, like Kurt Jackson, etc.
In 2011 some 150,000 individuals descended on the Pilton Farm, in Somerset, where they saw headliners Coldplay, U2 and Beyonce's crowd thrilling performance, while the first-ever event was attended by (free) around 1,500 and headlined by The Kinks (1970). 
Anyway, it's amazing to see this change in the core theme of the event.
In 2020, the Glastonbury Festival will celebrate its 50th birthday, with one of the biggest and most ambitious next year's events to date.
1. Tomorrowland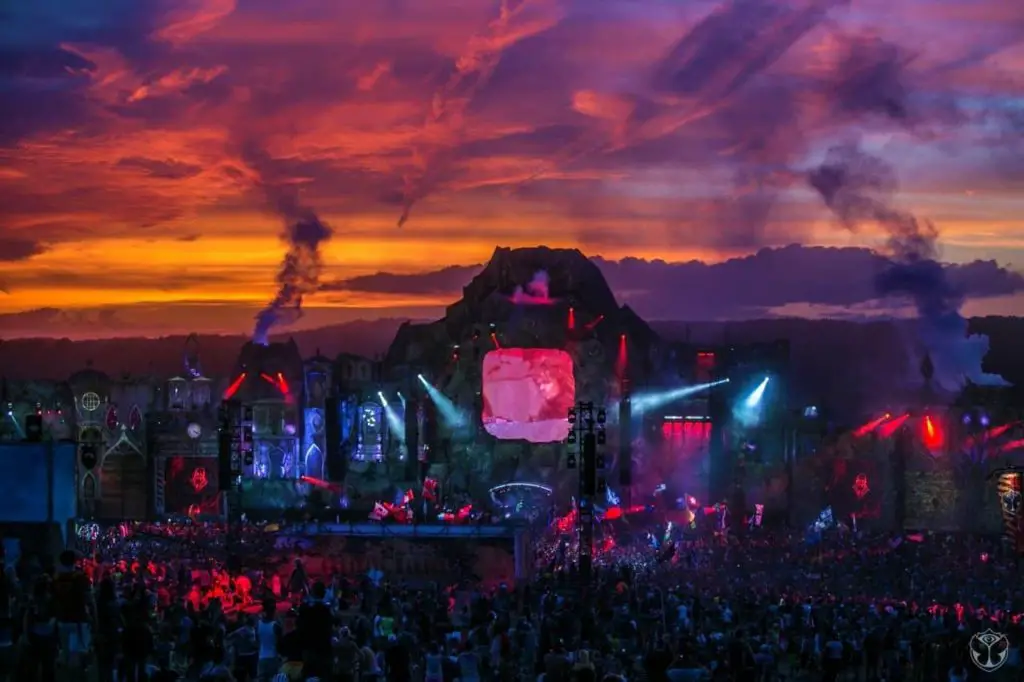 Where: Boom, Belgium
When: July
Genre: EDM
Crowd: ~180,000
Held in Boom, Belgium, Tomorrowland's extravagance and the impressive line-up have been unsurpassable every year as the world's most spectacular music festival.
Tomorrowland first took place in 2005 and is now is the best music festival in the world, not just in the EDM genre but overall.
The event is mostly hosted in July, featuring bands and best DJs in the world like The Chainsmokers and David Guetta, most widely praised, at its line-up for about 2 weeks straight.
The festival of electronic dance music virtually sells out in just a few minutes and is a must-visit experience.
Please do share this post about music festivals with your music freaks on social media.