Top 10 Biggest Vehicles in the World
Are you ready to explore the world's biggest vehicles?
Whether you're a car enthusiast or just love to marvel at the wonders of engineering, this article is for you.
These massive machines are feats of engineering, designed to transport, carry, and move like no other.
Explore the astounding dimensions, remarkable capabilities, and sheer power of these massive machines that push the boundaries of human achievement.
From massive land vehicles to gigantic planes, we've compiled a list of the top 10 biggest vehicles that will leave you in awe.
10. Largest Motorcycle: Leonhardt Gunbus 410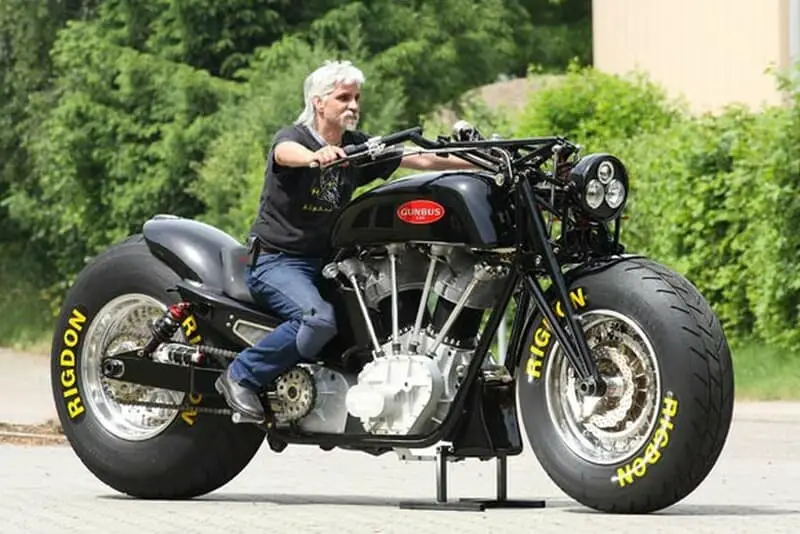 The Gunbus 410 is a motorcycle manufactured by Leonhardt Manufacturing, a German company that is called "the biggest running motorcycle in the world."
The 3.47 m long Gunbus 410 is powered by a 410-inch V twin engine.
The front wheel of the motorcycle and the tire has a diameter of 38 inches and a width of 11 inches and the back wheel has a diameter of 32 inches and 15 inches in width.
The cost of a manufacturing model Gunbus 410 is reported at US$350,000.
This mammoth two-wheeler stands out with its impressive weight of 1,433 pounds (650 kg) and an enormous 6.7-liter engine, the Gunbus 410 is a true behemoth, dwarfing any conventional motorcycle on the road.
9. Largest Bus: Youngman JNP6280G Bus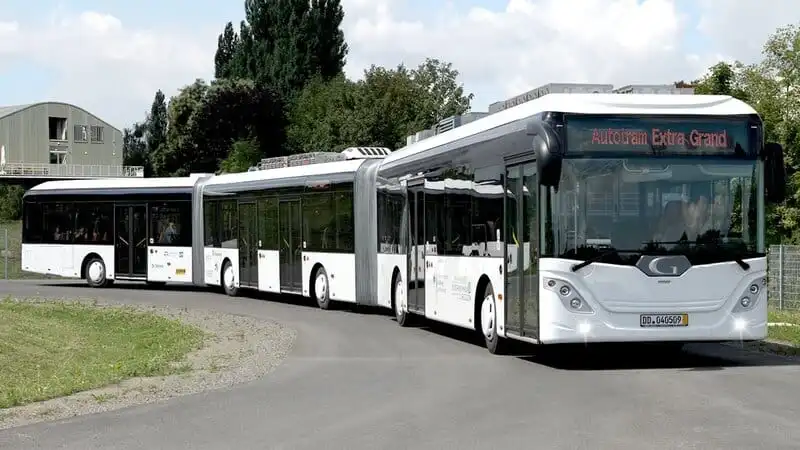 The Youngman JNP6280G Bus is the world's largest bus. It is over 82 feet (25 meters) long and can carry up to 300 passengers. The bus is powered by a diesel engine that produces 600 horsepower. It can reach speeds of up to 65 mph.
The JNP6280G Bus is manufactured by Youngman Automobile Group, a Chinese company. It is primarily used for public transportation in China, but it has also been used for tourism and special events.
It also has a number of amenities, such as air conditioning, Wi-Fi, and a snack bar.
The JNP6280G Bus is a massive vehicle that requires a special license to operate. It is also not cheap, with a price tag of around $1 million. However, it is a popular choice for public transportation in China, where it is used to transport large numbers of people efficiently and comfortably.
8. Largest street-legal off-road vehicle: Mercedes-Benz G63 AMG 6×6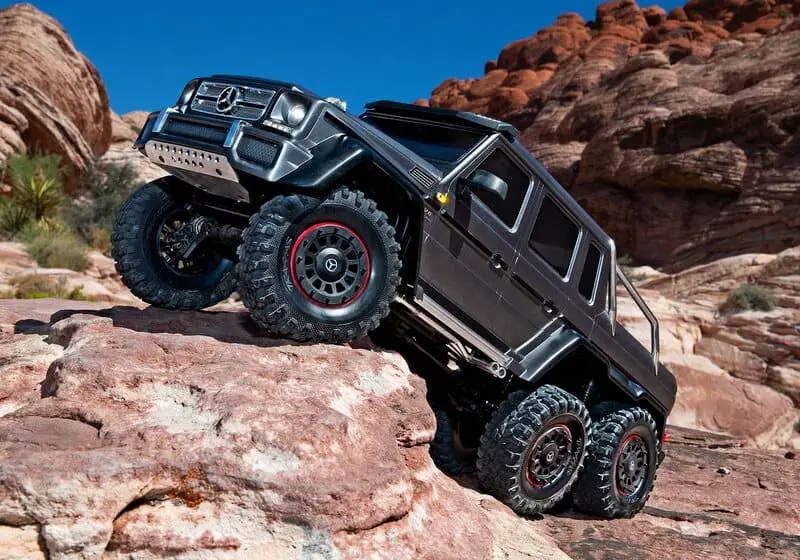 The Mercedes-Benz G63 AMG 6×6 is a massive six-wheeled off-road vehicle that is based on the Mercedes-Benz G-Class. It is over 20 feet long and weighs over 8,000 pounds. The 6×6 is powered by a 6-cylinder Mercedes-AMG engine that produces 563 horsepower. It can reach speeds of up to 60 mph. 
The G63 AMG 6×6 is not street legal in most countries, but it is a popular choice for celebrities and other wealthy individuals who want a unique and capable off-road vehicle. It has been featured in several movies and TV shows, such as "The Expendables 3" and "Fast & Furious 7".
The G63 AMG 6×6 is a luxurious vehicle despite its off-road capabilities. It has a leather interior, a sunroof, and a sound system. It also has a number of safety features, such as airbags and anti-lock brakes.
The G63 AMG 6×6 is a rare and expensive vehicle. It starts at around $500,000. However, it is a popular choice for those who want a unique and capable off-road vehicle that turns heads wherever it goes.
7. Largest SUV: Ford Excursion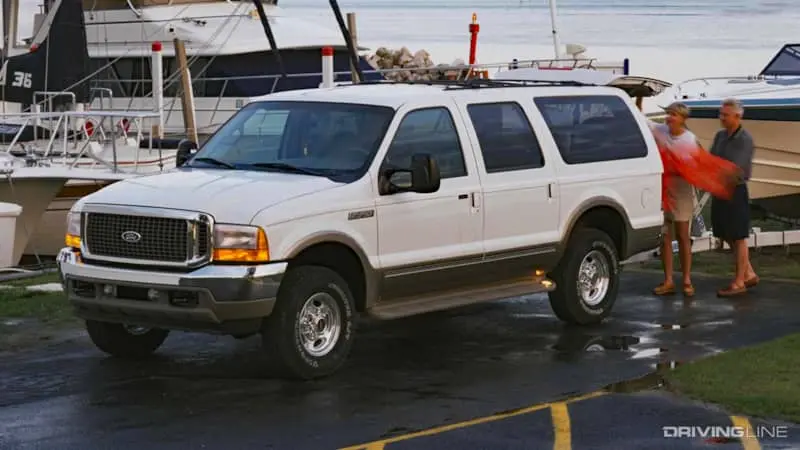 The Ford Excursion is a heavy-duty (Class 2), full-sized SUV that was sold by Ford from 2000 to 2005.
The Ford Excursion was the longest and heaviest SUV ever to enter mass production. It still remains one of the largest SUVs ever produced.
The Excursion was based on the F-250 Super Duty pickup truck and was available with a range of engine options, including a 5.4L Triton V8, 6.8L Triton V10, and 7.3L PowerStroke V8 turbodiesel.
The Ford Excursion is a full-sized SUV with a wheelbase of 137.1 inches (3,482 mm), a length of 226.7 inches (5,758 mm), and a width of 79.9-80.0 inches (2,029-2,032 mm).
Unfortunately, Ford discontinued the Excursion, a large SUV, after the 2005 model year due to its lack of market success and low sales. The size and fuel consumption of the Excursion made it unpopular among consumers and critics.
Fortunately, there are rumours around that Ford is planning to bring back this behemoth.
6. Largest Heavy-Duty Pickup Truck: International CXT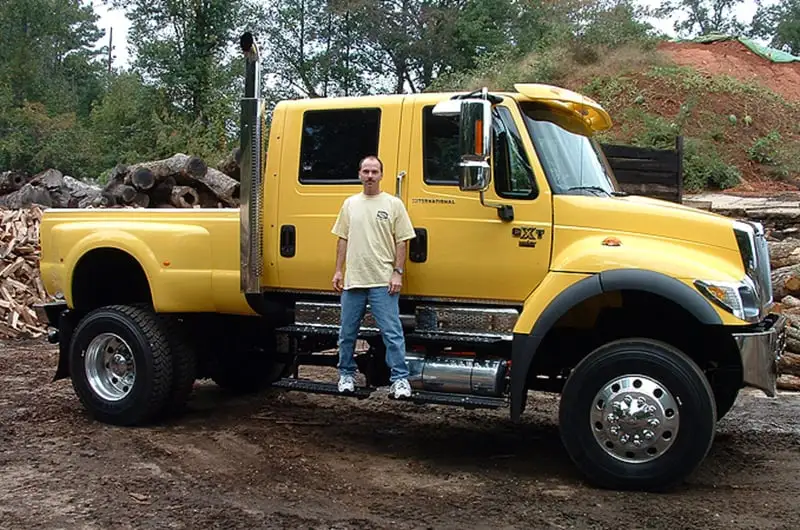 The International CXT (Commercial Extreme Truck) is a large pickup truck produced by Navistar International from 2004 to 2008 as part of the International XT series. It was introduced in September 2004 and was targeted towards business owners as a dual-purpose vehicle. The CXT is based on the International 7300 severe-service truck line and is equipped with permanent four-wheel drive. It was available in either an extended-cab or four-door crew cab configuration.
At 21.5 feet long, 8.5 feet wide, and with a nine-foot-tall roof, the CXT is a truly industrial-strength vehicle. It is one of the largest pickup trucks ever produced.
According to a road test by Motor Trend, they averaged around 8 mpg, city, and highway combined.
5. Largest hovercraft: Zubr-class LCAC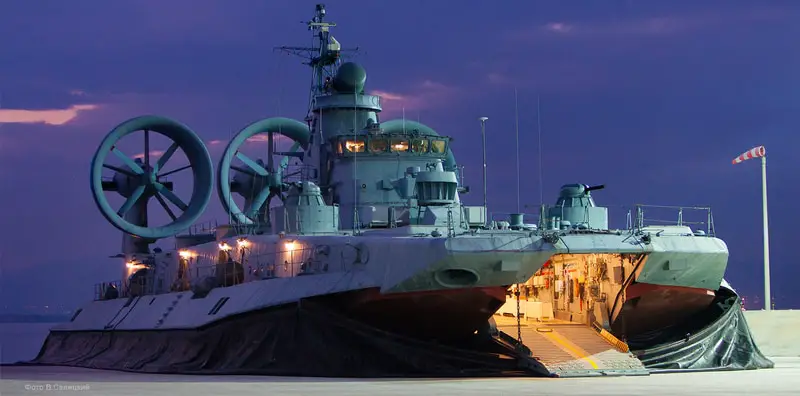 The Zubr-class LCAC is a class of air-cushioned landing craft of Ukrainian design.
This class of military hovercraft is the world's largest hovercraft ever built, with a standard full load displacement of 555 tons.
It is designed to sealift landing assault units from equipped/non-equipped vessels to non-equipped shores, as well as to transport and plant mines.
The Zubr-class landing craft has a cargo area of 400 square meters (4,300 sq ft) and a fuel capacity of 56 tons. It can transport up to 500 soldiers or 130 tonnes of cargo.
4. Largest Crane: XGC88000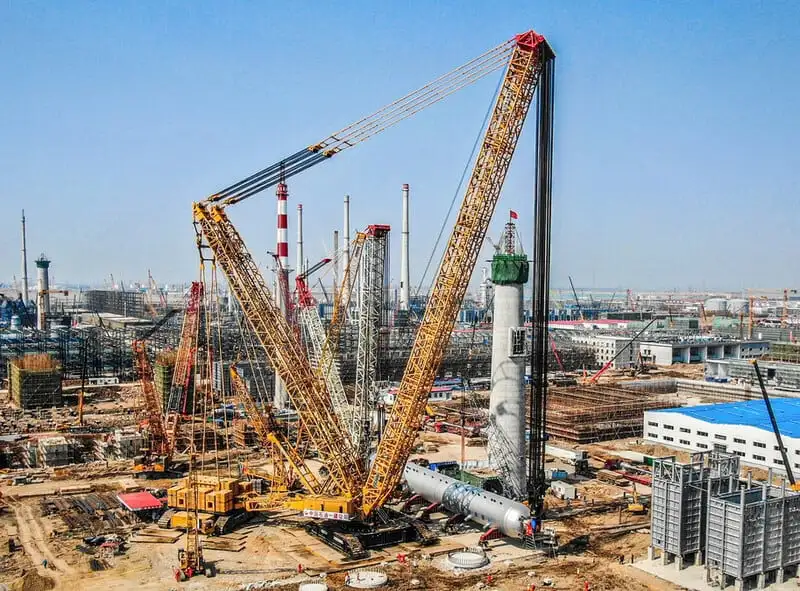 The XGC88000 is an extremely large ultraheavy crawler crane made by XCMG.
It was jointly developed with Chinese oil company Sinopec (China Petroleum & Chemical Corporation) following an agreement signed in 2010.
It has a lifting capacity of 3,600 to 4,000 tons, a total boom length of 144 meters and a total gross weight of 5,350 tons, XGC88000 is a remarkable piece of machinery.
The maximum rated load moment of the XGC88000 crawler crane is 88,000tm, one of the highest among the crawler cranes in the current global lifting equipment industry.
This ultra-heavy crawler crane is designed for demanding lifting operations. It features a maximum boom length of 144 meters, a total length of 173 meters (including the counterweight radius), and a towering height of 108 meters when fully erected. Impressively, the vehicle itself weighs nearly 5,400 tons.
3. Largest Haul Truck: BelAZ 75710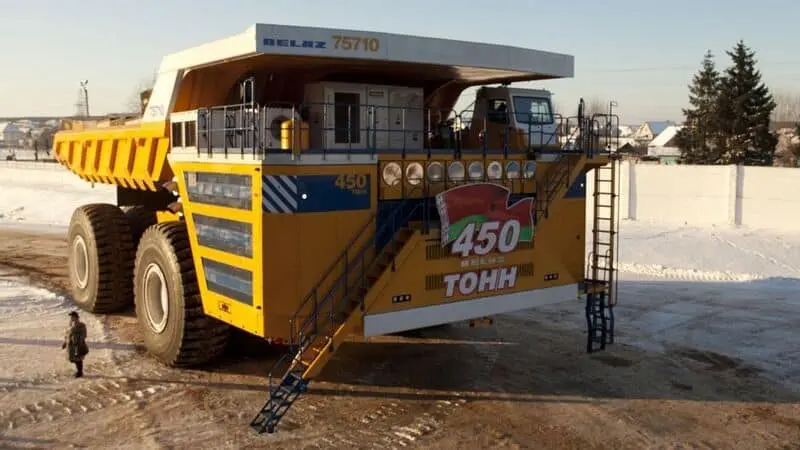 The BelAZ 75710 is an ultra-class haul truck manufactured in Belarus by BelAZ. As of 2023, it was the world's largest, highest payload capacity haul truck. It has a conventional two-axle setup but the wheels are doubled, one to an axle, imitating the 1950s International Payhauler 350. For this reason, it needs two 59/80R63 tires. It also has four-wheel drive and four-wheel hydraulic steering which is unusual. It has a turning radius of about 31 m (102 ft).
This massive ultra class haul truck with a payload capacity of 450 metric tons. It is 20.6 meters long, 9.87 meters wide, and 8.26 meters high. It has a wheelbase of 8 meters and a curb weight of 360,000 kg. The tires are 59/80R63 in size.
BelAZ 75710 maximum claimed speed of the BelAZ 75710 is 64 km/h (40 mph).
2. Largest Crawler Transporter: NASA's Crawler-Transporter 2 (CT-2)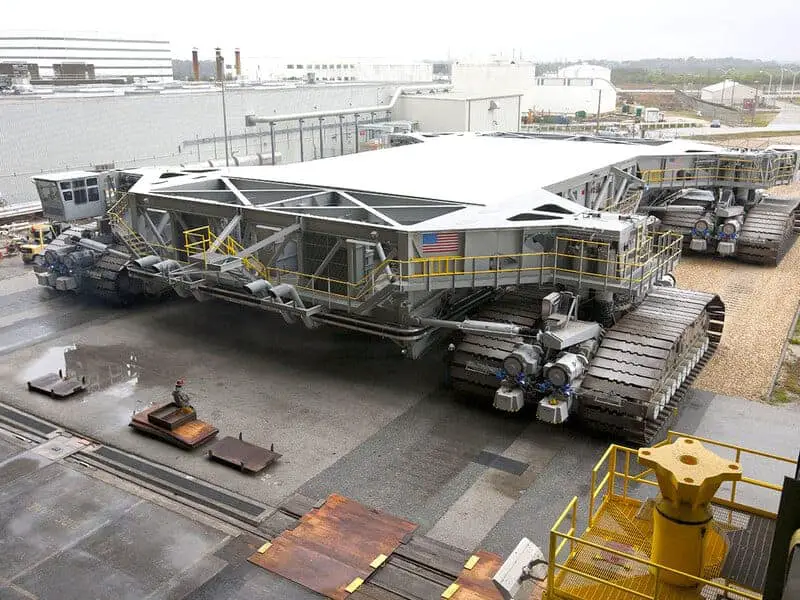 Crawler-Transporter 2 (CT-2) is one of two tracked vehicles used by NASA to transport spacecraft from the Vehicle Assembly Building (VAB) along the Crawlerway to Launch Complex 39.
It was originally used to transport the Saturn IB and Saturn V rockets during the Apollo, Skylab, and Apollo-Soyuz programs, and then used to transport Space Shuttles from 1981 to 20111. Early in 2016, NASA finished upgrading CT-2 to a "Super Crawler" for use in the Artemis program.
CT-2 is one of the largest machines ever constructed; it is 131 feet long by 114 feet wide (39.9 m by 34.7 m) — about the size of a baseball infield — and weighs more than 6 million pounds (2.7 million kg).
1. Largest Terrestrial Vehicle: The Bagger 293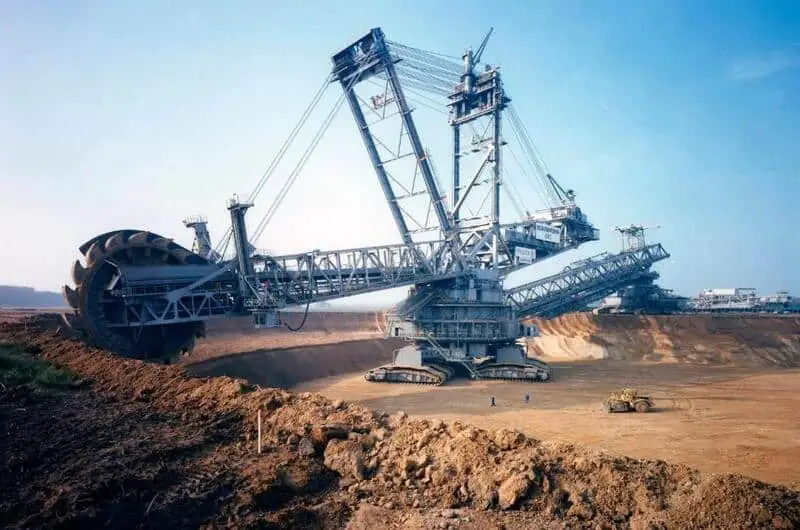 Bagger 293, previously known as the MAN TAKRAF RB293, largest land vehicle in the world, a giant bucket-wheel excavator made by the German industrial company TAKRAF.
It was built in 1995 and is used in a brown coal mine near Hambach in Germany.
It is 96 meters (315 feet) tall, 225 meters (738 feet) long, and weighs 14,200 tonnes (31.3 million pounds). It requires five people to operate and is powered by an external power source providing 16.56 megawatts. The bucket-wheel itself is over 21.3 meters (70 feet) in diameter with 18 buckets, each of which can hold over 15 cubic meters (530 cubic feet) of material.
It has a sibling named Bagger 288 which many claim to be largest vehicle but Bagger 293 is slightly bigger than 288.
Bagger 293 is 96 meters (315 feet) tall, 225 meters (738 feet) long, and weighs 14,200 tonnes (31.3 million pounds), while Bagger 288 is 96 meters (315 feet) tall, 220 meters (721 feet) long, and weighs 13,500 tonnes (29.8 million pounds).
The world's biggest vehicles are truly awe-inspiring machines.
From the massive mining trucks that can carry hundreds of tons of material to the towering aircraft carriers that can house thousands of sailors, these vehicles are a testament to human ingenuity and engineering prowess.
In this article, we have explored the top 10 biggest vehicles in the world.
From the largest land vehicle, the RWE Bagger 288/293, to the largest car Ford Excursion, these vehicles are truly massive.
If you are interested in learning more about these incredible vehicles, I encourage you to do some additional research. There are many resources available online and in libraries that can provide you with more information.