Top 10 Most Expensive House in the World
A house is a place where happiness is celebrated, whether there is someone born or somebody married.
The same applies to the elites, but with a difference.
For the richest in the world, properties for their vast sea of wealth, only represent a drop in the ocean.
Although many of us paddle along with mortgage payments and the like, without thinking a little about the matter, billionaires are free to buy some of the most extravagant and magnificent homes.
Some luxury homes all over the world are not only superb because of their appearance but also because of the amenities, designs, and location.
Wasting no moment, check out this list of the top 10 most expensive houses in the world:
10. Ellison Estate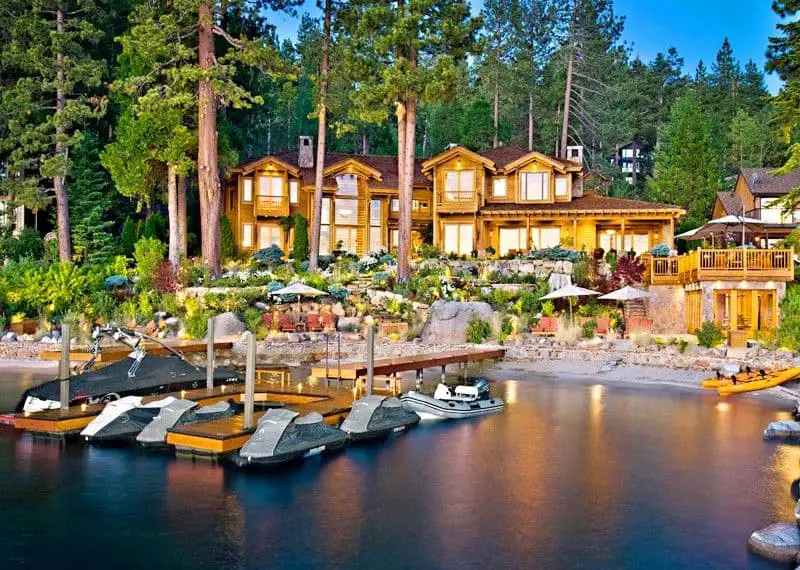 Oracle's co-founder and President, Larry Ellison, and a famous property collector created this Japanese-style property in 2004, which required him 9 years to build.
Larry Ellison is the fifth richest man in the world, with a net worth of $70 billion.
What's so special about this home?
The mansion, designed and built by Paul Driscoll, a Zen Buddhist teacher, and architect, is modeled after 1600 CE Japanese Emperor's Palace.
The apartment consists of three cottages, an exercise facility, eight bridges, two gardens, a five-acre man-made lake, a bathhouse, and a Japanese koi pond.
The landscape of Cherry blossom, maple, and other Japanese species along with pines, oaks, and redwoods cover most of the area.
Speaking about the owner, 
Larry Ellison is the billionaire who owns the most homes than others and has a huge range of property portfolios. 
His holdings include several homes in Silicon Valley, Lake Tahoe, and 98% of the Hawaiian Lanai Island.
9. 220 Central Park South Penthouse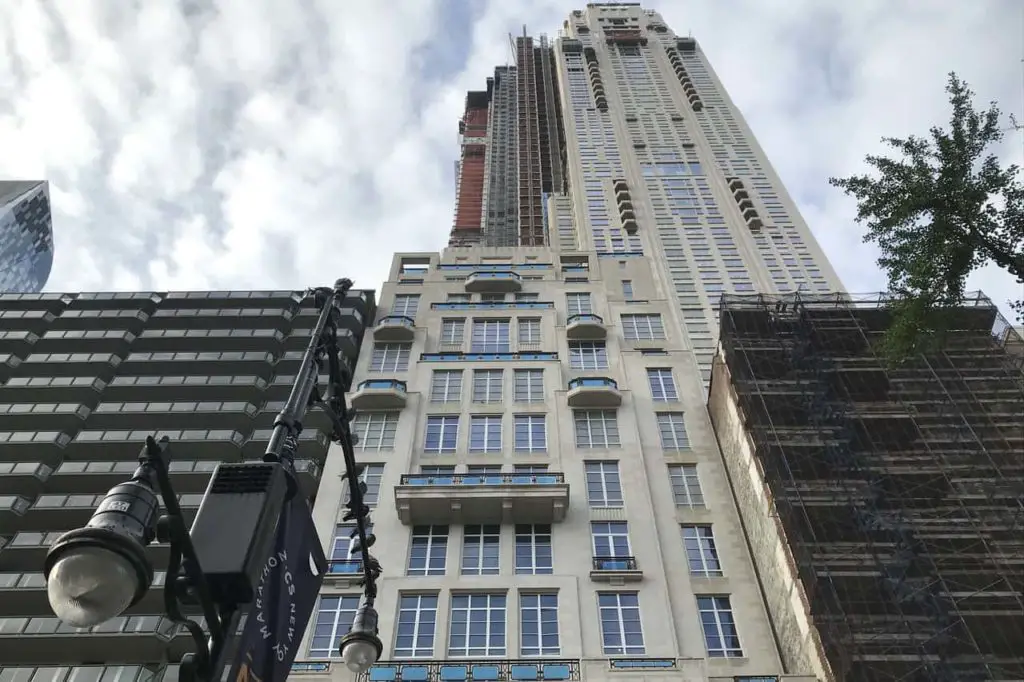 History was made when Hedge fund billionaire Ken Griffin purchased the 24,000 square-foot penthouses overlooking New York's Central Park for $238 million, making it the most expensive home sold in the U.S.
Famous architect Robert A. M. Stern designed the Building: 220 Central Park South.
The 79-story tall skyscraper is unique and distinct compared to other buildings in Manhatten.
Its due to the building is sheathed Alabama Silver Shadow limestone.
The building has lots of luxurious amenities, including a spa, an exclusive sporting club, private dining space, private motor court, and lots of entertainment facilities.
8. Four Fairfield Pond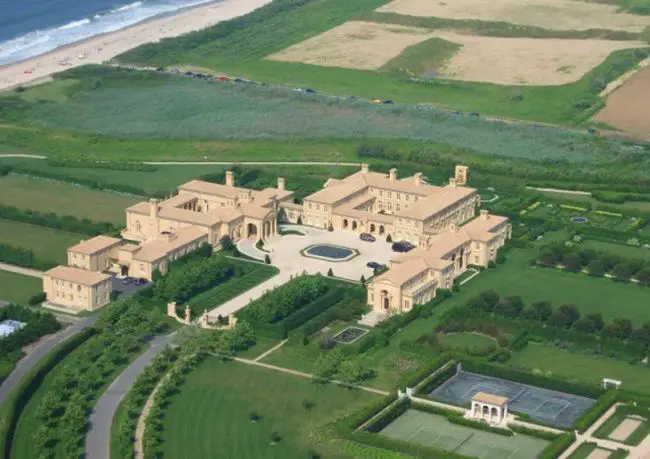 Four Fairfield Pond, Sagaponack, Long Island, New York is the biggest residential compound in the United States. 
American billionaire businessman, and the chairman and CEO of Renco Group, Ira Rennert, owns Fairfield Pond.
Why so costly?
The floor area is approximately 64,000 sq ft (5,900 square meters) and is valued at $249 million for tax assessment purposes.
The manor house has 29 bedrooms, 39 bathrooms, and a big (massive) 91-foot dining room. 
It also has all sorts of luxurious recreational areas, including a basketball court, bowling alley, squash courts, tennis courts, three pools, and a garage with the capacity to hold up to 100 cars. 
The property also features a recreational pavilion and a basketball courtyard, gym, two bowling alleys, two tennis courts.
This home even has its own power plant.
7. Palais Bulles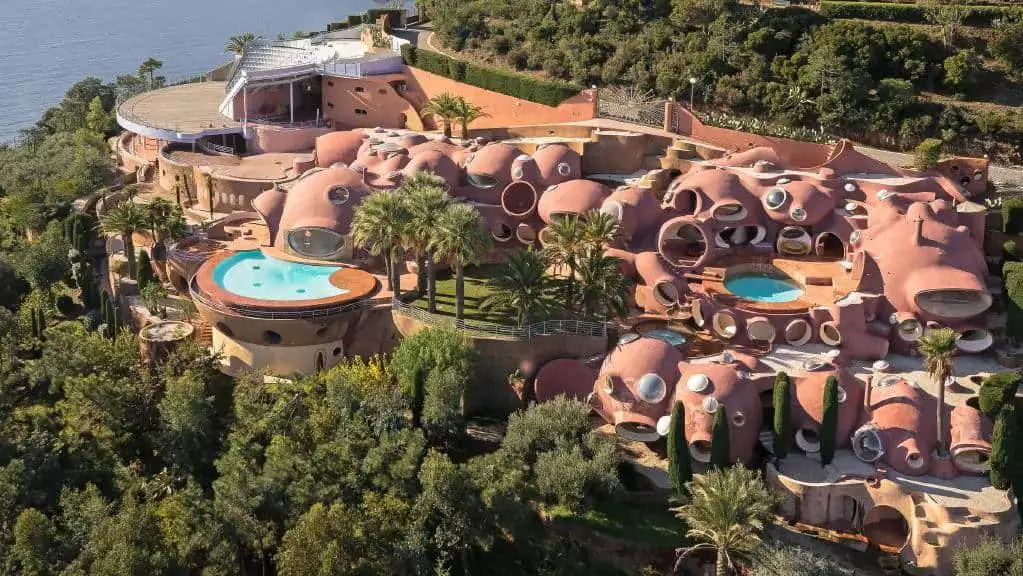 The Palais Bulles, which has been designed by Hungarian architect Antti Lovag and constructed between 1975 and 1989, is a large house at the Théoule-Sur-Mer near Cannes, France.
It was built for a French industrialist and later purchased as a holiday home by the billionaire fashion designer Pierre Cardin. 
What so special?
The Bubble Palace has a range of round rooms, which was designed by Hungarian architect Antti Lovag and built between 1975 and 1989, and overlooks the Mediterranean sea in a rocky cliff.
The architect, Lovag is reported to have been inspired by the earliest dwellings on caves (could be a possible reason behind its unusual design).
Located by the seafront estate, with three pools, a number of gardens and an amphitheater on the hillside grounds, the house is not short on modern "comforts".
As a holiday home, Pierre also uses his spectacular venue for lavish parties and events.
Once Dior hosted to display his cruise collection there at an indoor/outdoor fashion show. 
Its name is derived from a number of round rooms overlooking the Mediterranean Sea.
6. Odeon Tower Penthouse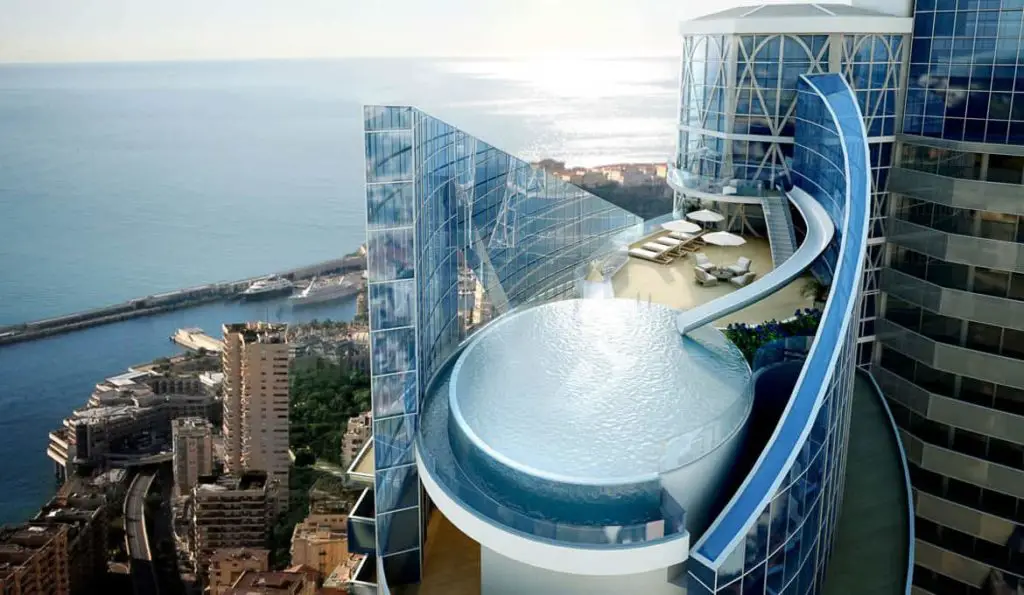 The five-story penthouse covering 35,500 square foot area is one of the world's most expensive properties if valuated per square meter.
It is located in the second tallest building on the European Mediterranean coastline.
The Tour Odeon "Sky-Penthouse," takes luxurious lavish living to new standards.
The majestic penthouse stands above the azure waters of the Mediterranean.
Odeon Tower penthouse has unparalleled 360-degree views over the ocean with an amazing outdoor infinite circular roof swimming pool linked to the balcony by a water slide.
How much does an apartment in Monaco cost?
There are no cheap apartments in Monaco, but for those who are looking to save money, most buildings that have less desirable landscape views have a much lower price. 
The rent starts from around €3,000 per month for 1 bedroom apartment to €12,000 per month for 3 bedroom apartment.
Speaking about buying properties price can start around €60,000 per square meter.
Why is Monaco real estate so expensive?
Monaco is the second smallest country in the world, with a total area of just 2.1 square kilometers.
There is no shortage of rich billionaires willing to pay a hefty price to enjoy this European tax haven.
So naturally, there is an extremely high demand for property with very low availability resulting in skyrocketing of real-estate prices.
The cost of living in Monaco infact is 60.84% higher than in the United States.
5. Witanhurst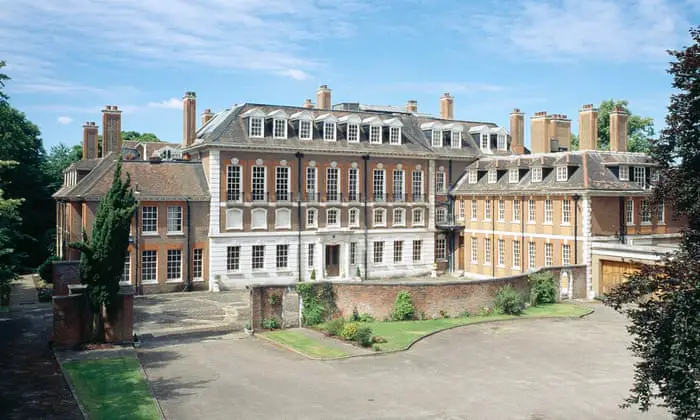 The second most expensive and second-largest mansion in London is currently in renovation.
It is expected that Witanhurst has a total interior area of approximately 90,000 square feet, with an estimated value of 450 million dollars.
Witanhurst is a 25-bedroom mansion with a 70ft-long ballroom and gild and echoed the grandeur of Versailles.
It is said that the yellow, blue, and gold ceiling of the mansion alone took six months to paint.
A 3-story Georgian 'Orangery' addition features a basement with massage rooms, a gym, and an Olympic sized swimming pool.
Once the restoration is complete, it spreads over 90,000 square feet area.
'Now, following years of neighborhood speculation, rumored that Russian President Vladimir Putin was the owner of the mansion.  
But according to British writer named Ed Caesar,
The new buyer is Andrey Guryev, the 28th wealthiest man of Russia to build a UK safe haven for his family with a fortune of £2.6 billion.
4. Villa les Cèdres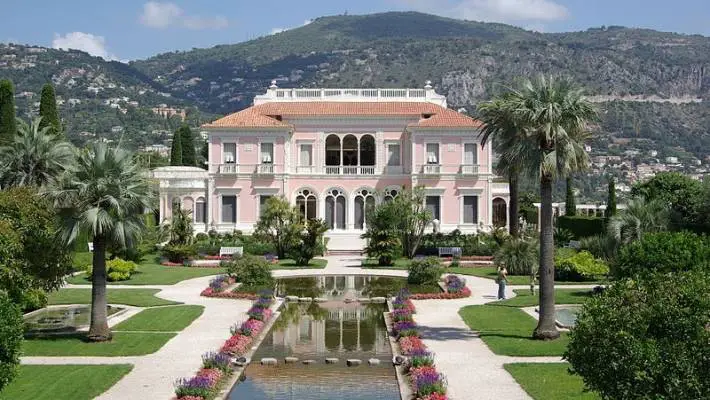 Villa Les Cèdres is a 187-year-old 14 bedroom mansion covering 18,000 square foot area.
Surrounded by beautiful 35 acres of manicured gardens, 15,000 plants, and 20 greenhouses, the property is full of rare tropical flora and one of Europe's finest gardens.
A beautiful ballroom and stables with up to 30 horses also feature in the palatial home.
It also has an Olympic pool for the buyers wishing to stay fit.
There are many reasons for Property's extremely high cost like rich history, prime location near the coast of Saint-Jean-Cap-Ferrat, and ultra-luxurious amenities.
Speaking about history,
Les Cèdres was originally operated as an olive tree farm before the mansion was built in 1830 and was bought in 1850 by the mayor of Villefranche-sur-Mer (still there are 300 years olive trees around).
Belgian King Leopold II brought the property from the mayor's descendant in 1904.
3. Villa Leopolda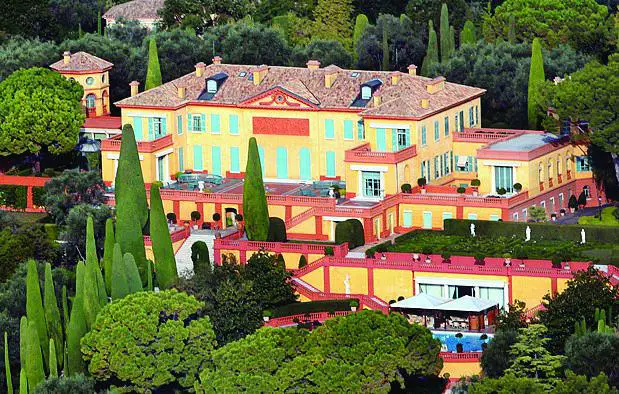 A huge greenhouse, a pool house, an outdoor kitchen, and a guest house are part of the 50-acre countryside estate.
Currently, Villa Leopolda is owned by the Russian Mikhail Prokhorov who, on August 8, 2008, purchased the mansion for EUR 300 million.
The mansion is located a few kilometers from the Mediterranean city of Nice, in the hills of Villefranche-sur-Mer and Beaulieu-sur-Mer.
A garden surrounds it with nearly 8 hectares and various olive, citrus and orange trees, and requires over 50 full-time workers to maintain.
The mansion covers a massive space of 400 square meters along with 12 swimming pools.
The major mansion has 19 deluxe rooms, 14 bathrooms, classic vintage furnishings and terraces.
Sports courts, a bowling alley, and even a cinema are also available.
It also contains precious marble and antiquity artwork, as expected.
It was shown in numerous TV programs and was published in Forbes magazine as one of the prominent properties of European history.
In 1955 Hitchcock classic – To Catch a Thief, the house was used as a set.
2. Antilia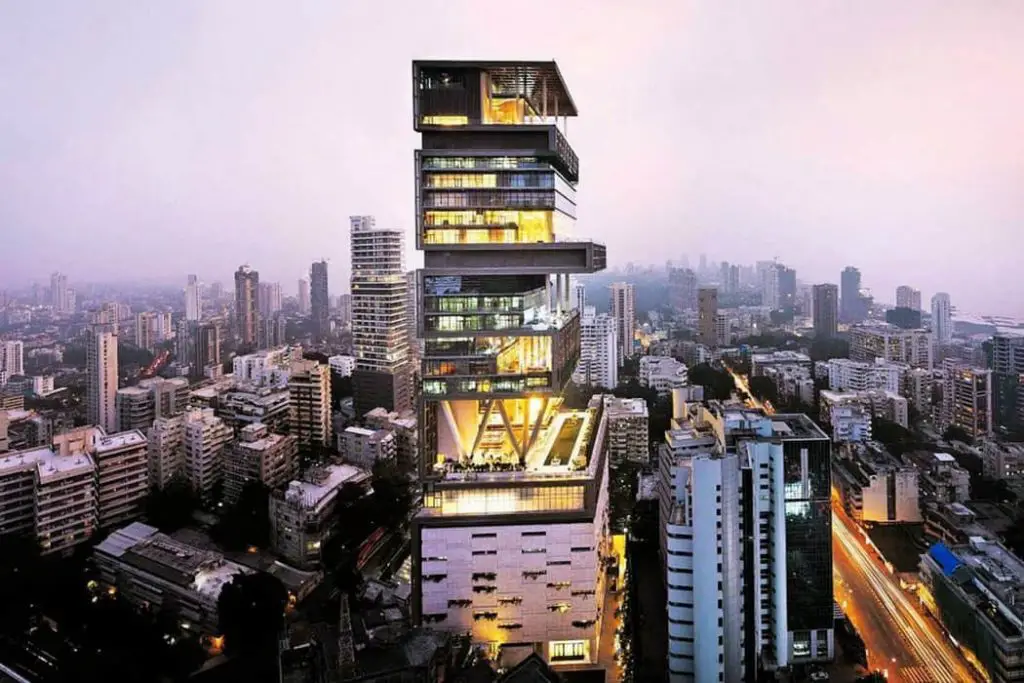 The Antilla is located in Mumbai, India, and is built and owned by the richest person in India, Mukesh Ambani.
US architecture firms Perkins and Will & Hirsch Bedner Associates consulted the project and Leighton Contractors initiated the construction task and later, was completed by B.E. Billimoria & Company Ltd.
Why is Antilia so expensive?
According to our analysis, there are three major reasons for Antilia's high price,
Antilia is located in the 10th costliest area in the world, Altamount Road, South Mumbai and covers 400,000-square feet area.
The building's structure 27 stories high, but its actual height of 570 feet is closer to that of a 40-story building. Each unique floor has a lot of high ceiling space (a space of standard 2 floors) with many expensive recreational facilities instead of building steel and concrete structures. It's a funny fact that Antila, technically, is a skyscraper, but it has a lot of garden space on its floors.
Both interiors and exteriors are made up of super-expensive materials.
Antilia can actually survive a Richter earthquake of 8.

What is inside Antilia?
The Tower is equipped with six floors devoted to car space (up to 168 car capacity), a service station, three helipads, and nine high-speed elevators.
The building comes with 27 floors, replete with extra-high ceilings.
There is a big temple where the family prays regularly, a host of guest suites, a salon, an ice-cream parlor, and a private movie theatre that can accommodate 50 people, there is even a snow room.
Antilia is also the tallest single-family house in the world (excluding space for 600 staff).
Considering all the amenities and locations mentioned above, Antilia is the most expensive house in the world valued at upwards of $1 billion.
1. Buckingham Palace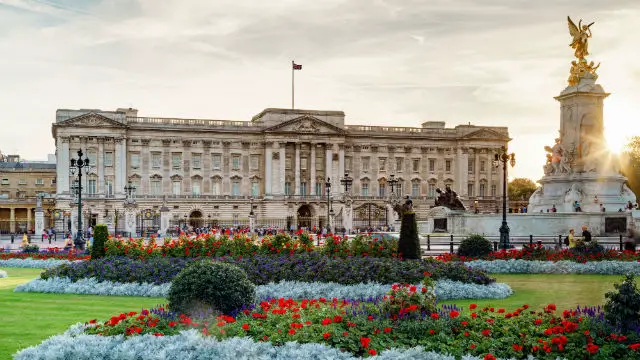 The most expensive home in the world is in London and is owned by Queen of England, it's no surprise!
The palace has a stunning neoclassical architecture, which King George IV has favored.
The Buckingham Palace we see today is designed by Architect John Nash designed in 1826.
The palace is surrounded by a central courtyard with three wings.
Queen Elizabeth II is living here today, although her spouse and children live elsewhere.
Moreover, the closest to Buckingham Palace in the United States, the White House, is worth $425 million on the Zillow real property website.