10. Two ICC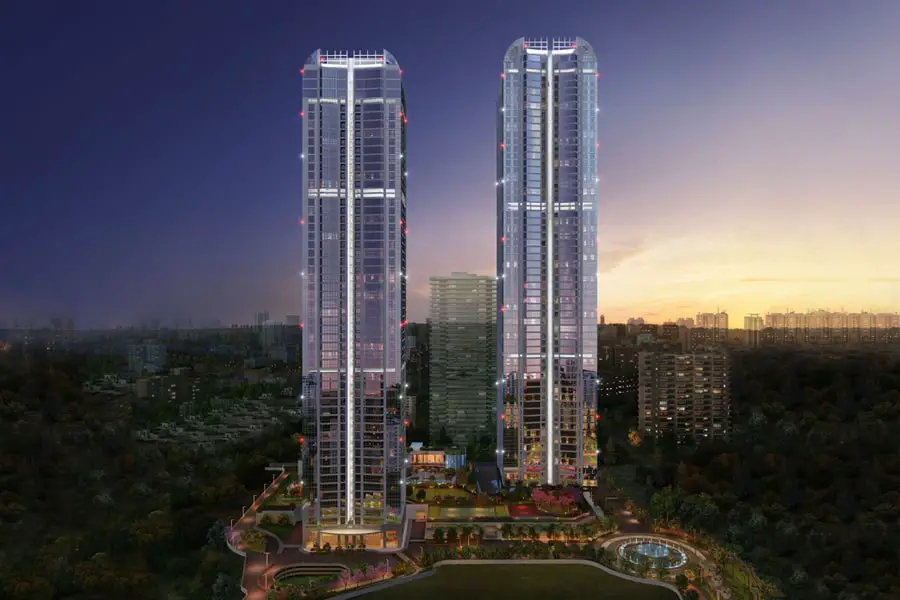 Two ICC also knew Bombay Dyeing Two ICC developed under the Bombay Realty projects in the year 2019. Constructed with a height of 198 meters having around 60 floors. The "Two ICC" project consists of a total of 426 units in a well-planned building. It includes various amenities within the boundary that are available in this project are Well-equipped Gyms, intercom facility, service, and passenger elevators that adds the luxury of this project. There is an Ample parking space for residents and visitors, a clubhouse, power backup, swimming pool.
9. Auris Serenity Tower 1 and Tower 2
Auris Serenity is a beautifully conceptualized residential project from the Sheth Group located at Malad West. Auris Serenity towers were inaugurated in the year 2015 with a height of 235 meters/771 ft of both the Tower 1 and 2. It has 4 towers of 54 floors by occupying prime land of 8 acres for each one. Facilities are abundant such as kids play area, a multipurpose hall, 2 swimming pools, 2 clubhouses, gyms, daycare centres, a meditation centre, 7 level car parking, and retail space comprises of 2 levels.
8. Crescent Bay Tower 6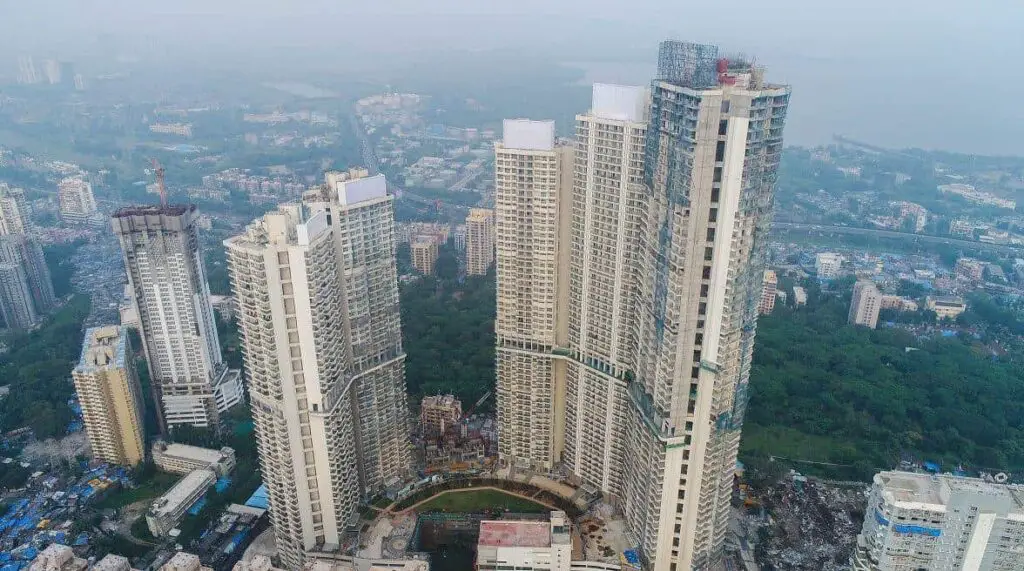 Crescent Bay tower has constructed by the L&T company which is located in Mumbai with the Arabian sea as the background. Crescent Bay is a top-notch urban quality residential complex. Crescent Bay Tower is constructed with a height of 239.7 meters up to the tip level with 62 floors above the ground. The major amenities of the building are it has the multi-level parking, the sky deck with associated amenities on level 21, high-speed elevators. Also, it has several entertaining amenities like shed calories at the gym, exciting games on the court, an Indoor games arena, clubhouse, and other recreational ones.
7. One Avighna Park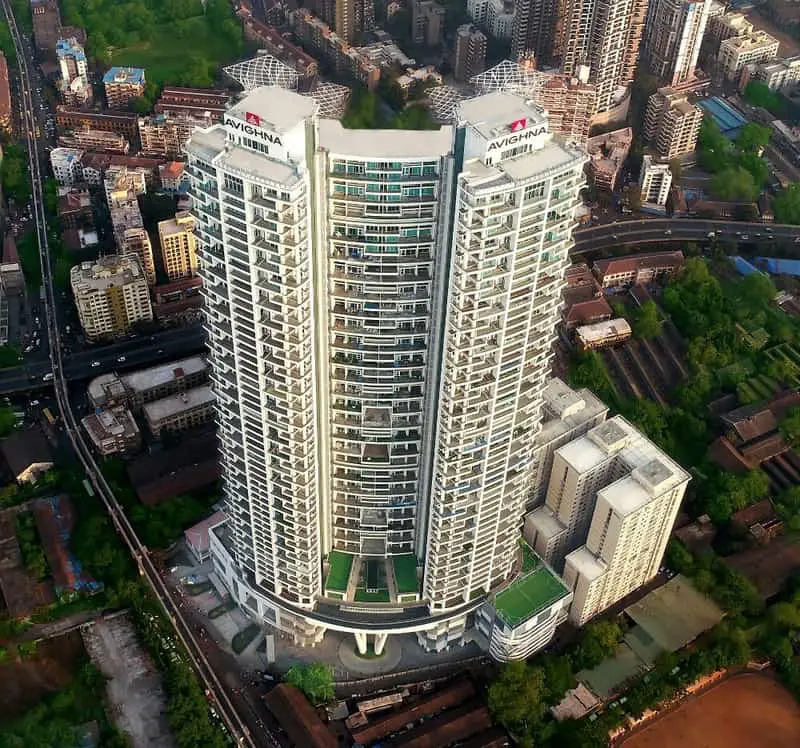 One Avighna Park is twin 61-storeyed luxury residential towers which are also located in Mumbai developed by Avigna India Ltd. One Avigna Park comprises a height of 260 meters and 61 floors which were started in the year 2017. The building is spread across 3 levels with different amenity zones with the Elevated Jogging Track. There are also entertainment avenues like 3 Swimming Pools with Cabanas, Amphitheater, Movie under the sky and a Private Mini Theater for Adults., Indoor Badminton, Basketball, and Squash courts, Multi-Purpose Turf for cricket and football, Dedicated Spa & Salon for the residents, Outdoor Kids play area.
6. Ahuja Towers
Ahuja Towers is located at Prabhadevi, Mumbai which was constructed by L&T and opened in the year 2015. Ahuja Towers had been built with a height of 248 meters. It has 53 floors of magnificent residence rising over to 750 ft. There will be a connection between buildings and surrounding environments. The building consists of many big malls, restaurants, Swimming pools, Jogging areas, Separate entry for residents and services, Sea View from apartments, and other entertainment places that made them an attractive residential destination. The locality is also famous for possessing some of the best schools and hospitals, located nearby.
5. The 42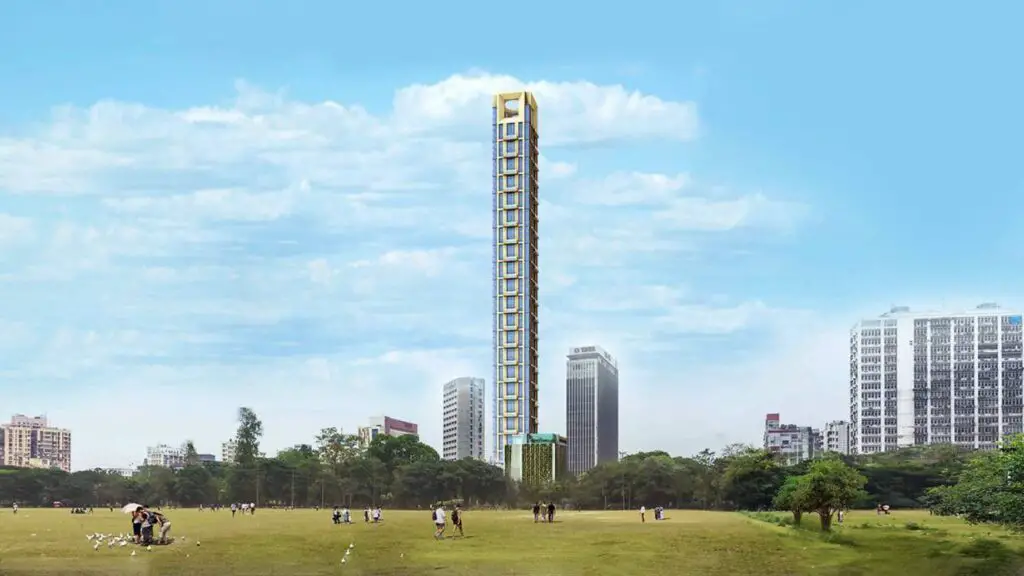 The 42 is a skyscraper which is located in Kolkata used for residential purpose. In Kolkata, it is located in Chowringhee, which is the central business district of the city. The project was proposed in the year 2008, but the construction was started 2 long years later. Through this ultra-luxury apartment, one can view a 360-degree panorama view of the city. Construction of this magnificent project was completed in 2019 with a height of 268 meters. It also has 62 floors, with a tip and top floor height 268 mt. and inaugurated in 2019.
4 & 3. The Imperial I and Imperial II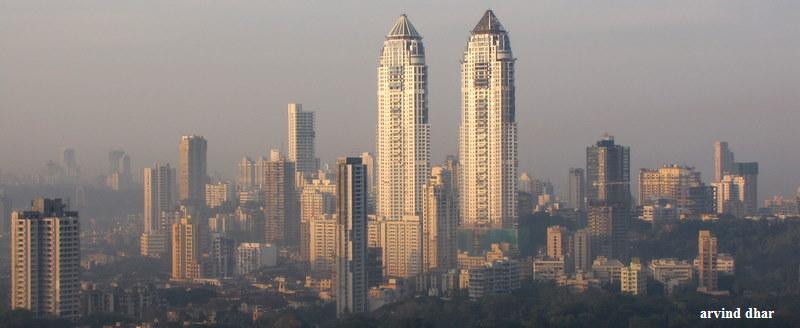 The Imperial is a twin-tower ultra-luxury residential skyscraper complex with the modern style which is designed by Architect Hafeez. It was inaugurated in the year 2010. Using the modern urban redevelopment model that provides free land and rehabilitation for slum dwellers in exchange for property development rights, this project was the first implementation of this type of model on a large scale. There are two towers namely, Imperial I and II with a height of 256 meters and 60 floors each and there are 17 elevators in the building with a top speed of 6 meters/second. 
2. Three Sixty West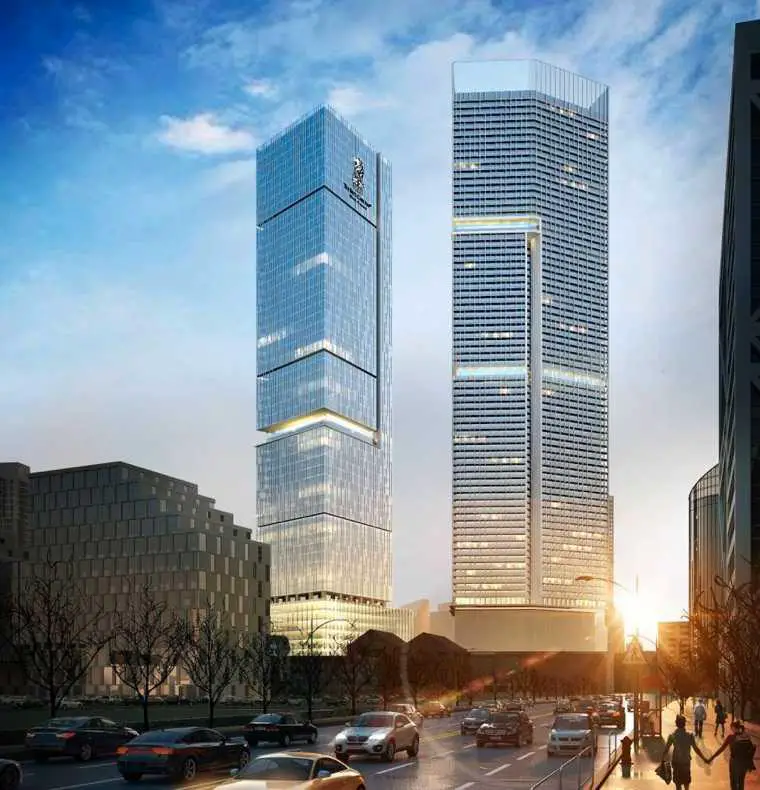 Three Sixty West is a skyscraper that is located in the city of Mumbai. The project had developed under "Oasis Realty", a joint venture of Sahana and Oberoi Realty. Three Sixty consists of two towers that are joined at the ground level by a podium. Tower A is a hotel with private residences which is located in Tower B will be 260 meters height with 53 floors. The Taller one, Tower B, is with a height of 372 meters and 85 floors. There will be a podium that will accommodate various amenities such as restaurants, ballrooms. Tower A will be occupied by the Ritz-Carlton, and Tower B is for private residences.
1. Lodha the park 1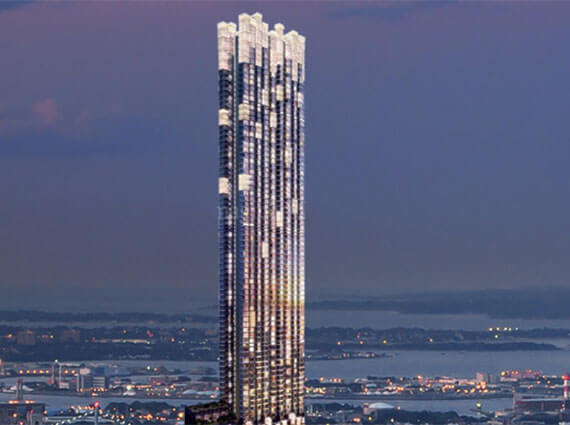 The Park or Lodha Park is located at the South Mumbai's prime locale, Worli. Lodha Park is with a height of 268 meters and 78 floors. It includes premium deluxe hotels, residential/commercials, entertainment hubs, luxury retail malls. Also includes green landscapes that are set on a 70 feet tall 'hill' of 7 acres. The 7-acre park, which is a private one, is inspired by the greatest urban parks in the world. The Lodha Group launched the "The Park" project in September, and the launch was spread across Dubai, Mumbai, Delhi, Kolkata, Pune, Ahmedabad, and Surat. Lodha Park is designed to provide a rich landscape experience in a 17-acre.