10. Yuva Express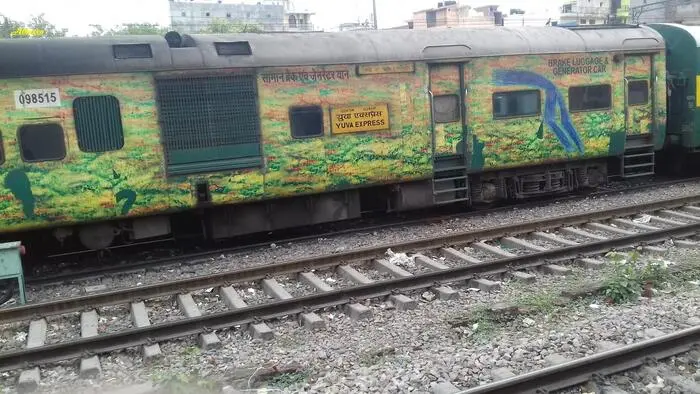 Former Railways Minister Mamata Banerjee, along with the Duronto Express, established the Yuva Express train series in the 2009-10 budget. They were designed to provide air-conditioned, low-cost travel for the country's youth. Sixty percent of the train's seats are earmarked for students, low-income organizations, and those between the ages of 18 and 45. To use this service, a traveler must show proof of age and income. A copy of the documents must be presented while making the reservation, and a second set must be carried throughout the trip for verification by ticket checkers.
9. Superfast Express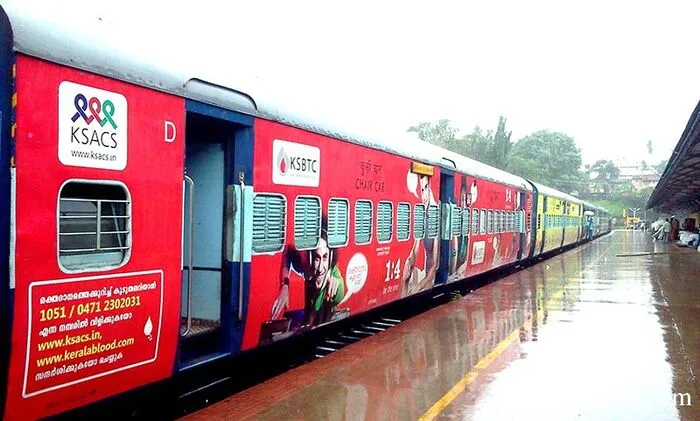 The Indian Railways' Superfast Trains are a series of express trains that make fewer stops while skipping the intermediate ones, shortening the journey time. Because of the superior service given to commuters, Superfast trains have a higher rate than regular express/passenger trains because they include a "superfast fee." The Superfast Train travels at a speed of 45-70 km/h with a maximum speed of 130 km/h. A total of 1016 Superfast Express trains are currently in service. With an average speed of 72 and a top speed of 110, the 12908 Maharashtra Sampark Kranti Express, which operates between NZM and BDTS, is the fastest non-Shatabdi, non-Rajdhani superfast train.
8. Jan Shatabdi Express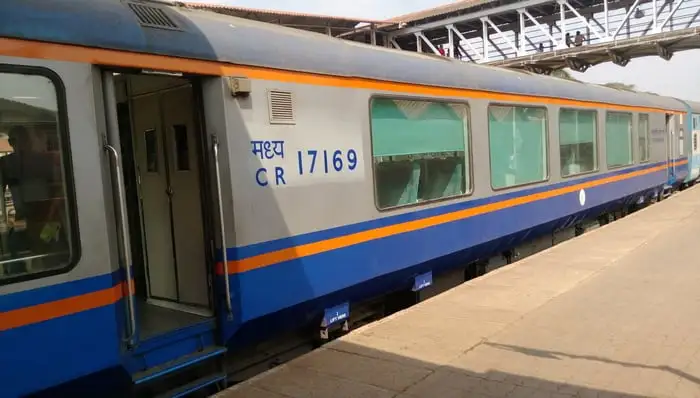 The Jan Shatabdi Express is a less expensive and more cost-effective counterpart of the Shatabdi Express. The term 'Jan' is used to describe ordinary folks. Inter-city ultrafast trains connecting large metropolitan centers, with low-cost lodgings. Jan Shatabdi Express Trains The Shatabdi Express is an affordable variant of the Shatabdi Express that offers Air Conditioned Chair Car, Second Class Seating, and Unreserved classes to passengers. Though it has a lower priority than trains like the Rajdhani Express, Shatabdi Express, and Duronto Express, it has a higher priority than Indian Railways' Mail, Express, and Superfast Express trains. This train can go at a maximum speed of 130 km/hr.
7. Tejas Express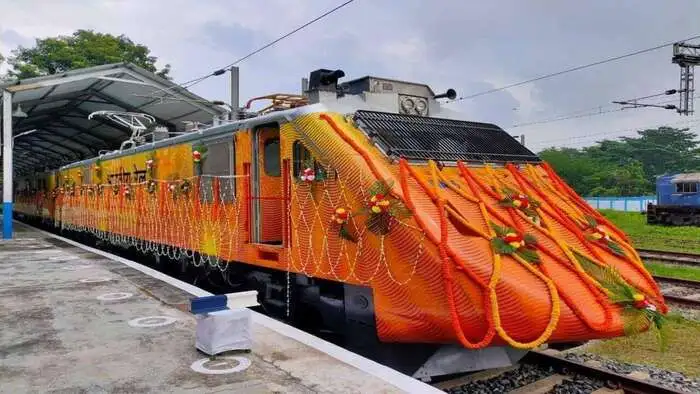 Indian Railways introduced the Tejas Express, a semi-high-speed, fully air-conditioned train. It has state-of-the-art onboard facilities, including automatic doors. In various Indian languages, Tejas denotes "sharp," "luster," and "brilliance." It is one of India's three semi-high-speed trains, together with the Vande Bharat Express and the Gatimaan Express. At the moment, four trains are running. Tejas Express made its first journey from Mumbai's Chhatrapati Shivaji Maharaj Terminus to Karmali, Goa, on May 24, 2017. In 8 hours and 30 minutes, it traveled 552 kilometers. The train is meant to go at a maximum speed of 200 km/h (120 mph), however due to track and safety limits, the maximum operating speed is just 130 km/h (81 mph). The train is now traveling at a 65 km/h average pace (40 mph)
6. Garib Rath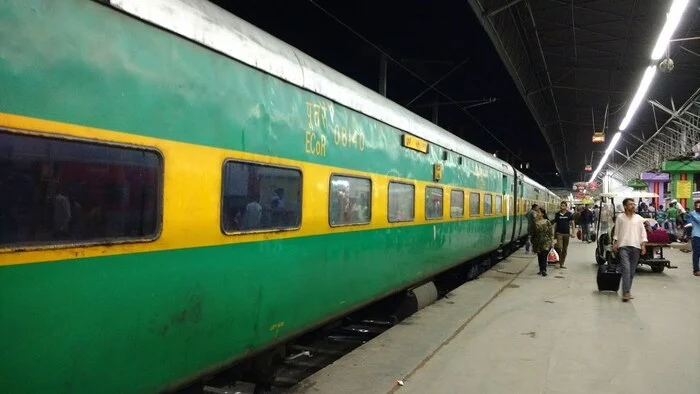 The Garib Rath introduced by Indian Railways in 2005 to provide subsidised air-conditioned long-distance travel to customers who could not afford regular-fare trains, is a no-frills air-conditioned train. When compared to other trains, the space between each seat or berth is very small, the seats and berths are also narrower, and each coach has more seats and berths than air-conditioned coaches in other trains because the fares are less than two-thirds of the fares for air-conditioned classes in other trains.  It is substantially faster than Superfast Express trains and has a higher priority. Garib Rath trains have a top speed of 130 km/h, which is comparable to Rajdhani and Duronto.
5. Duronto
The Indian Railways' Duronto Express is a type of long-distance non-stop source to destination train. Initially, there were no ticketing stops between the origin and the destination on these trains, but since January 2016, tickets can be purchased at such technical stops. In Bengali, "Duronto" means "very fast." These trains' coaches feature a distinctive yellow-green livery with a bi-meaning signature: a field full of flowers with a river flowing through it, and a youngster running through the fields, which represents the meaning of Duronto. The Duronto Express service connects India's major metros and state capitals. There are now 24 pairs on the field. One of India's fastest trains is the Duronto Express. The trains will travel at a maximum speed of 130 km/h.
4. Shatabdi Express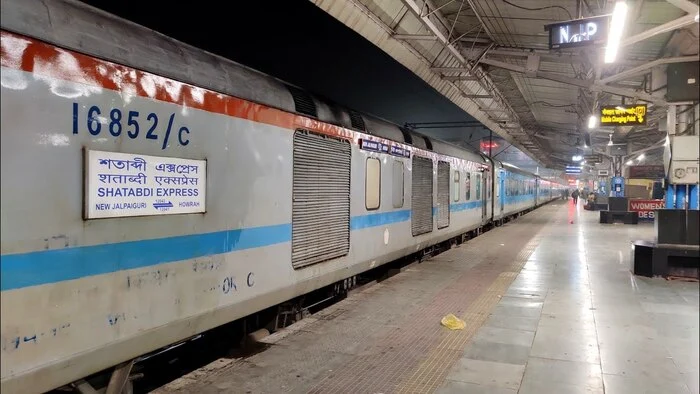 Indian Railways' Shatabdi Express trains are a series of fast passenger trains that connect the metro cities with key cities for tourism, business and pilgrimage. Shatabdi Express trains run every day and return to their starting station the same day. Trains of the Shatabdi Express travel short to medium distances. All of the trains in the series have a top speed of around 130 km/h (81 mph). The 12001 Bhopal Shatabdi express reaches a top notch speed of 155 km/h (96 mph), making it India's fourth fastest train.
3. Rajdhani Express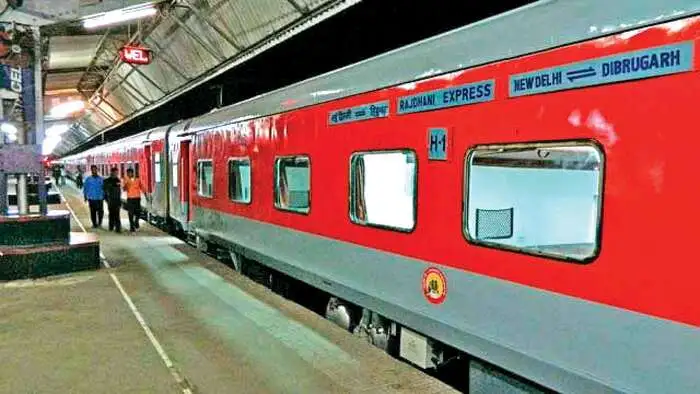 The Rajdhani Express is a passenger train service in India run by Indian Railways that connects New Delhi, the country's capital, with the capitals and biggest cities of other states. This train series is consistently given the highest priority in the Indian Railways network and is regarded as the company's most prestigious train. They have central air conditioning. During the voyage, passengers are offered optional meals (the cost of which is included in the train fee). These could include morning tea, breakfast, lunch, high tea, and dinner, depending on the length and schedule of the trip. These trains make fewer stops than conventional express trains, only stopping at major stations. It can travel at a top speed of 130–140 km/h.
2. Gatimaan Express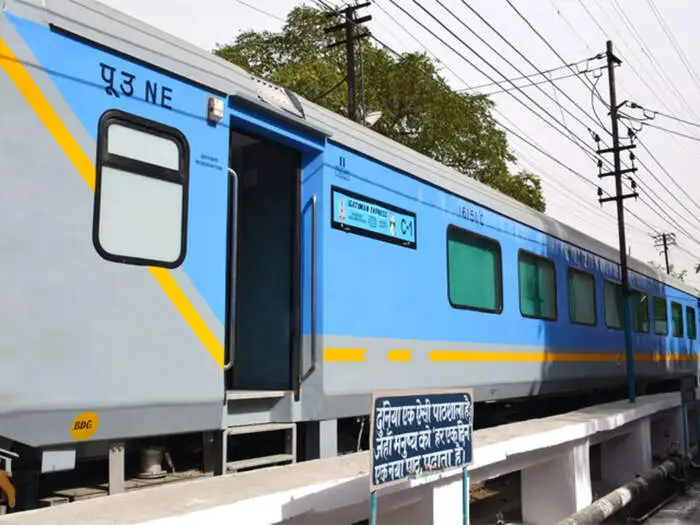 Gatimaan Express is India's first semi-high-speed train, with a top speed of 160 km/h and is now the country's second fastest train after Train 18. This high-speed train connects New Delhi and Agra in 1 hour and 40 minutes, covering a distance of 188 kilometers. It connects India's two most popular tourist attractions at a super-fast speed of 160 km per hour. It is India's fastest train, featuring features like fire alarms, bio-toilets, automatic sliding doors, and a passenger information system based on GPS. This train, like airlines, has train hosts. Passengers will also have access to multimedia programming and complimentary Wi-Fi. North Indian and South Indian vegetarian and non-vegetarian meals are both provided.
1. Vande Bharat Express
Train 18 popularly known as Vande Bharat Express, is an Indian semi-high-speed intercity electric multiple unit. Integral Coach Factory in Perambur, Chennai, designed and manufactured it over the course of 18 months as part of the Indian government's Make in India project. The super-fast train, which has a top speed of 180 km/hr, is limited to 160 km/hr on the train lines for safety reasons. Train 18, also known as the Vande Bharat Express, is the country's fastest engineless self-propelled train and is expected to cut travel time by 15%, or 4-5 hours. It is the successor to the Shatabdi Express, which has been in service for 30 years.