We well know European and Japanese companies for their emphasis on handling, but the traditional American approach was about power.
In the 1960s, American automakers stocked the biggest engines, which they could find in the smallest, lightest chassis.
It was a time when performance was just as important as smartphone connectivity today and American muscle cars were born.
Although they appear to perform the same thing, there are quite a few differences between muscle and car.
The average observer won't find much difference.
But if you are all about speed (and power), here are the top 10 fastest muscle cars: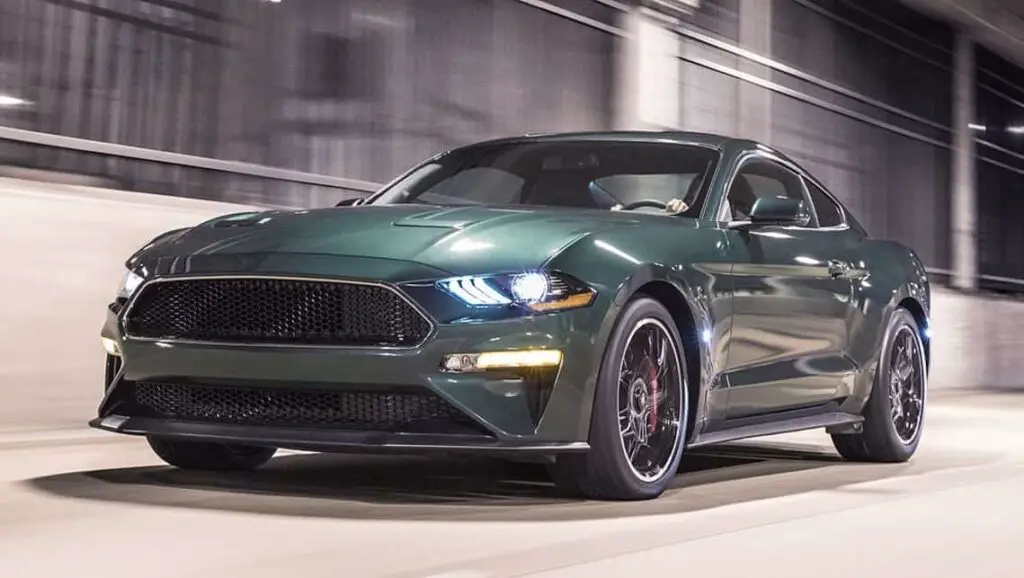 The Bullitt Edition is a great ride car, which can be enjoyed every day, with the perfect balance between performance improvements and desirable features. Ford's 5.0-liter V8 engine produces 480 horsepower.
Thanks to its larger throttle body and an intake borrowed from the Shelby GT350, the Mustang GT has a slight bump.
One of the major reasons why the Bullitt is cemented everywhere in the minds of the muscle car lovers is because of its distinctive exterior style and nothing changed in the decades since the original car was on a big screen.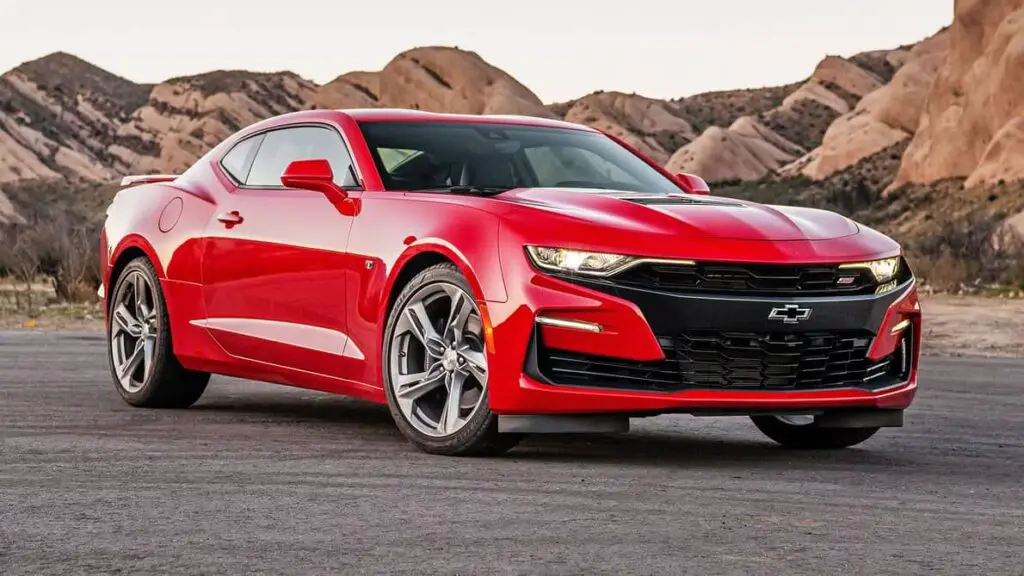 If Camaro ZL1 is the purest version of speed, Chevy Camaro 2021 is mainly aimed at the driving experience.
With 455 hp power and 455 lb-ft of torque, the Camaro LT1 and SS feature Chevy's iconic V-8 small-block engine.
Its enormous low-end torque, linear power supply, and neck-breaking accelerations are enhanced by the optional dual-mode exhaust that bursts out with deep heavy sound at startup thunderous chest-pounding sounds when throttled at full-on fast speeds.
Its robust design gives precise handling and a feel of quality.
At high speeds, the balanced ride is firm enough to be agile on steep turning roads as well as on rough surfaces.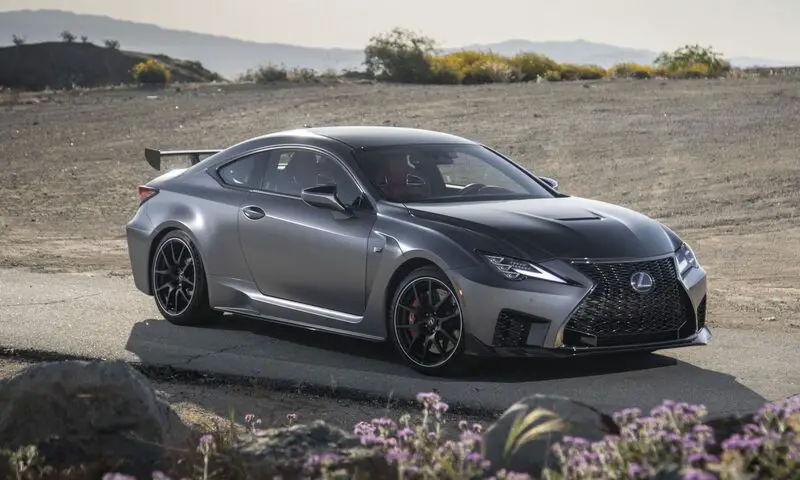 Lexus is quite popular majorly for 3 aspects: highly stressed engines, new technology, and the continuously updated series of their models that are in pace with their competitors.
German, British, and American automobile brands have been limited to V-8s, supercharged sixes, and overworked four engines through iteration after iterations.
However, Lexus holds its ground and sells more cars with a familiar 3.5-liter V-6 that is naturally aspired and keeping it's 5.0-liter N/A V-8 alive.
The most recent RC F leads to new levels of design and performance, making it powerful and lighter than ever.
7. Dodge Charger Scat Pack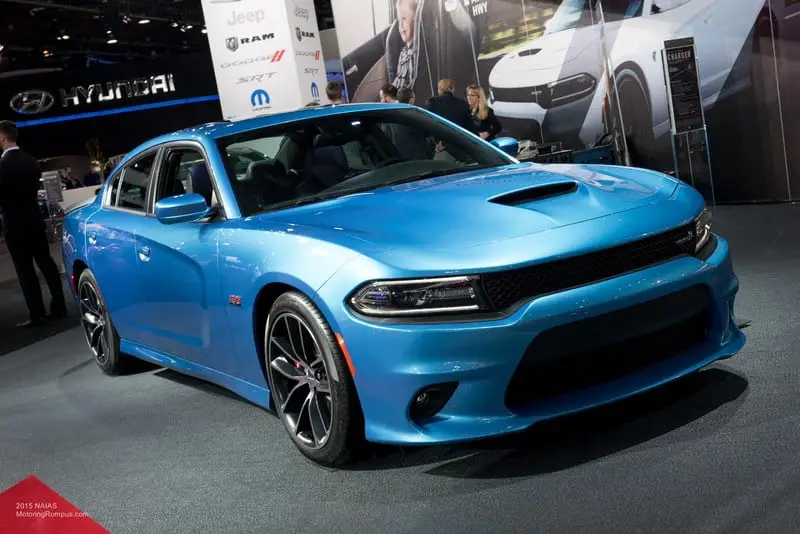 Scat Pack variant of Chargers is powered by 6.4-liter HEMI V8 engines with a power of 485 horsepower.
HEMI V8 is a large power bump with a considerable performance impact.
Scat Pack is 0.7 seconds slower than 707 HP Hellcat in a quarter-mile run and nearly 1.5 seconds slower, but performance in daily life usability than straight-line speed.
Certainly driving a Hellcat is a thrilling ride, but the Scat Pack really makes us feel in better ride control.
According to the official states from Dodge, Scat Pack can speed up to 60 mph in 4.3 seconds and is electronically limited to the top speed of 175 mph.
6. Ford Mustang Shelby GT350R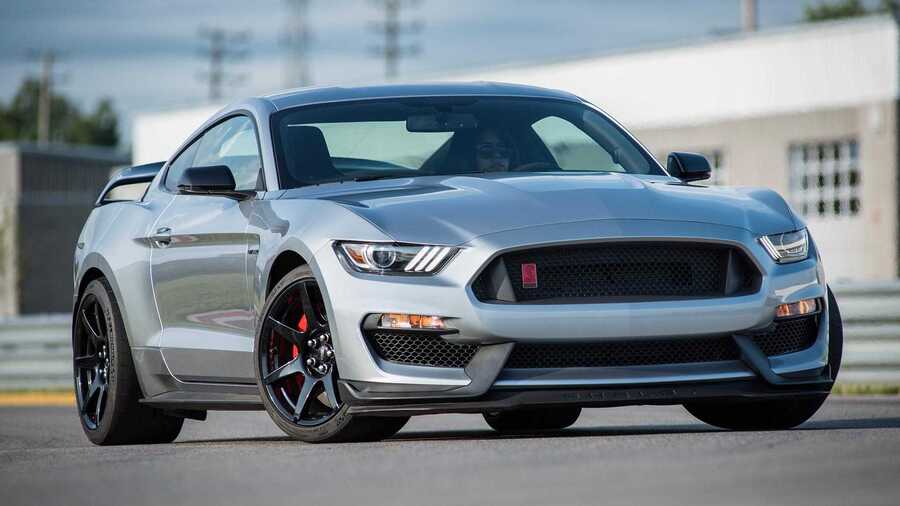 For the 2020 model year, Ford may have revived the Shelby GT500 nameplate, but it is not the only variant from Mustang that will appeal to serious performance fans. The Shelby GT350 and GT350R are still on the line-up.
2020 GT350R works much better, with few modest suspension tweaks.
The 526 hp and 429 lb-ft (one more pony in the GT350R) is exactly right for this car, which is neither underwhelming nor frightening in the handling department for drivers.
The GT350 can get from 0 to 60 mph in approximately four seconds under the right conditions and good shifts with a lightweight R-version managing the sprint some 10% percent faster.
The standard GT350 has a maximum drag speed of 170mph to 180 mph, while the beefed-up hardcore R version easily tops around 180 mph.
This is because of the addition of downforce and increased corner capabilities.
5. Ford Mustang Shelby GT500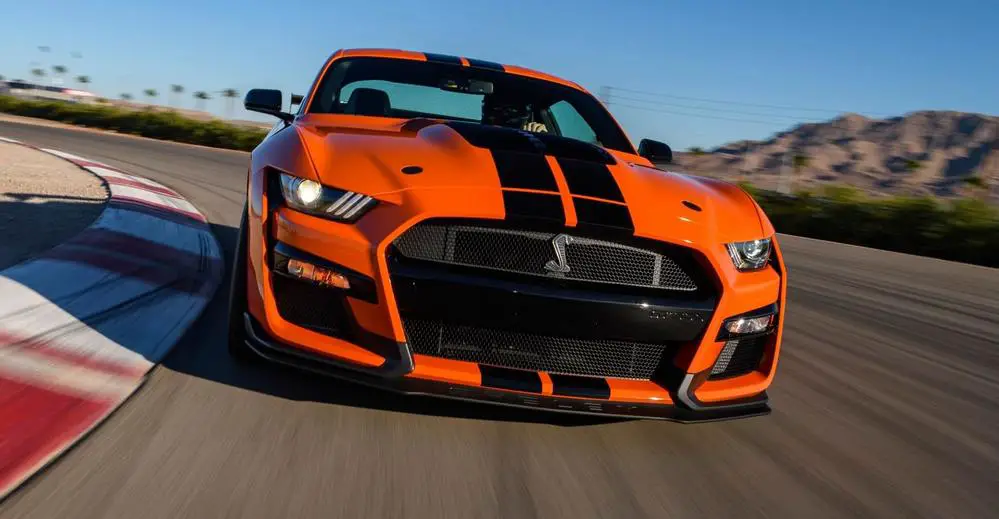 The new Ford Mustang Shelby GT500 is an entirely different monster from the previous iterations.
The New one combines modern sports car performance with iconic muscular presence, as Mustang is the strongest and fastest car ever manufactured.
The major part that makes the GT500 a GT500 is its 5.2-liter V8.
Mustang's hand-built engine churns a heavy 760 hp and 623 pound-feet of torque, thanks to an Eaton supercharger, which drives 12 PSI into the cylinder. The straight-line figures are impressive, numerically.
4. Dodge Charger SRT Hellcat Widebody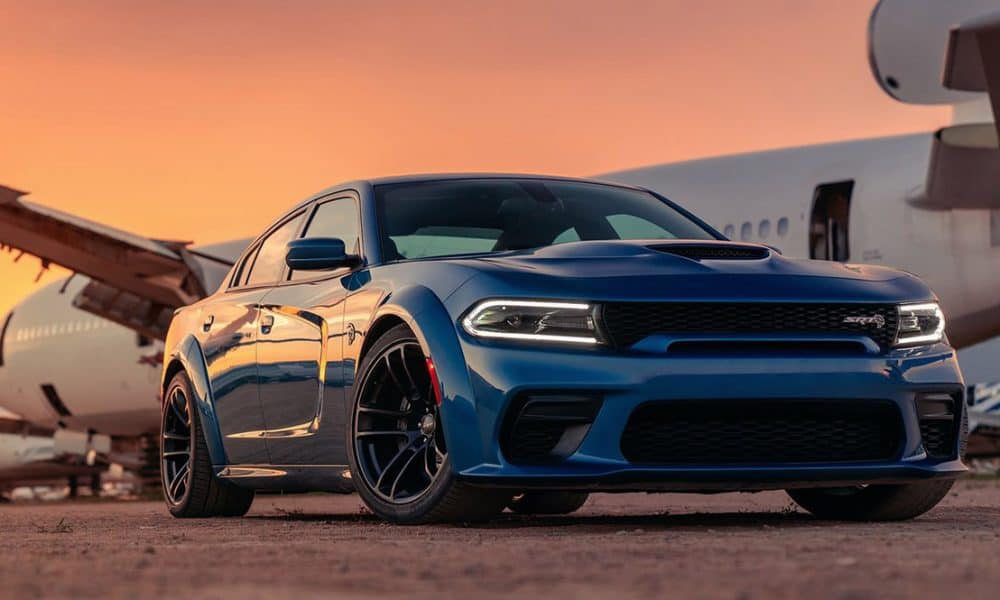 After an extended version of the Challenger launched a few years ago, a similar theme is followed: wide wheels and tires sitting beneath aggressively flared arches.
There are few words of choice that describe this all-performing super sedan with an intimidating broad body design and up to 797 horsepower.
Thanks to the overloaded 6.2-liter and power of 717 horses and powerful Hellcat engine, the large, burly Dodge is on its way to becoming a common name in the muscle car family.
Widebody can easily reach 0-60 mph in 3.6s, can complete the standing fourth-mile run in 10.96 seconds and reach at 196 mph, if given sufficient room.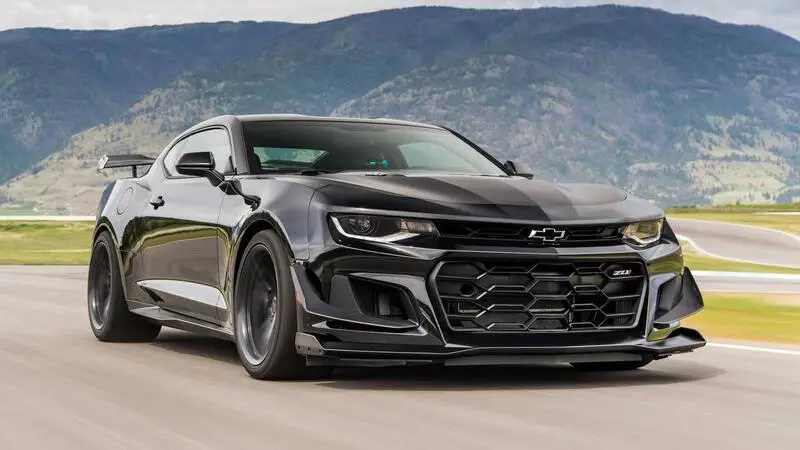 The 2020 Chevy Camaro ZL1 is a more muscular version of the V-8 Camaro, which is already a beefed-up muscle car.
Behind its aggressive front end, the ZL1 has a 650 hp supercharged V-8 and provides drivers with the options of manual transmission or fast automatic.
If you want to be in a Camaro as fast as possible, the 10-speed automatic option can help the ZL1 achieve 60 mph in just 3.5 seconds.
While the quarter miles are achieved at a speed of 127 mph in 11.4 seconds.
If you think ZL1 is a steroid version of the standard Camaro, ZL1's 1LE variant is like muscle god of all Camaro versions.
The 1LE package further transforms the Camaro into a more powerful beast thanks to its Multimatic dynamic spool valve dampers, lighter curb weight, and an adjustable rear stabilization bar.
However, Chevrolet Camaro ZL1 1LE looks almost similar to other Camaro (It didn't get the updated looks).
It's because the design of the ZL1 1LE relies heavily on technical functionality, rather than aerodynamics.
1LE variant is possible on other Camaros, including the four-cylinder turbocharged model which can push it to an extreme end when it comes to ZL1 upgrade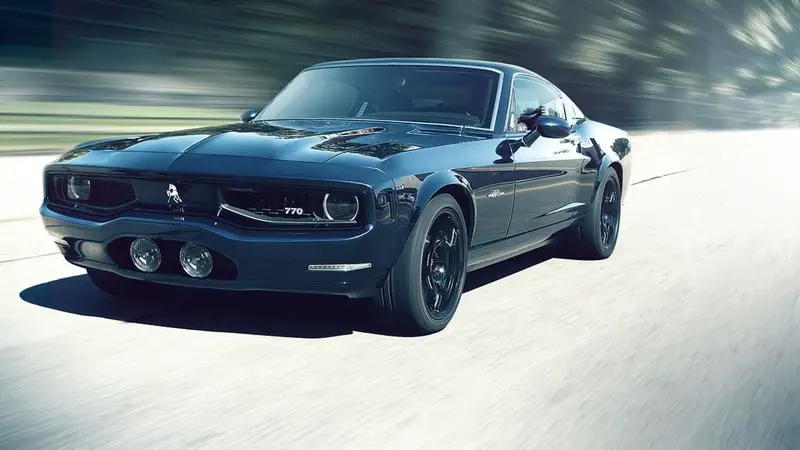 The Equus Bass 770, which was first revealed to the public in 2014, is obviously inspired by a handful of classic American muscle cars, most obviously the Ford Mustang but with some elements from the classic Dodge Charger.
Built on a full-aluminum frame, the C6 Corvette ZR1 is powered by a 6.2-LS9 V8 supercharged engine, with a power of 640 hp and 605 lb/ft torque.
In 3.4 seconds, the car is 0-60, and the top speed is 200 mph, according to Equus.
Combine this with a dual-clutch six-speed gearbox, which further adds up more muscle to a muscle car.
Both its body and chassis are aluminum, so the car weighs 3640 lbs.
Bass 770 one of the most expensive muscle cars at the moment costing around $534,000.
Equus defends the price by saying that building the thing takes at least 5000 hours to build.
1. Dodge Challenger SRT Hellcat Redeye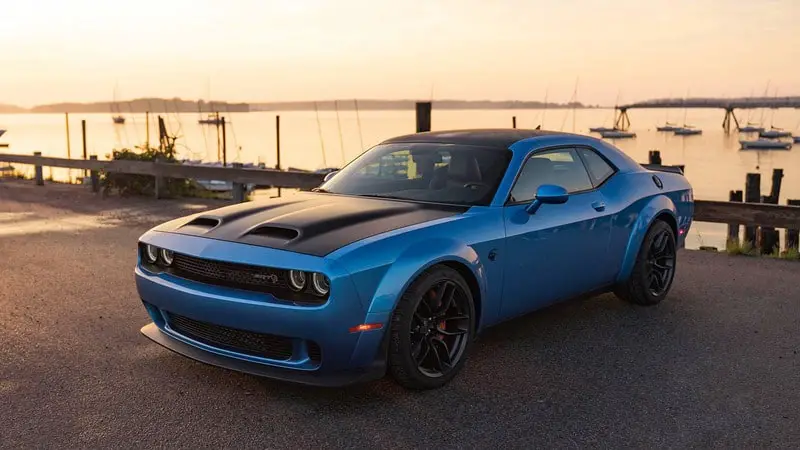 Hellcat Redeye is Dodge Challenger SRT, a powerful production for less than 1 million dollars that can be purchased.
Designed and developed with more strength to attract an even more general audience of muscle car enthusiasts, the heart of the Challenger SRT Hellcat Redeye gets from its limited-production Big Brother, the SRT Demon.
The Redeye features the Challenger Demon 6.2-liter supercharged V8 engine together with a 2.7-liter supercharger (the most the largest factory supercharger).
You can match the gas at any speed and on any gear, and rocket over the speed limits for one moment.
It is the fastest muscle car that you can buy with its ascetically pleasing supervillain look, crazy sounds, and monstrous power.