Top 13 Most Expensive Cruise Ships in the World
Luxury cruise ships have come a long way since the first-ever one was built in 1900. Over the years, these ships have become larger and more luxurious, requiring substantial capital investments. In the competitive cruise ship industry, each cruise line strives to differentiate itself from the competition, attracting wealthy tourists willing to pay top dollar for ultra-luxurious vacations. However, the expenses involved, such as the cost of the ships themselves, can be exorbitant.
Have you ever wondered which among them might be the most expensive ever built?
If Yes,
Here are the top 10 most expensive cruise ships in the world:
13. Anthem of the Seas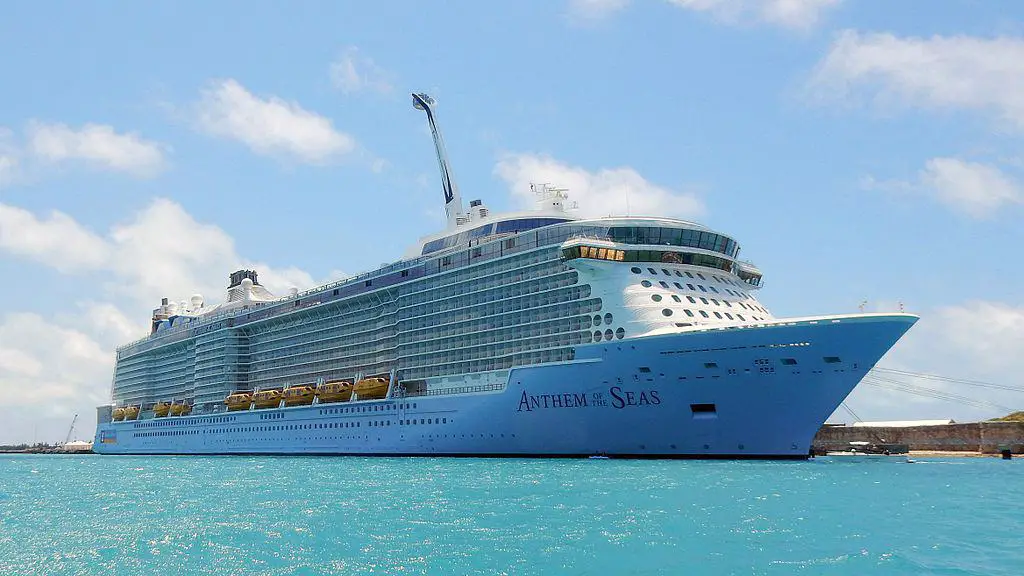 Anthem of the Seas is a Royal Caribbean International Quantum-class cruise ship and the second ship of its class.
The first, Quantum of the Seas, is the third-largest by gross tonnage behind the Meraviglian class of the MSC Cruises and Royal Caribbean International's Oasis class.
The Anthem of the Seas results from years of innovation, with new features using innovative technology.
The Anthem of the Seas offers dynamic dining options and newly designed staterooms that take the design and comfort to the next level, just like its sister ship.
12. Disney Fantasy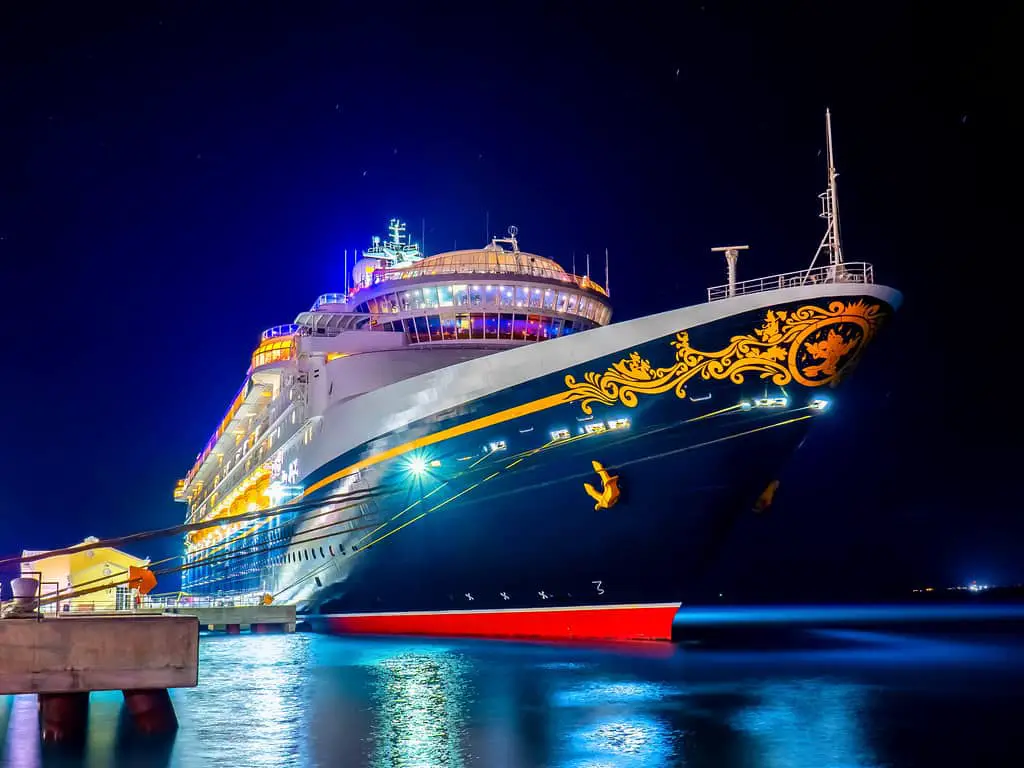 Disney Fantasy, with a gross tonnage of 130,000 and a length of 340 meters (1,120 feet), closely resembles its sister ship, Disney Dream. It boasts 1,250 staterooms and offers a magical experience for its passengers. One of its notable attractions is the AquaDuck, the first water coaster at sea, which matches the excitement of the one found on Disney Dream. Step aboard the Disney Fantasy, and let your dreams set sail!
11. Celebrity Edge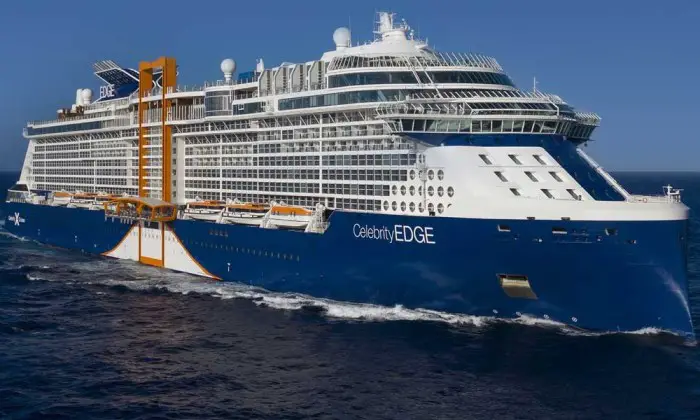 Celebrity Edge, the first ship of STX France in the Edge class, combines elegance with modern design.
With the ability to accommodate 2,918 passengers and 1,377 crew members, this 1,004-ft luxury ship offers a wide range of leisure amenities.
Its rolling spiral stairway and state-of-the-art theater with panoramic displays and special features captivate passengers' (especially women's) senses. Celebrity Edge truly sets a new standard for billion-dollar cruising.
10. Norwegian Bliss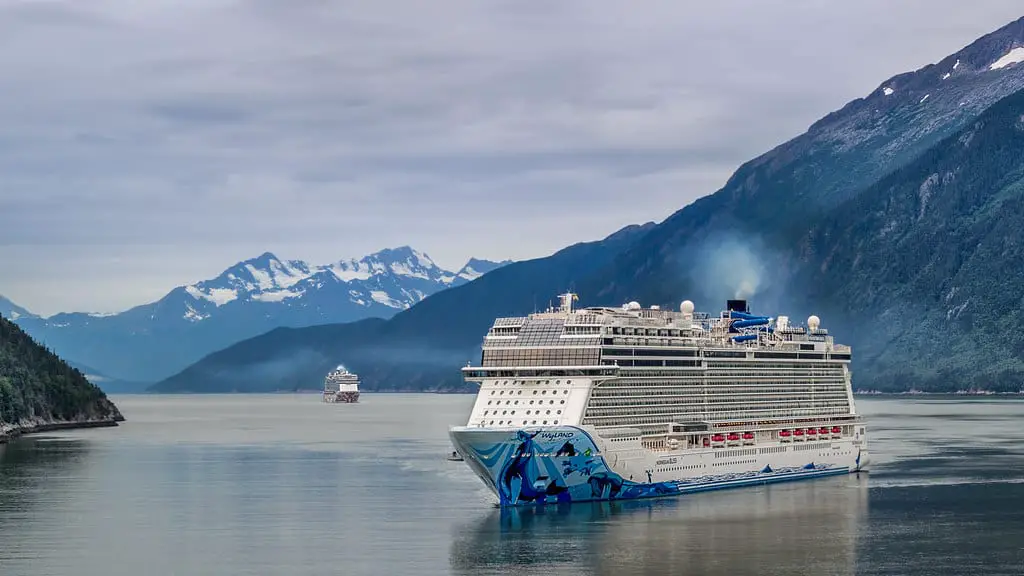 Norwegian Bliss, constructed by Meyer Werft in Papenburg, Germany, was designed with optimized power efficiency to comply with environmental regulations in Alaska.
This luxurious vessel entered service on 21 April 2018 for the Norwegian Cruise Line.
This ship allows passengers to immerse themselves in the breathtaking Alaskan landscape with two magnificent observation lounges offering 180-degree views of calving glaciers. Norwegian Bliss ensures a blissful experience for every traveler on board.
8. MSC Bellissima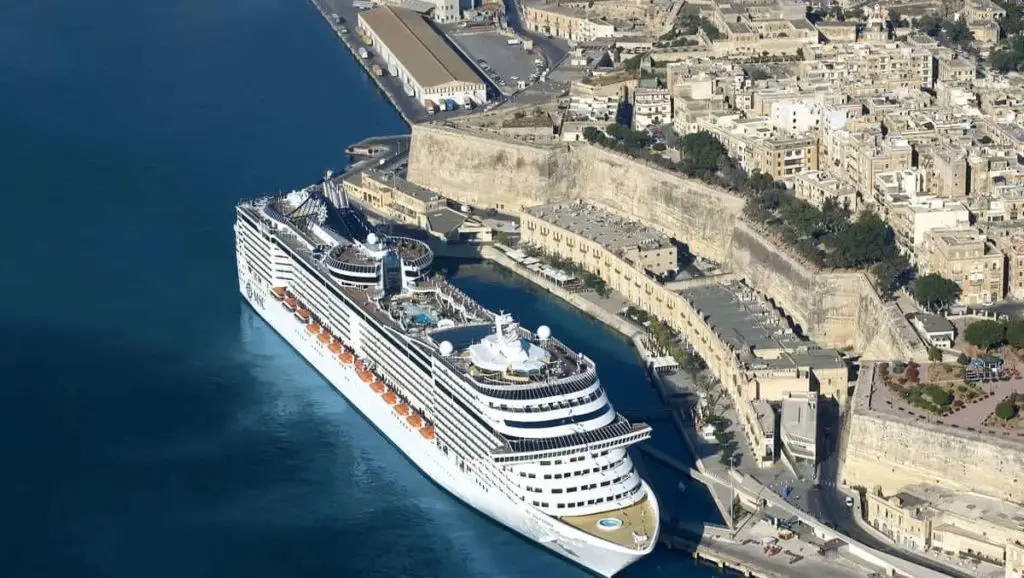 MSC Bellissima, the first of its kind new cruise ship, can dock at any port around the world, providing greater variety in routes and destinations.
It boasts two pathways covered with LED screens that display stunning sunrises, sunsets, and starry skies. 
Meraviglia has fun and excitement for both children and adults with water parks, bowling alleys, state-of-the-art gyms, and fitness centers.
MSC Bellissima promises an enriching holiday experience, embracing the European heritage of the cruise line.
From exclusive sea shows at the Cirque du Soleil to gourmet specialty restaurants with Michelin-star chefs to an innovative, genuine Balinese spa, this ship has everything.
7. Ovation of the Seas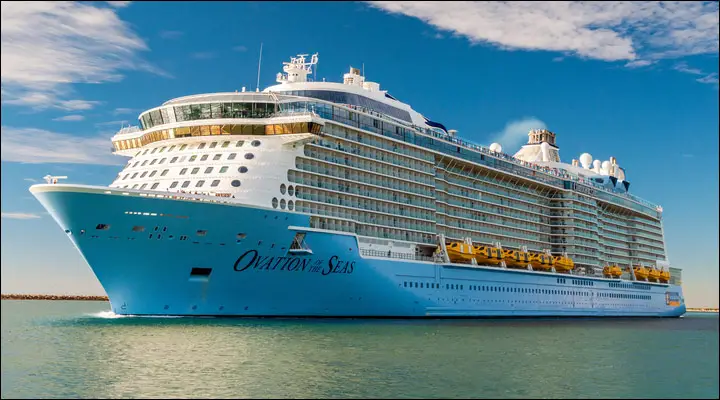 Ovation of the Seas, for some unknown reason, costs more than its predecessor, Quantum of the Seas.
This groundbreaking ship made its debut in 2016 and offers a range of activities, entertainment, dining options, and cabin classes in unprecedented heights.
Ovation of the Seas started its first journey as part of the Ovation Global Odyssey, which visits 233 destinations in 72 countries on 6 continents worldwide.
6. AIDAnova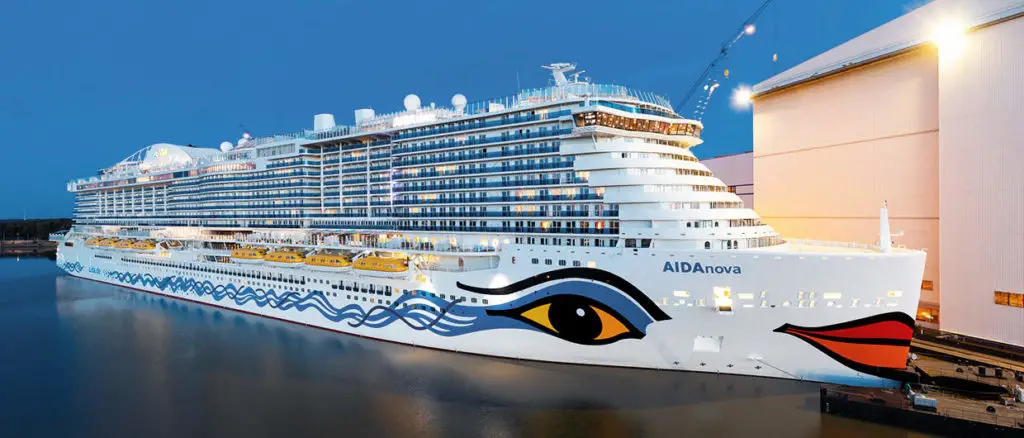 AIDAnova, an exciting new generation of AIDA Cruises ships, combines innovative design with cutting-edge technology to offer enhanced comfort and guest experiences.
During AIDAnova's launch in Papenburg, Germany, DJ star David Guetta entertained a crowd of 25,000 spectators on the DJ deck.
With its 20 decks, 31 suites, 17 restaurants, 23 bars, 312 interior cabins, 198 ocean view cabins, and 1655 balcony cabins AIDAnova provides a luxurious experience for up to 5,200 passengers in a total of 2600 guest rooms.
It is also the world's first liquefied natural gas-powered cruise ship (LNG).
5. Norwegian Epic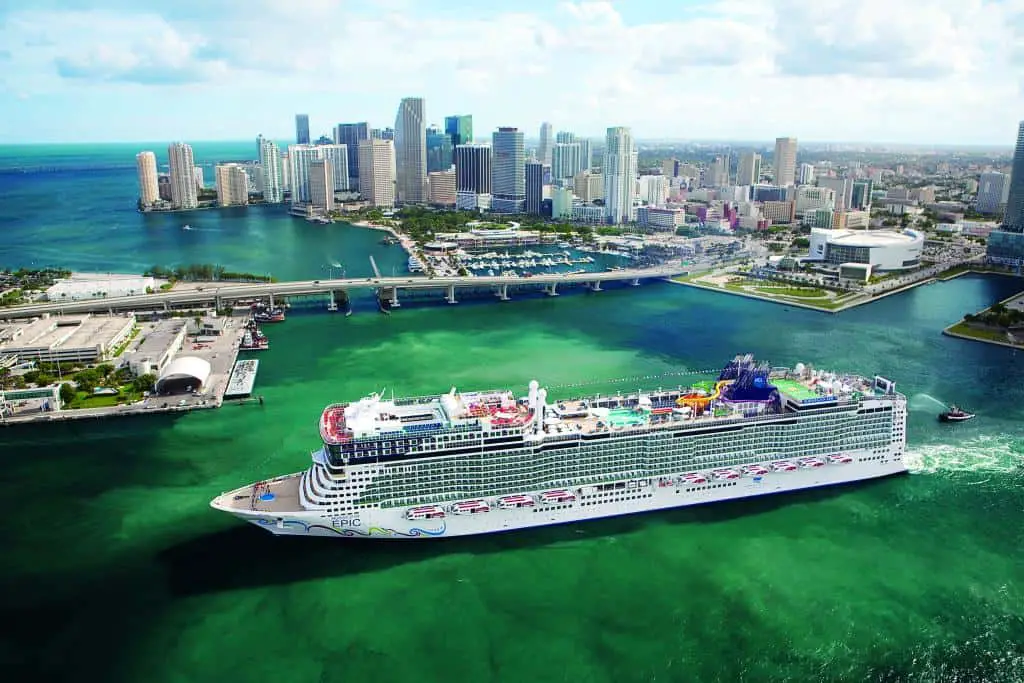 Norwegian Epic stands out as an extraordinary and luxurious cruise ship.
Its distinct design, reminiscent of a stretched Humvee limo, sets it apart from other modern ships.
But as our parents were trying to teach us, it's what's on the inside that matters when it comes to beauty.
Epic is a unique blend of cost optimization, functionality, innovation, and party theme with the spontaneity of freestyle cruising.
Many cruise lovers, especially those on a modest budget, will find plenty of beauty in that.
Additionally, with elements such as an ice bar, a water slide that weaves tube riders floating around the giant bowl, a circus-inspired Spiegel Tent, and studio cabins with a private lounge for solo travelers, the theme is innovative.
4. Harmony of the Seas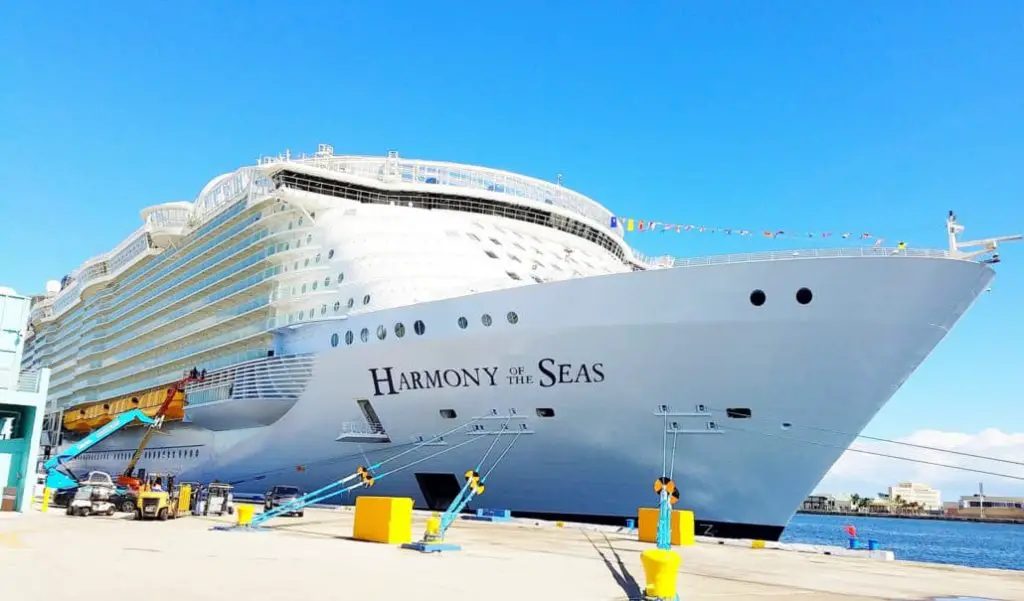 Harmony of the Seas, a new addition to Royal Caribbean International's Oasis-class cruise ships, epitomizes luxury and indulgence.
Despite costing the same ($1.35 billion) as its sister ship, Symphony of the Seas, Harmony of the Seas is slightly smaller (1,100 tons difference), yet equally impressive.
Harmony of the Seas includes a wide monohull of steel.
Harmony of the Seas was designed to build on the seven-neighborhood concept of Royal Caribbean lines that consists of Central Park, Boardwalk, Royal Walk, Pool, Sports Zone, Sea Spa Vitality, Fitness Centre, Entertainment Place, and Youth Zone.
The 228,081GRT ship is 1188 meters long, 215.5 meters wide, and 238 meters tall.
Harmony of the Seas can accommodate 6,687 passengers (max) and 2200 crew members with 2747 staterooms of different sizes.
Harmony of the Seas has several restaurants and leisure activities abroad similar to its sister ship.
Construction began in 2014, and in May 2016, the ship set sail from STX France facilities to Southampton.
3. MS Symphony of the Seas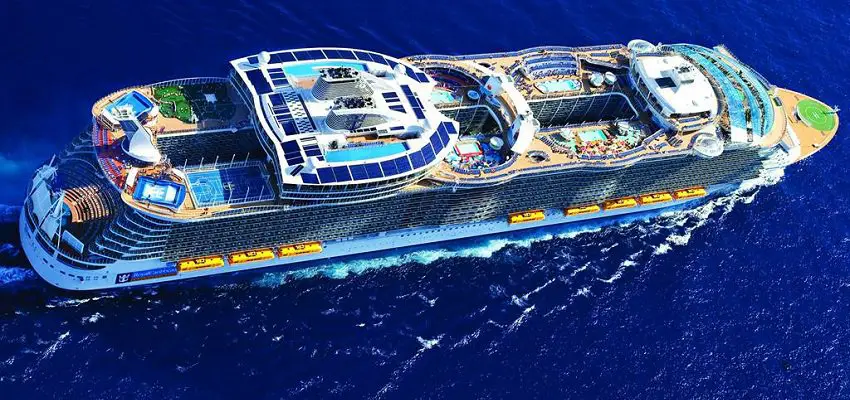 MS Symphony of the Seas, the largest passenger ship ever built, surpasses the Titanic in size by five times.
It embarked on its maiden voyage from Barcelona in March 2018, setting a new standard in cruising.
Everything about the Symphony of the Seas is a large scale than others as you might expect from the biggest cruise ship in the world.
This colossal ship features 18 decks, 22 restaurants, 24 swimming pools, the tallest water slide at the sea and 20,000 tropical plants, an unparalleled experience for its passengers.
Accommodation options range from royal and family suites to balcony variants and ocean views.
It satisfies your international cravings with 20 dining options, from organic hand-cut steaks in Chop's Grille to Japanese grill specialties and a new Teppanyaki menu in Izumi Hibachi & Sushi.
2. Oasis of the Seas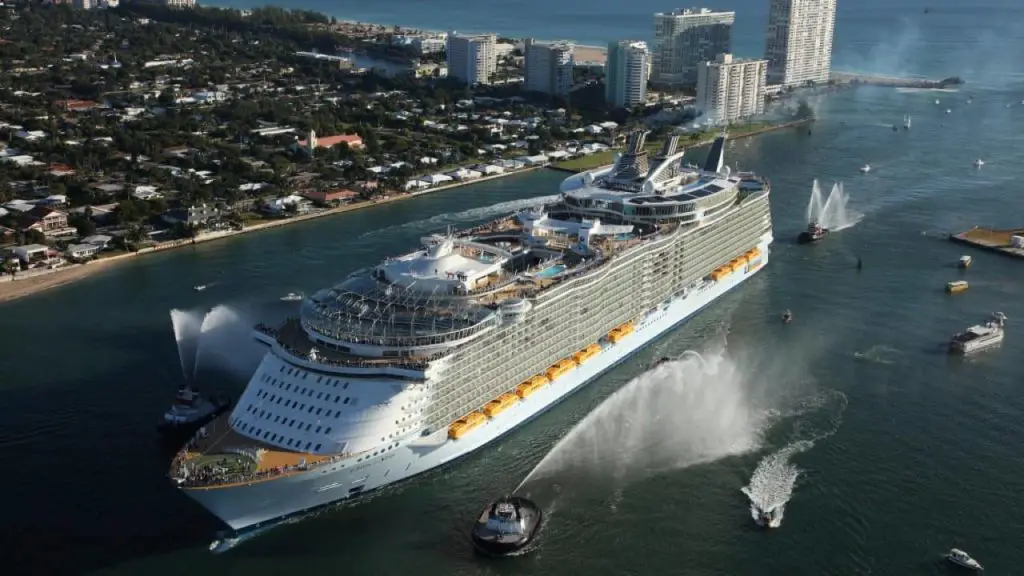 Oasis of the Seas, an Oasis-class cruise ship from Royal Caribbean International, ranks as the third-largest passenger ship globally, following its sister ships, Harmony of the Seas and Symphony of the Seas.
The Oasis of the Seas is the second most expensive ship in the Royal Caribbean and entered service in December 2009.
STX Europe (formerly Aker Yards) constructed the ship in Turku, Finland, at the cost of around $1.24 billion.
Oasis of the Seas travels from its homeport in Everglades in Florida to the Caribbean.
The ship offers a variety of passenger amenities like luxurious staterooms, a zip line, a casino, mini-golf, nightclubs, lounges and bars, a swimming pool, an entertainment section, and sports zones.
1. Allure of the Seas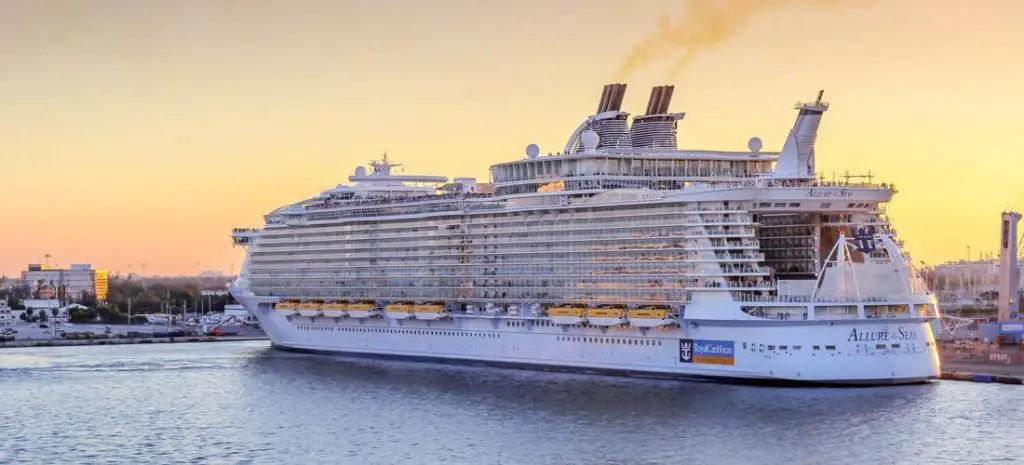 Allure of the Seas is the epitome of luxury, and reigns as the most expensive cruise ship in the world, with a price tag of $1.5 billion. 
The ship is categorized in Royal Caribbean International's latest Oasis class.
As part of Royal Caribbean International's Oasis class, this magnificent vessel boasts many entertaining activities, exceptional amusement options, luxurious rooms, and a wide range of restaurants, from casual to fine dining options.
This outstanding cruise ship, like its sister, also has a Central Park to wander in.
There is a two-deck dance hall, a rock-climbing wall, an ice rink for skating, many pools, spas, gyms, and a theatre with 1380 seating capacity.
There are touch-screen guides on every deck with buttons for "What to Do Right Now" and "Room Finder," one of the ship's classy features.
Also, Allure of the Seas is the first cruise ship ever to include a Starbucks Coffee stand for those who need the daily morning dose of Starbucks coffee.
These thirteen cruise ships represent the epitome of luxury, grandeur, and innovation in the cruise ship industry. With their unparalleled amenities, world-class dining options, and cutting-edge technology, they offer an unforgettable experience to travelers seeking the ultimate in opulence and indulgence. Embark on a journey aboard one of these magnificent vessels and immerse yourself in a world of luxury on the high seas.