Trains are much safer and comfortable to travel if we compare them with road vehicles, passenger planes or cruises.
But what if you want to travel long distances with a minimum amount of journey time, conventional trains have limitations in terms of speed.
To solve this issue, Japanese engineer Hideo Shima supported by Shinji Sogō, developed the first highspeed line, Tōkaidō Shinkansen, to connect Tokyo and Shin-Osaka through 0 Series Shinkansen train sets.
Since then, the speed of this type of railway technology has drastically improved.
But you might ask, how fast does a bullet train go?
The average speed of a bullet train is around 250 km/h (155 mph) as to qualify as High-speed rail (HSR) average high corridor speed over 200 km/h is required.
But through advanced technological developments, some HSRs are exceptionally fast. With the latest invention of Maglev trains, we only expect it to improve further.
Some prototype examples include,
Recently, Japan tested its fastest ALPHA-X train in 2016, and we can expect from 2046, Japanese railways will operating train.
On 21 April 2015, the seven-car railway prototype from the L0 series on the Chūō Shinkansen railway line set the fastest world speed record for rail vehicles by achieving the speed of 603 km/h (375 mph).
In case if you are wondering the bullet train in service with the highest operational speed, not maximum speed set for records.
Here are the top 10 fastest trains in the world 2020:
10. ETR 400 (Frecciarossa 1000)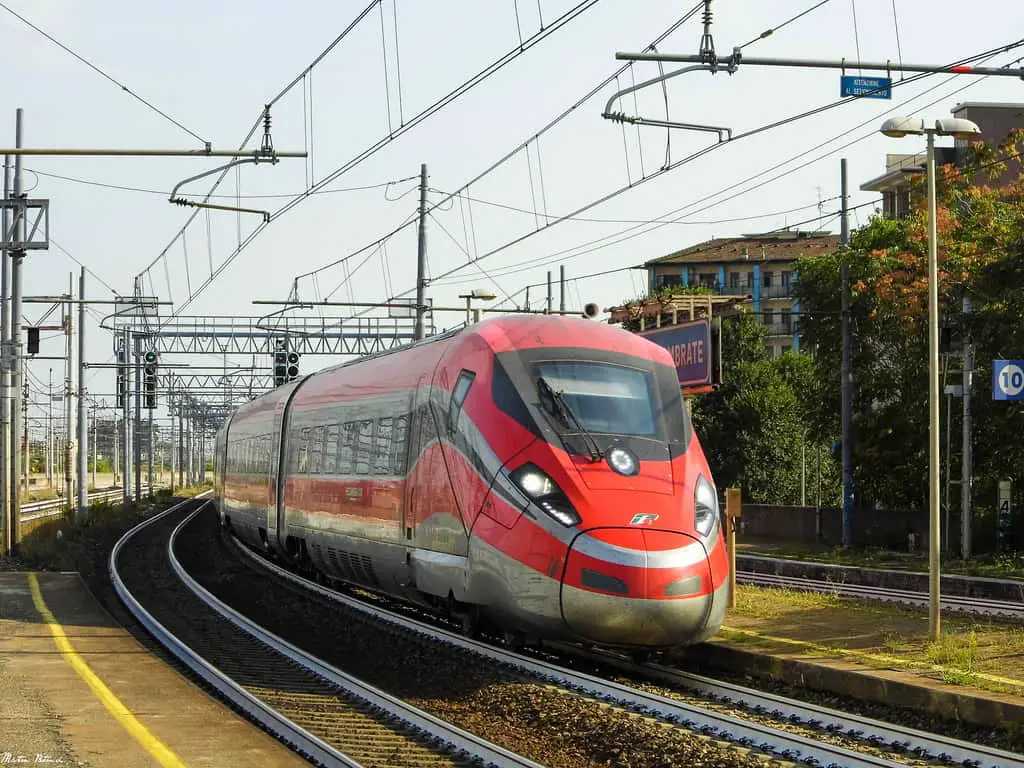 The newest addition to the high-speed trains Bombardier's ZEFIRO class is Frecciarossa 1000, also known as the V300ZEFIRO or the ETR 1000.
Because of exotic looks, design, luxury, and of course, speed this upgraded version of the Frecciarossa ETR 500 is a "supercar" equivalent comparing to other ordinary trains.
An Italian rail operator, Trenitalia ordered 50 trainsets of Frecciarossa 1000 trains in 2010.
In partnership with AnsaldoBreda, a subsidiary of the Finmeccanica Group, Bombardier built the highspeed rail systems in Italy.
The designer of the train is Gruppo Bertone (who also designs Lamborghini and other cars).
In terms of specification, it is equipped with 16 traction motors, which provide 0.7 m/s2 acceleration.
ETR 400 is capable of running at a max speed of 360 km/h (220 mph) but is commercially operated highspeed is 300 km/h (190 mph).
9. AVE Class 103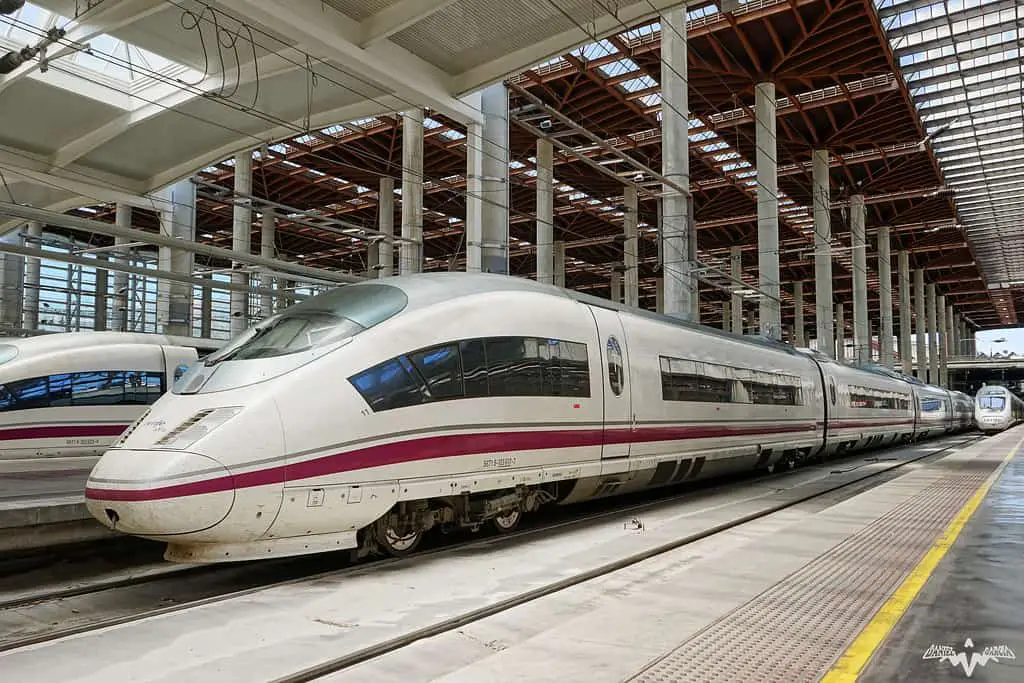 On 22 June 2007, Siemens introduced AVE Class 103 to commercial services through the state-owned railway company RENFE, operating between Madrid and the temporary terminal on the highspeed rail line to Barcelona near Tarragona, Spain.
The Velaro E appears as almost the same outside as ICE 3 (developed by the same manufacturer Siemens), which is a product developed in Germany by several companies.
Because of licensing problems, similar to the case of fourth-generation Eurostar e320, Siemens did not re-produce components of the ICE 3, completing the high-speed train platform in Velaro.
Velaro E has also been revised to meet the demand for higher speed and RENFE's maximum operational speed in the traction department.
This enables AVE Class 103 to operate at 350 km/h (217 mph) and is therefore one of the world's fastest trains.
However, its operating highspeed is limited to 310 km/h for the maximum approved by the Spanish authorities as of 2011 for the ETCS level 1 line.
8. Euroduplex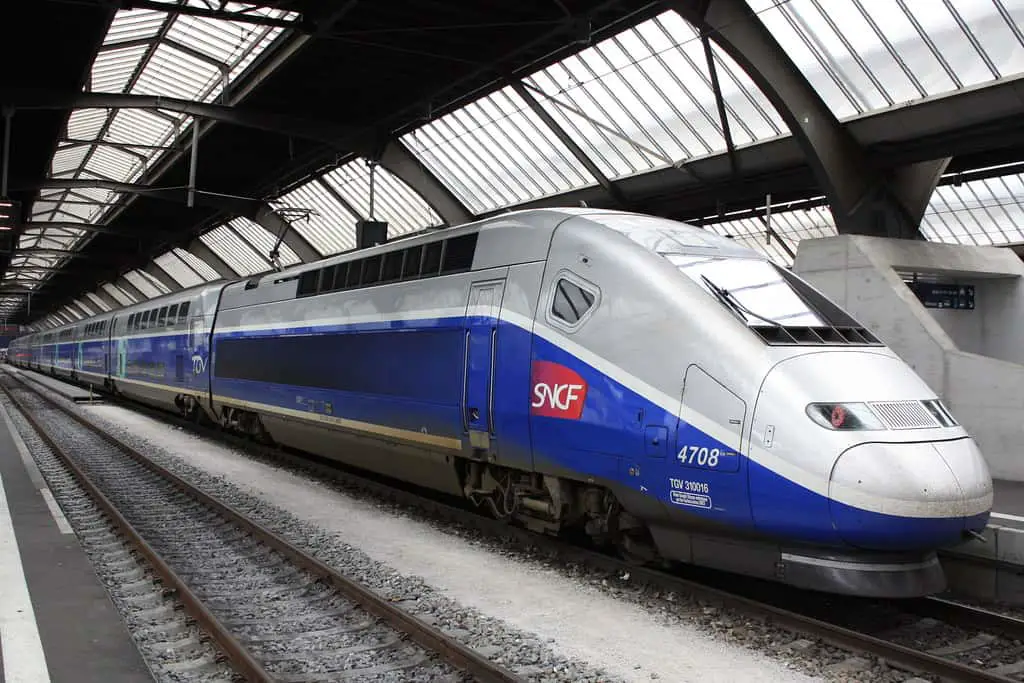 Euroduplex is Alstom's third generation of high-speed trains for TGV (Train à Grande Vitesse).
French National Railways (SNCF) operates the train and is designed & manufactured by the Alstom railway company.
The majority of Euroduplex' technical specifications were adapted from the previous generation of trains.
The weight is much lesser and with much-improved aerodynamics.
In December 2011, the train began operating and could carry 1020 travelers at a moment.
It connects the French, Swiss, German and Luxembourg highspeed rail networks.
7. E5 Series Shinkansen Hayabusa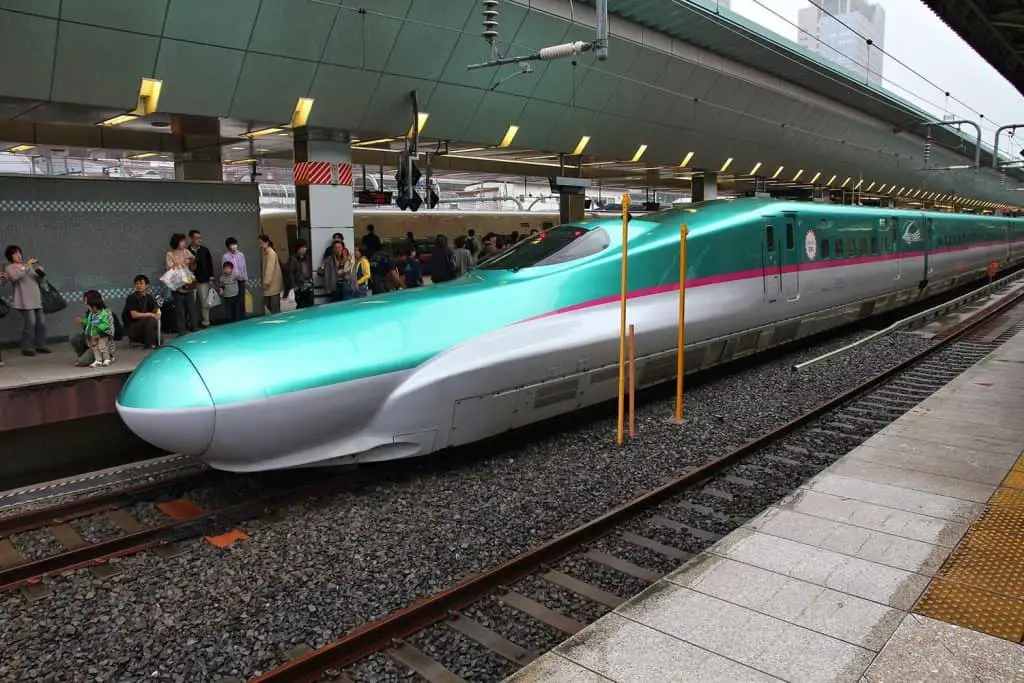 The East Japan Railway Company operates one of the fastest highspeed rail services in Japan.
The Shinkansen is a network of high-speed railways in Japan, commonly known in English as the bullet train.
On 5 March 2011, the train started functioning. It has a line of 444.28 miles from Tokyo to Aomori with a high speed of 198.8 mph, which covers exactly 2 hours and 56 minutes.
The Shinkansen H5, E6 and E5 series are two of Japan's newest bullet trains and the country's fastest.
6. TGV POS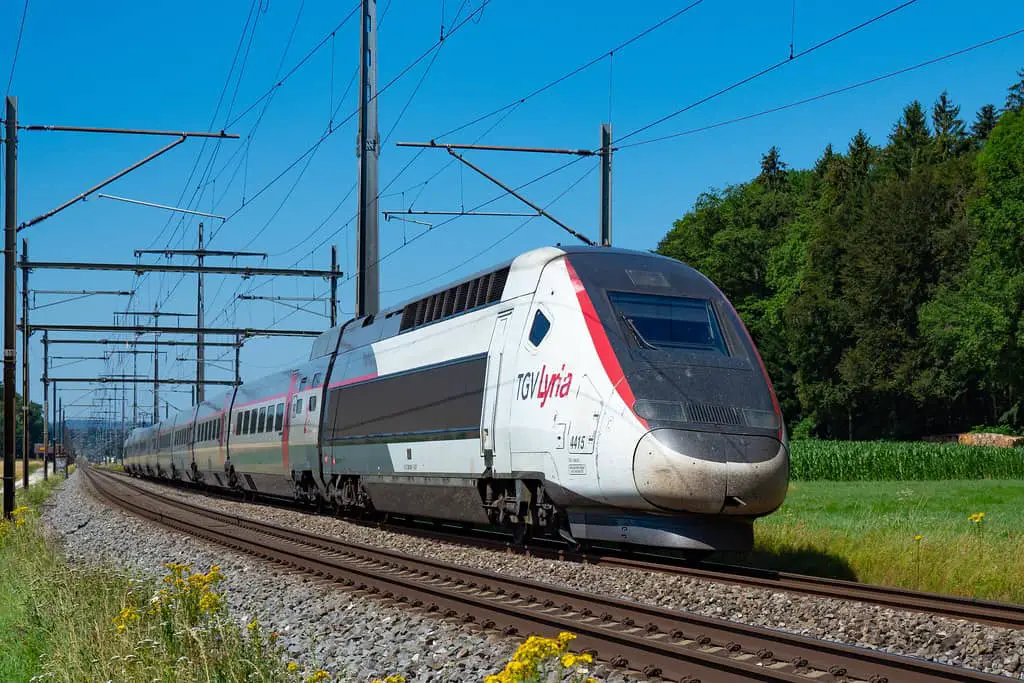 In France's Fleet of Trains à Grande Vitesse, TGV POS is a record-setting gem of the highspeed rail network owned by and operated by the national railway company of France, the SNCF.
Rail Europe, an expansive network of lines that extend from the north and east of the continent to the Mediterranean, is itself part of the ever-widening TGV rail service.
SCNF TGV POS is one of the newest operating rail services in France to develop long-route high-speed trains from the end of the 1970s, which is known for its Paris-Ostfrankreich-Süddeutschland (POS) route.
As the TGV began to grow to nearby countries, trains such as POS were used for long-distance travel at high speeds.
Project V150, a pumped-up version of the POS, was specifically designed to break the wheeled rail speed record of 357.2 mph (574.8 kph) in 2017.
5. Talgo 350 HSR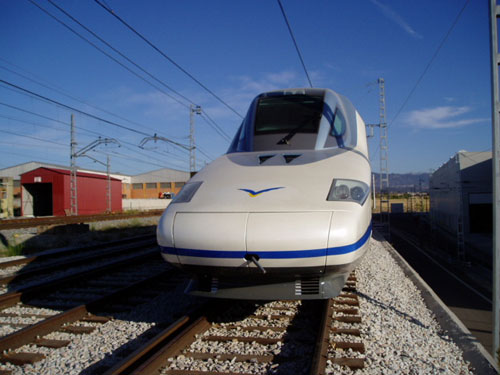 Talgo 350 is the 5th world's fastest train, with 46 railway stations in operation in Spain, and is commonly known as El Pato (Duck in Spanish).
The T350 operates at 350 kph, but during a test run, it reached a maximum speed of 365 kilometers per hour.
From the Madrid-Zaragoza-Lleida section of the Madrid-Barcelona high-speed rail line in Spain, it began to operate from 2005 and was originally developed as RENFE AVE class 10.
It is manufactured by Patentes Talgo (Tren Articulado Ligero Goicoechea Oriol) collaboration with Bombardier Transportation.
The train is fitted by a natural tilting system and comprises 2 cars with 12 coaches.
Designers had to intend the front end specifically for aerodynamic resistance prevention.
4. AGV Italo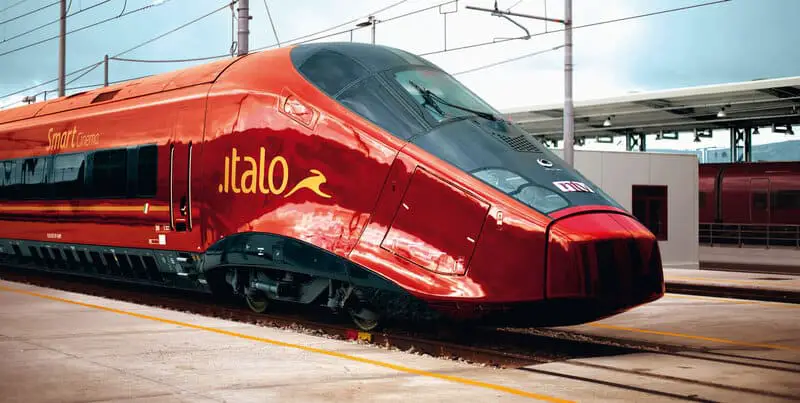 Automotrice Grande Vitesse (AGV) has been designed and developed by Alstom as an advanced high-speed train with maximum speed is 360kmph is the fastest train in the world. 
It is said to be the world's most economical and eco-friendly train, with 98 percent of its recyclable parts and a 15 percent lower lifecycle and energy costs.
Alstom displayed this train for the first time in Berlin, Germany, at the InnoTrans 2008 exhibition. 
The AGV is the most energy-efficient railway to meet the Interoperability Technical Specifications (TSI). 
It is the first train design in the world to combine joint carriage architecture with a distributed traction system and PMMs.
3. CRH380A Hexie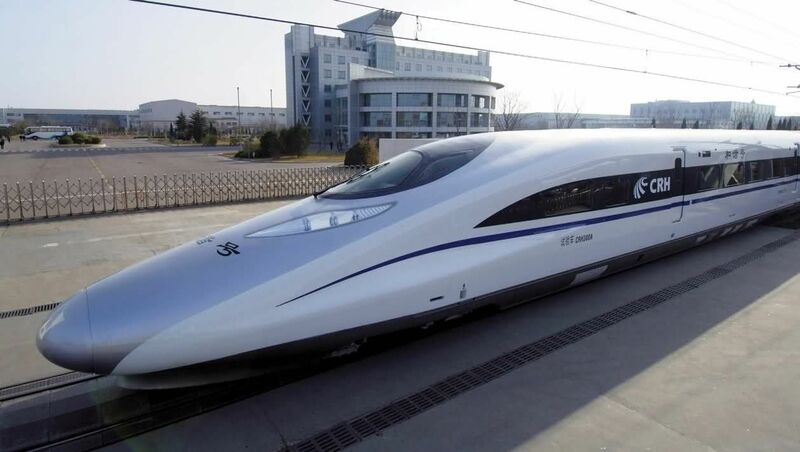 The CRH 380A is the world's second-fastest working china highspeed railway service. 
This multi-unit electric train can attain a maximum velocity of 236.12 mph in commercial services. But during initial trials, it topped a record velocity of 258.58 miles per hour. 
In October 2010, the Chinese train operated the CRH 380A routinely on the Shanghai-Nanjing path.
This train is manufactured by the CSR Qingdao Sifang Locomotive and Rolling Stock Company. 
The aluminum alloy body CRH 380A is low weight and has a fish-head like aerodynamic design in the front. 
This remarkable train structure could lower aerodynamic resistance. The Harmony CRH 380A bogies are also free of vibration & sound.
The cabin capacity can accommodate 494 travelers with facilities like e-display, a reading lamp, an electric port, and a VIP sightseeing section close driver's seat.
2. CR400AF Fuxing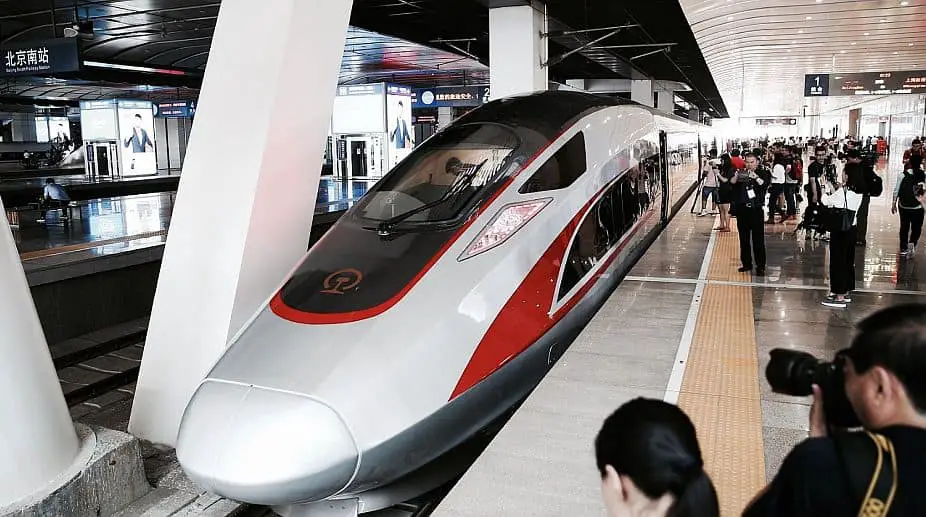 Fuxing Hao has been developed and built by Chinese company CRRC together with China Railway as a new high-speed bullet train family.
This locally built high-speed train is operationally faster than the Japanese Shinkansen.
Fuxing can cruise from Beijing South station to Shanghai in a travel time of just four hours., with higher reliability and operating efficiency.
Its aerodynamic design lowers air resistance and allows the train to operate more rapidly, thus reducing operating costs by efficient fuel consumption.
CR400AF has average speed of 350 km/h and a maximum speed of 400 km/h.
1. Shanghai Maglev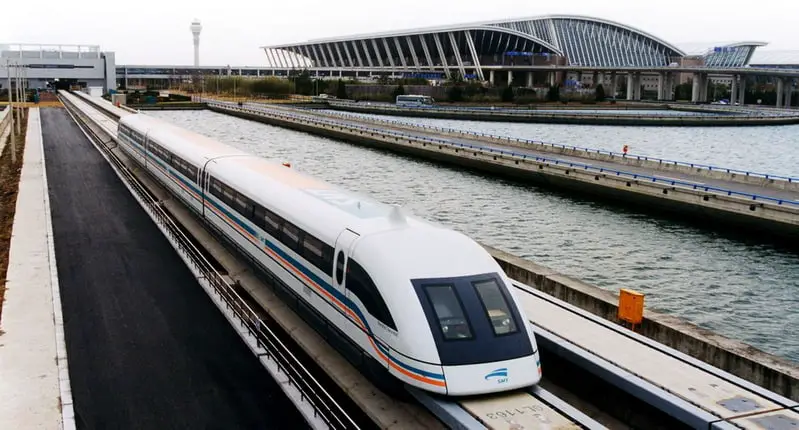 Shanghai Maglev, with the highest operating speed of 267.8 mph, is the fastest train in the world.
Shanghai Maglev Transportation Development Co. operates this service.
MagLev is an abbreviation for Magnetic Levitation, which is a method by which an object with only magnetic fields is suspended.
The magnetic force counteracts gravitational pull of earth (technically float on air).
Shanghai Maglev is doesn't have wheels and floats between the train and the track on the magnetic ground.
This electromagnetic push allows the magnetic levitation train to travel over the path with the powerful magnates, as no train-track contact occurs. In just 4 minutes, Shanghai Maglev could achieve its top speed.
German corporations built Shanghai Maglev Siemens and ThyssenKrupp.
The Shanghai maglev public service began its service on 1 January 2004.
It operates between Pudong International Airport and Outskirts of Shanghai Long Yang Road.
Shanghai maglev train has a total capacity of 574 passengers.
The entire journey of 20 miles (32.19 km), Shanghai Maglev takes only 7 minutes and 20 seconds.
Technology had improved exponentially since the great Thomas Savery invented the first steam engine, and Rudolf Diesel invented the diesel engine.
Also, respect of special thanks to that father-son duo George Stephenson who built first Steam engine based locomotive.
From that moment, we have gone from the fastest American steam locomotive to the fastest Maglev.
It's evident according to World Speed Survey 2019 published in Railway Gazette International magazine that China has the several fastest bullet trains than any other country.
The future is dazzling for these track-based long caravans. Please share this post with your friends on Social Media.