Top 10 Most Luxurious Cruise Ships in the World
Everyone wants to go on a cruise at least once in their lifetime.
Maybe people who have ocean and/or boat anxiety may not aspire.
Sadly, because of seasickness, not everyone can afford to relax and enjoy the sea.
Yet cruises are also some of the most lavish vacations ever.
If you're rich and can afford to throw money away like it's nothing, then we suggest you find a cruise to a place you love and blow up too much cash on a suite.
We call this type of cruise line, which provides extravagantly 5-star level suites luxurious cruise lines.
In Luxury ships, the moment you step onboard, a hostess will be on your side offering a bottle of champagne, while a professional room steward will offer to raise your carry-on as he will lead you to what will be your home-away-from-home for the next few days.
Here in this post, we will explore & compare the 10 most luxurious cruise ships in 2023:
10. Riviera, Oceania Cruises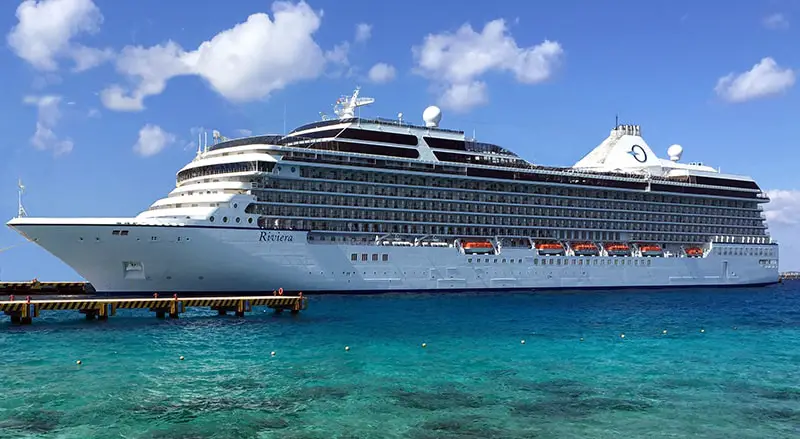 Riviera, launched in 2011 by Oceania Cruises, is undeniably one of the most popular cruise ships in the world, accommodating around 1250 passengers.
Its allure lies in the exceptional dining experience it offers, with a plethora of restaurants to satisfy every culinary desire.
Among these, the Grand Dining Room stands out for its timeless elegance, while Jacques, a French bistro conceptualized by renowned chef Jacques Pepin, is a haven for gastronomes. Oceania Cruises adopts an à la carte pricing structure, providing guests with the freedom to personalize their cruise experience.
Despite this, Riviera's accommodations, itineraries, and dining venues rival those of a 5-star luxury establishment.
Oceania's OLife cruise deals on select routes further level the playing field, offering enticing incentives such as complimentary airfare, free shore excursions, the House Beverage Package, and shipboard credit.
9. Harmony of the Seas, Royal Caribbean Cruises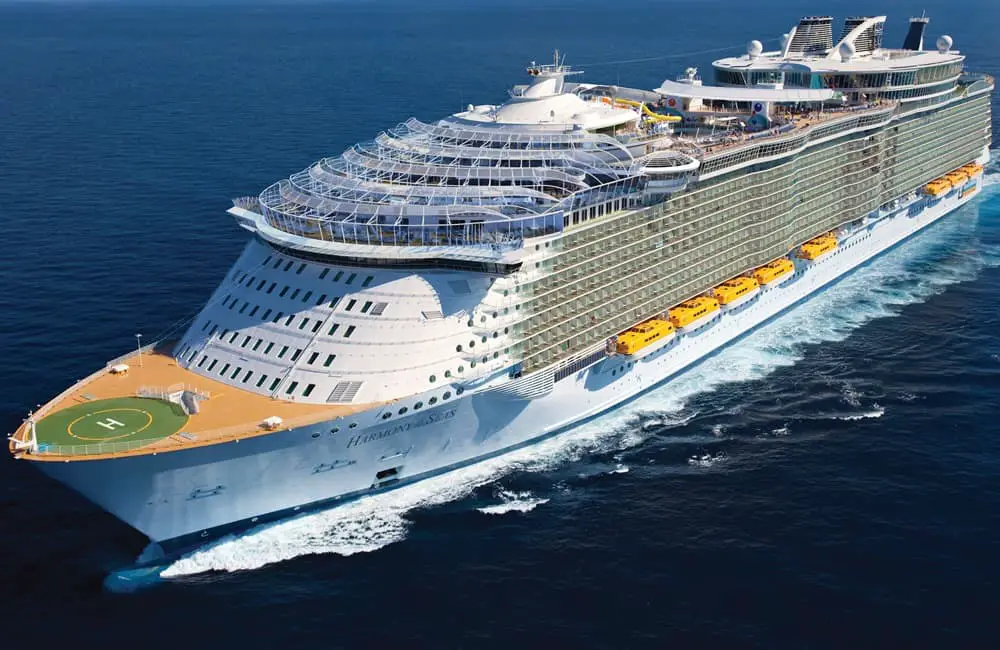 Harmony of the Seas is one of the largest cruise ships in the world, welcoming up to 6,687 passengers and 2,193 crew members.
The ship was launched in 2016 and features Royal Caribbean classics such as surf simulators and climbing walls and groundbreaking attractions such as the Ultimate Abyss (a 10-story slide) and three multi-story water slides.
However, when younger passengers are playing in the arcade or in age-appropriate clubs, adults can relax in the spa or enjoy drinks in multiple bars and lounges.
Harmony of the Seas offers a wide range of cabin categories for lodging, with over 70% of cabins with balconies.
While the most economical choice is the interior staterooms, those seeking a little more space and luxury should consider upgrading to a suite ranging from junior suites to family suites with four bedrooms.
8. Viking Orion, Viking Cruises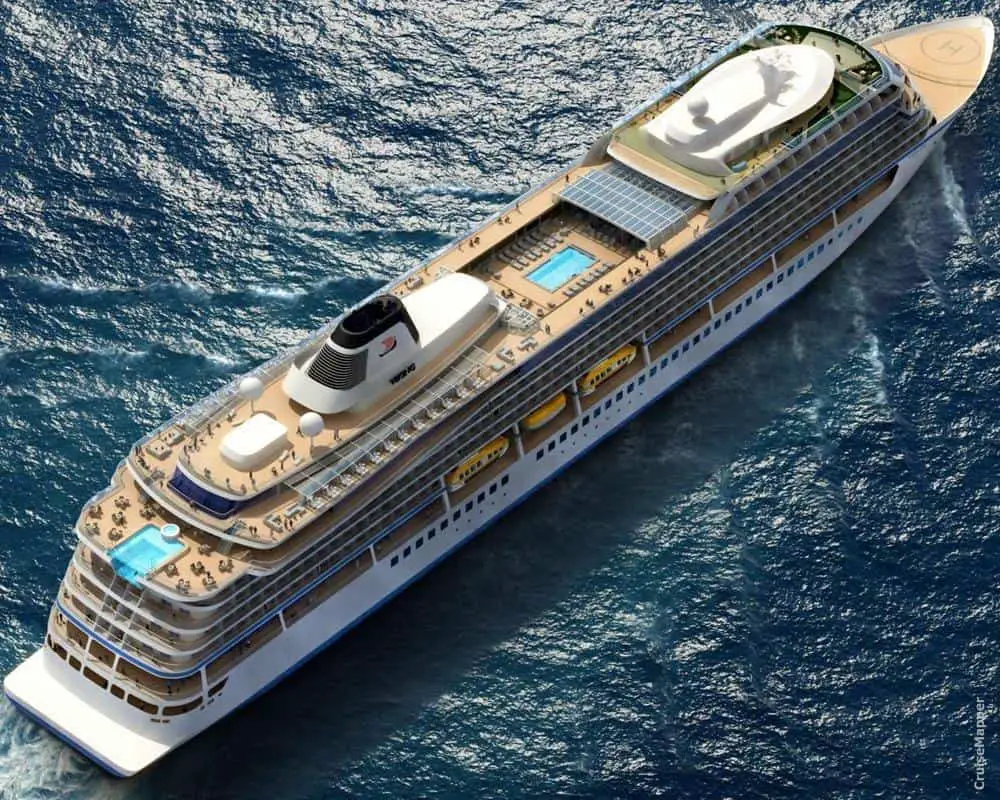 Winning the award and one of the most luxurious cruise ships out there, Viking Orion is one of the most sublime vessels of the world-famous Viking Ocean's Cruise.
Built in 2018 by revered nautical architects and designers, each room is equipped with a private porch, a king-size bed, and heating on the floor.
For those who prefer traditional schemes, this is a ship. The style is one of safety and tradition with carpeted spaces, flattened curtains, and smooth square silhouettes.
7. Seabourn Ovation, Seabourn Cruise Line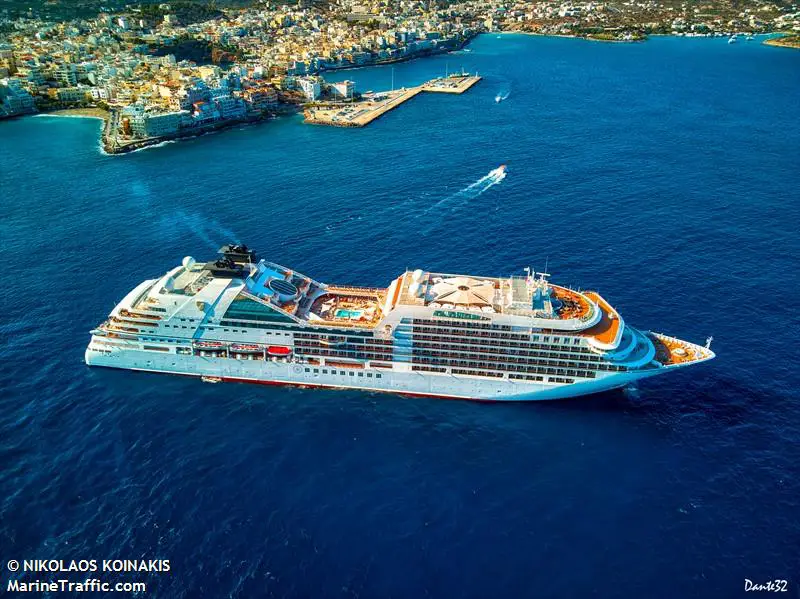 The Seabourn Ovation is the newest cruise ship on our list!
Seabourn Cruise Line launched this maiden voyage ship in May 2019, just a few months ago.
About 1,600 works of art are at display Seabourn Ovation, featuring works by about 100 artists.
Adam Tihany, one of the world's top interior designers, designed the ship from bow to stern (really a big cruise deal).
Seabourn has collaborated with Thomas Keller (the renowned chef of 3-star Michelin-starred restaurants, Thomas Keller) to design the ship's restaurant menu.
Tim Rice, the award-winning lyricist, manages the entertainment aspect of the cruise.
He is also the one who wrote our favorite Disney songs from Aladdin and The Lion King, so guests get Broadway shows every night.
All suites come with a private balcony, and before you step on board, the staff knows your name and a favorite cocktail.
For this price, there are no indoor rooms! They equip Seabourn Ovation with the Wintergarden Suite, Signature Suite, Owners Suite, Penthouse Spa Suite, Penthouse Suite, Veranda Suite.
This sounds fantastic, as Seabourn Ovation does not disappoint as far as entertainment is concerned.
It has five restaurants on deck, a gym, a spa, swimming pools, hot tubs, movies, a movie screen above the pool (still so cool), three casino bars, and a salon.
6. Le Lapérouse, Ponant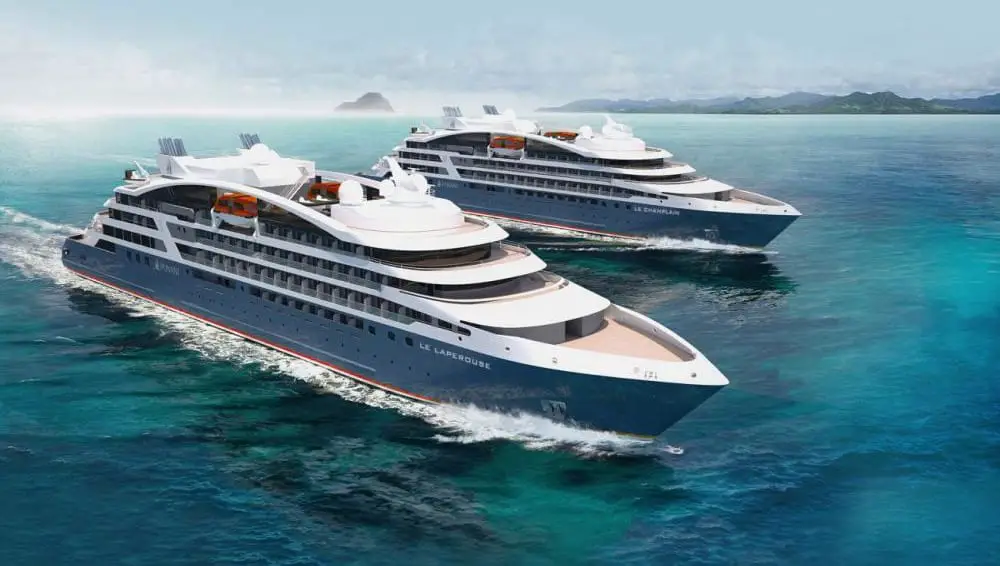 Another exclusive cruise that started sailing for a relatively short time, Le Laperouse — named after Jean-François de Galaup, the famous French explorer — began her first trip to Iceland in June 2018.
Not only is it an elegantly designed ship, but its environmentally-friendly equipment and limited capacity also distinguish it.
The Le Laperouse is small enough to reach ports that mega-ships can't.
It is an expensive cruise line with a heavy price tag that includes a lot of security for just 92 luxury cabins and suites.
The hallmark of Le Laperouse subtly combines elegance, intimacy, and comfort with a noticeable lean towards Scandi-inspired interiors through the use of blonder woods, pared-back design, and a palette of soft bright colors.
A marina platform allows you to swim right off the ship's back or take off in a kayak without having to dock, besides a counter-current infinity pool.
5. Scenic Eclipse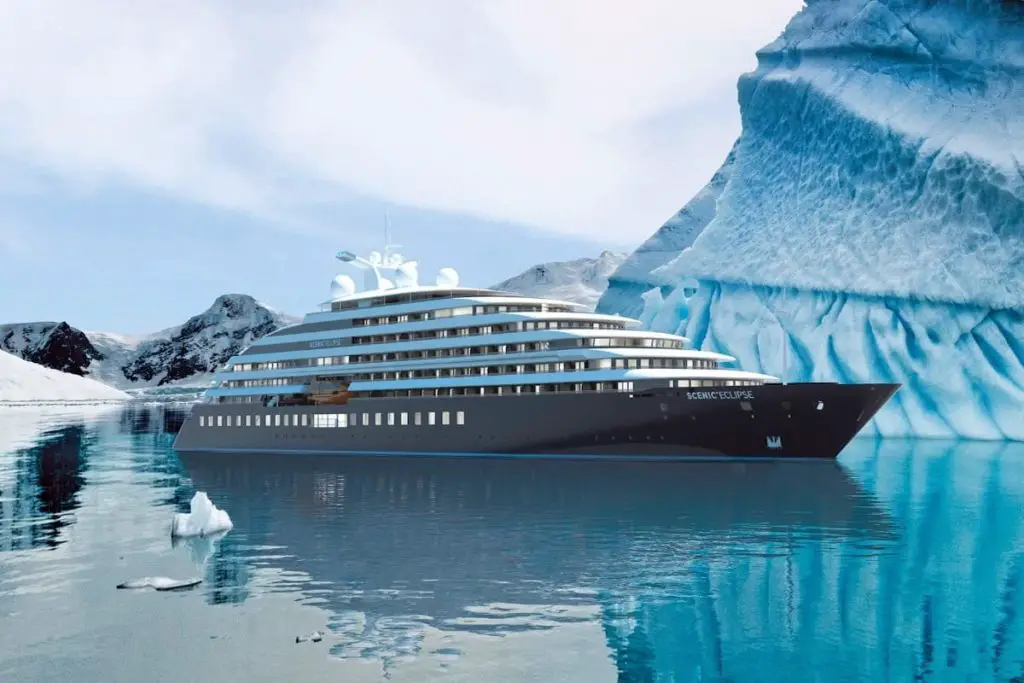 There is no reason for the differentiation in scientific discovery and luxury, as scientists could love luxury or rich being scientifically curious.
That's what Scenic Luxury Cruises & Tours, whose recently launched this luxury expedition cruise ship, Scenic Eclipse, is trying to do with a massive, 551-foot megayacht.
The 228-passenger ship finally launched last month after years of delays and was christened by Dame Helen Mirren on Tuesday in New York.
The boat is fitted with 114 cabins, each of which is a huge suite, including a living room, a veranda, and a butler service.
A whopping 2,659 square feet is officially estimated by the $10,000-per-night, two-bedroom Owner's Penthouse Suite.
Spa suites, meanwhile, feature a jacuzzi, steam tub, and light therapy designed by Philippe Starck.
Apart from the most luxurious cruise ship suites, leisure doesn't end there.
The Scenic Eclipse features 10 different restaurants that are managed by executive chef Tom Goetter, with cuisines varying from French to Japanese.
There are also eight bars, one of which serves over 100 top-shelf whiskey varieties.
If you're yourself an aspiring chef, the yacht club features a cooking classroom, where guests can learn how to make the delicious food they've eaten.
Scenic Eclipse is a ship that maximizes the beauty of natural light with sheet after sheet of curved glass to enable guests to absorb every inch of the external panoramic views.
4. Symphony of the Seas, Royal Caribbean Cruises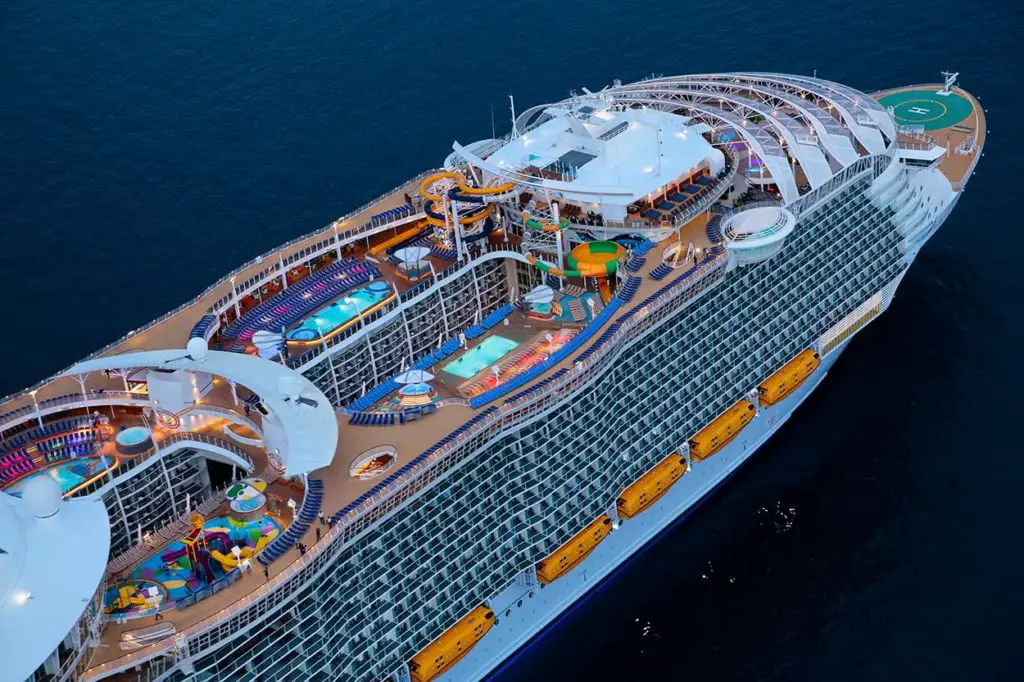 The Oasis-class, Symphony of the Seas by Royal Caribbean International, is the biggest cruise ship in the world currently in service.
The Symphony of the Seas is also the most expensive cruise ship, with a production cost of $1.35 billion for obvious reasons.
While its dimensions and weight are evidence of this, aspects of the interior show the sheer size and comfort of this cruise liner.
Onboard is a central park with over 20,700 tropical plants, a Royal Theater with a capacity of 1400, a zip line, an ice-skating rink, and seven neighborhoods.
Being such a giant ship, its interior design varies from normal to higher category rooms.
Its more unique suites are worthy of admiration — some of them are mezzanines and split-level piano designs.
Beginning with a surf simulator, zip line, laser tag, rock climbing, many (and fun-looking) water slides, an escape room, pools, hot tubs, arcades, cupcake baking classes, and more, this ship's entertainment is amazing.
Cruise critic bestowed The Symphony of the Seas for Cruisers' Choice Awards as "Best Cruise Ship for Entertainment."
We can't even fit it all in so much! As for dining, the Seas Symphony has almost every cuisine you might think of, and some that you haven't even discovered yet.
3. Silver Muse, Silversea Cruises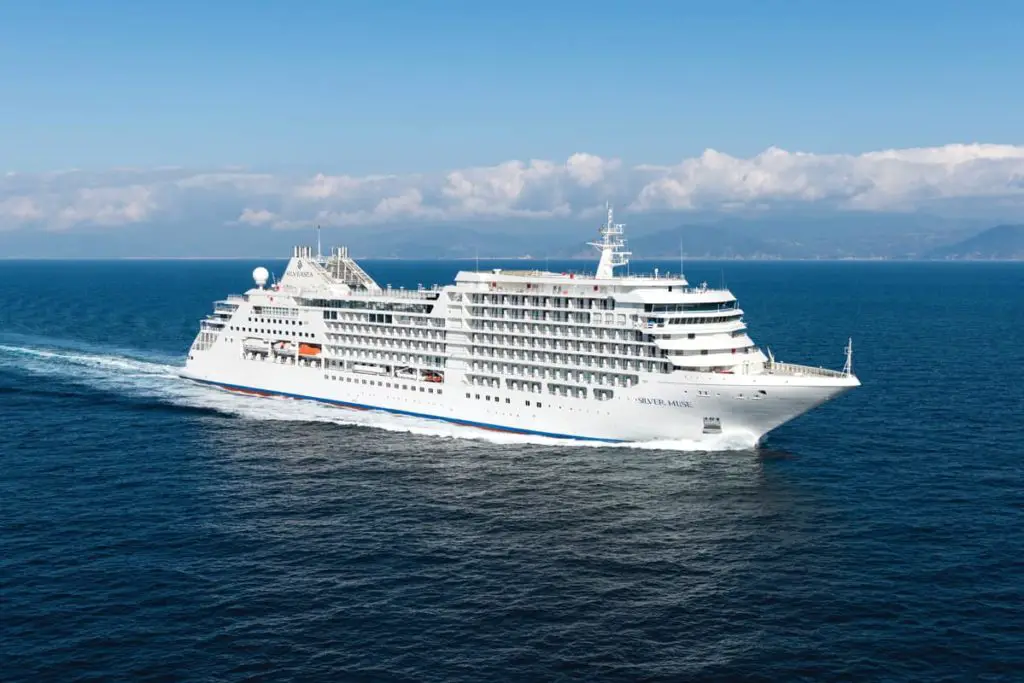 Often reported as one of the world's most expensive cruise ships, Silver Muse is the newest in our luxury cruise ship's list, as Silversea Cruises only launched recently in 2017.
It carries 596 passengers, and while it is pricey, it saves for sure. As before, every room onboard is known as a suite, this ship is so big, and yeah, awesome too.
As for entertainment and dining (we knew you'd be curious about it), Silver Muse is more of a trip for adults.
Silver Muse has stunning, understated public spaces, including an extensive pool deck with comfortable lounge chairs, a large pool, and dedicated pool stewards ready to meet any emerging needs.
There is also a great Arts Cafe where coffee and tea drinkers can feed their addiction while taking healthy bites into the atmosphere of funky art.
Silversea Cruises are top-rated cruise lines with other ultra-luxury cruises like Silver Spirit or explorer cruises like Silver Explorer.
2. Crystal Serenity, Crystal Cruises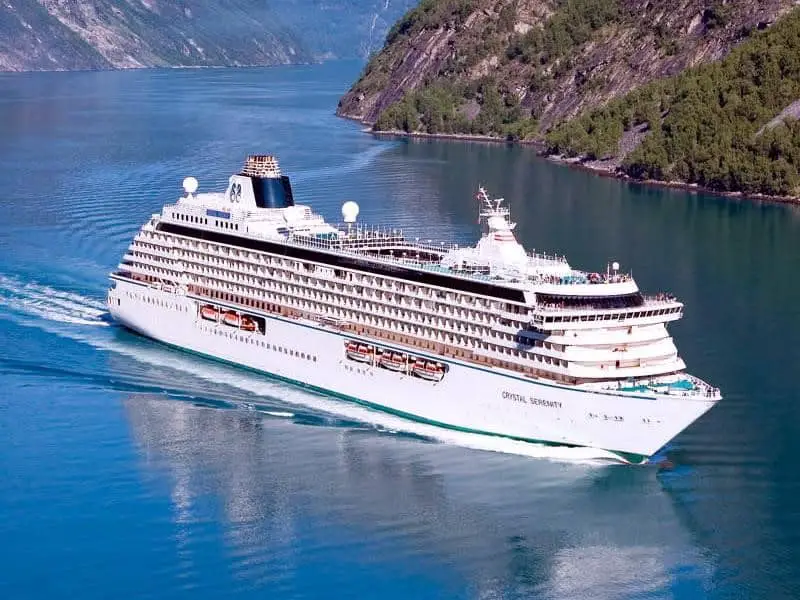 This luxury cruise ship was built in 2003 and is as decadent in its selection of stops on its journeys around the world as it is in its interior design.
It has several exquisite retreats, from suites to penthouses, some with private verandahs and attentive butlers, instead of offering just spaces.
The furniture is undoubtedly lavish without being ostentatious and shows a propensity for thick padding and quilting on its upholstery and headboards and high-end fabrics such as marble, plush leathers, and deep-pile velvets.
It carries 1075 passengers, so on this one, you can be a little more friendly, but all that way the buffet lines are longer.
All-inclusive Crystal Cruises propelled the Crystal Serenity as one of the most luxurious ships out there today with multi-million dollar upgrades.
If you want to listen to music in the lounge or enjoy a show, Crystal Serenity will impress you.
On the ship you will come across performers — from a classic quartet playing afternoon tea service to a jazz or Broadway singer in the lounge as you drink a cocktail before or after dinner.
There are karaoke and parties at Pulse Disco after dinner.
1. Seven Seas Explorer, Regent Seven Seas Cruises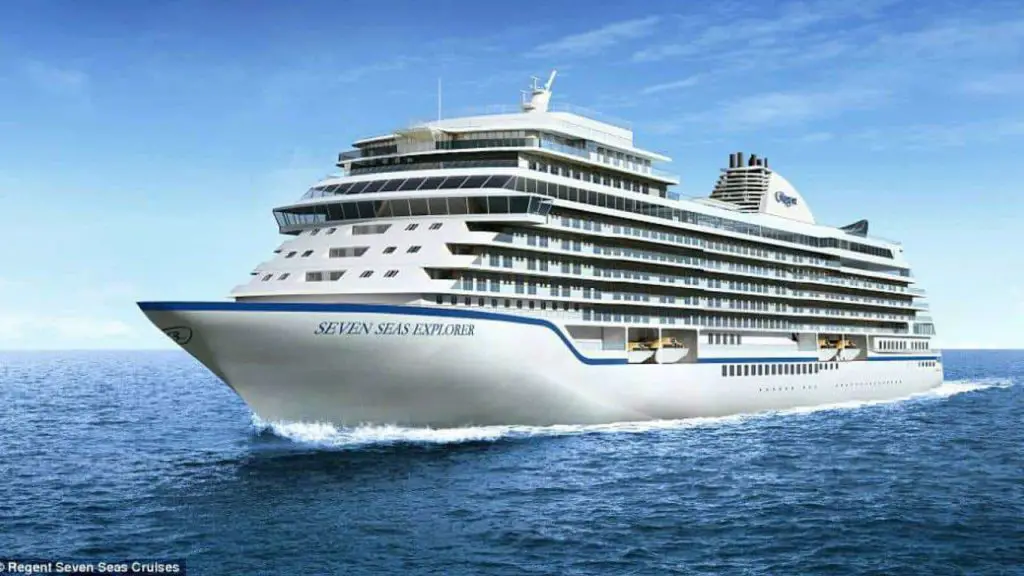 In July 2016, when the luxury cruise line Regent Seven Seas Cruises launched the magnificent Seven Seas Explorer, the brand claimed to the world that it was the "most luxurious ship ever built."
Explorer, as the flagship of the line, exemplifies the hallmarks of exquisite cuisine and the ultra all-inclusiveness for which, Regent is renowned.
Look no further than this ship if you're looking for 7-star hotel-level accommodations at sea. 
The Explorer has a spa on-board for the Canyon Ranch. Canyon Ranch never heard of?
It's Arizona's hyper-luxury spa and wellness destination where wealthy and famous go to detox and sober up.
The big news in the fitness community is the fact that these fine folks can now experience it on a luxury cruise ship.
The onboard facilities include a casino, a club of connoisseurs, a theatre, three exclusive lounges, eight different places to eat, a spa, a corporate club, and super expensive shopping, of course.
While the quest for a unique experience on the land ends with a vast number of existing luxurious options, experiential spending at sea, unlike its counterpart on land, is limited.
On the sea, however, the experiences of luxury cruise ships and yachts can overcome the overwhelming land choices.
Cruise ships play a big part in meeting the needs of the ocean tourism industry, as many ships are affordable compared to yachts.
These floating cities redefine luxury travel with awe-inspiring experiences and sumptuous, superlative services for travelers.
Do share with your friends on social media with whom you will one day visit on one of these high-end cruise lines in the world.