Top 10 Best 7 Star Hotels in World
It must be a wonderful fantasy for many of us to experience the most excellent luxurious hospitality the world has to offer.
There are many 5-star hotel chains like JW Marriott, Hyatt, Hilton, etc. to offer these services.
The hotel rating system aims at star-rating hotels based on their quality and the number of amenities they provide to their guests.
But what if you want more than that?
You must have heard of 7-star hotels that signify opulence and deliver outstanding experiences in hospitality.
Unfortunately, there is no 7-star hotel in the world officially.
It is a term, 7 stars coined by a journalist who visited the Burj Al Arab in Dubai, as he thought that the regular five stars did not do justice to its super luxurious hospitality, creating the word 7-Star.
What we can learn from the hotels that have seven on the market is that they are luxurious travel destinations with the sparkling additions you can ever dream of.
The hotels listed below are the Top 10 most luxurious 7-star hotels in the world:
10. Taj Lake Palace, Udaipur, India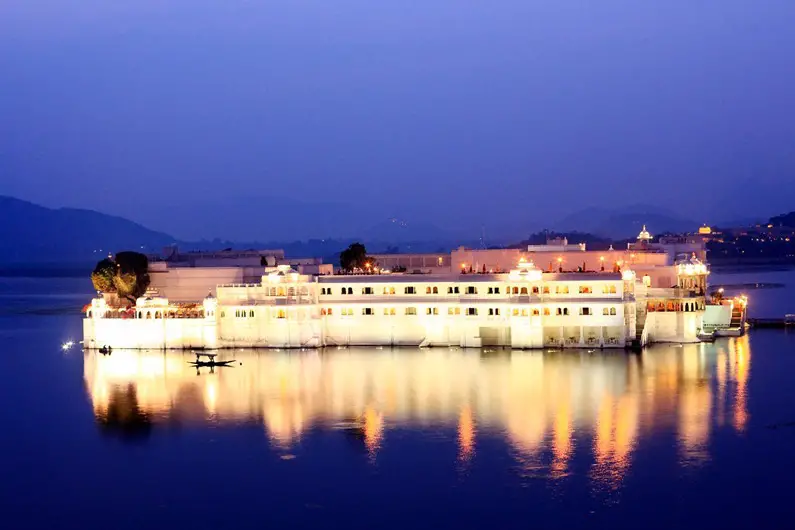 Price: $890 to $5000 per night
Taj Lake Palace, situated in the heart of Lake Pichola, is an exquisite 18th-century whitewashed palace that stands as a testament to opulence and architectural brilliance. Renowned for its elegance and international acclaim, this luxurious hotel ranks among Rajasthan's finest 7-star establishments. Once a summer retreat for the ruling King of Udaipur, the palace offers breathtaking views of the hilltop and medieval gardens adorned with Bohemian crystals, lush lotus leaves, and ornate arches. The hotel boasts spacious and sumptuous rooms that exude comfort and luxury. With 66 rooms and 17 royal suites, all featuring Rajasthani royal-style interiors and enchanting views of the lake, Taj Lake Palace offers an unparalleled experience. In addition to its prime location, the hotel provides a luxurious spa, three Indian and international restaurants, a well-equipped fitness center, a stunning pool deck, and various outdoor seating areas to cater to your every need. Indulge in the rejuvenating massages and beauty treatments at Jiva Spa. Taj Lake Palace is the epitome of luxury living, offering spacious accommodations and world-class amenities.
Why is it so expensive?
The sheer grandeur of the Taj Lake Palace is beyond imagination. Rising like a luxurious cruise from the enchanting waters of Lake Pichola, this 7-star hotel embodies magic and the allure of festive dreams. Its unbeatable location sets the stage for a cuisine adventure in the palace's elegant restaurants. Delight in the flavors of authentic Rajasthani and other Indian cuisines at 'Neel Kamal,' or savor modern European delicacies at 'Bhairo' while enjoying the open-air setting. As the sun sets, the 'Amrit Sagar' bar becomes the perfect venue to enjoy signature martinis, cocktails, and an extensive collection of world-class spirits. Taj Lake Palace is a masterpiece that seamlessly combines history, luxury, and culinary excellence.
9. Hotel Plaza Athénée, Paris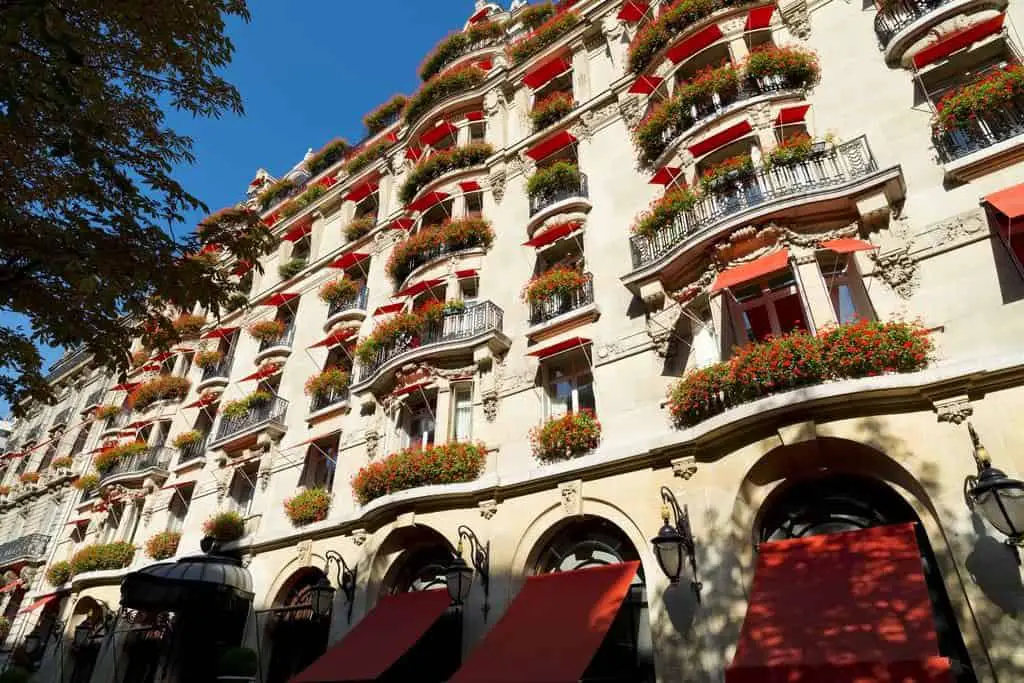 Price: from $1200 per night
Hotel Plaza Athénée, ideally located for the best shopping experiences in Paris, offers breathtaking views of the iconic Eiffel Tower. The hotel's suites, particularly Suite No. 361 and Suite No. 878, are the epitome of sophistication and elegance. With 154 rooms and 54 suites adorned in elegant Louis XVI decor, the hotel reflects the flamboyance that is synonymous with Parisian style. Suite No. 878 boasts a contemporary Art Deco design with retro furniture in shades of brown, beige, and baby blue. On the other hand, Suite No. 361 provides a classic French-style experience, featuring a spacious living area, a fully equipped kitchen, an inviting armchair, and a marble-clad bathroom, all-encompassing a generous 1400 square feet of luxury. The living room features gray walls with exquisite moldings, complemented by rose-pink fabric upholstered chairs, two sun-drenched dark gray sofas, a glass-top cocktail table with silver leaf details, and silk curtains. Hotel Plaza Athénée offers an unforgettable stay with its remarkable accommodations and impeccable attention to detail.
8. Hotel President Wilson – Geneva, Switzerland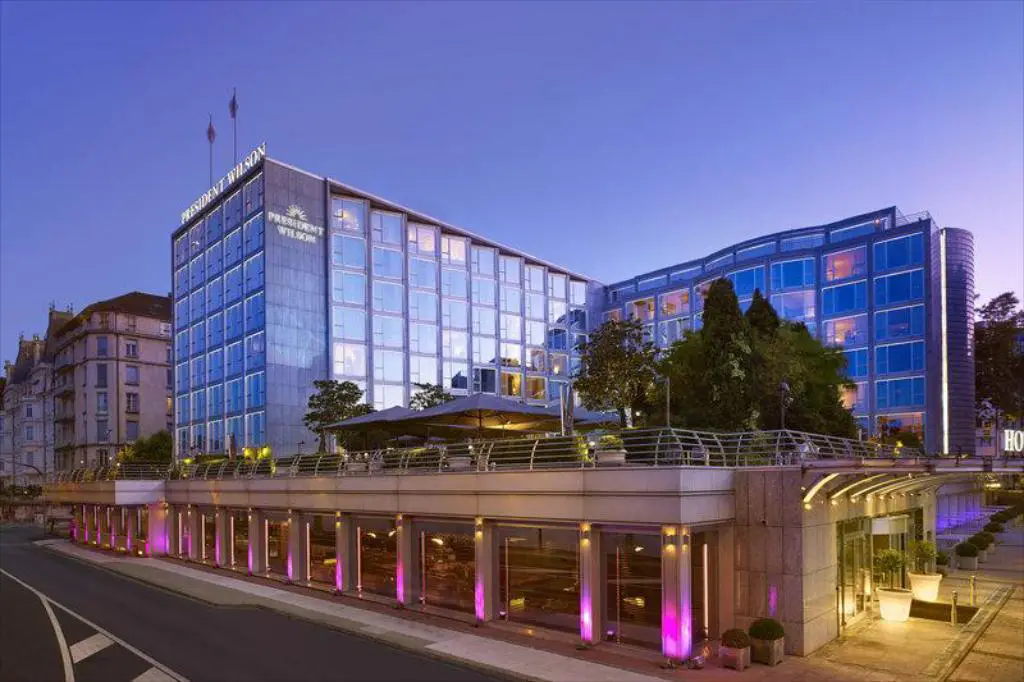 Price: $400 to $80,000 per night
The hotel is one of Geneva's most opulent locations facing the magnificent view of Mont Blanc on Lake Leman.
This Swiss hotel offers Michelin-starred cuisine from the renowned Chef Michel Roth.
Its luxurious amenities include a spa suite with a private Jacuzzi, sauna, and signature spa treatments from Spa La Mer, as well as a temperature-controlled outdoor swimming pool with spectacular views of the lake.
The President Wilson Hotel in Geneva is home to the world's biggest and most expensive suite, known as the Royal Penthouse Suite, which occupies the top floor. 
This suite, priced at around $80,000 per night, features 12 rooms, a spacious dining area, an executive boardroom, top-quality architecture, a private elevator, armored doors, bulletproof windows, a panic room, and a private helipad, making it ideal for extravagant celebrations.
In addition to the lavish suite, the hotel offers standard classic rooms priced at $390 per night.
What makes this suite so special?
Guests staying in the suite can enjoy additional amenities such as a grand piano, billiard table, the world's largest TV, a collection of classical books, artworks, and panoramic views of Lake Geneva.
This impressive suite certainly deserves its place on this list, with its opulence and exquisite offerings that make guests feel at home.
7. Signiel Seoul, South Korea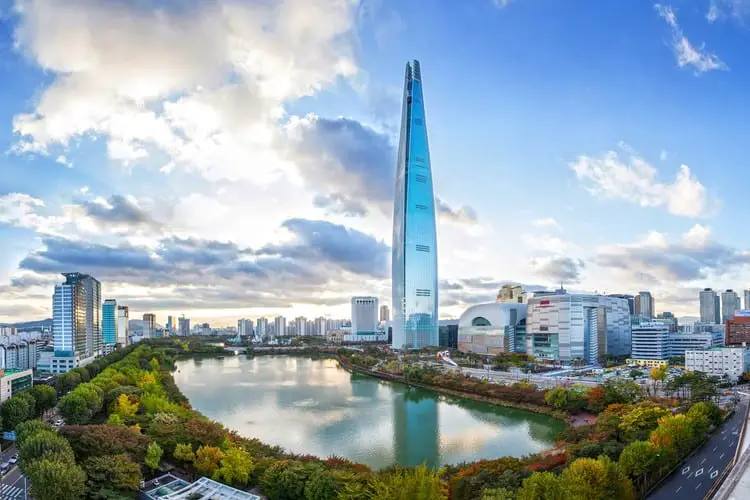 The world's newest 7-star hotel is located in the fifth tallest building, Lotte World Tower which makes it the highest elevated most luxurious hotel in the world. 
With its Michelin-starred restaurants and helicopter transfers, Signiel Seoul has swiftly earned its reputation as a 7-star haven.
It has Michelin-star chefs for its restaurants and helicopter transfers for its interested visitors.
Even if you don't have the expense of other hotels mentioned in this list, here, you'll get all this experience for an overnight fee of $1,000 in its comfortable rooms.
The hotel offers Asia's largest champagne bar, stunning cityscape views, comfortable and spacious suites, a fine-dining bar situated 342 meters above the ground, a relaxing swimming pool, and a rejuvenating sauna.
Signiel Seoul is a must-visit destination in South Korea, where luxury knows no bounds.
6. Laucala Island Resort, Fiji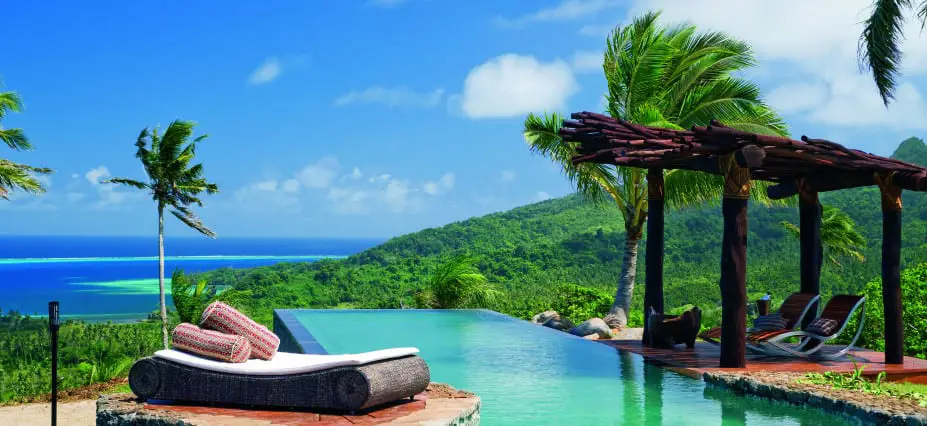 Price: from $4000 to $55,000 per night
Laucala Island Resort is the world's most beautiful private island in the heart of the Pacific Ocean, Fiji.
We can find this exclusive private island Laucala on 3,500 hectares in the middle of the coconut plantation, with sandy beaches, green mountains, and beautiful natural surroundings.
Privately owned and transformed into a unique island paradise by Red Bull founder Dietrich Mateschitz, Laucala Island Resort delivers a personalized culinary experience with exotic dining locations in the jungle, on a jetty, in a villa, or at private restaurants.
The Delana Hilltop Estate Residence may sometimes be offered for $55,000 a night on prior request.
A one-bedroom suite with a private pool and direct access to the beach can cost $6000 per night.
What sets this resort apart is the absolute privacy of its villas, located at the northern end of the island.
With a seamless transition to unsupervised living, guests can immerse themselves in a serene and luxurious atmosphere, making it an idyllic honeymoon destination.
For Australians or people throughout the southern hemisphere, this is the nearest 7-star experience option.
You can take part in events on the island, including a paddle with a transparent bottom kayak, an underwater submarine ride, or a golf game with a resident specialist.
Amid a fast-running chaotic life, this island is a superluxurious option to relax and experience the Polynesian culture.
5. Emirates Palace, Abu Dhabi, United Arab Emirates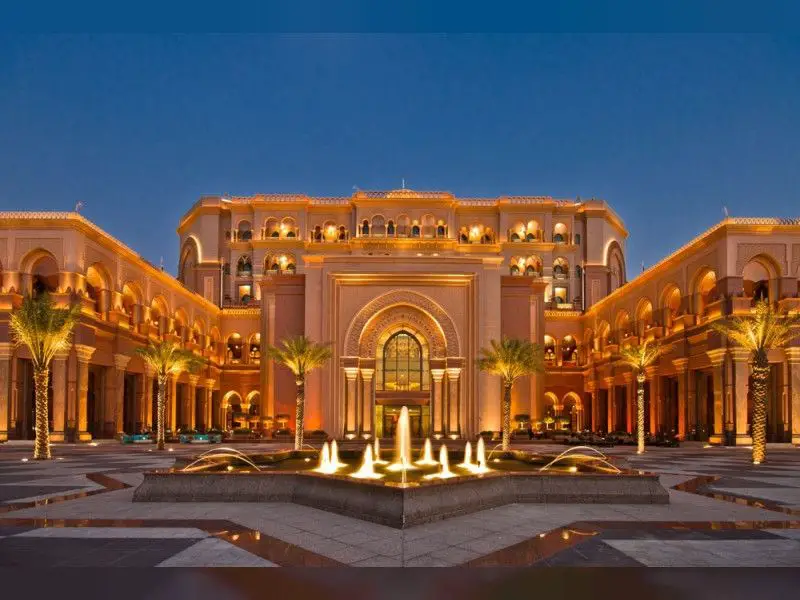 Price: $350 to $11,000 per night
Emirates Palace in Abu Dhabi, United Arab Emirates, offers a luxurious retreat that embodies Arabian fantasy.
Nestled on a private beach, this 7-star hotel boasts affluent suites embellished with gold furnishings a reminiscent of royalty.
With private beaches, picturesque landscaping pools, 128 specialized kitchens, 114 domes crafted from unique marble imported from 13 countries, and a private marina overlooking the bay, a stay at Emirates Palace is a once-in-a-lifetime holiday experience.
The palace grounds, with a price tag of over $11,000 per night, present the expensive option of luxury within the hotel.
This 7-star Emirati hotel highlights the fascinating heritage of Arabia through its design and architecture.
A beautiful lawn with many ponds covers approximately 85 acres of land surrounding the main accommodation palace, it's a big hotel.
The luxurious rooms and suites, the superb food, the beautiful pools, and the beaches make for a one-stop holiday.
It looks like a magical realm with the best facilities in the world within your grasp.
Emirates Palace is renowned for its extravagant construction, which came with a staggering 3 billion US dollars budget.
From twelve majestic outdoor fountains to over 1,000 Swarovski crystal chandeliers and even a gold-plated coffee vending machine, no expense was spared in creating an ambiance of grandeur.
It's not just gold used for décor; it's also part of the culinary experience.
Every dish served is dusted with powdered gold, from camel burgers to the cappuccino.
If you are tight on budget and can't afford to book a room but want to enjoy this Arabia hotel, there is an option for the Emirates Palace tour.
4. Four Seasons Hotel, New York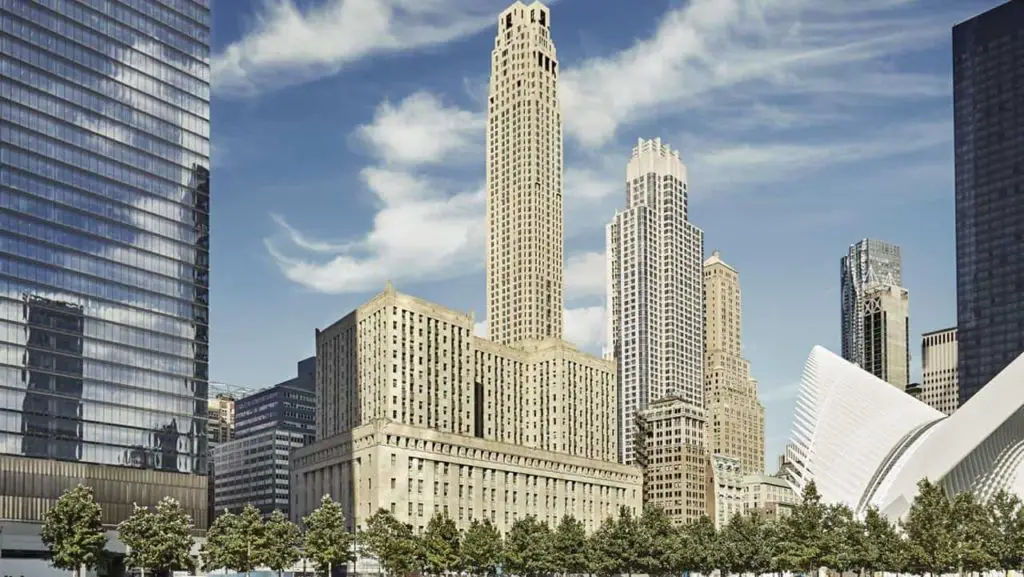 Price: from $1,095 to $60,000
With over 100 properties in over 40 nations, the Four Seasons Hotels and Resorts is one of the world's foremost ultra-luxurious hotel brands.
Four Seasons Hotel in New York, on 57th Street, is likely one of the city's most iconic and the best choice for luxurious leisure or business trips.
Situated on "Billionaire's Row," between Park Avenue and Madison Avenue, this iconic hotel offers guest rooms starting at $1,095 per night.
However, the epitome of indulgence can be found in the Ty Warner Penthouse Suite, named after the hotel's billionaire owner, which costs around $60,000 per night.
Among the most expensive hotel suites compiled by CNN Cross in 2012, this suit ranks in 3rd position.
It reportedly took seven years to construct the penthouse room which cost well over $50 million to build.
Designed to embrace natural light and provide panoramic views of the park and the beautiful city landscape, the Four Seasons Hotel offers a serene and luxurious retreat high above the bustling streets of New York.
The rooms feature elegant designs with vintage pine accents, and some offer jaw-dropping views across Central Park.
The Central Park Suite boasts a spacious terrace, perfect for dining while overlooking the Manhattan skyline.
It even has a lawn that appears over the Resort's towering Grand Lobby.
Another remarkable feature is the enchanting forest-themed restaurant, where you can savor a meal amidst twisting, undulating trunks of African Acacia trees, basking in the warm, dappled sunlight streaming in.
Specialty:
It's clear from the design that no expense was spared when placing in combination this opulent suite with artisan fabrics used together with Venetian velvet, Chinese onyx, Japanese silk, and sinks carved out from rock crystal.
The arena's costliest one-bedroom penthouse suite, Ty Warner Penthouse Suite, takes up all 4300 sq. feet of the Four Seasons 52nd floor.
You could have a private spa and as if that wasn't sufficient, there is an onyx-clad, chromotherapy infinity soak bathtub, and a Zen Room with a waterfall cascading from the ceiling towards a wall fabricated from green bowenite semi-precious granite.
Peter Marino and the legendary I. M. Pei (who died last year at 102) designed the hotel.
You get Rolls-Royce with a chauffeur, personal trainer, spa treatments, and as much Michelin star food and champagne.
3. Morgan Plaza, Beijing, China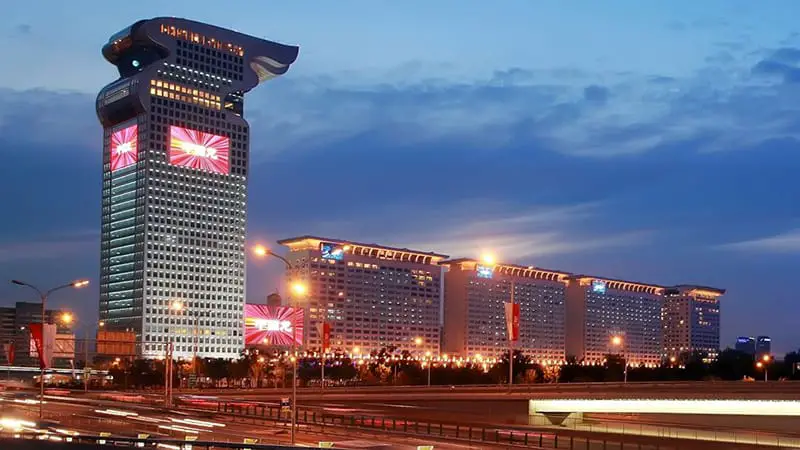 Beijing's Morgan Plaza, also known as Pangu seven-star hotel, is a masterpiece of luxury and architectural brilliance.
Designed by the world-famous Taiwanese architect CY Lee, who also created Taipei 101, this dragon-shaped hotel offers an ideal location for luxury travelers, being close to one of the world's largest libraries.
What makes this hotel a 7-star?
Because of its extremely impressive Sky Courtyard suites, the hotel is awarded the 7-star title.
There are 12 Sky Courtyards, which are two stories and feature amenities like special pools and retractable glass roofs.
In the Pangu, 234 rooms fuse traditional Chinese art with contemporary European glamor, based on Feng Shui principles.
This hotel in Beijing has Standard Rooms with a pretty hand-packed price of $320 for a night (the most cost-effective in our 7-star list).
But to maximize the most lavish experience, you can book a Sky Courtyard, an outdoor two-story private residence with a rooftop garden, a swimming pool, and a glass roof, which is Sir David Tang's artwork.
2. Hotel Seven Stars Galleria, Milan, Italy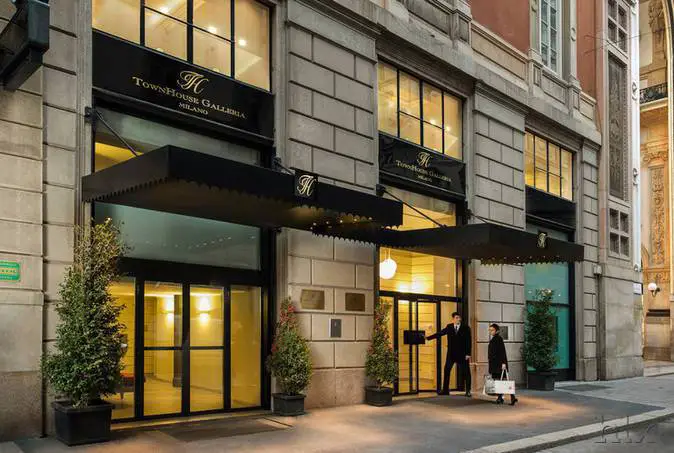 Price: €1,500 to €15,000 per night
Which is the only 7-star hotel in the world?
The Galleria Seven Stars, located in Milan, Italy, proudly holds the distinction of being the only official 7-star hotel in the world. 
The owner engaged SGS, a company renowned for its high standards, to create a hotel that surpasses European ranking criteria, thus earning the official 7-star title.
What makes The Galleria Seven Stars so special?
With only 20 rooms available, the Galleria Seven Stars is the most exclusive hotel on this list and one would be very lucky to book a suite.
Lucky guests who secure a suite can enjoy a personalized experience tailored to their individual preferences, including customized bedrooms, gourmet cuisine, and background music to ensure a seamless transition over Jetlag from a long flight.
Additionally, the hotel's prime location allows shopaholics to indulge in retail therapy, with direct access to Italy's famous Galleria Vittorio Emanuele II, the grandest shopping arcade in the world.
The rooms and suites at Hotel Seven Stars Galleria provide magnificent views and a perfect sanctuary to unwind. Furthermore, guests have the privilege of direct access to the world-renowned Leonardo da Vinci Museum.
The hotel's exceptional pet service ensures that even furry companions receive a luxurious experience, complete with chenille sofas, gourmet treats, and exquisite teacup sets.
1. Burj Al Arab Jumeirah, Dubai, United Arab Emirates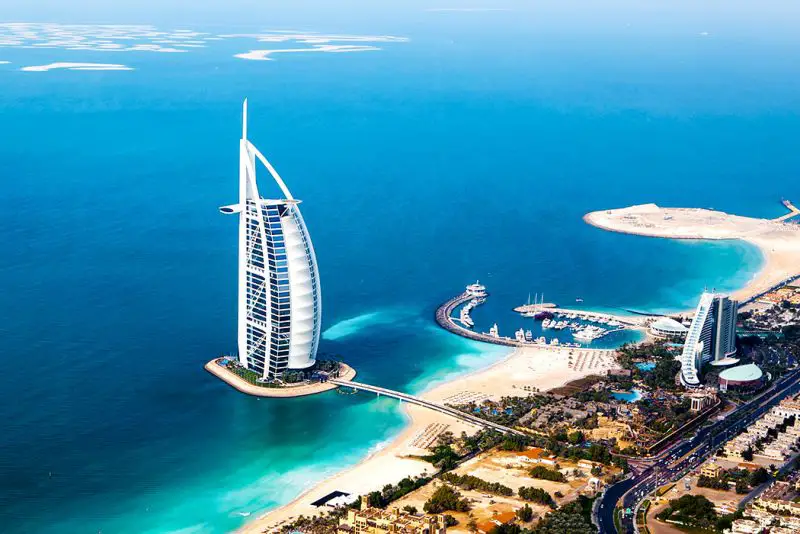 Price: from the north of $1000 to $ 27,000 per night
As already said above, the concept for a seven-star hotel came to life in Hotel Burj Al Arab, Dubai's iconic sail-shaped hotel. But Why Burj Al Arab is considered a 7-star hotel?
It's difficult to answer exactly what aspect of Burj Al Arab, the sail-shaped hotel inspired the term, it must be something to do with the comprehensive Rolls-Royce Phantom available to escort (to receive you from the airport) and 24-Hour butler service.
In the most popular hotel in Dubai, the décor is as glamorous as its customers, with the space covering over 21,000 square feet in 24K of pure gold leaf.
Helipads, gold-plated bedroom iPads, and caviar masks are extravagant as are eight attends for every suite.
Located just 280 meters from Jumeirah Beach, the Jumeirah Group build this monumental structure of the most expensive hotel in Dubai on a man-made island, and the exterior design resembles a sail of a ship. 
There are 202 suites, the most luxurious of which is the Royal two-bedroom suite, which costs around $27,000 a night. 
This suite has a private elevator, a screening room, a library, an unobtrusive check-in system, and Rolls Royce chauffeurs.
Each Suite here has 24-carat gold iPads, designer linen from Egypt, hygiene items, and Whirlpool jacuzzis.
Snooker, stores, cinemas, and private elevators are included in the upgraded suites.
Burj Al Arab is the most luxurious hotel in the world with free access to the Wild Wadi water park, a private beach, and beautiful panoramic views of the clear turquoise-blue Arabian Gulf.
Many luxury hotel chains are doing their best to distinguish themselves as 6-stars or 7-stars.
Name it competition or the essence of luxury that many 5-star hotels in the world have today.
Luxury is top here, facilities and other services are available here in these hotels.
Entering their hospitality is like entering into real-life modern heaven. Who knows whether it will inspire and motivate you to complete any task ahead of you?
Inspiration is always available for you to absorb the work of world-class architectures as it is always said: "Art gives birth to another art."