Top 10 Richest Painters in the World
10. Gerhard Richter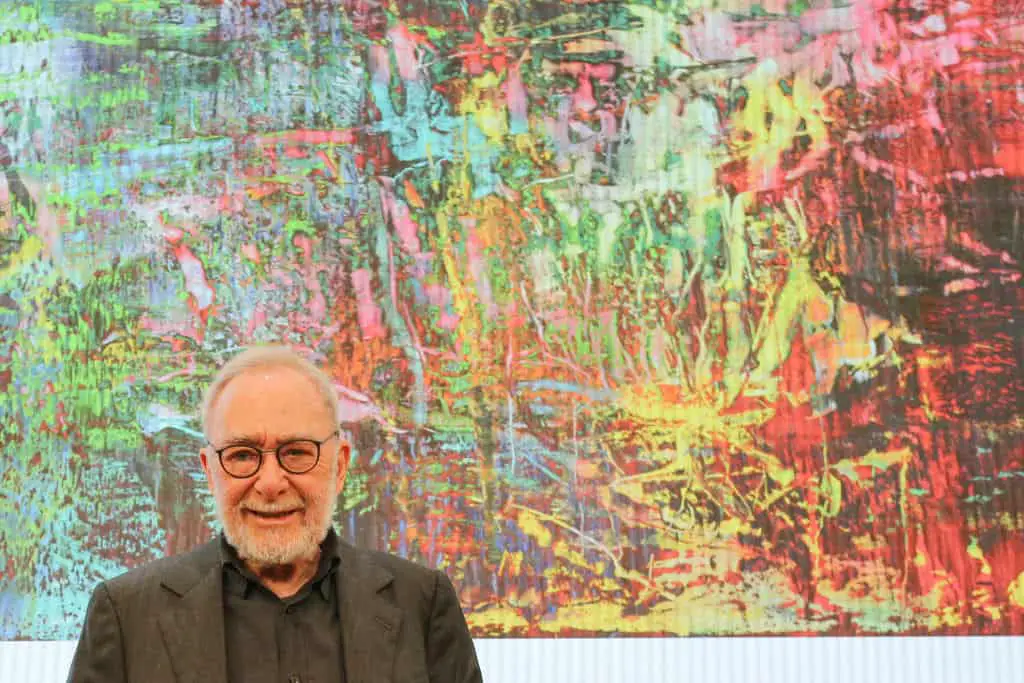 Gerhard Richter is a renowned German visual artist known for his diverse range of artistic creations.
His body of work encompasses abstract and photorealistic paintings, as well as glass pieces and photographs.
Widely regarded as one of Germany's most significant contemporary artists, Richter's talent has garnered widespread recognition.
His artworks have been auctioned at record-breaking prices, solidifying his status in the art world.
In 2011, Richter achieved notable success when one of his paintings from 1997, initially valued at around $9 million, was sold for an astounding $20.8 million.
This remarkable sale not only demonstrated the immense value placed on Richter's art but also showcased his ability to captivate collectors and art enthusiasts.
Another testament to Richter's artistic prowess was the sale of one of his paintings from 1987.
Originally expected to fetch approximately $783,106, the artwork fetched a staggering $18 million at auction, exceeding expectations and further contributing to Richter's wealth.
These exceptional sales significantly bolstered Richter's overall financial standing, elevating his total assets to an estimated $40 million.
With his remarkable talent and commercial success, Gerhard Richter continues to leave an indelible mark on the art world.
9. Antony Gormley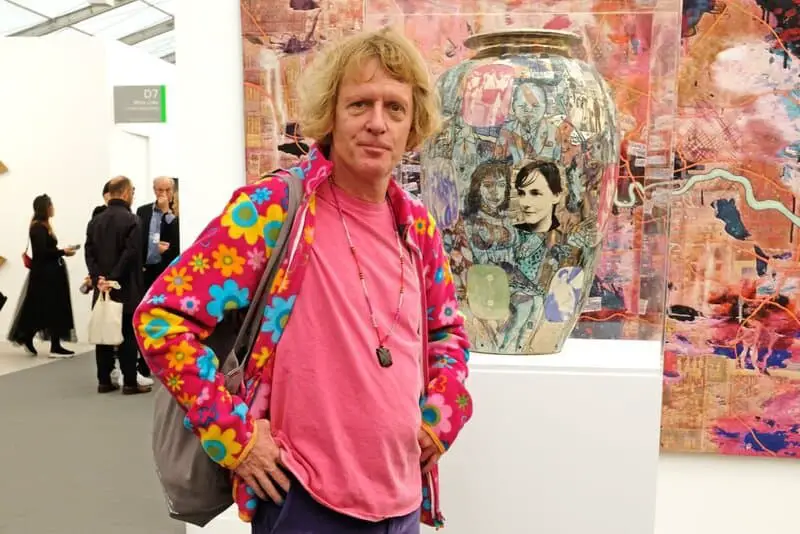 Antony Gormley is a renowned British sculptor and installation artist. He gained international fame for his captivating and thought-provoking artworks that explore the relationship between the human body and space.
Gormley is best known for his series of sculptures called the "Angel of the North," a monumental artwork located in Gateshead, England. Standing at a height of 66 feet (20 meters) with wings spanning 177 feet (54 meters), the Angel of the North has become an iconic symbol of contemporary art and a beloved landmark.
Another notable work by Gormley is the "Another Place" installation, consisting of 100 cast iron figures spread along a stretch of beach in Crosby, England. These life-size sculptures, facing the sea and the horizon, evoke a sense of solitude and contemplation, inviting viewers to reflect on the relationship between humanity and nature.
Gormley's artistic practice often involves exploring the human form and its interaction with architectural and natural environments. His sculptures and installations often challenge traditional notions of sculpture by incorporating unconventional materials and pushing the boundaries of scale and space.
His contributions to the field of contemporary art have been widely recognized and celebrated. Gormley was awarded the prestigious Turner Prize in 1994 for his remarkable body of work. His sculptures can be found in public spaces, museums, and galleries around the world, solidifying his reputation as one of the most influential and innovative artists of our time.
8. Takashi Murakami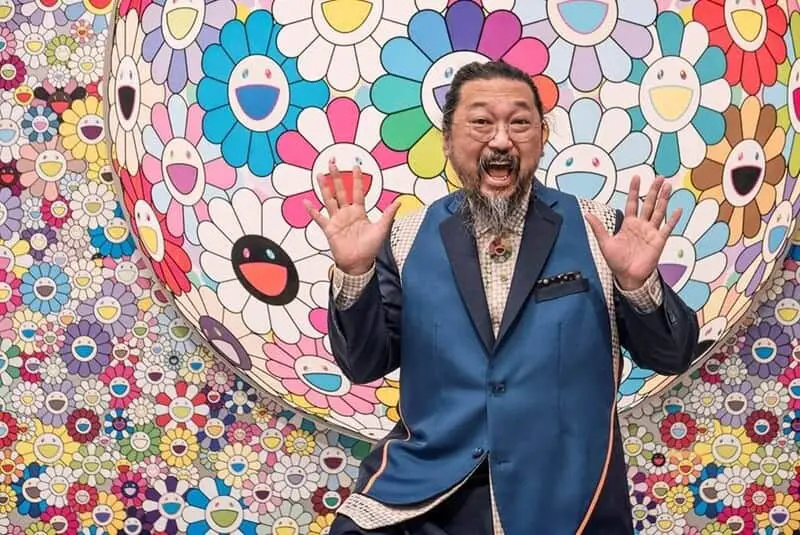 Takashi Murakami is a highly acclaimed and influential Japanese artist who holds a prominent position in the world of art. Often compared to Andy Warhol in terms of his impact on Japanese art, Murakami has introduced unconventional and innovative approaches to pop art, distinct from those of American critics and artists.
Murakami's success and financial prosperity stem from his artwork and collaborations, including a notable partnership with the fashion brand Louis Vuitton in creating a series of handbags. Initially, he aspired to work in the animation industry, leading him to study the necessary drafting skills at the Tokyo University of Arts.
Through his unique artistic vision and groundbreaking contributions, Murakami has left a lasting impression on the art world and continues to inspire and captivate audiences globally.
7. Andrew Vicari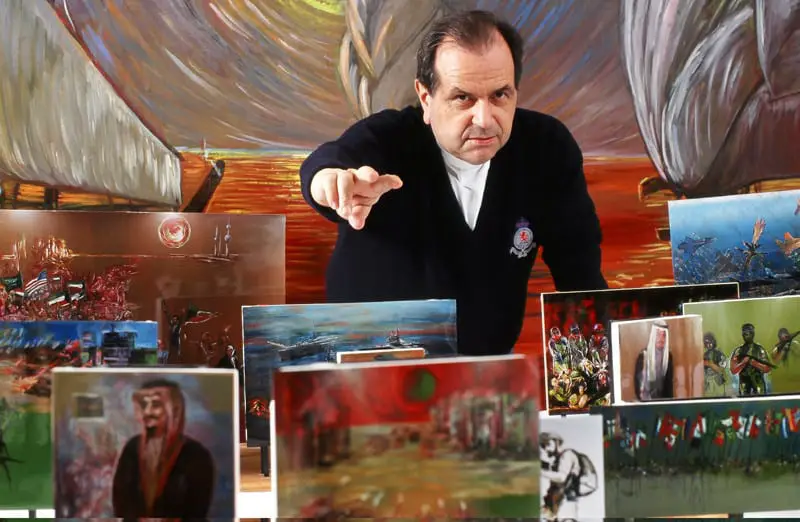 Andrew Vicari was a Welsh painter based in France, known for his remarkable portraits of notable individuals. While he may not have achieved widespread recognition in his home country, Vicari gained significant acclaim and success in his career. In 2004, he was acknowledged as Britain's wealthiest living painter.
Vicari's fame extended beyond the borders of Britain, particularly in Saudi Arabia, where he gained prominence for his portraits of the Royal Family. Prince Khaled, in particular, acquired 125 of Vicari's paintings during the First Gulf War in 2001, with a combined value of £17 million.
Currently, Andrew Vicari resides and works in his studio located outside Nice, France. Additionally, he possesses an apartment in both Monte Carlo and Riyadh.
Throughout his career, Vicari's artistic talent and distinctive portraiture have solidified his reputation as an accomplished painter, leaving a lasting impact on the art world.
6. David Choe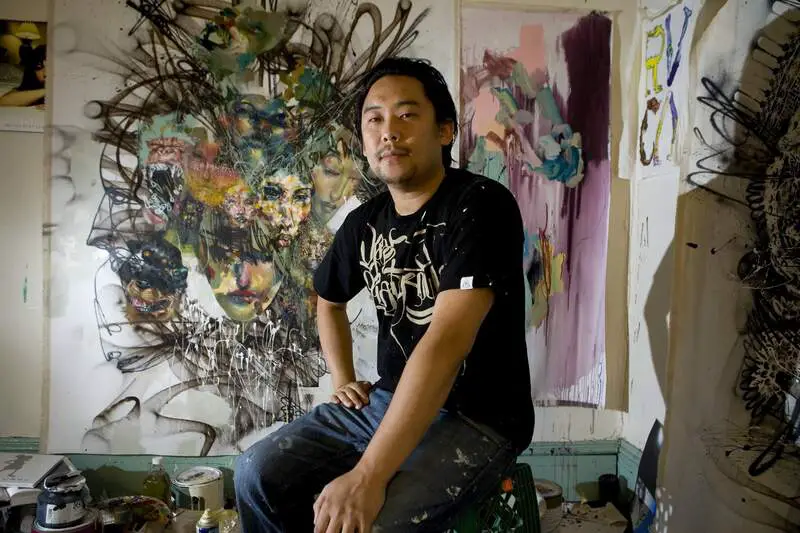 David Choe is an American artist, known for his work in graffiti and graphic novels. In the early 2000s, his talent caught the attention of Sean Parker, the President of Facebook at the time. Parker hired Choe to embellish the walls of Facebook's headquarters in Silicon Valley.
During the negotiation of his fees, Choe expressed his desire to receive $60,000 for his services. However, Parker proposed an alternative arrangement by offering him company stock instead of cash. Choe astutely accepted the offer, a decision that would prove to be incredibly beneficial.
As Facebook's stock value surged over time, David Choe's holdings grew substantially. By 2020, his estimated net worth reached an impressive $300.0 million. This remarkable success has solidified Choe's position as one of the wealthiest artists in the world, all thanks to his strategic investment in Facebook.
4. Jasper Johns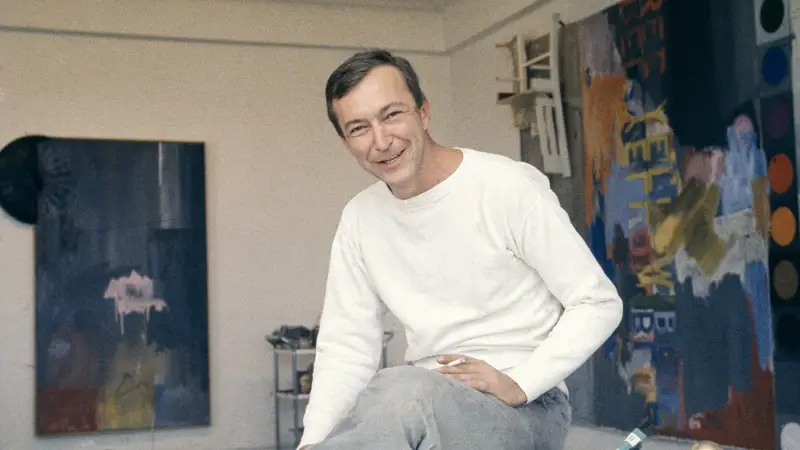 Jasper Johns, an American painter, sculptor, and printmaker, is renowned for his contributions to abstract expressionism, Neo-Dada, and pop art. He is particularly acclaimed for his depictions of the American flag and other subjects associated with the United States.
Interestingly, Jasper Johns stands out as the only living artist who exclusively sells paintings. Despite this focus, his financial success is evident. According to Wealth-X and Bloomberg-Businessweek, his estimated net worth amounts to $210 million.
His artwork has attracted significant attention from prestigious institutions and collectors. For instance, the Metropolitan Museum of Art in New York purchased his piece titled "White Flag" for a substantial sum of $20 million. However, this amount pales in comparison to the sale of his work titled "False Start" to collectors Anne and Kenneth Griffin, who acquired it for an astounding $80 million in 2006.
3. Damien Hirst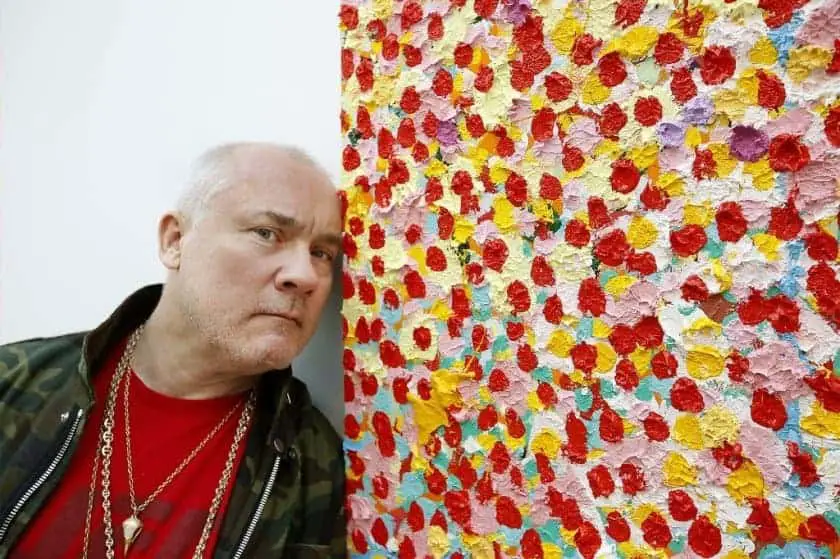 Damien Hirst, an English artist, art collector, and entrepreneur, emerged as a prominent figure among the Young British Artists who dominated the UK art scene in the 1990s. Today, he holds the title of being the wealthiest living artist in the United Kingdom, with an estimated fortune of $384 million according to the Sunday Times Rich List 2023.
Damien Hirst is an English artist, known for his controversial and provocative works. He gained significant recognition for his contributions to the Young British Artists movement in the 1990s. Hirst's wealth can be attributed to his successful career in the art world, where his artworks have garnered substantial value and attracted high-profile buyers and collectors. His works have been sold at prestigious auctions for millions of dollars, contributing to his financial success. Additionally, Hirst has engaged in entrepreneurial ventures, such as his involvement in the art market and collaborations with luxury brands, further augmenting his wealth.

Damien Hirst has achieved record-breaking sales with several of his art pieces. Here are some of his highest-selling artworks:
"The Physical Impossibility of Death in the Mind of Someone Living" (1991): This artwork features a preserved shark suspended in formaldehyde. It was sold to hedge fund manager Steven A. Cohen in 2004 for a reported price of $12 million.
"For the Love of God" (2007): This artwork is a platinum cast of a human skull adorned with over 8,000 diamonds. It was sold to an investment group for a staggering price of £50 million (approximately $100 million).
"Lullaby Spring" (2002): This piece consists of over 6,000 painted and individually cast pills arranged in a cabinet. It was sold to an anonymous buyer for $19.2 million in 2007, setting a new auction record for Hirst's work at the time.
"Beautiful Inside My Head Forever" (2008): This artwork was part of Hirst's groundbreaking auction held at Sotheby's, where he bypassed galleries and sold his works directly. One of the highlights of the auction was "Beautiful Inside My Head Forever," a cabinet containing 223 unique artworks. The entire collection sold for a total of £111 million (approximately $198 million).
2. Ed Ruscha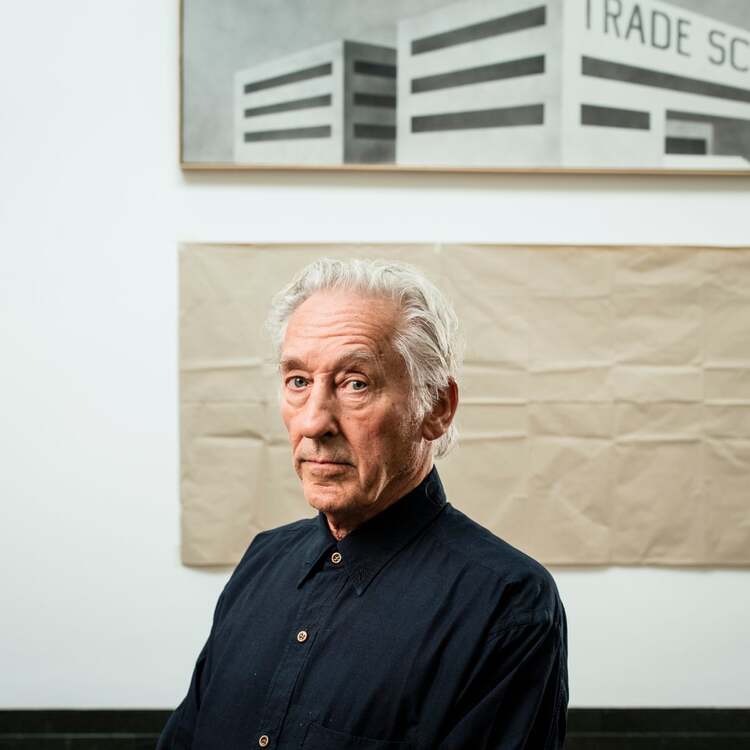 Ed Ruscha is an American artist associated with the Pop Art Movement. He has worked in various mediums such as painting, printmaking, drawing, photography, and film. Ruscha currently resides and works in Culver City, California.
Throughout his career spanning almost six decades, Ed Ruscha has achieved significant recognition. In the 1960s, he gained fame for creating and reproducing iconic images, including the Hollywood sign and the 20th-century Fox logo. In a noteworthy development last fall, his artwork titled "Hurting the Word Radio #2" (1964) was reportedly purchased by Jeff Bezos, the richest man in the world, for a record-breaking sum of $52.5 million. This acquisition propelled Ruscha into a different cultural sphere, further enhancing his status as a celebrated artist.
1. John Currin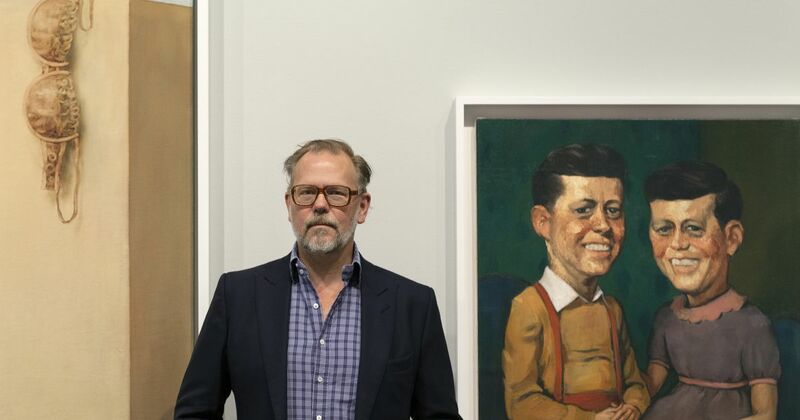 John Currin is an American painter known for his provocative and controversial artwork. He gained recognition for his unique approach to figurative painting, often depicting subjects in a style reminiscent of old masters while incorporating contemporary themes and elements.
While John Currin has achieved financial success through the sale of his artwork, it is important to note that specific details about his wealth and highest-selling art pieces may vary over time. As an artist, the value of his artwork can fluctuate depending on market demand and individual sales.
Some of John Currin's notable and highly regarded works include "The Old Bachelor" (1999), "Rachel in Fur" (2002), and "Nice 'n Easy" (1999). These paintings have garnered significant attention and have been exhibited in renowned galleries and museums worldwide.
It is worth mentioning that the art market is dynamic and constantly evolving, and the value of an artist's work can change based on various factors such as critical acclaim, cultural significance, and collector demand. Therefore, it is advisable to refer to updated sources and market reports for the most accurate and current information on John Currin's wealth and highest-selling art pieces.