Since the beginning of history, humans have tried to reach the skies. 
Living in big houses was associated with being at the top of the social hierarchy.
Even considering the ancient worlds of the Egyptian pharaohs, they thought "the higher, the better."
If you look up before at one of those iconic, landmark tower structures, you understand how amazing they can be!
The craze for tall towers started from Petronas Towers Kuala Lumpur Malaysia during the latter 90s and continues to this day.
You may have the tallest completed buildings on this list before, like Burj Khalifa, but it will amaze you to know about others.
Here's where you can discover these skyscrapers for all their wonderful uniqueness.
These spectacular and high structures yet are proof of how far the techniques of civil engineering have gone.
According to Council on Tall Buildings and Urban Habitat, the following is the list for the top 10 tallest buildings in the world 2021:
10. Tapei 101, Taiwan – 1,667 feet
Taipei 101 has 101 floors, as its name suggests & once held the title of the tallest building in the world before our top ranker 1,667 ft tall. 
When it was built in 2004, Taipei 101 created headlines as its layout was innovative for its earthquake-resistant damper technology. 
From 2004 to 2010, it was considered the tallest skyscraper in the world until another building on this list surpassed its position.
We well know Taipei 101 for its distinctive green-blue hue, an illustration of postmodern architecture. 
Its high-speed lifts can bring a passenger in just 37 seconds from the 5th to the 89th floor.
While the building includes offices and hotels, it also includes plenty of observatories for visitors to gaze out of, including one at the very top. 
It also has lovely shows of fireworks every year on New Year's Eve.
9. China Zun, China – 1,733 Feet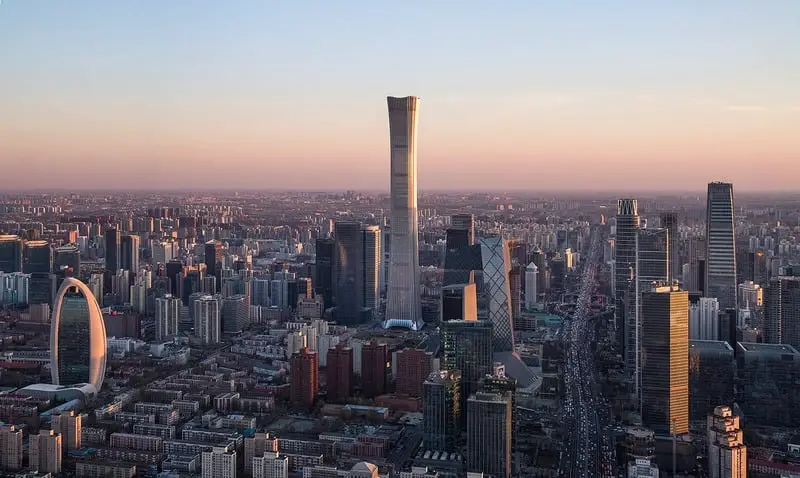 CITIC Tower (China Zun) is located in the Central Business District of Beijing, China.
Although it recently finished its construction in 2018, this tower is already sufficiently tall to make it on this list.
In 2016, the tower became the highest construction in Beijing, and in 2018 building's ultimate full height was reached at 1,739 feet or 528 meters.
The tower is meant to be the center of Beijing's Central Business District. The CITIC Group is developing the structure.
Unfortunately, some tweaks still need to be created, and the building will be accessible to visitors from 2019.
It contains offices, luxury homes, a shopping mall, restaurants, and a rooftop garden.
7. Tianjin CTF Finance Centre , China – 1,739 feet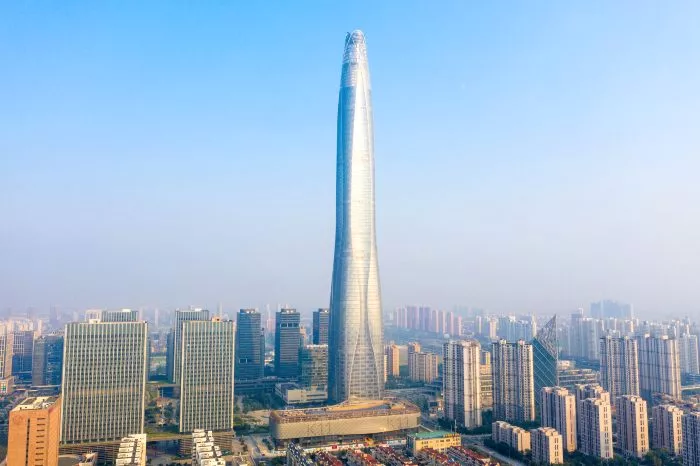 These two structures together rank as the 7th-tallest structures in the world because of the same height. ⠀ One is located in Guangzhou, China, and another one is in Tianjin. Both of them have an almost similar height of 530 meters or 1739 feet.
The construction in Guangzhou CTF Finance Centre tower was officially finished in 2016 while they completed the construction of the Tianjin CTF Finance Centre in 2019.
In the Guangzhou Tower, which is also identified as the East Tower, there is a shopping center, offices, flats, and a luxury hotel. It also has the fastest lifts worldwide that can reach a vertical speed of up to 45 mph. The CTF in the names of the buildings represents Chow Tai Fook since it is owned by Chow Tai Fook Enterprises.
Tianjin CTF Finance Center is a super-tall skyscraper located in Tianjin, China.
The structure refracts sunlight that displays various hues throughout the day, and the top of the inclined tower will gleam like a diamond at night.
7. Guangzhou CTF Finance Centre, China – 1,739 feet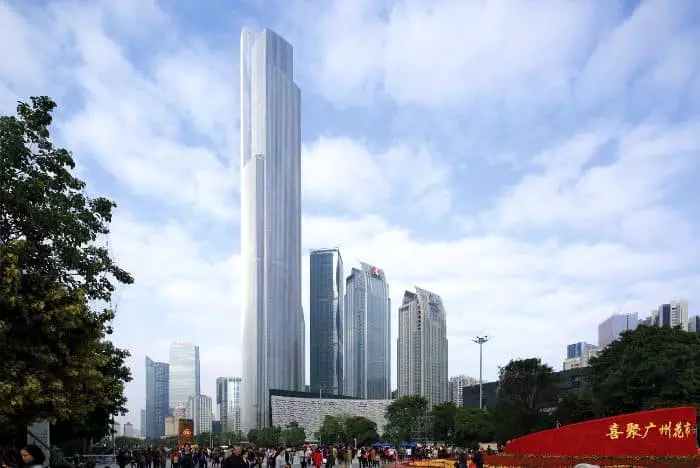 Guangzhou CTF Finance Centre is a tall mixed-use skyscraper that was completed in October 2016 in Guangzhou, Guangdong.
The Guangzhou CTF Finance Centre comprises a shopping mall, offices, flats, and a hotel on its 111 above-ground and five below-ground stories.
The mixed-use nature of the Guangzhou CTF Finance Centre defines its shape: different users necessitate varying floor sizes, and the building is built to meet those needs.
6. One World Trade Center, United States – 1,776 feet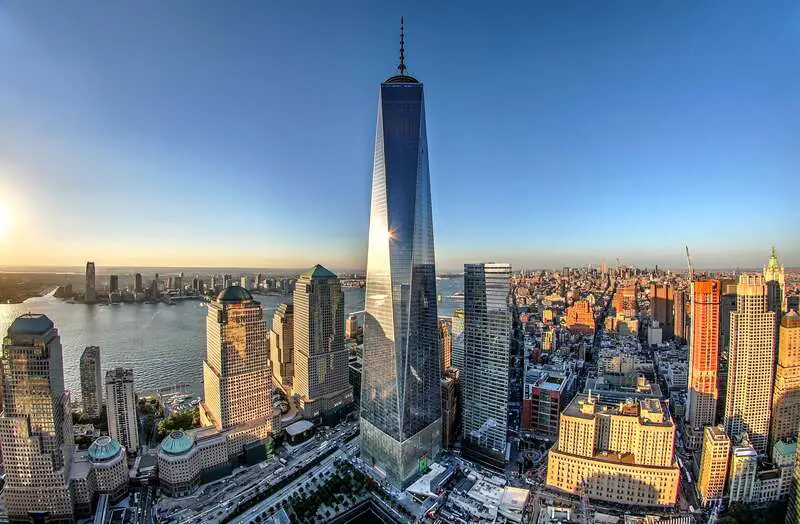 The tallest building in the US and the entire western hemisphere is the World Trade Center, with 1,776 feet and 104 floors. 
Before it, Willis tower or Sears tower located in Chicago was the titleholder.
The final construction was completed in 2014, and its name comes from the former North Tower of the World Trade Center.
It was built to commemorate the terrorist attacks of 9/11, with respect to honoring those who lost their lives on that day.
Its energy expenditure mostly depends on renewable sources, including rainwater reuse, for this, we appreciate the building.
It also serves as a symbol of America's determination, as during construction, people called it "Freedom Tower."
5. Lotte World Tower, South Korea – 1,819 Feet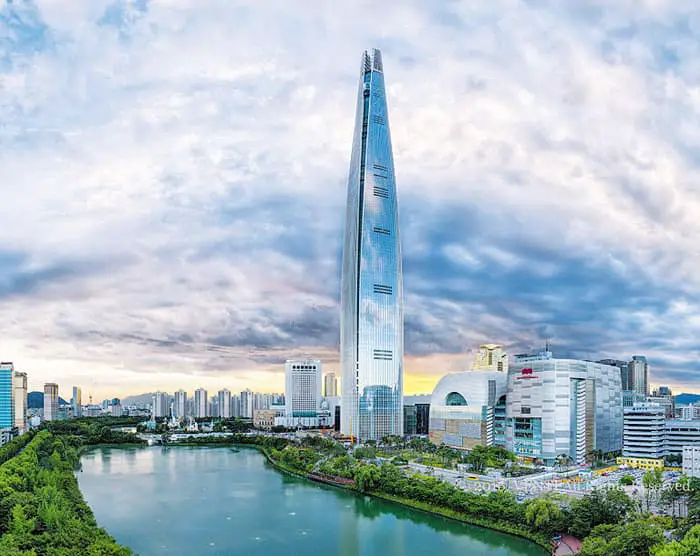 Lotte World Tower is a multi-facility supertall skyscraper located in Seoul, South Korea.
It completed its construction in 2016, stands at 1,819 ft tall. 
There's even more to the building as six of its 123 floors are underground, which you can't see at first. 
Lotte World Tower includes retail stores, offices, apartments, a luxurious 7-star hotel, and an observation deck that took 13 years to schedule before placing it in operation.
For visitors who travel in and look out the view, there are also restaurants, cafes, and photo areas. 
The tower is built in a unique architectural design to resist earthquakes on the Richter scale of up to 9 magnitudes.
4. Ping An International Finance Centre, China – 1,965 Feet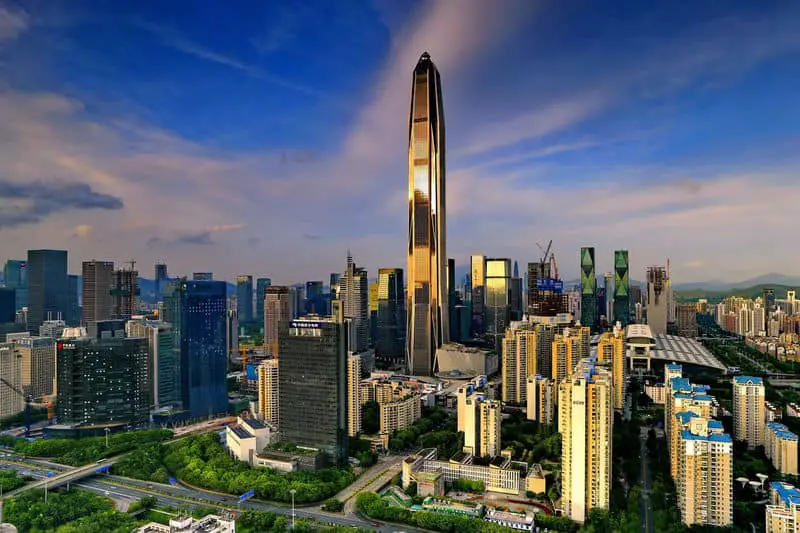 The Ping An International Finance Centre is 1,965 feet (0.6 km) high in Shenzhen, China. 
The main contractor, CSCEC completed its complete construction in 2017;
There is a conference center, a hotel, and several high-end retail areas at the Ping An International Finance Centre. 
It's also as per its namesake's headquarters of Ping An Insurance. 
There is a total of 33 fast double Decker elevators to move around its 115 floors.
American architectural firm Kohn Pedersen Fox Associates provided architectural design, and Thornton Tomasetti handled structural design.
Originally, the building designs called for including an antenna. But designers eventually called this plan off because of concerns about flight interference.
This building has one of the world's two highest observation platforms, 562 meters high, for those who enjoy observing from the heights.
3. Makkah Royal Clock Tower, Saudi Arabia – 1,972 Feet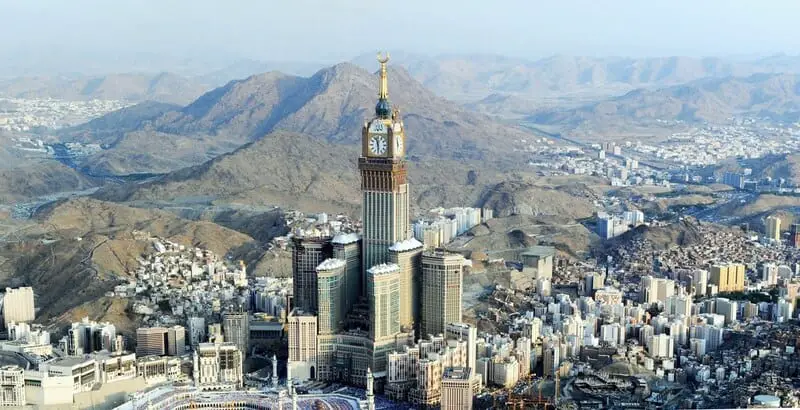 You might also know this building as Mecca's Abraj AlBait or Jeddah Tower which is located in Saudi Arabia.
This building has plenty of inside amenities like a meeting center, an Islamic museum.
There are two prayer halls, a shopping mall, a Lunar Observation Center and a living place for 10,000 people.
Also, Its clock has the biggest clock face in the world.
The Saudi Binladin Group, which is the largest construction firm in Saudi Arabia, constructed the Abraj Al-Bait.
2. Shanghai Tower, China – 2,073 Feet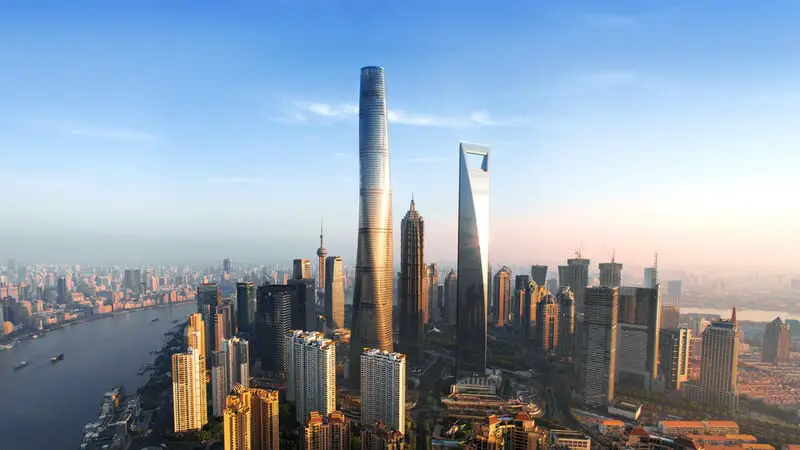 The Shanghai Tower, which stands at 2,073 feet or 632 meters, is the second-highest building in the world.
It also has elevators recognized as the world's second fastest-moving elevator. Particularly acknowledged for the building's "twist," it gives the tower a funky and interesting look.
Inside there are offices, a restaurant, shops, cafes, and parks, and there are also observation decks.
As windows that are created with double-glass and nine main sections that contain a small atrium with panoramic views throughout the skyscraper, you can functionally get an amazing view on each floor.
Gensler, an American architecture firm, designed this building. Its original aim was to function for hotels and offices.
1. Burj Khalifa, United Arab Emirates – 2,717 Feet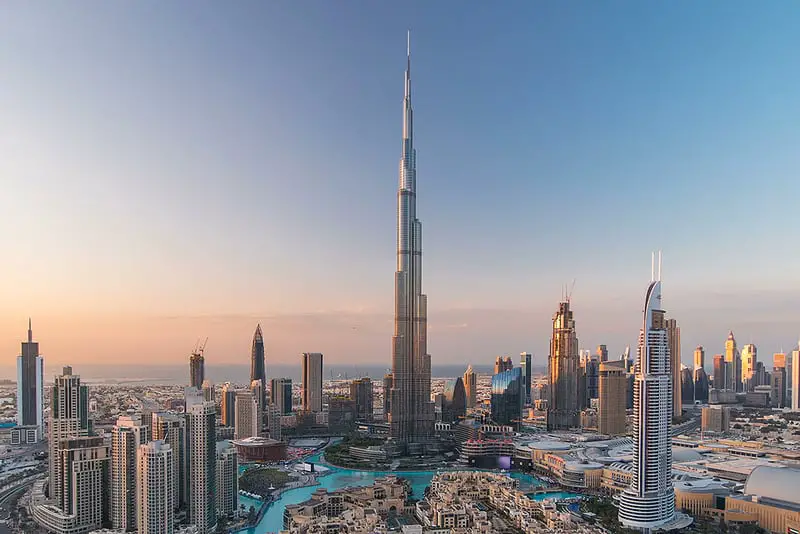 Dubai's Burj Khalifa is the tallest building in the world 2021 with a height of 2,717 ft (0.83 km).
Its Architectures intended the design primarily from steel and concrete by the same engineers who were in charge of other famous Supertalls such as the Willis Tower in Chicago and One World Trade Center in New York City.
The construction of the building, finished in 2010, was a component of an effort by the United Arab Emirates government to change the economy of the country from one based only on oil to more tourism and service-based country.
Burj Khalifa has 19 residential towers with 30,000 residences, nine restaurants, shopping malls, and an artificial lake.
Burj Khalifa has 163 floors making it as highest floor building in the world.
On the north side of Jeddah, Saudi Arabia, Jeddah Tower, formerly known as the Kingdom Tower, is a skyscraper on hold.
They plan it to be the first 1 km high building in the world and will surpass Burj-Khalifa as the tallest skyscraper in the world but currently; it is in the development phase.
At the same time, there is the Dubai creek tower (1300m+ height), which will be the tallest tower in the world in the future.
If you loved this post, share it with your dream team with whom you want to visit these skyscrapers one day.