Top 10 Automobile Companies in the World
There are some of the most reliable car brands in the market if you are planning to buy a new car for yourself.
But, many top car manufacturers are just cutting down their operations by resulting in the lower quantity being manufactured that will eventually lead to increased automobile prices.
The reason is, car brands are trying to compensate for their profits by increased prices and cutting down operational costs to tackle the future crisis.
In recent years, the automotive industry has undergone a worldwide slowdown, prompting major car suppliers to seek new and innovative profit-making approaches.
Many have transitioned to higher-end, while some are more focused on competitive models contributing to larger margins of income.
2017 shows signs of recovery with a few of the main players hitting worldwide record sales.
We have researched many brands and created a list for the biggest automobile companies in the world who won't be significantly affected by the crisis.
Without including new companies like tesla inc, here are the top 10 automobile companies:
10. PSA – France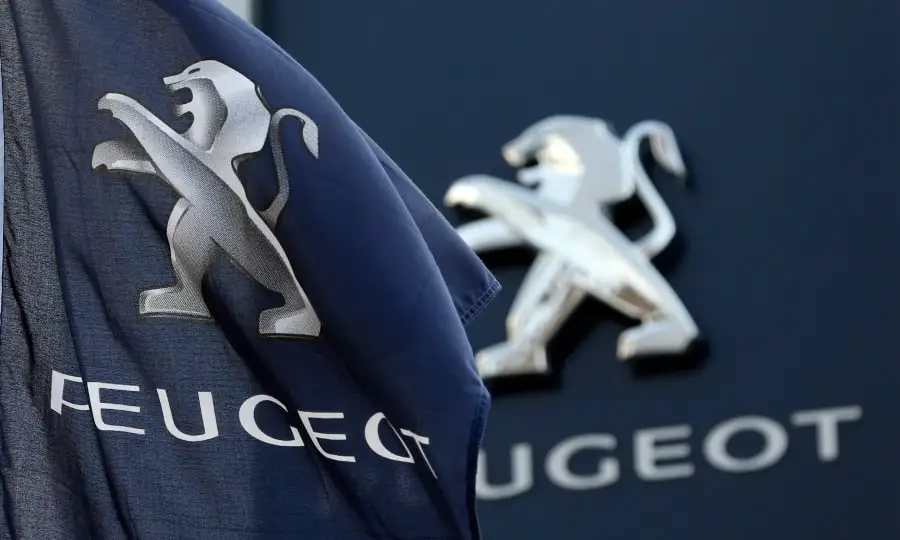 PSA Automobiles is a French carmaker formerly known as PSA Peugeot Citroën, which manufactures motorcycles and motorbikes together with automobiles.
Amid some difficult years in this decade, much of which was the loss of €114 million in 2014, for which PSA Peugeot, the company bounced back soon.
In the middle of 2017, the French automaker announced a 15.4% global increase in sales.
The great performance of SUV sales, which account for 23 percent of combined sales, handles the vast majority of this growth.
Its situation remained optimistic in 2018, with a 7.8 percent growth in Q2 sales from Peugeot.
The rise in Opel-Vauxhall purchase, together with an improvement in the selling of inferior Peugeot models, is attributable according to industry experts.
In the ASEAN region, it aims to double its sales. Before, the company announced an agreement on vehicles for the Asian market with Naza Corp in Malaysia.
9. Suzuki – Japan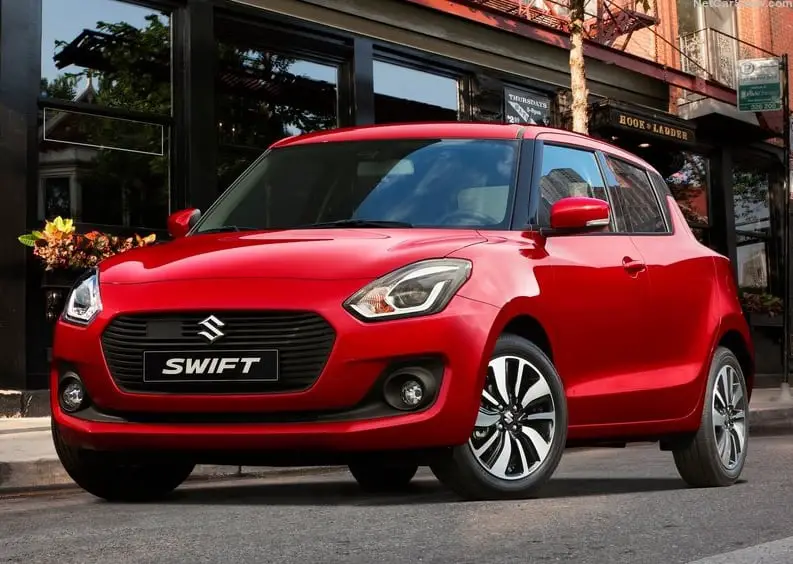 This well-known automaker produces everything from vehicles to ATVs, formerly known as the Suzuki Motor Corporation.
Suzuki is the fourth largest car manufacturer in Japan and is also the most profitable car company that sells its cars in over 190 countries.
Although the world-wide footprint of Suzuki has declined in recent years, its sales in India (known as Maruti Suzuki), which together with Hyundai Motors, are still powered by its high profitability.
It recently announced its goal of selling 2 million cars annually in India by 2020 under the banner of Maruti Suzuki.
The 6.6 percent lower operating profit posted by the company in the second quarter of 2018 may make this prediction hopeful.
As in Q2, this financial year in 2019, Suzuki reported a net decline of sales up to 9.6% year-on-year.
8. Fiat Chrysler Automobiles – Italy/US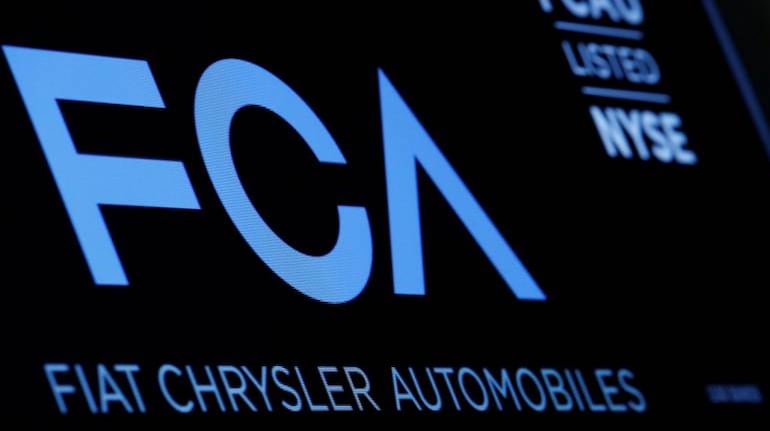 The Italian-American car manufacturer was listed on both the New York Stock exchange and Borsa Italiana through the merger of Fiat and Chrysler.
Fiat–Chrysler saw its earnings in 2018 Q2 declined by 40 percent over the same time last year, after a solid North American sales performance in 2017.
This decline was not for slow sales but to a one-off price of €700 million for any possible future compensation resulting from emission violations of Ram pickups and Jeep Grand Cherokees manufactured between 2014 and 2016.
This precaution was because, in 2015, a US $105 million fine was imposed on Fiat/Chrysler.
North America Division has far outpaced its counterparts in Europe and the Asia Pacific sales.
The lower sales in these regions have cited increased competition in China and price competition in Europe. Even so, the total sales in North America grew by 3 percent in 2017.
Fiat Chrysler Cars have 159 manufacturing facilities globally and are known as one of the 'Big Three' American automakers.
7. Honda – Japan
With the ad campaign "The Power of Dreams," the Honda Motor Company still corresponds to the story of its optimistic founder.
The global sales outlook of the Japanese carmaker increased by 2019. However, they continue to face decreasing total sales in the second year.
Because of the current rise in motorcycle sales, Honda raised its revenue outlook for the year ending in March 2019 by 11.3 percent to $7 billion.
Even with the upgraded forecast, its March 2017 sales of $7.42 billion are still below its record high.
The overall decrease in sales has a major role to play in declining growth in China.
Honda exceeds its Japanese rivals in China but still has quality problems with its two leading models, the Civic and the CR-V SUV.
6. Ford – United States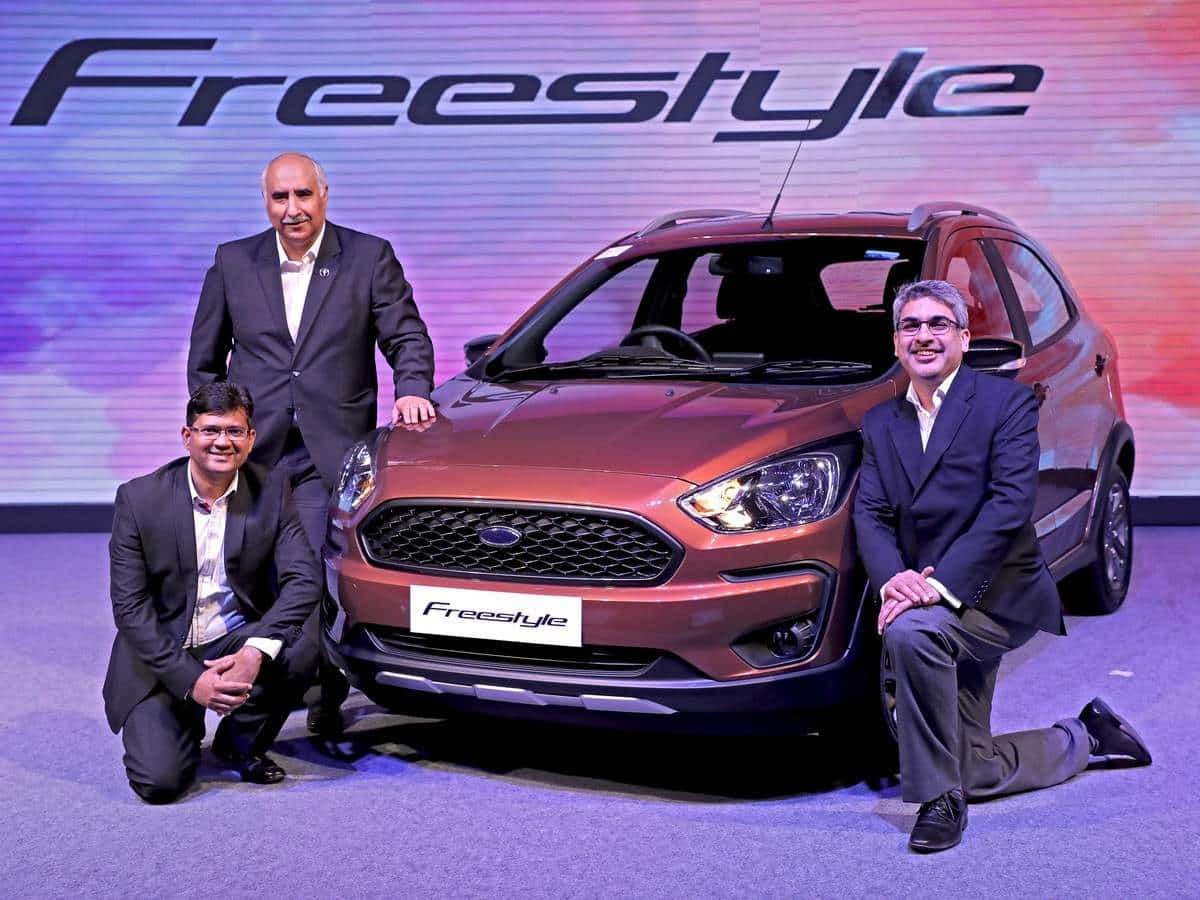 Ford Motor Company is an American international automaker having headquarters in Dearborn, Michigan.
It was created on 16th June 1903 by Henry Ford.
Under the name Ford and luxury cars under the brand Lincoln, the company sells automobiles and commercial vehicles.
Ford also holds Brazilian SUV maker Troller, an 8 percent ownership in UK's Aston Martin and a 32 percent share of Jiangling Motors, which makes Ford not only is one of the biggest automobile companies but is also, the largest family-owned company in the world.
The Ford Company pioneered techniques of large-scale automotive manufacturing and large-scale industrial worker planning, using complex output processes defined by rolling assembly lines, which by 1914 became known worldwide as Fordism.
This technique is used by almost all manufacturing companies to this day.
In March 2008 Tata Motors of India bought Ford's former UK divisions of Jaguar and Land Rover, which Ford bought in 1989 and 2000.
5. General Motors – USA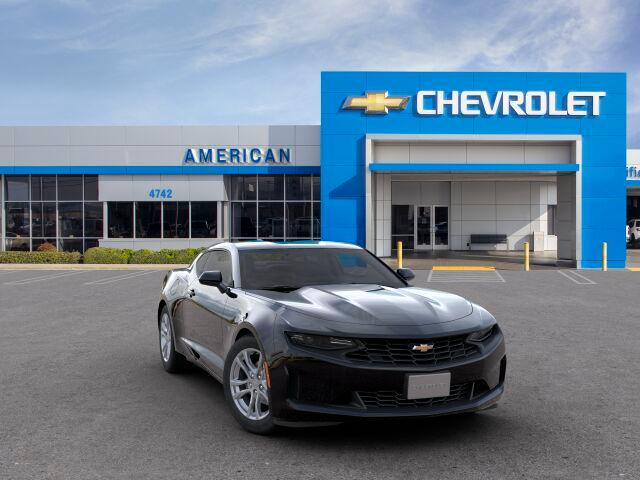 General Motors Company (GM), a Detroit-based international American company known for producing, assembling, selling and exporting cars and car components. 
Originally established as a holding company by William C. Durant on 16 September 1908. The company now in 2019 is one of the best American car companies in the world. 
As of 2018, Forbes ranked General Motors 10th spot by total revenue among Fortune 500 America's largest companies.
General Motors runs manufacturing and assembly plants that produce a wide variety of vehicles. 
Popular automotive brands like Buick, Chevrolet Cadillac, and Hummer are part of its lineup portfolio.
The company's core car brands are Chevrolet, Buick, GMC and Cadillac, manufacturing cars in over 37 countries. 
It also controls and keeps major ownership in other international car companies, including Holden, Wuling, Baojun and Jiefang.
4. Hyundai – South Korea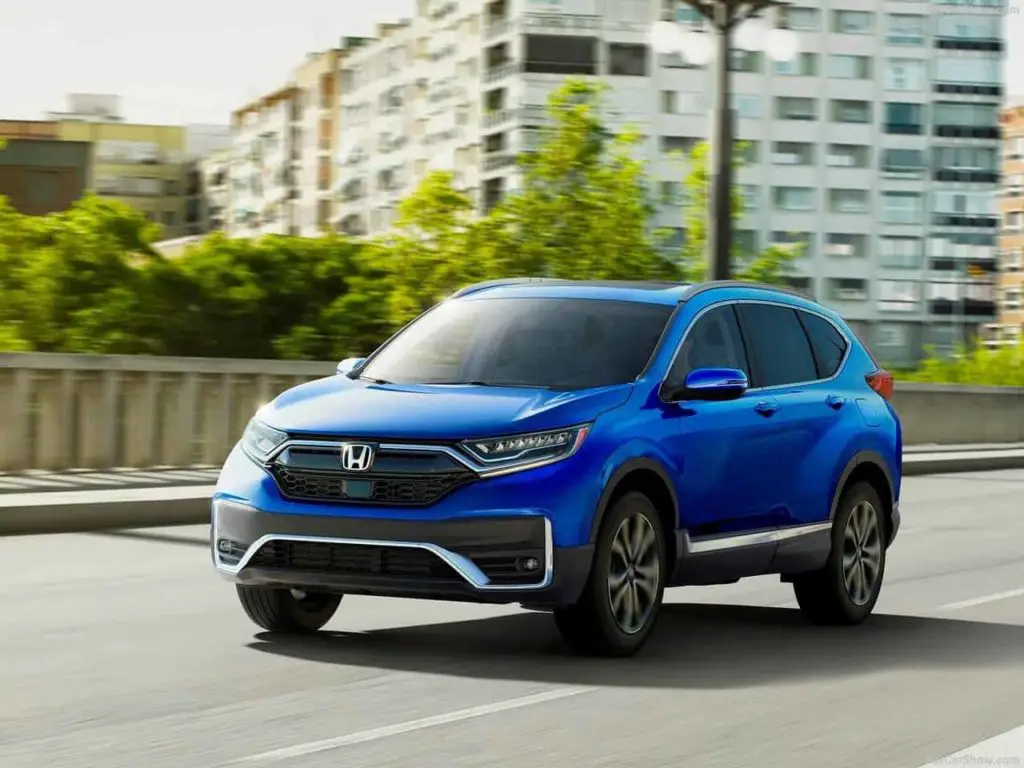 Hyundai Motor Company found the partnership in 1998 by the acquisition of a 51% stake in the second-largest South Korean car company, Kia Motors.
Hyundai owns 33.88% of Kia Motors as of 31 December 2013.
This global conglomerate manufactures a wide range of products and has become South Korea's biggest automaker.
In October 2018, Hyundai-Kia sales increased by almost one percentage point compared to last year's same quarter.
It sold 408,160 units worldwide this October, down from 404,321 last October. The jump was mainly because of high domestic results, with sales 25% higher than last year.
Strong sales of Santa Fé and Kona were the leading way.
The best-selling car in Korea has been Santa Fe and Kona's best-selling month since its release in the first years.
Generally, in 2014 and 2015 the car manufacturer has been rebounding from several difficult years since they suffered from a strong Korean currency.
3. Nissan group- France/Japan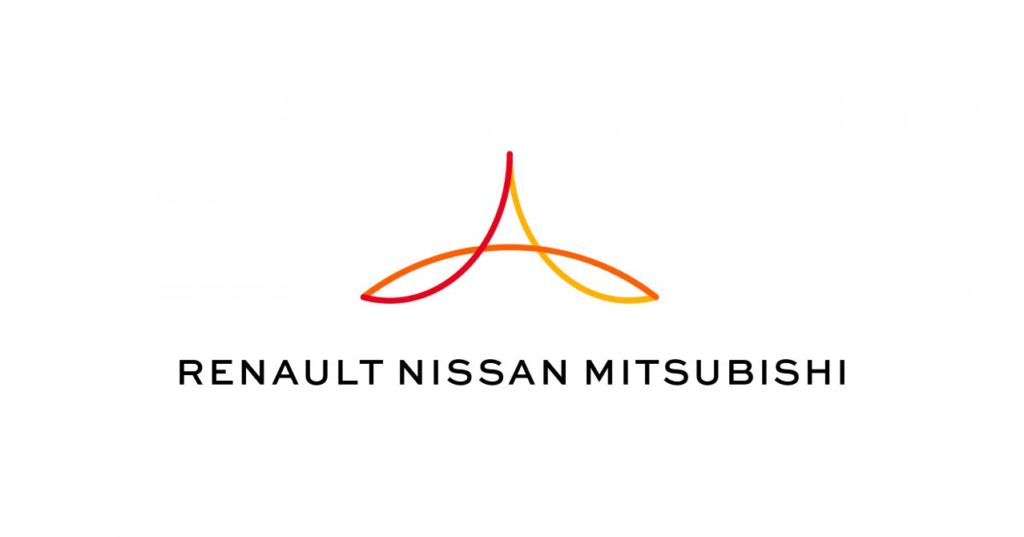 As an important cross-cultural automaker, the Renault Nissan-Mitsubishi Partnership will be remembered as the longest-lasting alliance ever.
The Coalition partners combine forces to build a stronger global network.
They cooperate together on innovative ideas, thus upholding their own corporate identities.
Renault, Nissan, and Mitsubishi's strategic partnership is not a merger or an acquisition, but through a cross-sharing agreement, it unites the three organizations.
The model was groundbreaking in the auto industry during the 1990s and acted later as a model for General Motors and the PSA Group, Mitsubishi, and the Volkswagen Group and Suzuki.
The Partnership has extended its reach by establishing new alliances with car manufacturers, including Daimler of Germany, China's Dongfeng and AvtoVAZ of Russia.
2. Toyota – Japan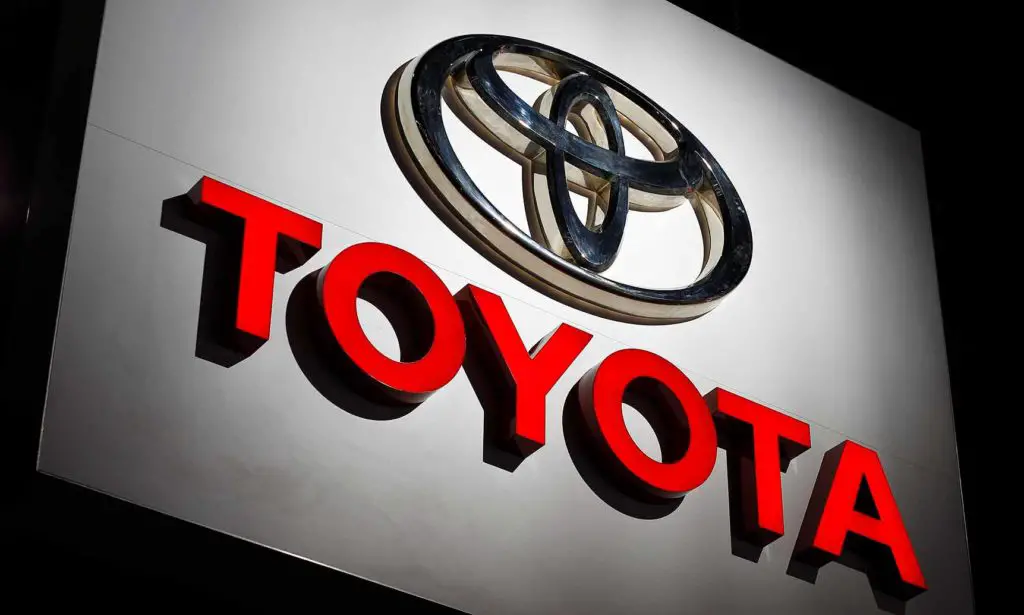 Japanese international car manufacturer Toyota Motor Corporation is headquartered in Osaka, Aichi, Japan.
In 2017, Toyota hired 364,445 employees around the world and was the sixth-largest corporation in the world by revenue as of September 2018.
They manufacture not only cars and trucks under five different brands in the Toyota Group but also manufacture industrial equipment and individual automotive products.
Toyota's business was struggling after it's country's defeat in WWII, but it eventually came back in the 1950s.
Toyota sent executives to visit American manufacturers and took notes on new innovations and ideas to become more successful by implementing those techniques at Toyota.
It is also the world's leading hybrid vehicle manufacturer and one of the largest companies to support the introduction of hybrid vehicles in the global mass market.
Toyota is also a hydrogen fuel cell market leader. Toyota and Lexus both crossed 10 million milestones in January 2017 by combined global sales of their hybrid car models.
1. Volkswagen Group – Germany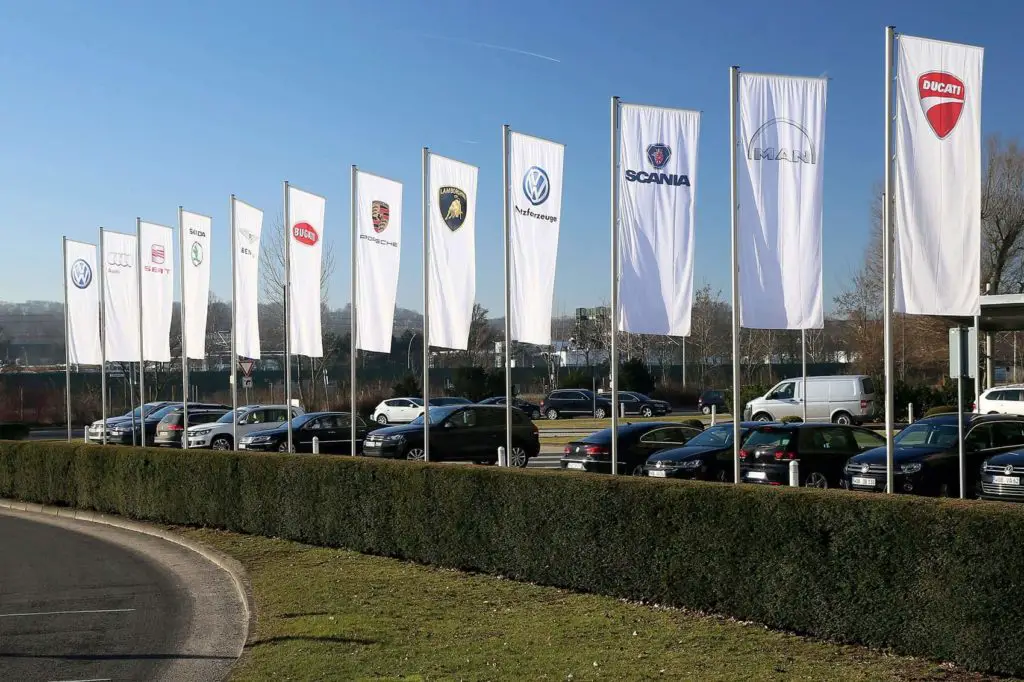 It has overtaken Toyota and sold 10.8 million cars during 2016 and remains as the no. 1 automobile company in the world through its exports in 2017 and 2018. 
Over two decades, it has held Europe's largest market share. It ranked seventh among the world's largest companies in the 2018 Fortune Global 500 list. 
Volkswagen Group market passenger cars under the Volkswagen owned brands like Audi, Bentley, Bugatti, Lamborghini, Porsche, SEAT, Škoda and the Volkswagen flagship brand; (commercial vehicles, trucks, and buses) under the marquee, MAN, Scania, and Volkswagen Commercial Vehicles and motorcycles under the Ducati ;
Recording sales and a strong recovery from the 'diesel gate scandal' Volkswagen has been able to overcome the previous number two from Toyota. 
For the first time in their history, Volkswagen's strong sales of Porsche, Audi, Škoda, and other flagship brands led to a surpass 10.4 million units.
Volkswagen takes the title in our top 10 automobile companies list single-handedly.
These are the one of the top automobile companies, to whom crisis is just another cold season.
Please share it with your friends with your auto junkies on social media.