Top 10 Weirdest Places in the World
10. Uyuni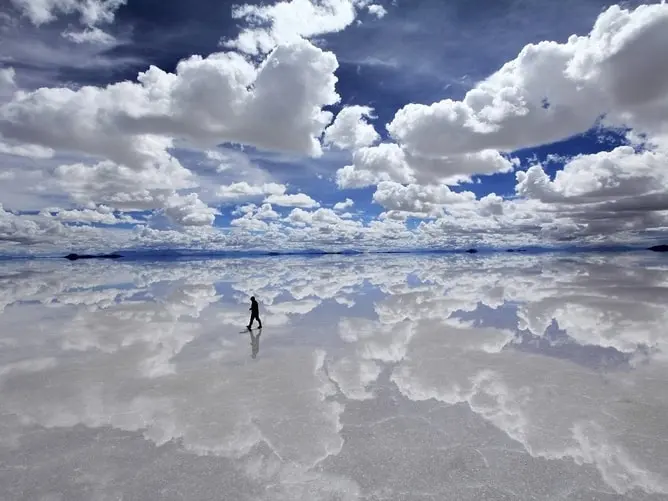 The Salar de Uyuni, in Bolivia's Daniel Campos Province, appears to be from another planet. Salar de Uyuni is the world's largest "salt flat" at 4,085 square miles. What's more astonishing is that it's located at the height of nearly 3,500 meters above sea level and is the world's most important future supply of lithium, with up to 70% of all known deposits. It's also exceedingly flat, and looking across this vast and lonely landscape has been known to cause dizziness and visual confusion. The world's largest salt flat was produced when multiple prehistoric lakes dried up 25,000 and 10,000 years ago, leaving hexagonal salt patterns. A thin layer of water covers the expanse when adjacent lakes overflow or the area gets rain, transforming it into a gigantic reflective mirror that provides jaw-dropping, dreamy photographs. Hence this largest salt lake is also the largest natural mirror.
9. Zhangye Danxia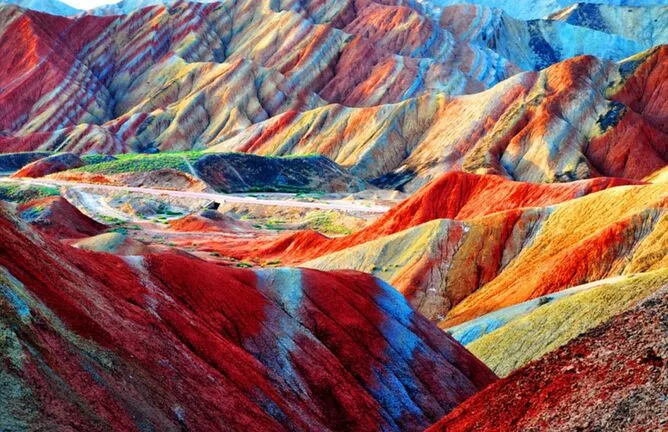 Some places on Earth have such brilliant colours, natural wonders, and breathtaking views that they appear to have sprung off the pages of a book or the palette of an oil painting. Zhangye Danxia National Geological Park in China is one such spot. The geology of this area is both beautiful and strange, with cliff faces striped with vibrant stratigraphic strata that paint the landscape in rainbow colours. The alien landscapes can be overpowering, breathtaking, and humiliating, making for an emotionally charged, upsetting encounter. The geopark is located in Gansu, a province in northwest China. The rainbow mountains and park are not just UNESCO World Heritage sites but also one of China's most beautiful destinations.
8. Tianzi Mountains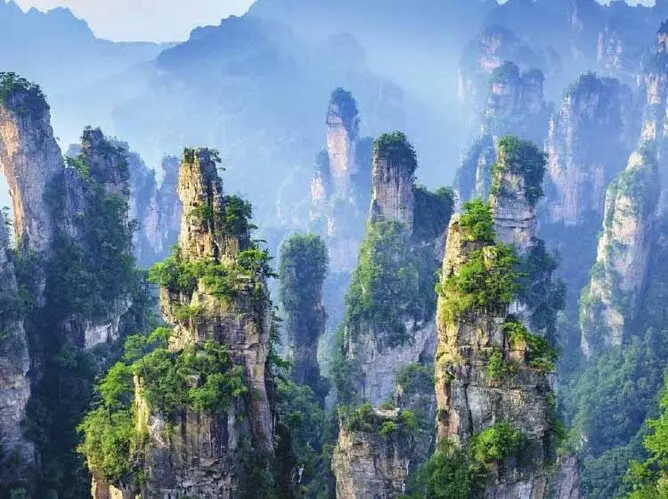 Remember the flying mountains from James Cameron's Hollywood sci-fi film Avatar? Those mountains, known as Tianzi Mountain in China's Hunan region, exist on Earth. Tianzi Mountain Nature Reserve is an unbelievably beautiful place in China, encompassing 16550 acres in the northern section of the Wulingyuan Scenic Area in Hunan Province. Tianzi Mountain was produced 300 million years ago by sedimentary rocks. Wind and water eroded the rocks, which eventually converted into quartz stones, generating the area's towering peaks. The mountains' land is covered in trees, bushes, and grass. Waterfalls, rivers, lakes, limestone caves, and wildlife abound in the area.
7. Giant's Causeway
The legends surrounding the origin of the Giant's Causeway in Northern Ireland range from crazy tales of giants using the rocks as stepping stones to cross the Irish Sea to the more scientifically based story of lava pouring from faults in the Earth's surface. The Causeway, consisting of over 40,000 basalt columns of various sizes and heights, is one of Northern Ireland's most unique geological sites and one of the world's greatest natural wonders. It was formed over 60 million years ago when lava erupted from the Earth's crust, and it's a wonderful place to take a trip through history and learn more about geography and geology. One of the most compelling reasons to appreciate the Giant's Causeway is its spectacular location on Northern Ireland's Causeway Shoreline, one of the world's most beautiful stretches of coastline.
6. Richat Structure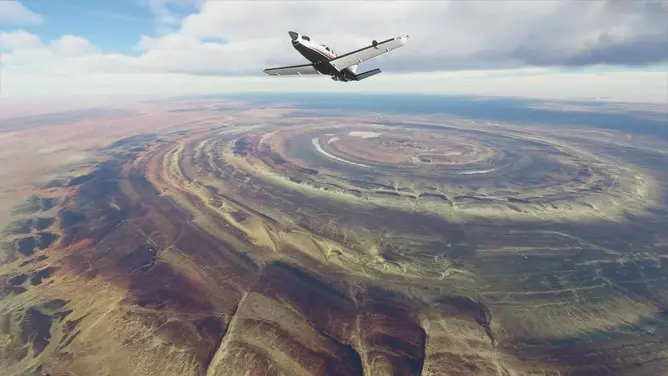 The Richat Structure, commonly known as the Sahara's Eye, is a strange spherical feature discovered near Mauritania in the Sahara. It appears to be some sci-fi experiment, but it's a 25-mile-wide, slightly elliptical, and badly eroded dome. This layer erosion is thought to have created high-relief circular slopes, giving it the appearance of an eye from space. Due to its shape, experts initially assumed an asteroid impact structure created it. However, erosion is currently the most plausible explanation. They're still testing and investigating the weird formation, and many people are still curious about it.
5. Spotted Lake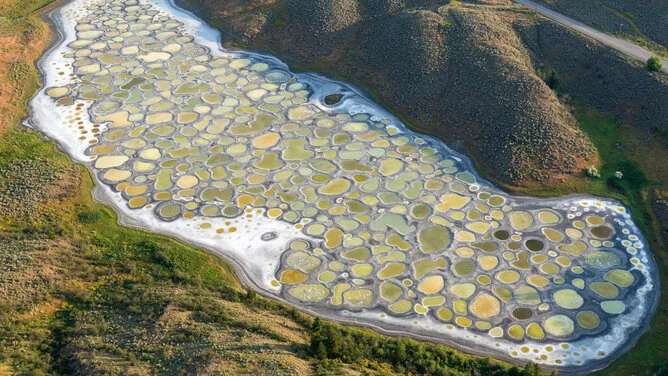 The spotted Lake is accessible via Highway 3 in British Columbia, Canada. This Lake is known for its spectacular big puddles of blue and green hues. It is included in the oddest lakes in the world because of its unusual appearance. It produces colours because its dots are minerals that shine brightly in the sun. People in the first nation, on the other hand, were terrified by the strange phenomena. Spotted Lake has a high concentration of a variety of minerals. It has some of the world's greatest concentrations of magnesium sulphate, calcium, and sodium sulphates. During the summer, most of the Lake's water evaporates, leaving all of the minerals behind, resulting in enormous "spots" on the Lake, which vary in size based on the mineral composition.
4. Thor's Well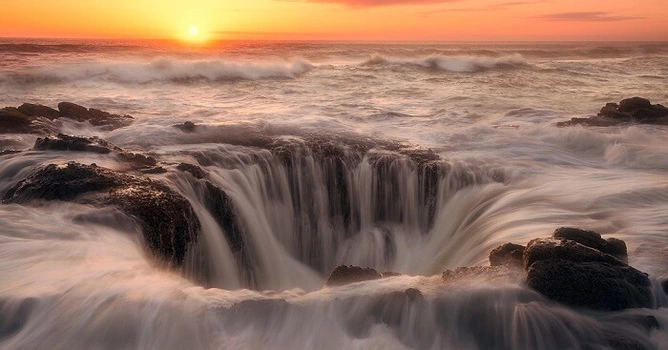 Thor's WellWell is a bowl-shaped hole carved into the hard basalt seabed. It is one of the strangest places on Earth, just 3 miles south of Yachats in the Cape Perpetua Scenic Area. Thor's WellWell, on the Oregon coast, is a hole in the rock where the sea water disappears into the depths. The massive hole is, without a doubt, only approximately 20 feet deep. Even though it appears to be one of the strangest places on the planet, it nevertheless manages to provide a stunning spectacle to behold; however, avoid coming too close. During storms at high tide, when water ishes ferociously above the rocks and right into the hole, the scene becomes even more stunning.
3. Lake Hiller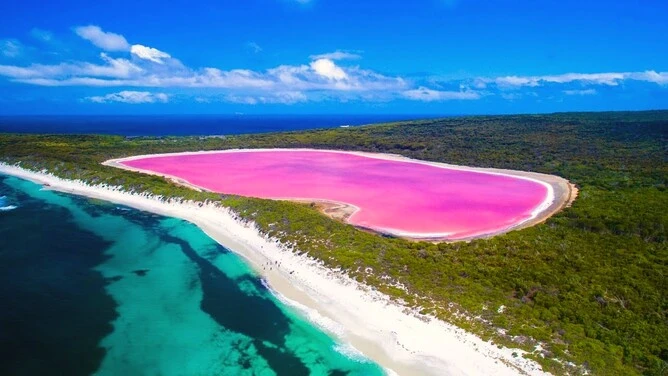 Many of the world's most captivating natural wonders can be found in Australia. Western Australia is also known for its beautiful, peculiar pink lakes, which must be seen to be believed. One of these is Lake Hillier. In Western Australia, there is a saline lake known as Lake Hillier. The beautiful pink tint of this Lake is what sets it apart. Dunaliella salina microalgae, which produces a pigment called carotenoids, is thought to be the source of the Lake's pink colour. Lake Hillier is perfectly safe to swim in despite its high salt content.
2. Red Beach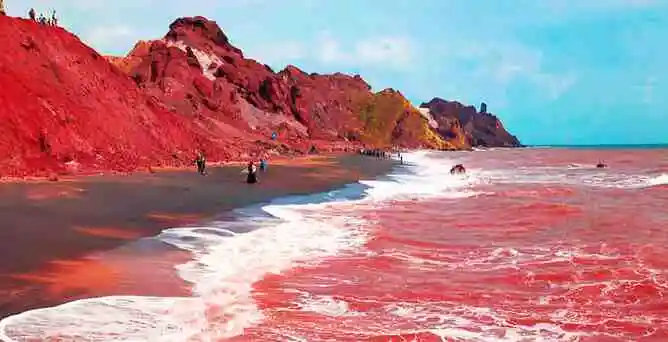 The province of Liaoning is home to the Red Beach. It is the world's largest and best-preserved wetland, according to People's Daily Online. The ground is scarlet red and appears to have been splattered with paint. The Red Beach is home to about 400 species of fauna, including many endangered species. The soil is quite saline, which is ideal for seepweed growth. It is green in the summer but matures in the autumn when the leaves turn a rich red colour before turning purple. According to the Daily Mail, it dies in the winter and prepares to re-grow in the spring.
1. Pamukkale turkey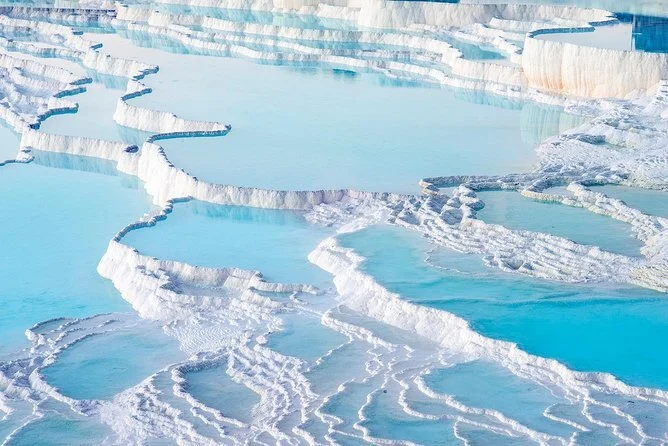 Pamukkale, which means cotton castle in Turkish, is a particularly special place globally because it has travertines, a type of limestone deposited by natural springs comparable to those found in Mexico's Hierve el Agua.  People are frequently perplexed by these petrified structures that resemble ice. Pamukkale is also known for its hot springs, which have been used for bathing since the Hellenistic period. People have been drawn to the springs for over 2000 years. Volcanic lava transports water deep within the Earth. It dissolves pure white calcium before spilling out of the planet's surface and seeping down the hillside. As the calcium cools, it forms these formations, giving the hillside a castle-like appearance.