Top 10 Biggest Passenger Planes in the World
Aircraft made transport systems easier as its the fastest way of traveling with high passenger carrying capacity. 
Nowadays, with bigger aircraft size, It can transport more passengers and cargo. 
So today, we will have a look at jumbo jets, whose size is so big that you may stare at them wondering, "Does this even fly?"
We will not include US military cargo planes or the biggest plane in the world, Antonov An-225 Mriya, as its a transport aircraft.
In this post, we will only consider passenger airplanes with huge carrying capacity and maximum takeoff weight (MTOW).
According to the maximum size, these are the top 10 biggest passenger planes in the world:
10. Airbus A330-300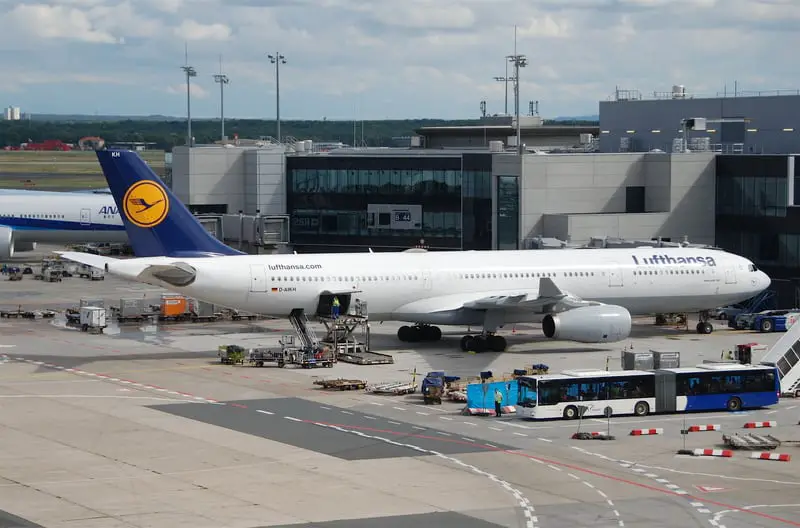 The Airbus A330 is an Airbus made twin-engine jet airliner with a medium to long-range capability.
The A330-300 originates from one of the first Airbus airliners, the A300, which had been designed in the mid-1970s.
The A330 had many common aircraft frame components if compared to A340, except as the number of engines.
Two General Electric CF6-80E1, Pratt & Whitney PW4000, or Rolls-Royce Trent 700 jet engines power A330 while four CFM series or Rolls-Royce Trent power A340.
This airliner was simultaneously developed with the four-engined A340 plane.
It has two turbofan engines, a wingspan of 197 foot 10 inches, and a cruise speed of 532 mph.
Airbus recently developed an Outsize cargo freight aircraft, based on the A330 Airliner named Beluga XL (Airbus A330-743L).
On 19 July 2018, Airbus began Beluga XL's flight testing to receive a type certificate on 13 November 2019.
On 9 January 2020, Airbus Transport introduced the aircraft in service to replace the Airbus Beluga by installing Beluga with over-sized aircraft components (like wings). 
Before choosing to change one of its aircraft, Airbus assessed the Antonov An-124, An-225, Boeing C-17 (Dream lifter), and A400M.
9. Airbus A340-300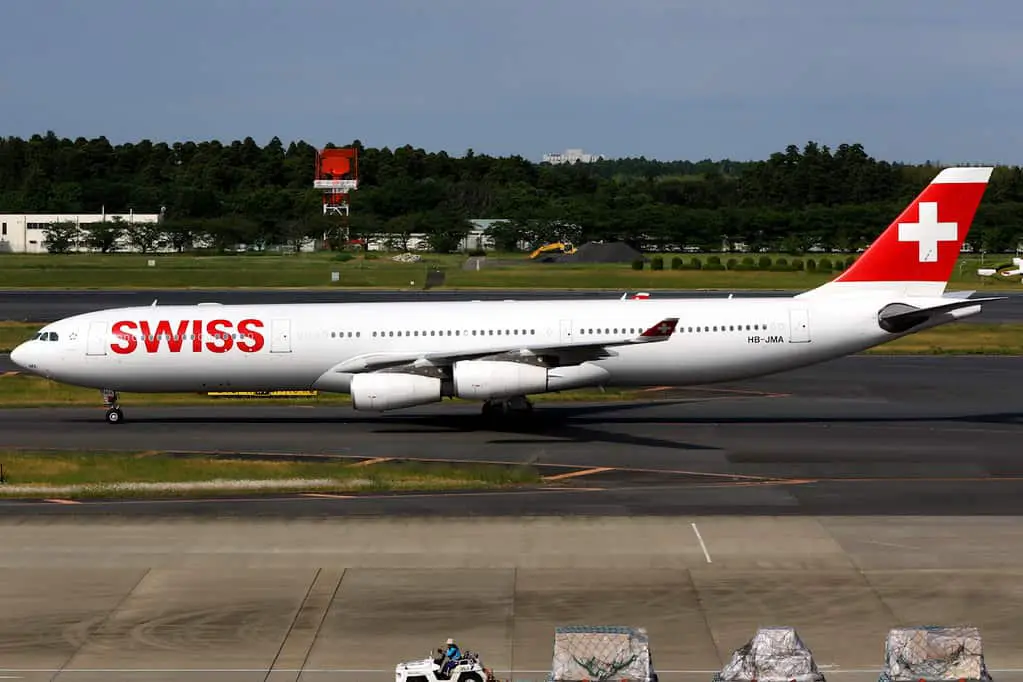 The A340-300, like all members of the Airbus Family, features many key innovations, including fly-by-wire flight controls to improve the aircraft protection, save weight and cost, advanced carbon fiber materials, and aerodynamics to save fuel.
The standard variants of this largest passenger plane can carry up to 375 passengers.
A340 has range of 6,700 to 9,000 nautical miles, but depends on the model.
Its characteristics are four high-speed turbofan engines and three-leg main landing gear.
The 151 kilonewtons (34,000 lbf) CFM56-5C are used to power 300 models.
The 209 meters long Airbus A340-300 has 198 feet wide wingspan.
As of June 2019, Lufthansa, the A340's biggest airline, has acquired 62 -300 aircraft and operating 32 – 600 variants.
8. Airbus A340-500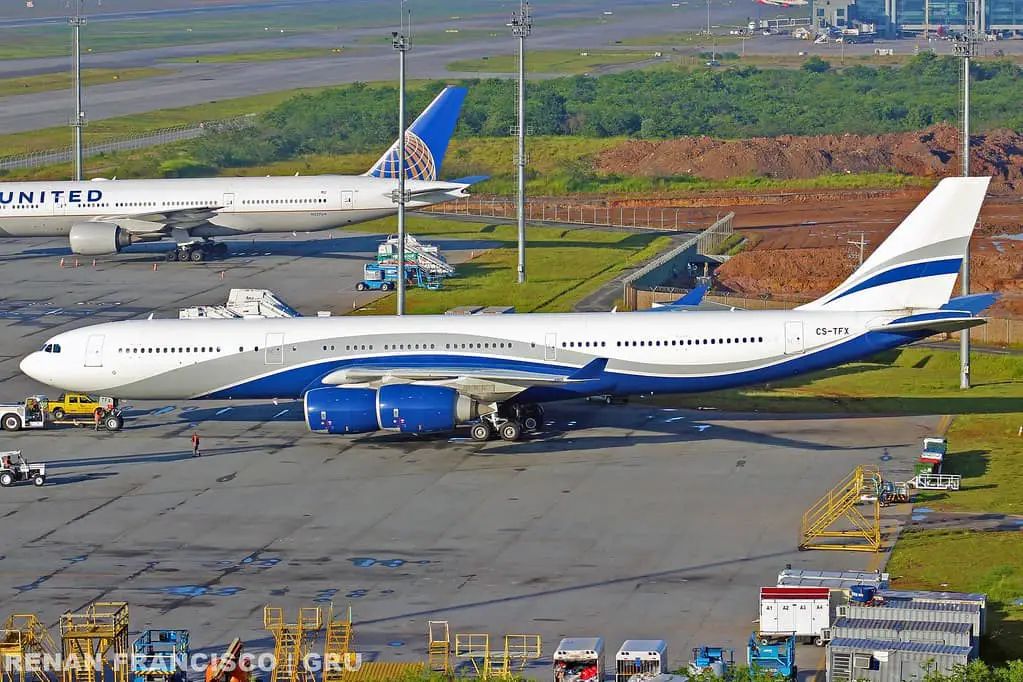 In 2006, the Airbus launched A340-500 in the market, however, some initial deliveries started in 2002.
Its an aircraft manufactured in France with 372 passengers' capacity in the single-class seat arrangement and 313 passengers in its double class system.
Aircraft is around 223 feet long and can cover a distance of up to 10,358 miles long.
The A340-500 was the longest-range commercial aircraft until losing its crown to the Boeing 777-200LR.
The 222 fuselage cross-section of the A340 offers cabin airlines the versatility to meet demands on the market, from ultra-high comfort premium seats to economical class layouts.
It an ideal biggest passenger plane for VIP & ultra-long-range operations as the four-engine double-aisle, wide-body aircraft offers the A340-500 the opportunity to drive some of the world's longest non-stop routes up to 9,000 nautical miles.
7. Airbus A350-900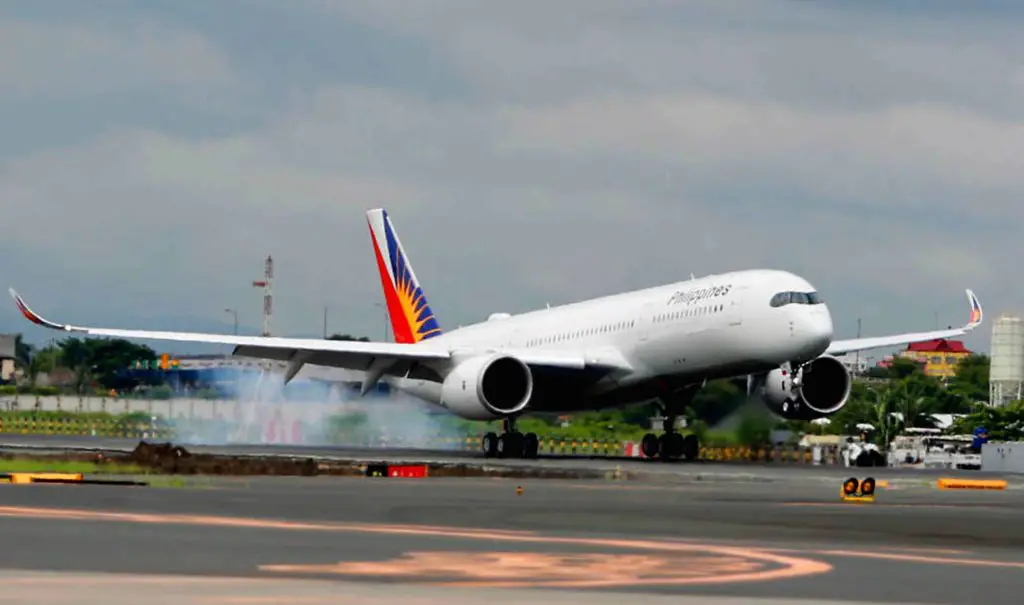 The A350-900 was unveiled on 15 January 2015 by its flight provider, Qatar Airways.
Airbus A350-900 is a 325-seater wide-body passenger aircraft which is part of the new generation Airbus models.
The A350-900 is one of its different configurations providing up to19-hour-long-distance routes and is said to fly further than any other commercially known airplane.
The maximum seating capacity for 440 passengers and a wingspan of 212.43 feet (64.75 m) is available.
Qatar Airways, Cathay Pacific, Singapore Airlines, and Philippine Airlines mainly use this aircraft.
It has seven temperature ranges in the cabin to control the climate more precisely while one board.
It has a fuel efficiency better than some other passenger airplanes since they made it from plastic components, which make it 25 percent lighter than some of the older models.
6. Boeing 777-200LR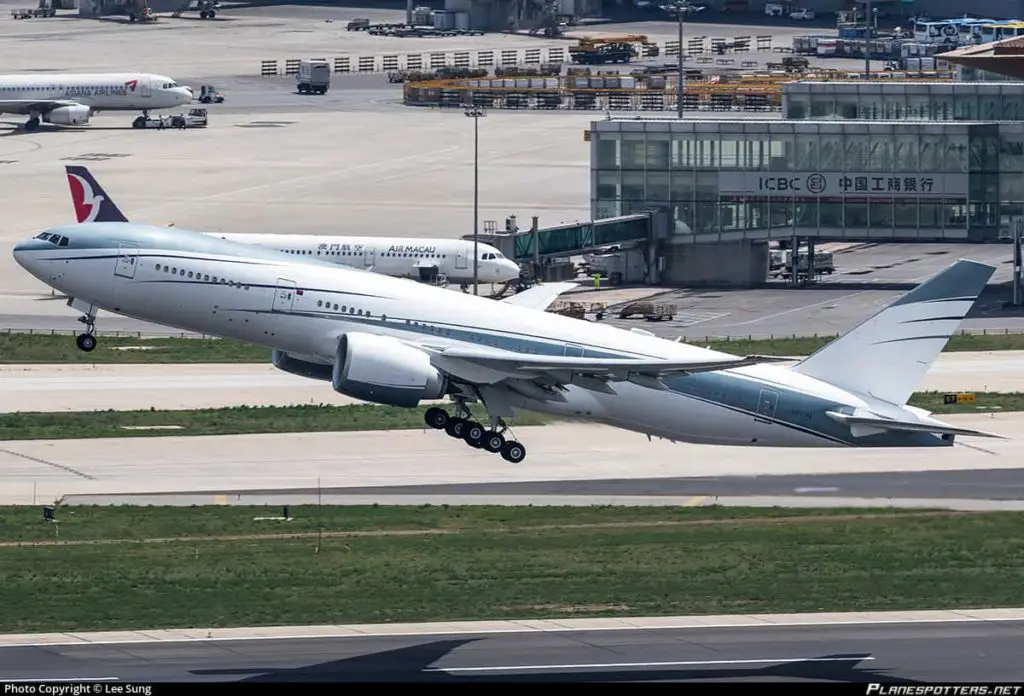 The C-market model 777-200LR (Long-Range) is one of the long range commercial airlines to enter service in 2006.
The -200LR was engineered for ultra-long-haul routes like Los Angeles to Singapore.
Boeing 777-200LR holds the world record as the longest nonstop flight by a commercial airliner.
It can accommodate 400 passengers in the two-class system, and its single-class system can max accommodate 440 exit limit.
It has a wingspan of 212 feet 7 inches.
JGE90-110B1 or GE90-115B turbofans Jet engines are used to power -200LR.
With each ten operating aircraft, Delta Air Lines and Emirates are the primary operators of the LR version.
5. Airbus A340-600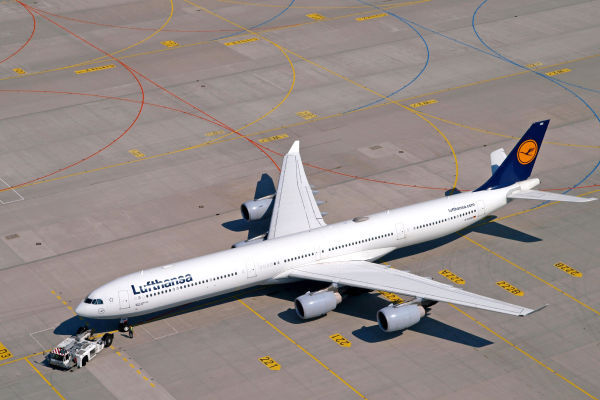 The Airbus A340-600 is a super-stretch version of the A340 aircraft family, the largest of the Airbus jetliners.
It has a capacity of 380 (or 475 in high-density seats) with a 13,900 km travel range and is among the world's largest passenger aircraft.
The first flight of the A340 was carried out in a 2000-hour test flight with six airliners on 21 October 1991.
A340 received its EASA Aircraft type certificate in June 2002, and the maiden flight took place on 23 April 2001.
It launched in August 2002 when it took its first commercial flight from London Heathrow to JFK New York with Virgin Atlantic Airports (ordered 20 aircraft as the first customer).
This plane has 247 miles length and a 208-foot wingspan.
The A340-600 is powered by four Rolls-Royce Turbofans of 250 kN (56,000 lb-f) and uses Honeywell 331–600 [A] APU.
4. Boeing 777-300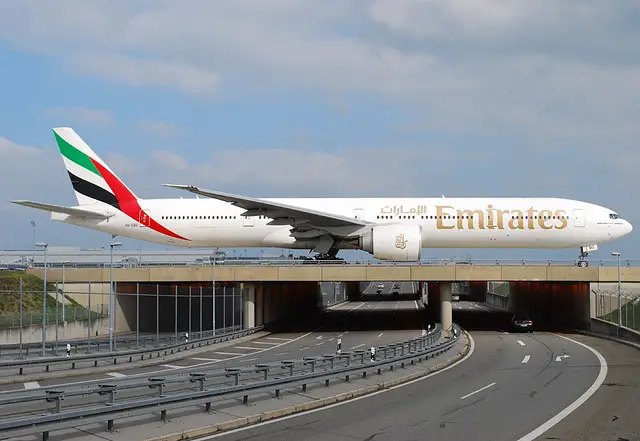 Boeing 777-300 has a capacity for 550 people in a single class cabin and 451 double class configuration.
The maximum route range is 6,013 miles and can achieve high speeds at 590 mph.
The Boeing 777-300 is known as the 777-300 Stretched version because it has a total length of 242 feet, which is 33.25 ft extra lengthier from earlier versions.
Boeing designed this largest passenger plane to extend by 20% resulting in 60 extra seats, 75 to 451 in a two-class configuration (economy & business class), or total capacity 550 in an all-economy class.
3. Boeing 747-400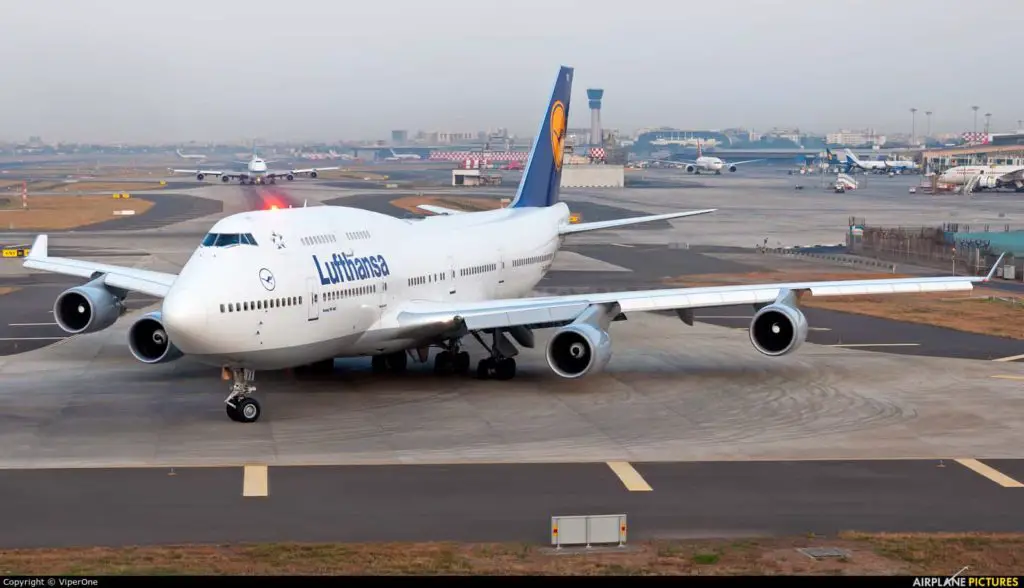 The Boeing 747-400 jet airliner series is the best-selling model of Boeing.
The massive-body biggest commercial plane was built from one of the earlier 747s.
Airlines can accommodate 416 passengers in their three-class configuration, 524 in their two-class cabins, and 660 in their all-economy configuration.
Boeing 747-400 has a length of 232 ft. and wingspan is 211 feet.
Even though with an enormous body, 747 can achieve top speeds of up to 614 mph and travel range up to 7,260 miles, which is impressive considering its size.
The Pratt & Whitney PW4056, the General-Electric CF6-80C2B1F, and the Rolls-Royce RB211-524G/H are the new jet engines powering it.
There is a high-density seating model named 747-400D, developed for Japanese domestic short-haul flights with higher volumes.
2. Boeing 747-8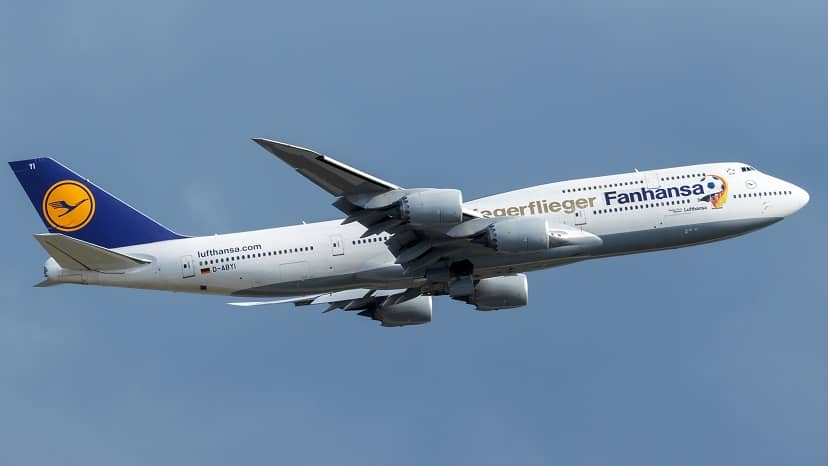 The Boeing 747 is undoubtedly a leading airplane when it comes to commercial aviation icons.
747-8 is a wide-body airliner manufactured by Boeing Commercial airlines in the United States. 
It has been designed with its double-deck configuration with a broad body fuselage and has overshadowed all commercial passenger jets. 
The design has been improved, and extended over the years, the capacity of this jumbo jet increased steadily. 
Airbus A380 aircraft is bigger than 747, but in terms of technology, Boeing is ahead of its European counterpart.
When using a single-class system, the Boeing 747-8 can accommodate 700 passengers and 600 passengers for the double-class system. 
The travel range of the aircraft is 8,000 miles. The 747-8 was the first lengthy 747 to be made and the second 747 version, after the shortened 747 SP to have a fuselage of tweaked length. 
The 747-8 was intended to use the same technology as 787, including the GEnx turbofan and partial fly-by-wire engine and cockpit.
747-8 is by far considering a good deal of metrics, the latest version of the Boeing 747 family. 
It was commissioned in 2011 only nine years ago, and Boeing received over 150 orders of this version.
747 has two variants; 747-8I (intercontinental) and 747-8F (Freighter).
The 747-8I can carry 51 more passengers and two more freight pallets and can carry up to 467 passengers in a typical three-class configuration.
The Freighter version with an upper deck shorter is capable of carrying 137 tons (302,000 lb).
It's also 23 t lighter than intercontinental with an Operating empty weight (OEM) 197.13 t.
1. Airbus A380-800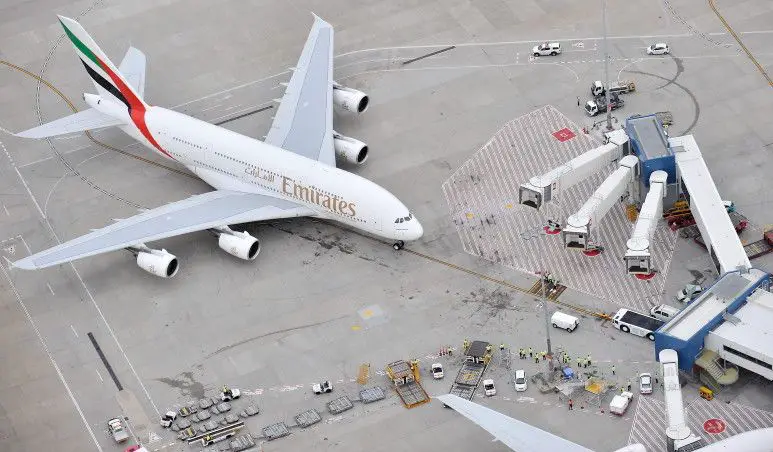 Airbus A380 is the biggest passenger plane in the world, a wide-body airliner manufactured by Airbus. 
When the Airbus A380 was launched in 2007, it created hype among the public. 
Airbus intended this Gargantuan aircraft to take everything from the Boeing 747 to the boundaries of modern engineering.
Airbus announced to size up the production facilities and supply chain for a380s production (four per month).
For its sheer size, international media dubbed it as the super-jumbo jet. 
A standard Airbus A380-800 Emirates can hold up to 853 passengers in a single class economy cabin and 644 passengers in a two-tier cabin class cabin. 
The wide-body aircraft can travel 8000 miles distance, as it took its maiden flight on April 27, 2005. 
It can cruise 43,100 meters above sea level, with a maximum range of 8208 miles at that height.
The Rolls-Royce Trent 900 (A380-841/-842) or the Engine Alliance GP7000 (A380-861) turbofan engine powers A380.
It is also, and understandably so, the world's heaviest passenger airplane (MTOW: 575 t) and surprisingly among the fastest (max design speed: 1185 km/h).
Qantas A380's first-class Lounge, with its classy Airbus A380 interior, is consistently rated amongst the most luxurious lounges in the world.
Speaking about its commercial success, a decade later, the market for A380 is very different. 
What a game-changing aircraft was meant is now, struggling to survive. 
The A380 is one of the most costly and complicated aircraft ever built with a price tag of $436 million. 
On 14 February 2019, Airbus announced to end its production by 2021, when Emirates Airlines decreased its last orders in favor of the A350 and A330neo.
China Southern Airlines, Malaysia Airlines, British Airways, Air France, Etihad Airways, Korean Air, Asiana Airlines, etc. are some A380's valuable customers.
At the Paris Air Show 2017, Airbus launched the A380Plus. 
The PLUS is an improved version of the A380 with increased capacity and reduction of passenger costs. 
Without changing its operating properties, Airbus has tweaked other aspects of a standard A380-800.
Although the A380 has a certificate that it can fly with about 850 passengers, it usually has 497 passengers on the aircraft. 
This capacity in plus is increased to 575 seats by the retrofitted interior of the A380plus.