Top 10 Biggest Airports in the World
Many of us have undoubtedly been lost somewhere, and it's frustrating which we don't know.
As increasing numbers of people visit an area, demand for hotels, entertainment, retail, shopping, and many more is rising.
You're better prepared to see the biggest and busiest airports if you plan to visit North America.
If you are considering other countries, here is the list of the top 10 largest airports in the world:
10. Suvarnabhumi Airport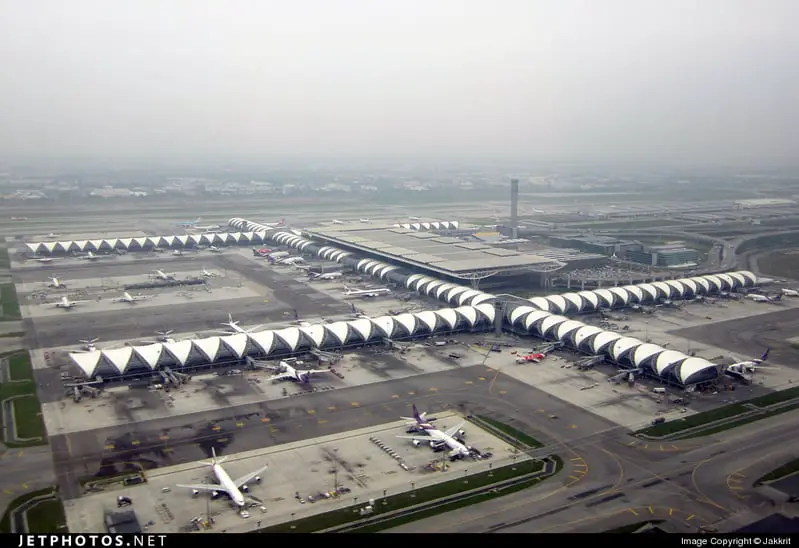 Suvarnabhumi Airport, located in Southeast Asia, holds the title of being the largest international airport in the region.
It is one of two airports from Southeast Asia to make it to this prestigious list.
Serving as a major hub for prominent Asian airlines such as Bangkok Airways and Jet Asia Airways, Suvarnabhumi Airport occupies a vast expanse of 3,240 hectares.
The airport boasts one of the tallest control towers and features the world's fourth-largest single-building terminal.
In 2016 alone, it catered to nearly 56 million passengers, securing its position as the ninth busiest international airport in Asia.
The Sanskrit translation of Suvarnabhumi means "Land of Gold" or "Golden Land."
9. Cairo International Airport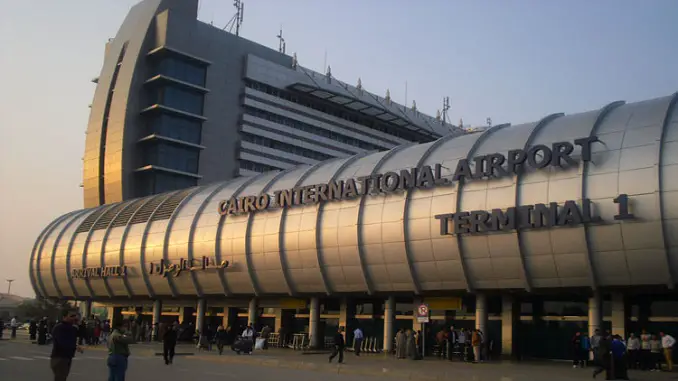 Cairo International Airport stands as the second busiest airport in Africa.
During World War II, it served as a U.S.A.F base before transforming into an international airport.
Situated in Heliopolis, it is the primary hub for Egypt's largest airlines, EgyptAir and Nile Air.
Cairo International Airport handles the highest number of passengers in the Middle East region.
8. Shanghai Pudong International Airport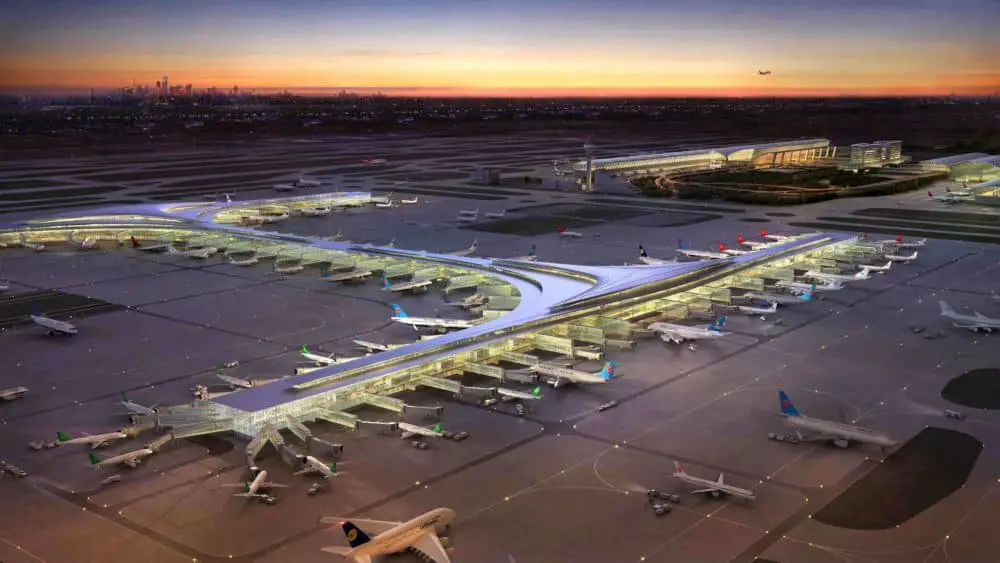 Shanghai Pudong International Airport, located 30 kilometers away from the city center, is one of two international airports in Shanghai.
It serves as the main hub for international flights and is the home base for China Eastern Airlines and Shanghai Airlines.
The airport ranks as the fifth busiest in Asia for international passenger traffic and the ninth busiest globally.
In 2016, it facilitated the travel of approximately 66 million passengers.
Notably, it holds the third position worldwide for cargo traffic, handling an impressive 3,440,279.70 tons of cargo that same year.
Spanning an area of around 40 square kilometers, the airport consists of two terminals and five concrete runways.
With regular flights connecting to other major Chinese airports like Shenzhen Baoan International Airport and Beijing Daxing International Airport, Shanghai Pudong International Airport is considered one of the finest international airports globally.
7. George Bush Intercontinental Airport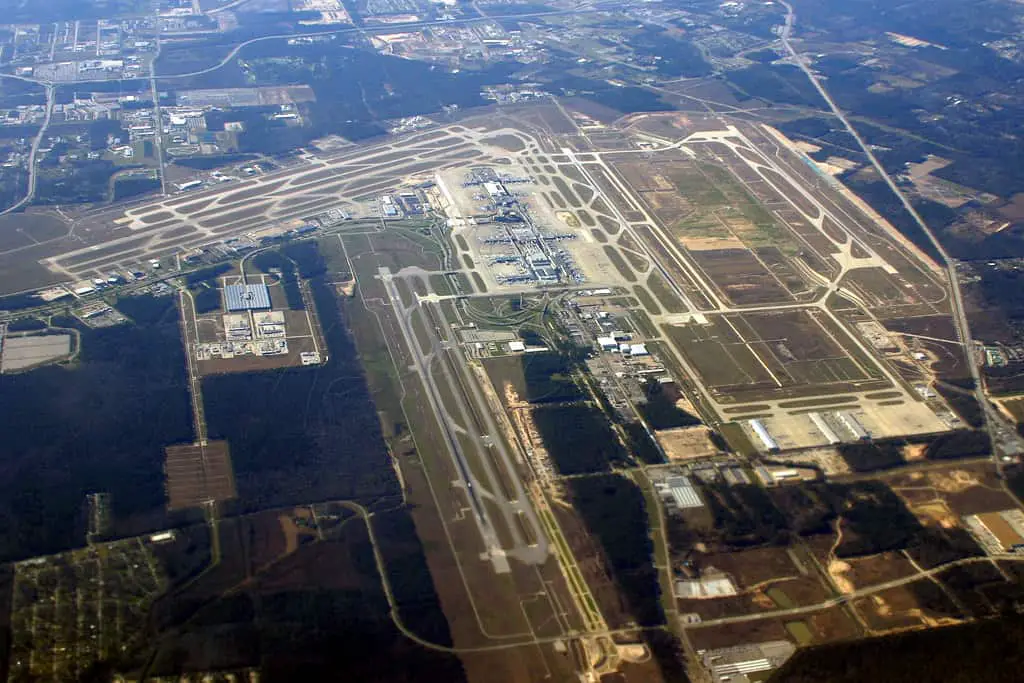 George bush intercontinental airport is United Airlines' second-largest passenger hub, just behind Chicago, Illinois, O'Hare International Airport.
United Airlines is the most important airline in the United States with some of the biggest passenger planes like Airbus A380 in service.
It has five terminals and 130 gates with a distance of 1.5 miles (2.4 km) from Terminal A to Terminal D, covering 250 acres (1.0 square km).
It's one of the top 10 airports in the world because of efficient air traffic management, which results in fewer flight delays.
6. Beijing Daxing International Airport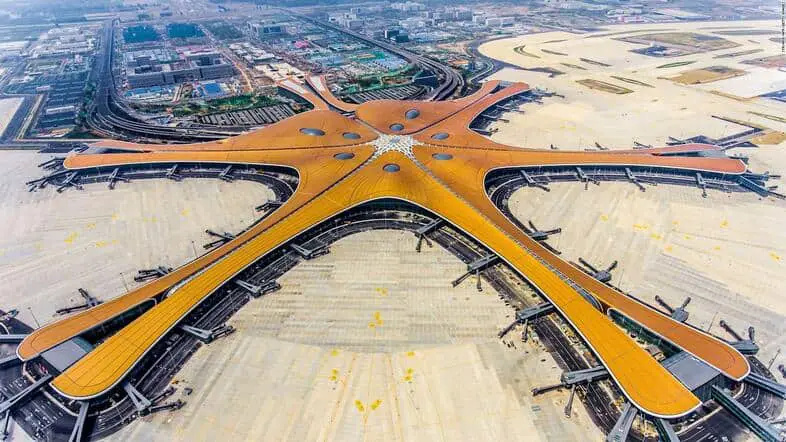 Beijing Daxing International Airport claims the title of having the second-largest single airport terminal worldwide.
With a sprawling 700,000 m² (7,500,000 square ft) airport facility in Beijing, it took nearly five years and approximately US$11.4 billion to construct this architectural marvel.
The terminals were executed by the Beijing Institute of Architectural Design (BIAD) and designed by renowned British architect Zahá Hadid Architects, along with French planners ADPI.
The central hub boasts an innovative design with six curved spokes.
5. Dulles International Airport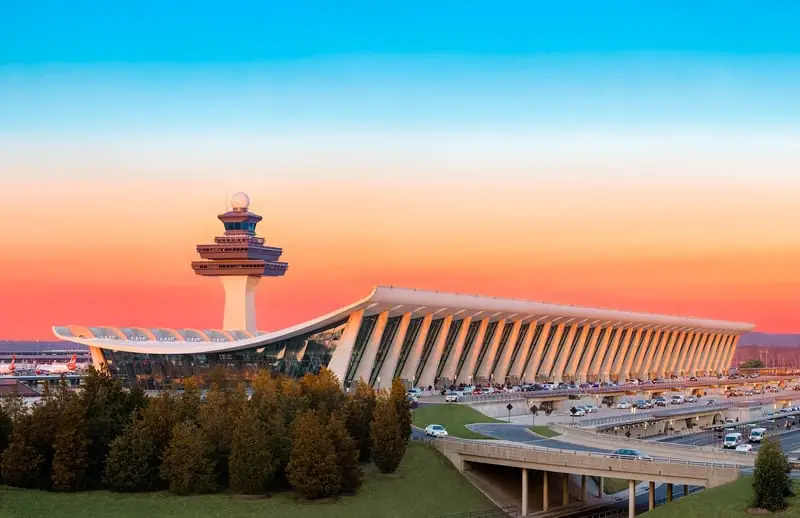 Washington Dulles International Airport, named after John Foster Dulles, the 52nd Secretary of State, is one of three main major airports in the Baltimore-Washington region.
It's the biggest of the three, but in terms of served travelers, it's last.
In 2016, Washington Dulles International Airport handled nearly 22 million passengers.
Ronald Reagan Washington National Airport had 23.6 million travelers, while Baltimore/Washington International Thurgood Marshall Airport had 25 million flights.
The airport occupies approximately 5,200 hectares of land, although not all space is used for amenities at the airport.
4. Orlando International Airport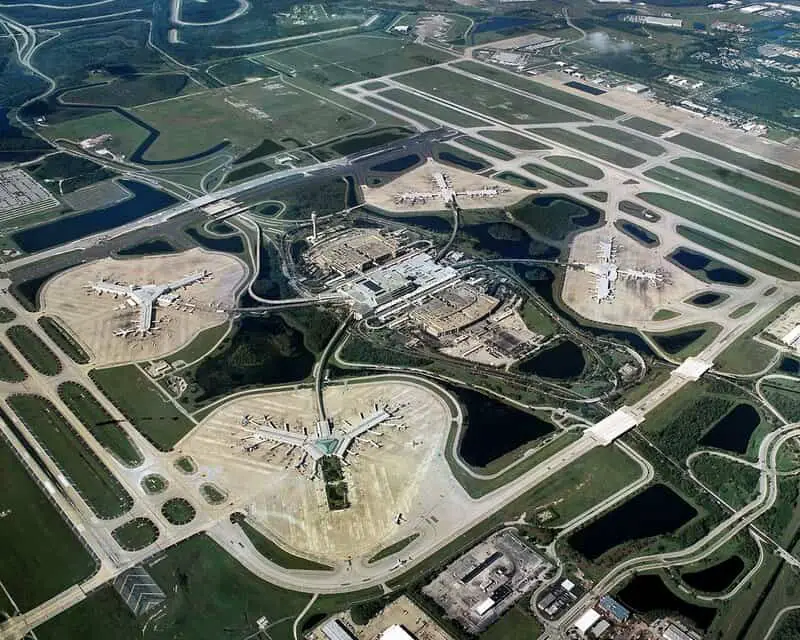 Orlando International Airport stands as Florida's busiest and largest airport, both in terms of size and air traffic.
It serves as the headquarters for Silver Airways and acts as a focus city for Frontier, JetBlue, Southwest, and Spirit.
Among these, Southwest holds the distinction of being the largest passenger carrier at the airport.
As a significant global gateway to Florida, Orlando International Airport accommodates over 850 weekly flights operated by 44 different airlines.
It is worth noting that the Orlando area is home to two main airports: Orlando International Airport (MCO) and Sanford International Airport (SFB).
3. Dallas/Fort Worth International Airport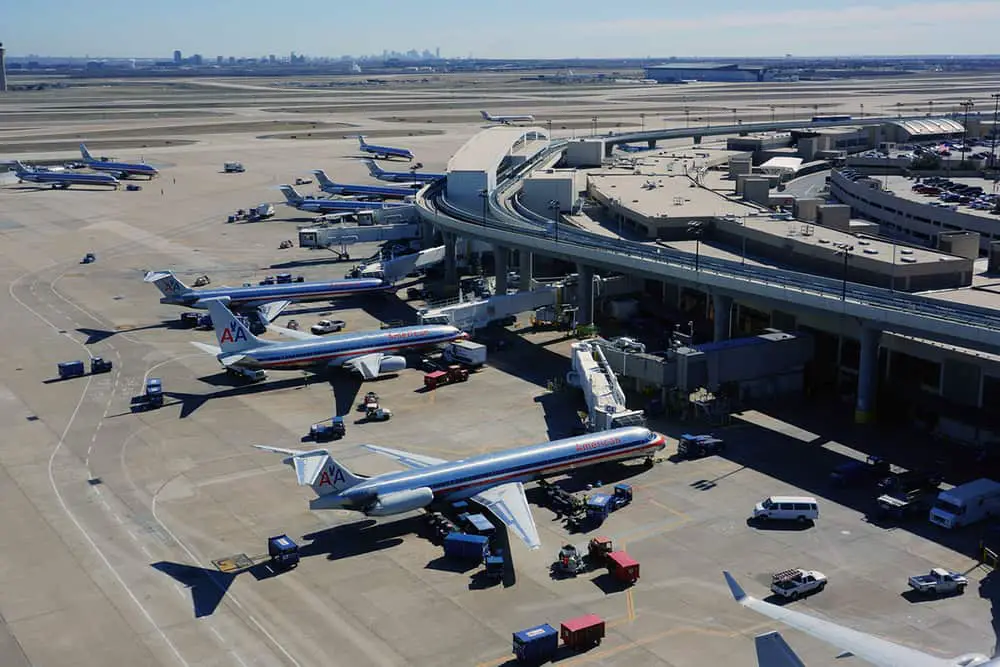 Dallas/Fort Worth International Airport takes pride in being the second-largest global airport in America and the third-largest internationally.
It holds the 11th position globally in terms of passenger traffic, serving approximately 65.6 million passengers in 2016, a record-breaking number in the airport's history.
The airport comprises 6,963 hectares of land, making it bigger than Manhattan.
It has five operating terminals, one being developed, and seven concrete paths.
The airport is so big that it has its own ZIP code for the post office and maintains its own police, fire protection, and medical emergency services.
As one of the busiest airports in Texas and one of the largest commercial airports in the United States, it continues to play a vital role in air travel.
2. Denver International Airport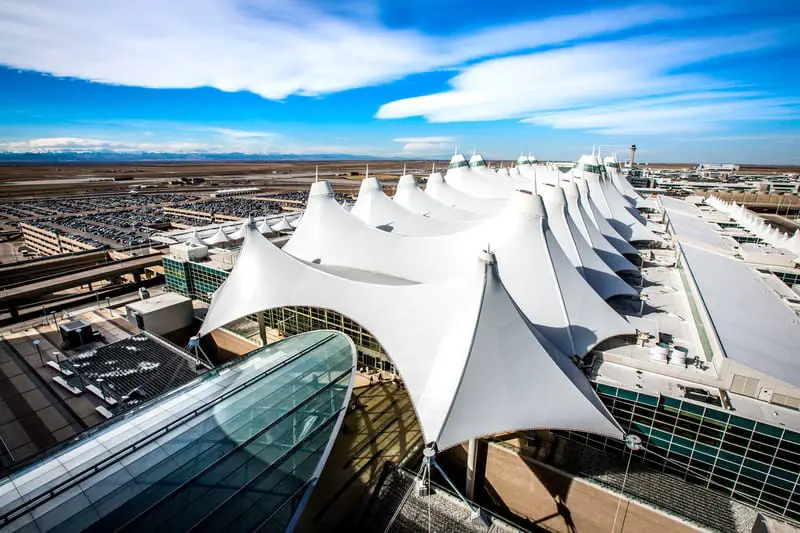 Denver International Airport is America's biggest international airport, with nearly double the size of Dallas/Fort Worth International Airport.
Its vast expanse covers an astounding 13,570 hectares of land, surpassing all the other airports on this list.
We can observe a pattern here that almost half the largest airports in the world are located in the United States.
Denver International Airport is Frontier Airlines' and Great Lakes Airlines' primary hub.
Denver Airport earns around $26.3 billion for the administration, with six concrete runways.
It is also among the busiest airports worldwide, handling 58 million passengers in 2016.
Although this figure is substantial, it falls short of the passenger numbers witnessed by Hartsfield-Jackson Atlanta International Airport, which almost doubled Denver's count.
Even Los Angeles International Airport struggles to handle such a large volume of passengers.
This airport ranks as one of the best international airports in the world.
1. King Fahd International Airport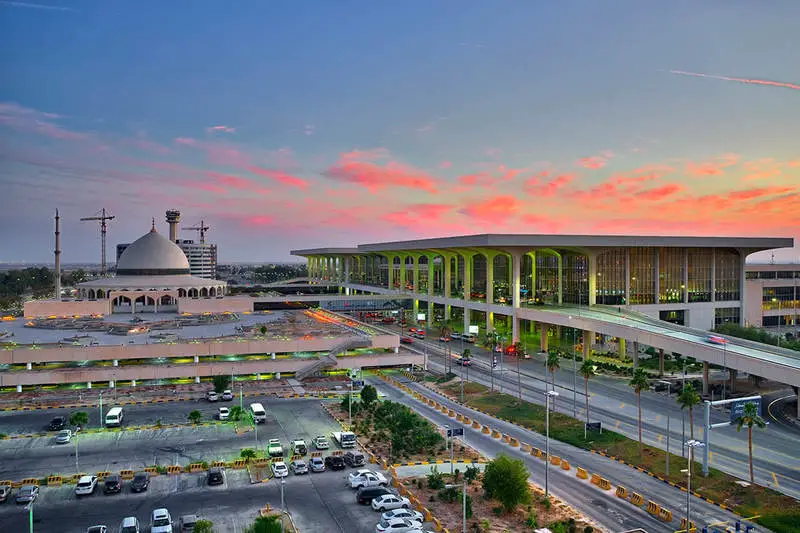 King Fahd International Airport deserves recognition beyond being labeled as an airport; it could easily be considered a state or province.
As of 2023, King Fahd International Airport is the world's largest airport based on its sheer size.
Spanning an astronomical 77,600 hectares in Dammam, Saudi Arabia, it dwarfs all the other airports on this list, making them appear like mere Lego sets in comparison.
To put it into perspective, the airport's area exceeds that of the entire nation of Bahrain, which is crazy.
However, here's an interesting fact: The airport facilities occupy only 3,675 hectares of that vast space.
In other words, less than 5% of the available area is utilized.
If we were to consider the actual size of the airport, it would be the smallest on this list.
King Fahd International is also the latest airport on the list–it opened in November 1999, just before the end of the 20th century.
In terms of passenger traffic, it is also the least busy, barely reaching past 10 million travelers served annually.
Hence, one might argue that the world's largest airport is also the least efficient in terms of its operational capacity.
Hope you got all the airports around, be sure to remember their names as next time you travel there & please don't get lost.
If you loved this post, be sure to share this on your social media by clicking the options below.