Artists today have created unique ways of showcasing their iconic modern art, from abstract facial drawings to street art.
To know some of them,
Below is the list of the top 10 famous artists today and their works:
10. Zeng Fanzhi – Expressionism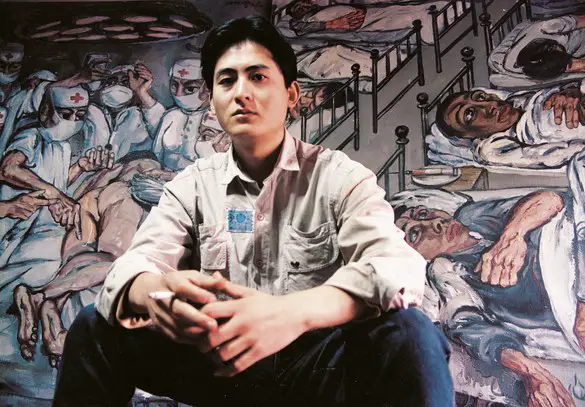 Zeng Fanzhi is a Beijing-based Chinese contemporary artist and one of the best painters in the world today.
Zeng's paintings display emotional directness, intuitive mental understanding, and carefully calibrated expressionistic techniques.
In the early 90s, Zeng's works revealed an immediate change in response to his absorption in a shallow setting.
His landmark series 'Mask series' displays the contradictions between his dominant philosophical issues and ironic treatment of pompousness and the mentality implicit in his new urban life.
His expressionistic methods are, however, contradictory to the conventional use of such techniques.
The portrayal of Zeng's bare, exposed flesh and oddly inflated hands is not an attempt at mere pure emotional expression but a satirical depiction of emotions as a metaphor for the misplaced oneself and stunted self-realization against the superficially composed appearances of the subjects.
Artworks
9. Richard Serra – Process art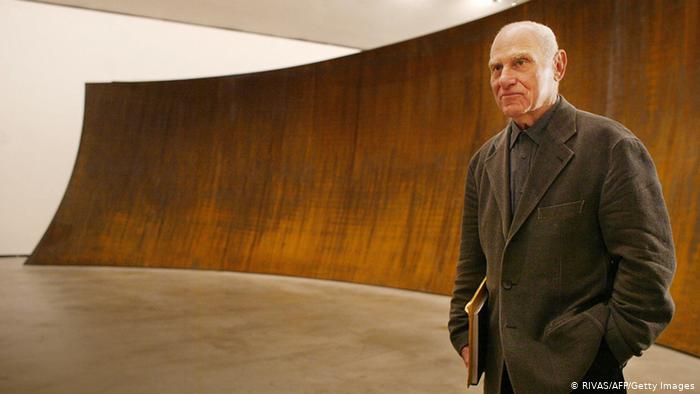 One of the famous living artists today, Richard Serra joins the process art movement.
He lives and works on the North Fork, Long Island, and in Tribeca, New York.
He is best known for his abstract sculptures in metal, the extensive appearance of which forces audiences to focus on the physical characteristics of the objects and their specific locations.
Richard Serra's one of the pre-eminent 20th-century sculptors' monumental works, underlines and changes the spectator's perception of space and proportion.
Inspired by the modern dance at a very early stage in his career — especially by his encounters with the famous Judson Church dancers in New York City — and with Japanese Zen gardens, the artist sought to create works that involve viewers in motion and capture the surrounding space in large sheet metal pieces.
Artworks
8. Marina Abramović – Performance art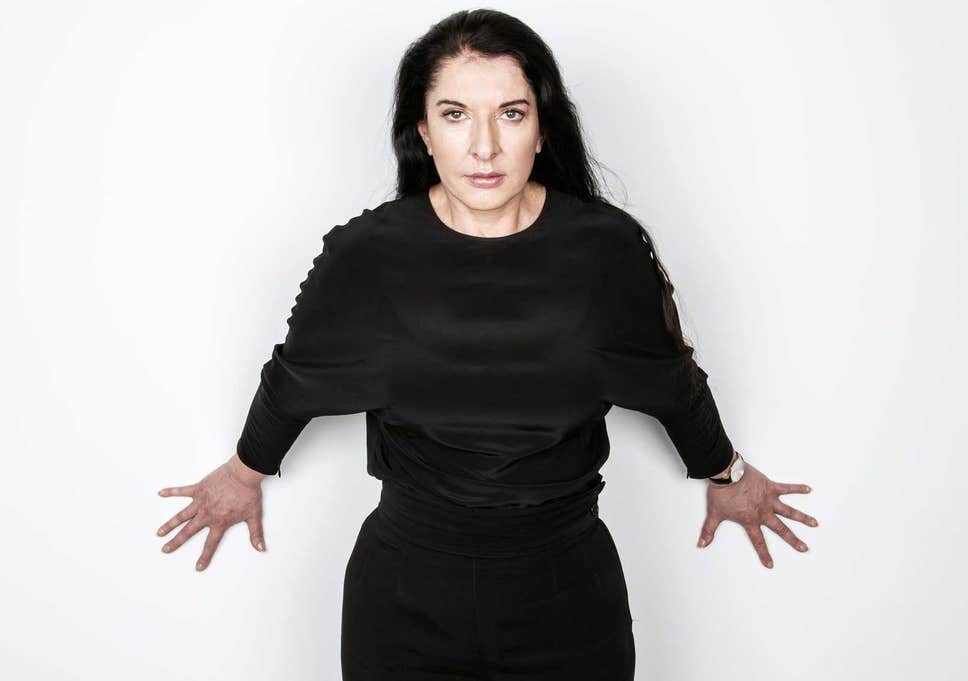 Marina Abramović is a Serbian body performance artist known for her avant-garde performance pieces.
What is performance art?
Performance art involves using an artist's bodily movement as a subject and as the vehicle in a theatrical technique to express.
They may present it to an audience in a traditionally interdisciplinary context, live through documentation, spontaneously or written.
It comprises four basic elements: time, space, the body, and the artist's presence, and the artist's relationship with the audience.
The activities can take place in the streets, in all kinds of places, generally in art galleries and museums.
Their aim is to generate a reaction, sometimes with improvisation and aesthetic support.
The themes are linked to the artist's life experiences or the need to report or criticize society and to the spirit of transformation.
Abramović frequently endures risky and horrific acts to explore sensation and its impact, often with audience participation or by integrating music, sound, video, sculpture, and photography into her work. 
She addresses body art, performance art, and feminist art, the interplay between the artist, viewer, physical boundaries, and psychological possibilities.
Performances
7. Jeff Koons – Sculpture arts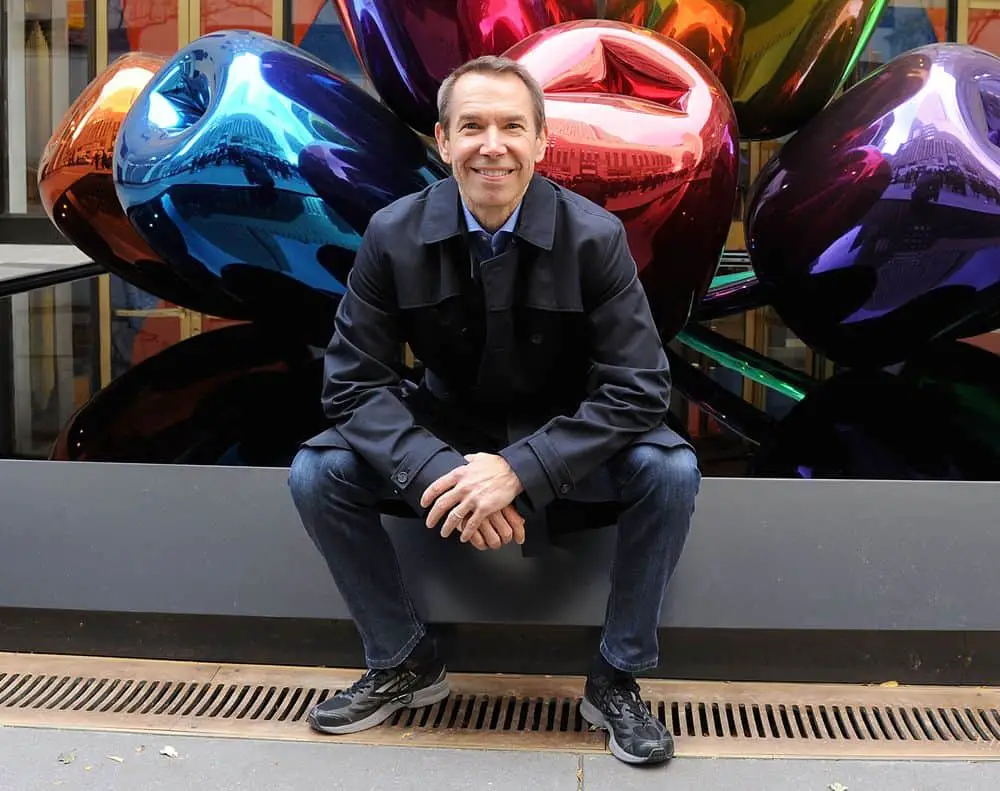 Jeff Koons is one of the famous sculptors today who appeared with an emphasis on the prevailing consumer culture of the decade in the 1980s.
He may be best known for his over-dimensional creations of kitschy souvenirs, toys, and ornaments, which are bright and shiny in his Celebration (1994–2011) series.
Koons provides strong and lasting support to otherwise ephemeral objects through his choice of materials.
Jeff Koons deals with taste, pleasure, celebrities, and commercial ideas.
Koons transforms banal objects into pop-art symbols, experimenting with seductive industrial materials (like high chrome steel from his Balloon Dog sculptures and vinyl inflatables) and size changes and the intricate production environment of a variety of technicians.
Although he is frequently considered ironic and tongue-in-cheek, Koons maintains that his approach is sincere and ambitious.
His work has been based largely on the pop culture and the stylistic elements of art history.
Artworks
6. Banksy – Street art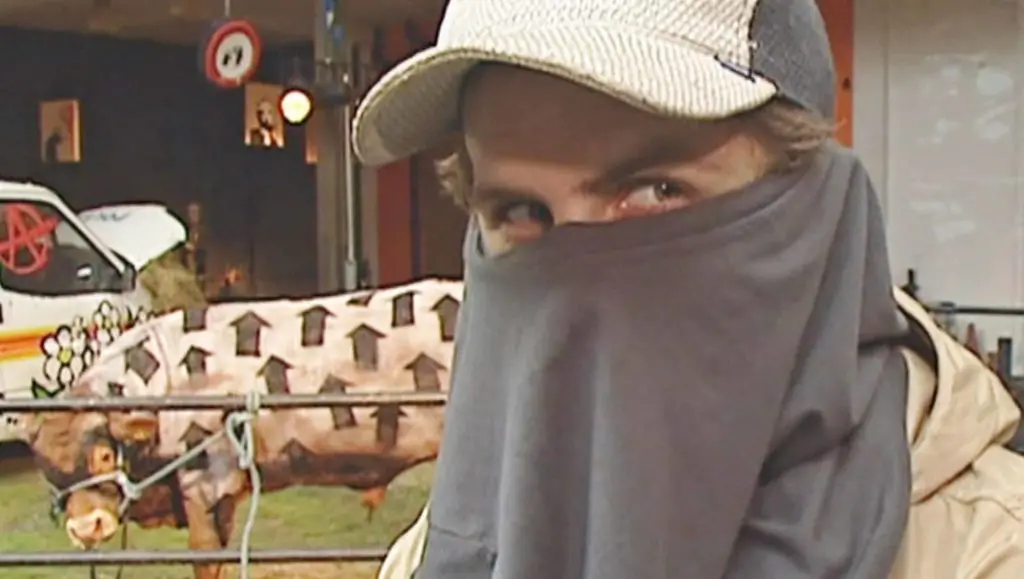 Banksy has created a whole art subculture dedicated to his works, which makes him the most controversial street artist in the world.
At any given moment, Banksy's work can impact anywhere.
Since the early 1990s, he has been highly active in graffiti, and even after 20 years in the graffiti world, his name remains unknown.
He has collaborated with a variety of media and forms of street art so, being anonymous seems a logical choice.
Banksy's artwork doesn't just include important social issues but also controversial as well as viral images around the net.
Banksy continued to respect Blek le Rat's works and often reuse his old ideas in his graffiti art lifestyle.
He provided a photo of himself covering his head with a paper bag (recyclable).
The rest of his fans don't want to know his real identity but have protested in Fleet Street for requesting him to unmask.
We can see his art in major cities from Vienna, San Francisco, Amsterdam, Paris, and Detroit.
And with his documentary "Exit Through the Gift Shop" that was nominated for the Academy Award, he has moved from graffiti on colorful walls to paint onto canvas abstract art and even movies.
Artworks
5. Annie Leibovitz – Portrait photography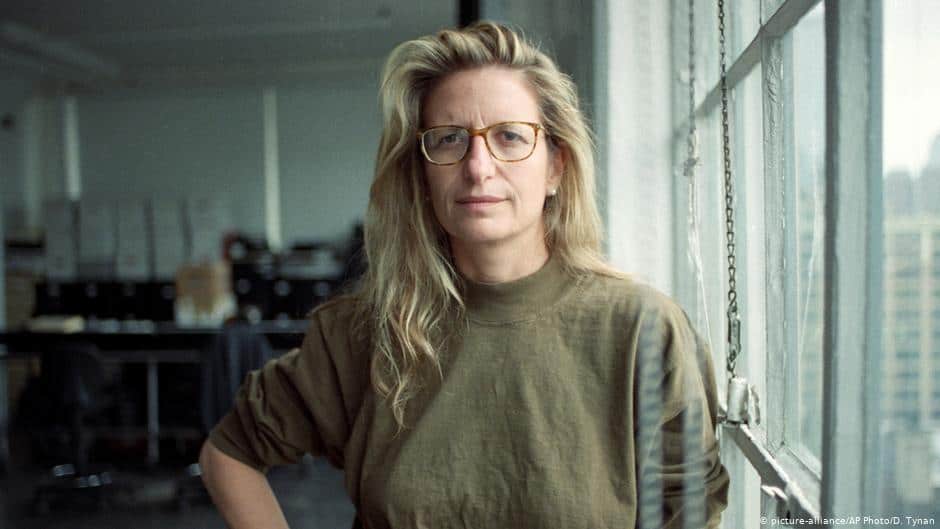 The American photographer Annie Leibovitz is noted for her beautiful, strange, and memorable portraits of many famous people.
Crisp emotions and perfect lightings are her signature style.
The Leibovitz fashion style is bold contrasts and dramatic poses, and she refers her influence to the contributions of photographers Robert Frank and Richard Avedon.
Perhaps her best-known shot is the raw and intimate portrait of a naked John Lennon tied to his wife Yoko Ono, taken for Rolling Stone cover just hours before the assassination of Lennon.
The portraits of this photographer are held in the collections at Art Institute of Chicago, New York's Museum of Modern Art, and Los Angeles County Art Museum.
Artworks
4. Robin Eley – Hyperrealism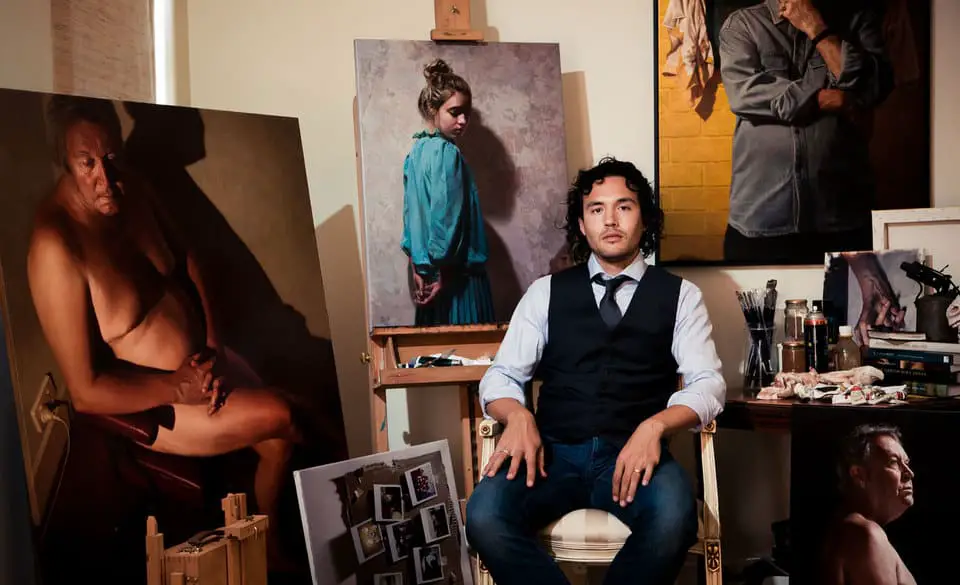 This British-born and American-educated among famous painters today based in Australia spend about 5 weeks working 90 hours a week on a painting.
Robin claims that he is trying to explore the conceptual isolation in the modern world and the plastic wrap on his images acts as a metaphor for this, as "it is something that you can see but do not experience though."
Of his work with oils specifically, he is concerned with chiaroscuro, tonality, and drama in the style of the Old Masters for capturing the tactility of skin.
Artworks (paintings)
3. Ai Weiwei – Installation art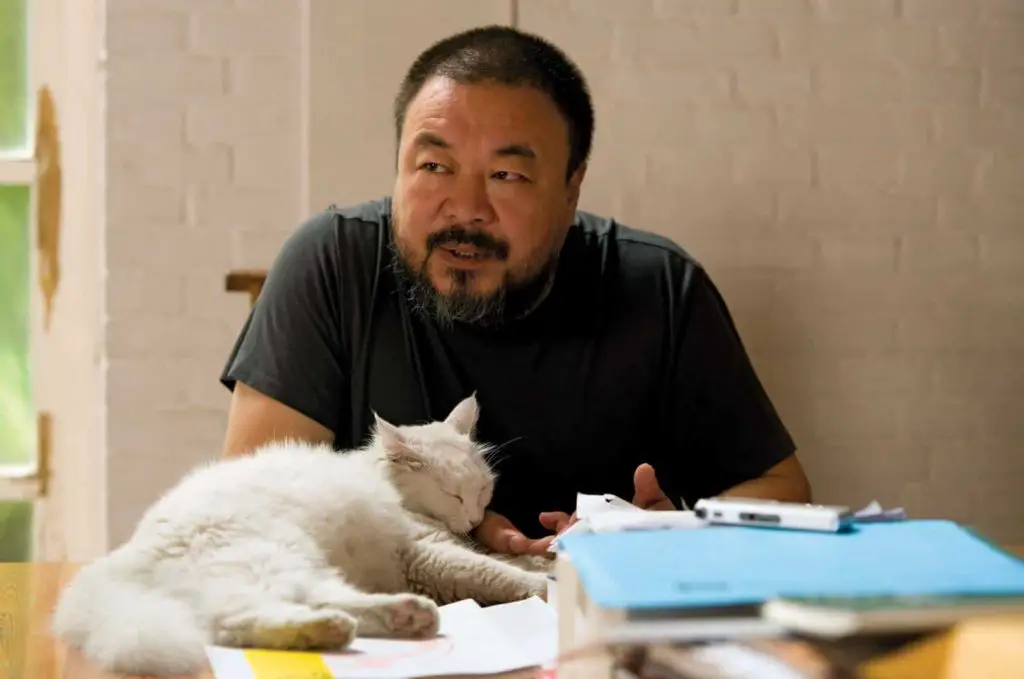 Ai Weiwei is a contemporary artist and political activist from China.
This also undoubtedly makes him one of the most controversial figures in the world of installation art.
While his revolutionary acts broaden the definition of art to include modern forms of social interaction, they underline the widening gap between the ideal and the real in Chinese society.
He devotes intellectual passion and poetry to his sculptures, portraits, and public artworks.
Also, he uses distinguishable or traditional styles of Chinese art in several critical observations of political and social issues in China.
In 2011 the ArtReview Magazine magazine publishers named this Chinese defector the most influential artist in the world.
As he has been a symbol icon to the ongoing fights for human rights in China.
Artworks
2. Frank Gehry – Architecture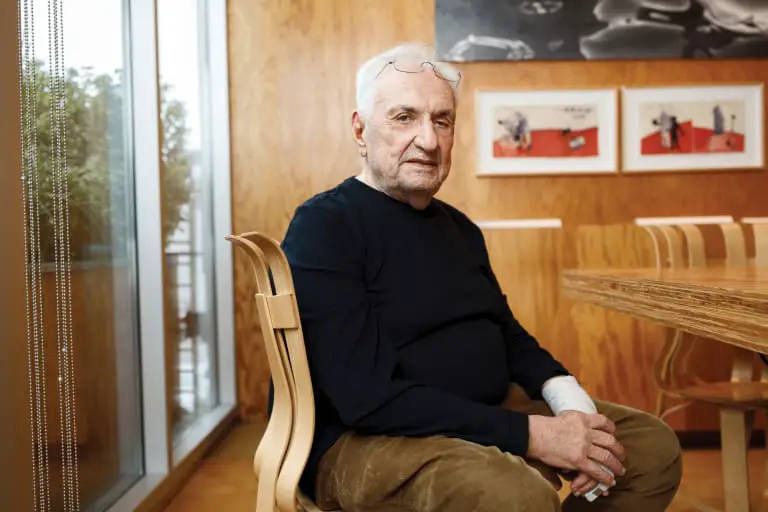 Frank Gehry is a Canadian-American architect known for postmodern design buildings such as the Walt Disney Concert Hall and the Guggenheim Museum in Bilbao, Spain.
The award-winning architect has been disrupting the very essence of architecture for more than a half-century.
While Gehry is immensely innovative in his projects, his architecture is legendary with certain defining features.
His tendency in postmodern architecture, where design elements become scattered, is known as deconstructivism and often characterized by many as messy or loosely coupled.
Gehry uses corrugated metals primarily to make the appearance unfinished or dislocated.
His use of ingredients such as corrugated metals offers a raw and unresolved artsy vibe for some of the projects.
Gehry was one of the most distinctive and easily recognizable architects in recent times with this unique architectural style.
Artworks
1. Gerhard Richter – Contemporary art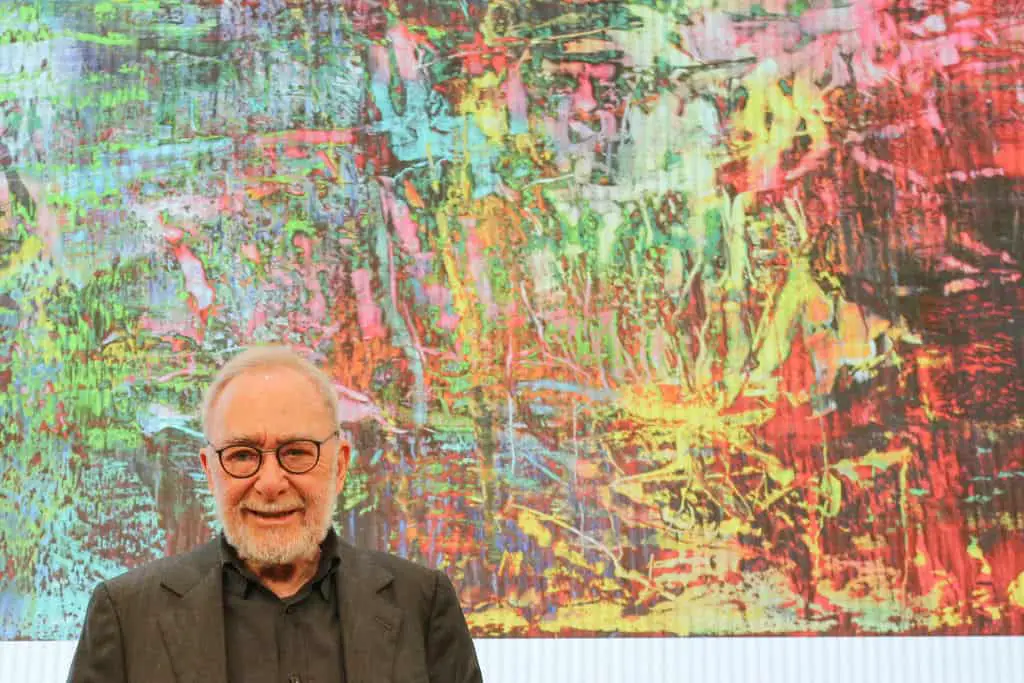 We consider german contemporary artist Gerhard Richter as one of the richest and most famous artists today.
The works of Richter in abstract art and photo-based paintings contributed greatly to the medium's development.
Gerhard Richter is well known for a multi-style interpretation of the painting medium, frequently integrating the visual effects of photography and refining them.
His large-scale photoreal representations of black and white pictures, which were painted in different gray tones, was created by Richter, and the result (sometimes considered being "photographic impressionism") was blurred and appeared smeared by portions of his paintings — reproducing counterintuitively photographic results and exposing his painterly eye.
Richter put Abstraction into his work of highly textured abstract gray monochromes plus went about loosely between figuration furthermore abstraction and created geometric "Color Charts," bold gestural abstractions, observational paintings of everything from nudes, trees, vehicles to cities, architecture, and Nazi settings.
Artworks