Top 10 Largest Shopping Malls in India
Everyone wants to enjoy activities, especially at the weekends, and options are often confusing to select.
Romantic dinner, a new blockbuster movie, lifestyle shopping, or a music concert? Confusing?
Well, there is one place where you can enjoy all these activities, the Shopping mall.
These days, malls in the country are gaining popularity among middle-class families, youth, and elders.
Compared to other countries, Indian malls offer people much more than a shopping experience.
A considerable number of new malls are opened each year for shopaholics, and its the reason why India is one of the fastest-growing FMCG markets.
If you are looking for more than just shopping and movies, below is the list of the top 10 largest shopping malls in India:
10. Elante Mall, Chandigarh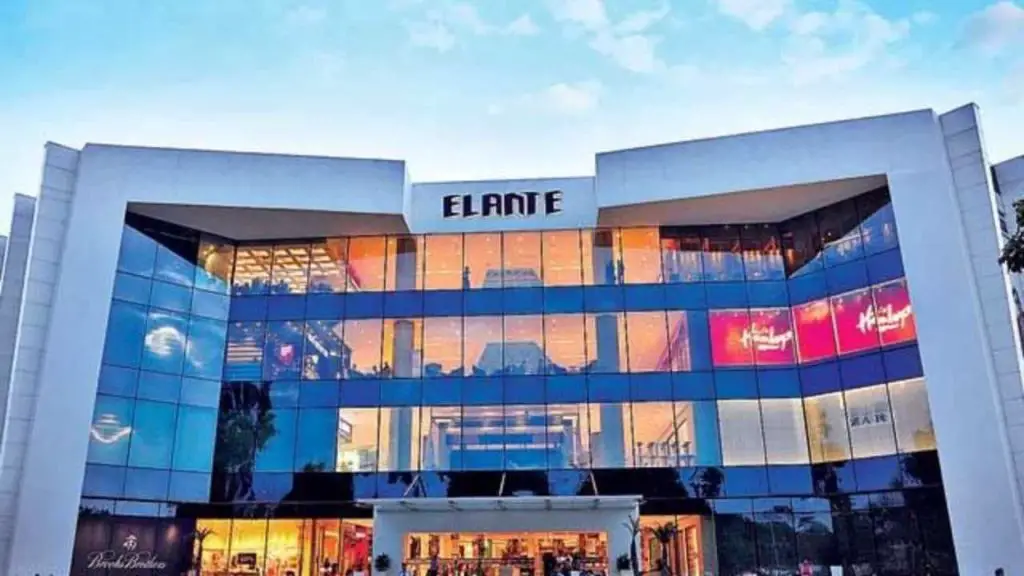 Elante Mall is one of the most popular sites in Chandigarh. The mall is part of the Nexus group of malls located in the industrial area of the city.
It's not just the mall, there is an office complex, a luxury hotel– Hyatt Regency, and parts of the Elante tower. 
Elante Mall is also Chandigarh's largest mall throughout the region, as it has over 1 million square feet of retail space.
It has two main gates, three basement levels, one ground floor, and three upper floors.
Elante Mall has a retail area with retailers and a food court and a courtyard of cafes of various Indian and international brands.
Its center has a PVR theater 8-screen cinema multiplex. On the mall's upper floor, you will find restaurants, fast food joints, and a fun city for children.
9. Select CityWalk, New Delhi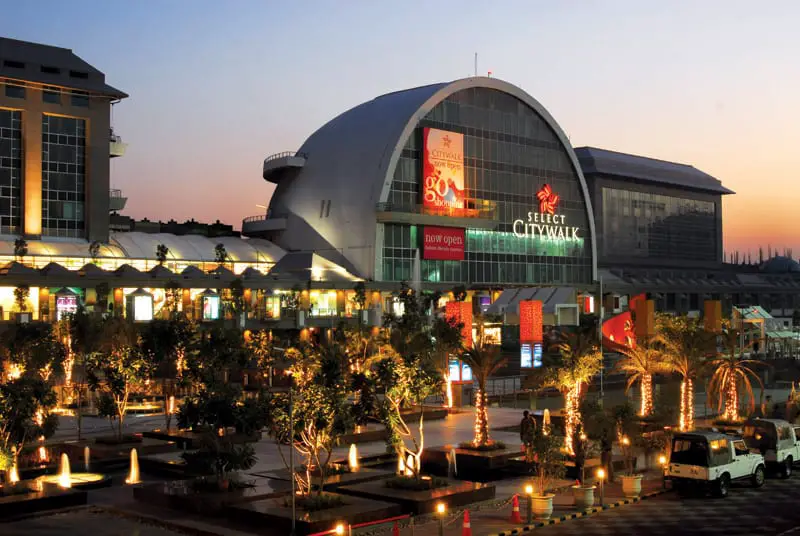 CityWalk Select is a shopping mall in Saket, New Delhi, in the Saket District Centre.
The 1,300,000 sq. ft area comprises a 4-km multiplex, residential apartments, offices, and public spaces, spread over 6 acres (24,000 m2).
Select Infrastructure, a joint venture between the Select group and the Aarone Group, has built the mall.
Compared to the number of retail stores across Delhi and the surrounding area, the Select Citywalk is a low-rise development that maintains the charm and character of traditional Delhi through the use of balconies and columns instead of a glass and concrete box tower.
Select Citywalk is one of India's biggest mixed-use projects, which is being developed in collaboration with DP Architects (Singapore), by the label TCS Architects.
8. Mantri Square Mall, Bengaluru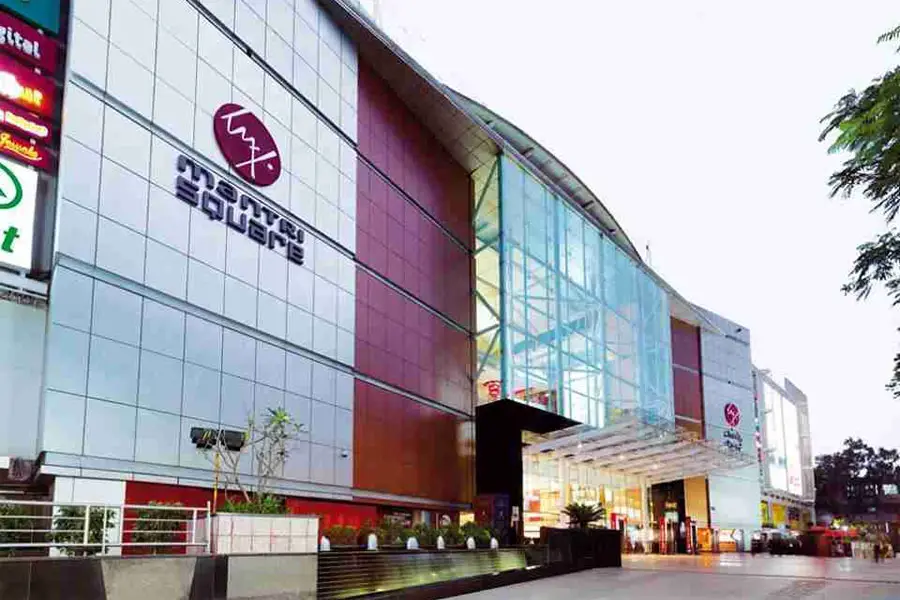 Mantri Square Mall is located in the Malleswaram locality in Bangalore, Karnataka, India.
It is one of the biggest malls in the country and has a total retail floor area of 1,000,000 square feet.
The mall has three floors and contains global and local retail shops, an expansive hypermarket, a movie theater, a grocery store, a food court, a gaming center, and a bowling alley.
People like Mantri Square Mall because it is the only retail center in South India to have 5 departmental stores, Lifestyle, Marks & Spencer, Reliance Trends, Pantaloons, and Shoppers' Stop – all under one roof.
It also has direct Metro connectivity, over 1.7 million square feet spread over five floors, over 10,000 national and international brands in over 250 categories, and an interesting mix of events and brand activation programs to ensure there is the circulation of customers throughout the mall.
7. Sarath City Capital Mall, Hyderabad (1,930,000 sq ft)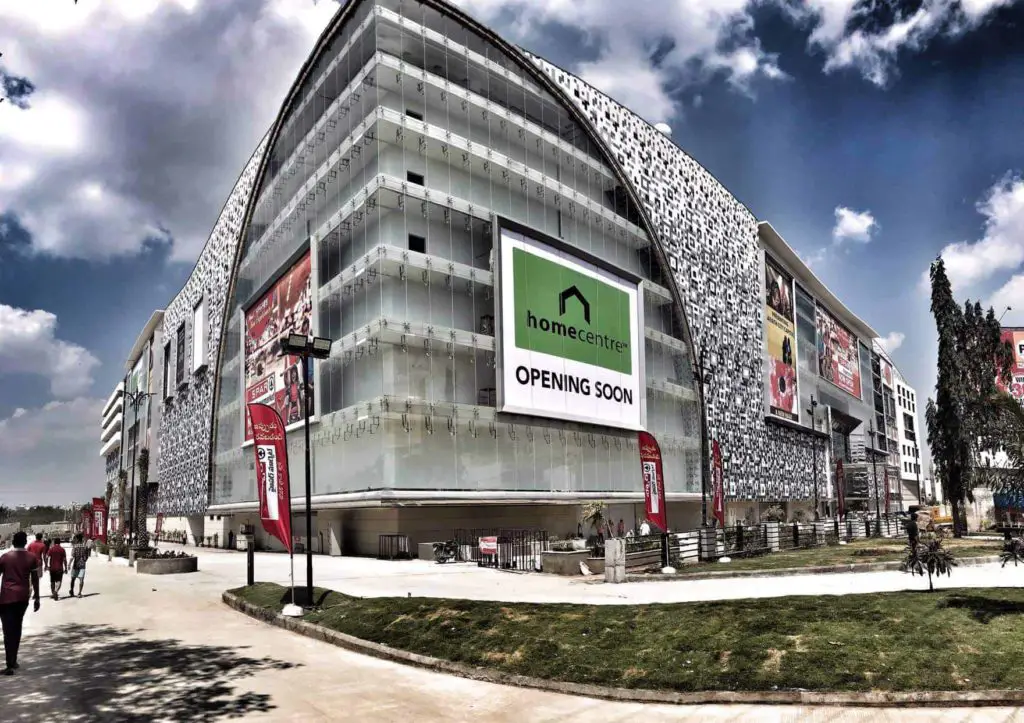 Sarath City Capital Mall is the largest mall in Hyderabad, with 1,931,000 sq ft.
Located in the city's Heart, Sarath City Capital Mall has everything from Prestigious International brands to local brands that serve the customer in various ways.
The mall has AMB Cinemas, an Asian Cinema's 7 screen theater, and the Telugu movie superstar Mahesh Babu.
Two large food courts cater to almost 1000 people at one go, which comprises different cuisines and restaurants.
SKI capital, Tridom, Thalariya, and SKY zones are the gaming and entertainment areas for everyone.
6. VR Mall, Chennai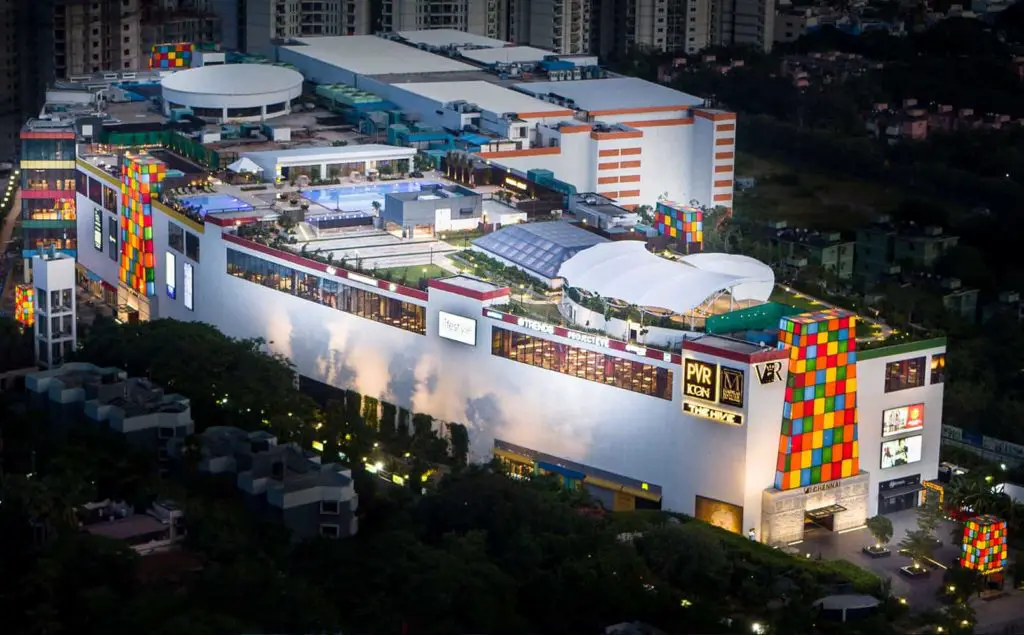 In the upmarket area of Anna Nagar, VR Chennai is a shopping hub with a capacity of 2 million sq ft.
VR Chennai mall is the biggest mall in Chennai, Tamil Nadu.
This mall has premium stores, 10 PVR film screens, a broad-screen PX[L], and many F&B options.
Inside the mall, there is a contrasting universe of very well-decorated interiors, divided into six floors and 240 branded outlets.
You'll find everything from suits, jewelry, boots, appliances, and home decor.
The mall has a fun environment for kids, PVR Cinemas for film lovers, and many options to keep your entertainment quotient high.
Step into one of the many food stores on the street, or go directly to Food Box on the third floor if you want to fill your tank after a day's shopping and having fun.
The food court has every fast-food joint like momos, pizzas, burgers, juices, and grills to satisfy your hunger.
A co-work space, an open-air theater, a boutique hotel, function rooms, and serviced suites also make up part of the spacious VR Mall Chennai.
The malls are also pleased to host farmers' markets on weekends.
The pop-up food stall, Popadum, serves delicious local and international cuisine every Sunday from 10:00 to 7:00 pm.
5. DLF Mall of India, Noida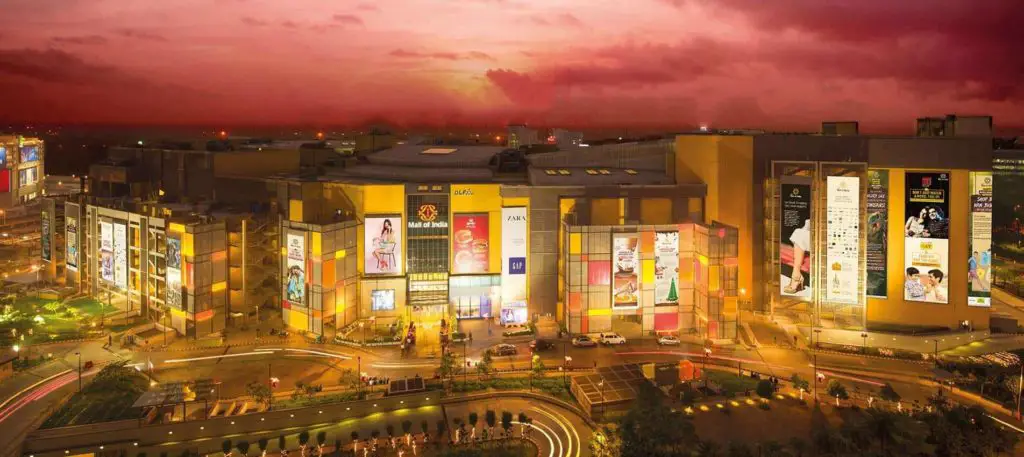 DLF Mall of India is the largest mall in Delhi, spread over 2 million square feet.
This mall is introduced in the industry for many firsts like, for the first time in India, the mall introduced the unique zoning concept.
DLF Mall of India provides a perfect mix of supermarket deals in an intelligently spaced mall spread over five acres and six floors.
Mall supervisors classify these areas as the lower ground floor of the market square, the ground, and first floor of the International Boulevard, the second floor of The High Street, the third level of Family World, and the top 2 floors for Leisure.
Strategically located in the heart of Noida in Sector 18, DLF Mall of India hosts 350 brands, including 18 anchors, over 100 fashion brands, 14 fashion brands for children, and 73 options for food and beverage.
DLF Mall of India redefines how retail is viewed in India, with its sheer size, creative zoning plan, and convenient location with excellent connectivity.
The mall has had over one hundred fashion brands and over 50 dining outlets since February 2016.
Delhi's finest restaurants like Grill and Bar in Chili, Big Chill, or Mamagoto have special joints here.
Furthermore, the food court's seating capacity can accommodate 1000 people comfortably.
The mall is a LEED Gold certified mal, which means it's highly energy efficient.
4. World Trade Park, Jaipur (2,400,000 sq ft)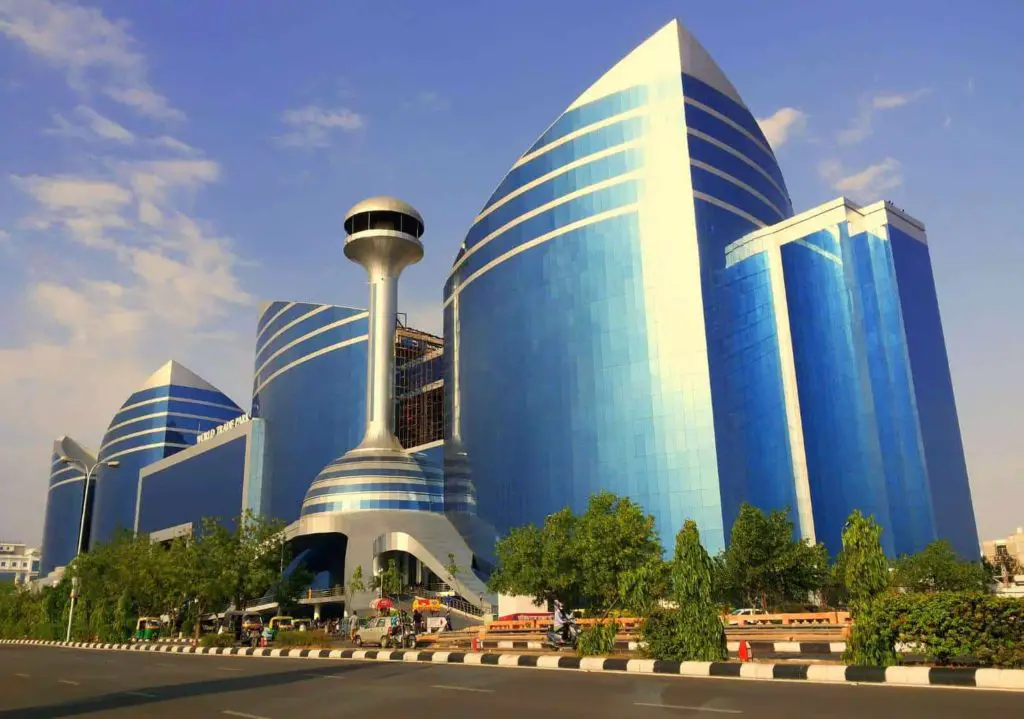 Located on JLN Marg in Pink City's Malviya Nagar, World Trade Park's total gross lease area is 2.4 million square ft.
The mall's design is modern and received the 2012 Mall of the Year award. It has 11 floors and 1,100 car parking capacity.
Many high-end brands are in the store, including Nakshatra, Rado Switzerland, Tag Heuer, and Junarose.
The structure has two separate buildings, one in the north and one in the south, divided by a city street.
A bridge, which has small restaurants on it, joins the two buildings. World Trade Park Jaipur includes a display system in which 24 projectors create a single image on its ceilings.
This is the world's first mall of its kind. BCI of India awarded WTP with "Mall of the Year" and "Best Architecture."
3. Ambience Mall, Gurugram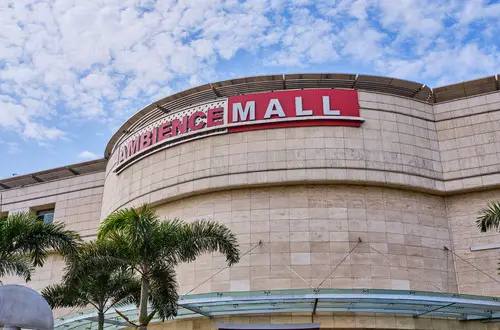 Ambience Mall, Gurgaon is a shopping mall in Gurgaon, Haryana, India. It contains a built-up area of 21 lakh square feet and a retail (GLA) area of 18 lakh square feet. Most floors have a shopping area of 860 meters.
Ambience Mall has more than 230 stores and food outlets.
However, there are other malls in India with larger total retail areas such as Lulu Mall in Kochi with 1.7 million square feet, Phoenix Marketcity in Mumbai with 1.2 million square feet, and Elante Mall in Chandigarh with 1 million square feet.
Not just that, Ambience Mall in Gurgaon has some unique features compared to other malls in India. It is one of the largest and most popular destinations in Delhi-NCR.
The mall offers top-notch entertainment, cutting-edge shopping, and a range of foreign cuisines all under one roof.
Ambience Mall also boasts the country's first 42,000 sq. ft. dedicated track for iRIDE, a fun and leisure activity for kids and adults alike.
Additionally, it is well designed and well connected with easy access from the Delhi-Gurgaon border.
2. Phoenix Marketcity, Mumbai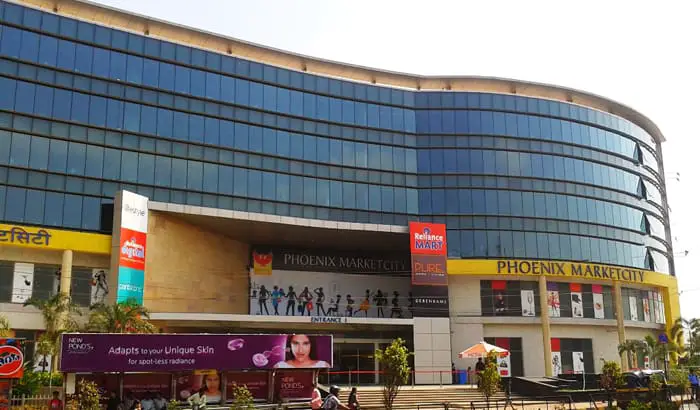 Phoenix Marketcity is one the biggest mall in India, located in Kurla, Mumbai.
Spread over 4.1 million sq ft the mall includes 2.1 million sq ft of retail gross leasable space.
It houses 600 domestic and foreign brand stores, PVR Cinemas with 14 movie screens, and 70 restaurants.
Phoenix Marketcity is a shopper's paradise for entertainment, dining, and shopping in the city as the number one destination.
The mall provides the best international brands, deals, promotions, and a holistic shopping experience.
Phoenix Marketcity unveils for the whole family a new era for Mumbai's shopping destination with its fusion of fashion, food, fun, culture, and atmosphere.
1. LuLu Int. Shopping Mall, Kochi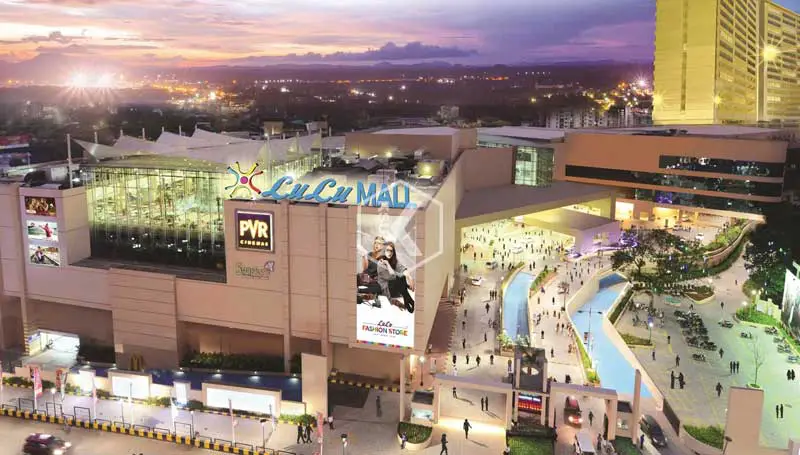 India's largest shopping mall, in terms of total area, Lulu International Shopping Mall, is not your typical South Indian shopping mall.
Located in Kochi City, Kerala, it has five floors.
Lulu's group of shopping malls are some of Asia's largest mall brands, not just the country.
Besides a food court, it has three restaurants along with franchises from the biggest fast-food restaurant chains, including Burger King, McDonald's, and KFC.
There are plenty of arcade games, rides, a party hall, a bowling alley, 5D cinema, and nine PVR Cinemas with Multiplex screens in terms of entertainment.
It also has many other services, such as multi-Indian bank ATMs and a few foreign exchange counters.
It is also relatively easy to get to the mall as it has a direct walkway from the Edapally Metro Station.
As one of the country's leading mall chains, LuLu presents the discerning shopper with an impressive range of renowned retail brands, dining options, fun zones, and entertainment events.
LuLu Mall is a diverse collection of retail offerings spread over 2.5 million square feet, with the stunning architecture of a built-up 17-acre space!
The ultimate shopping destination has an outstanding collection of unrivaled global collections from any other Kochi or Indian shopping center.
Located in the city's heart, LuLu will provide the most refreshing experience you've ever had with a host of unparalleled amenities and services.
Whether it's branded clothes or fashion accessories, jewelry or customized gifts, electronic devices, entertainment options, multi-cuisine restaurants, or coffee houses, LuLu Mall provides an all-in-one shopping, dining, and enjoyable experience.
Shopping around metro cities in India has changed over the past couple of years and has developed. 
Indian shoppers moved from open-air shopping areas to modern shopping malls with air conditioning. 
India's retail sector has evolved to embrace malls, establishing a mall culture. 
Planning for a shopping trip? 
Share this post on social media with your friends who hang out with you on weekends 😎 ❤.