Las Vegas, Nevada, USA, is the hub of some of the world's largest hotels along with lots of fantastic entertainment, lavish activities, luxurious dining, and gambling.
Another similar gambling city, Macau, follows closely in terms of hospitality (including small luxury hotels).
The reason why some leading hotels of the world hotels are so big is because of the outrageous demand for occupancy, and the high tourism rate.
However, some huge amazing hotels are not in the Las Vegas strip or Macau.
Here are the top 10 biggest hotels in the world:
10. Luxor Hotel & Casino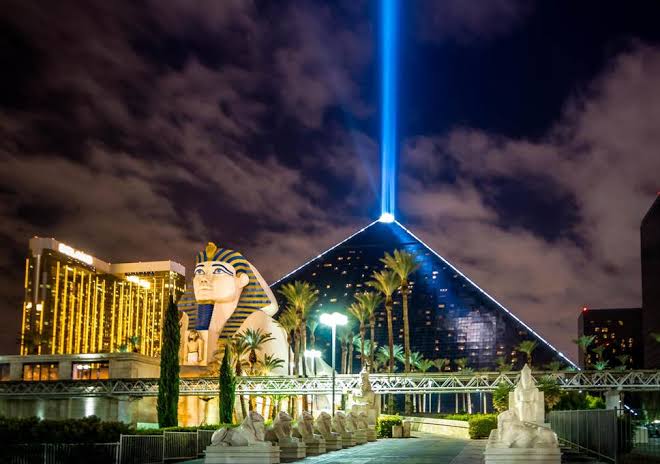 Luxor Hotel & Casino is a 30-story casino and hotel located in Paradise on the south end of the Las Vegas Strip, Nevada. 
The hotel is owned and managed by MGM Resorts International and has over 2,000 slot machines and 87 table games with a 120,000-square-foot (11,000 sq.m) casino. 
It has an Egyptian style architecture — with a pyramid — what hotel in Egyptian style would be complete without one? It also has a giant Sphinx replica.
MGM named the hotel after the Egyptian city of Luxor (ancient Thebes).
Luxor comprises another two 22-story towers with the main one, and if that's not grand enough for you, there are rooms in the pyramid that add up to 4,407 guest rooms in total.
Luxor was constructed in 1993, not long after the Excalibur hotel and casino, but Luxor looks more modern. 
Its exterior may look more like a 7-star hotel, but in reality, the rooms start for $40 per night.
9. Mandalay Bay + Delano + Four Seasons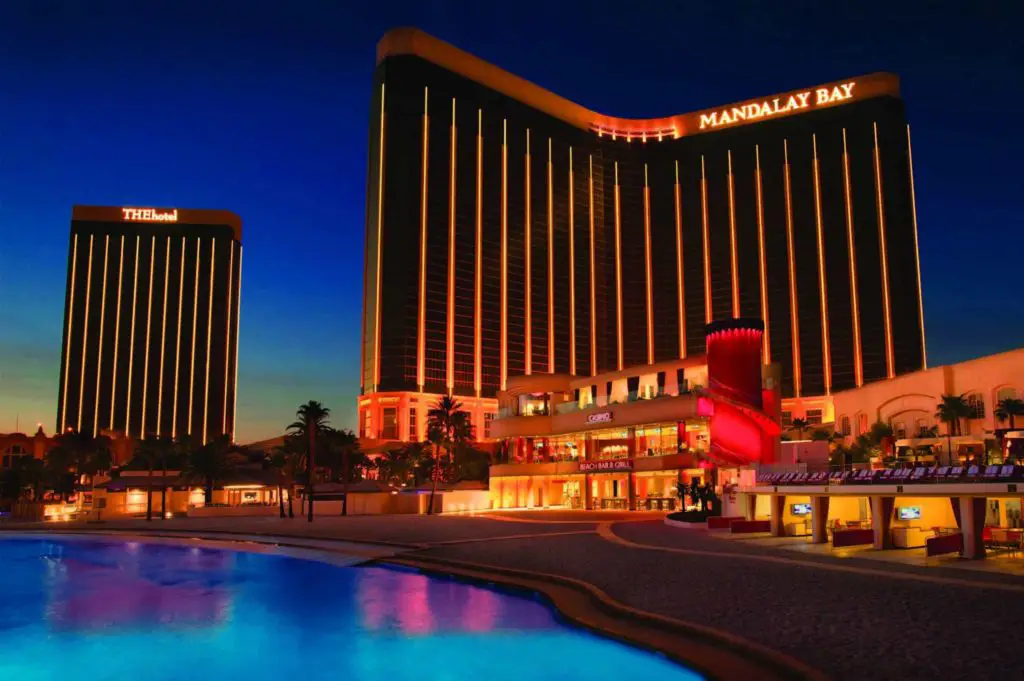 Mandalay Bay is a 43-story casino and luxury resort, located in Paradise, Nevada on Las Vegas Strip.
MGM Resorts International owns and operates Mandalay Bay & Delano.
One of the Delano's buildings operates The four-season hotel, which occupies five floors (35–39) and is housed separately within the Bay.
You can note a pattern in Las Vegas, like many hotels, a big sister hotel is built later.
These hotels are so connected to each other that we should probably count them as one entity.
The hotel has 1,117 suites, while Mandalay Bay consists of 3,220 in 43 floors — a total of 4,426.
The room rates at Mandalay Bay start from $77 per night while THEhotel is a little more expensive.
THEhotel provides some of Las Vegas's biggest suites.
And also, Mandalay Bay has one of the United States' biggest convention centers.
The facilities include a shopping mall, gym, swimming pool, spas, and large casinos are what you would find in a large hotel in Vegas.
8. Barkhatnyye Sezony Yekaterininskiy Kvartal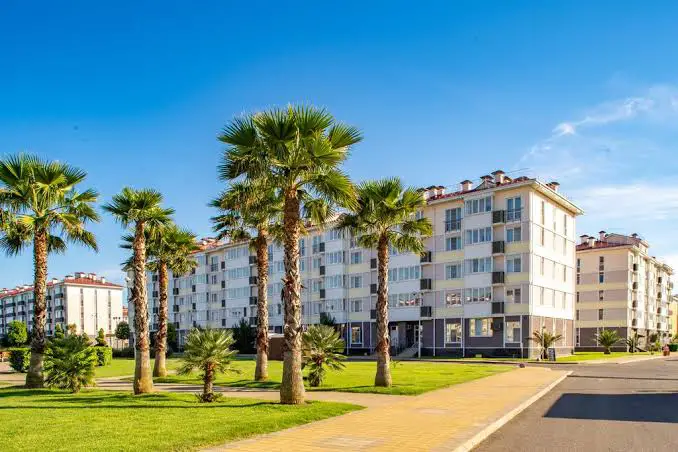 Situated in a 300-acre park of subtropical flora, the Barkhatnye Sezony Russky Dom Resort Sportivny Kvartal has a fitness center, all-over Wi-Fi zone, and a children's playground.
It is a 10-minute walk from Imeretinskaya Bay Beach.
The Sochi Autodrom is situated 2.5 miles from the Olympic Park.
Completed for the Sochi Winter Olympics in 2014, the hotel used to have 8,500 rooms.
In 2018, all buildings in the location were sold except 4,688 rooms that serve as a hotel.
They serve European cuisine in the on-site kitchen. There are several shops, bars, and restaurants within walking distance.
7. Wynn Las Vegas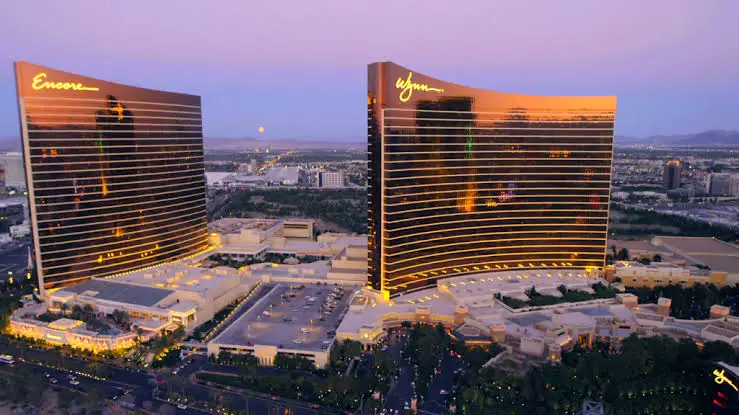 In all its utter luxury, the Wynn stands with its sister building Encore and is situated across from Mandalay Bay on the opposite side of Las Vegas Strip. 
With the adjacent Encore, the entire Wynn resort complex has a total of 4,748 rooms.
The Encore with Wynn dominates the lavishness market there. 
Both hotel complexes are located in The Wynn Plaza shopping complex.
Wynn Tower was launched in 2005, the Encore in 2008 and both towers are big in size, but have a sleek, contemporary style that impresses everyone who enters. 
Wynn & Encore brings you all the awaited big features of the casino, but there is much more. 
The Wynn boasts a golf course with 18 holes and a Ferrari dealership. You'll need at least $120 to book a room for the night.
6. Izmailovo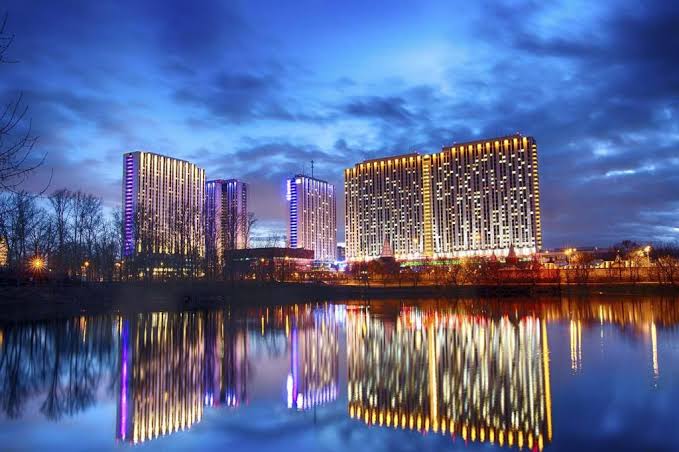 With the highest estimated number of rooms (7,500, according to advertisements), Izmailov hotel, Moscow could the biggest hotel in the world.
The hotel is composed of five buildings modeled after a Greek alphabet of the first five-Alpha, Beta, Vega, Gamma, and Delta.
Built-in 1980, its primary objective was to host all athletes under one roof at the Olympic Games.
5. Sands Cotai Central

Sands Cotai Central is a casino resort located in Cotai Strip, Macau, China, operated by the integrated resort developer and operator Sands China Ltd. 
Conrad Macao provides 430 finest rooms and 206 magnificent suites situated in a 39-floor tower overlooking the Cotai Strip and a stunning Himalayan-inspired setting. 
Cotai Central is a five hotel complex with a combination of 6,246 rooms and suites from major five-star hotels like Conrad, Sheraton Grand Macao Hotel, St. Regis, and Holiday Inn brands.
There are retail outlets, meeting and convention space, and several dining and entertainment options.
And also, there are two casinos, the Pacifica casino, and the Himalaya casino.
Rooms have a total of 560 sq ft, and the biggest suite has a surface area of 4000 square feet.
With its limiting operation in all conjunto of Macao and introducing free shuttle buses, including connections to ferry terminals and crossing boundaries within a few minutes.
Conrad Macao Central provides easy access to all of Macao's airports.
4. CityCenter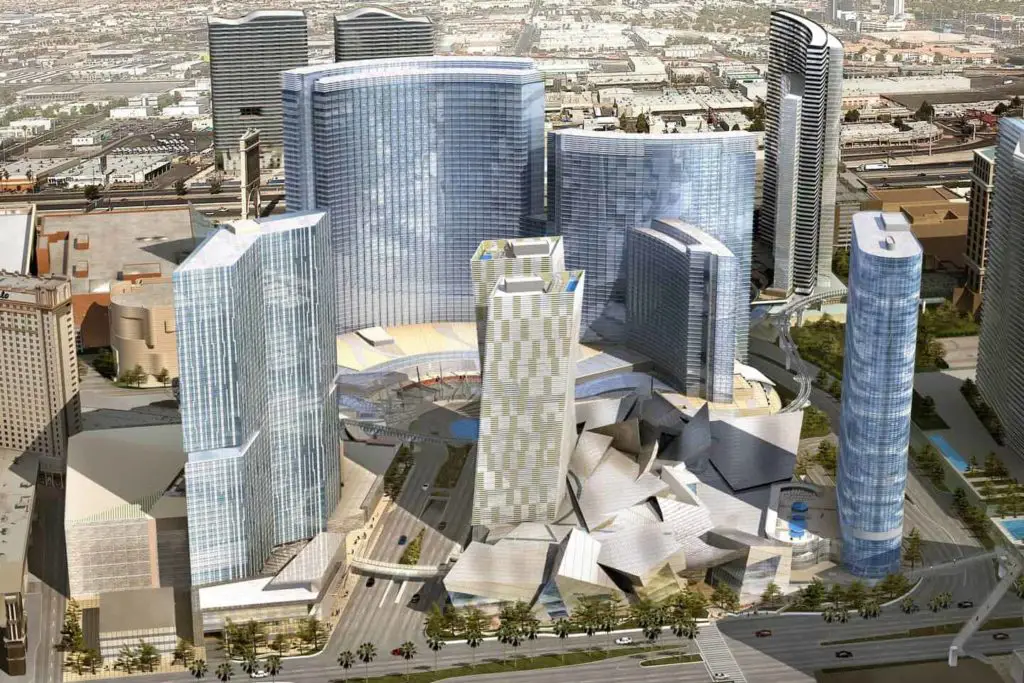 The CityCenter Vegas is a 16,797,000 square-foot big hotel with mixed-features like 76 acres (31 hectares) community center.
It is located in the Las Vegas Strip in Paradise, Nevada. MGM Resorts International owns the hotel (again).
The CityCenter towers offer 5,900 hotel rooms to Las Vegas, raising the hotel inventory by almost 5 percent at a time when visitors had declined to about 2.85 million since 2007.
CityCenter is marked, at most, a successful accomplishment for almost three years since it opened.
Most of the rooms in the hotel are full, but the rooms were much smaller than initially imagined.
Nevertheless, condominium sales did not fall, and the units sold went at great discounts.
But still, 12 percent of the mall is vacant.
3. MGM Grand + The Signature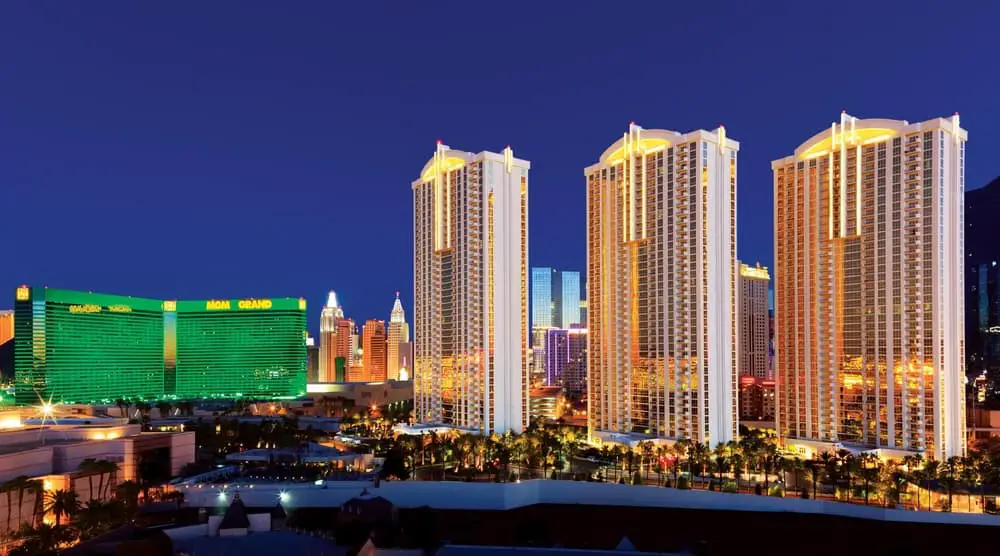 The MGM Grand Las Vegas is a hotel and casino in Paradise, Nevada, on the Las Vegas Strip.
With 6,852 rooms, the MGM Grand is the largest single hotel in the United States.
Just behind The Venetian and The Palazzo, it is also the world's third-largest hotel complex and the United States' second-largest.
Work on the project was finished in 1993, with 5,044 rooms located in 4 towers of 30 stories.
The Signature, the sister hotel of MGM Grand features 576 rooms on every floor.
MGM Grand has two-story rental lofts for SKYLOFTS-51. The MGM still has 6,772 rooms without SKYLOFTS.
The MGM was named Leading World Casino Resort for 2013 and has won several awards.
Here, you can find luxurious stores, outdoor pools, several restaurants, and a casino, like every other hotel.
It also has a combined venue for concerts, boxing matches, and performances.
2. The Venetian + The Palazzo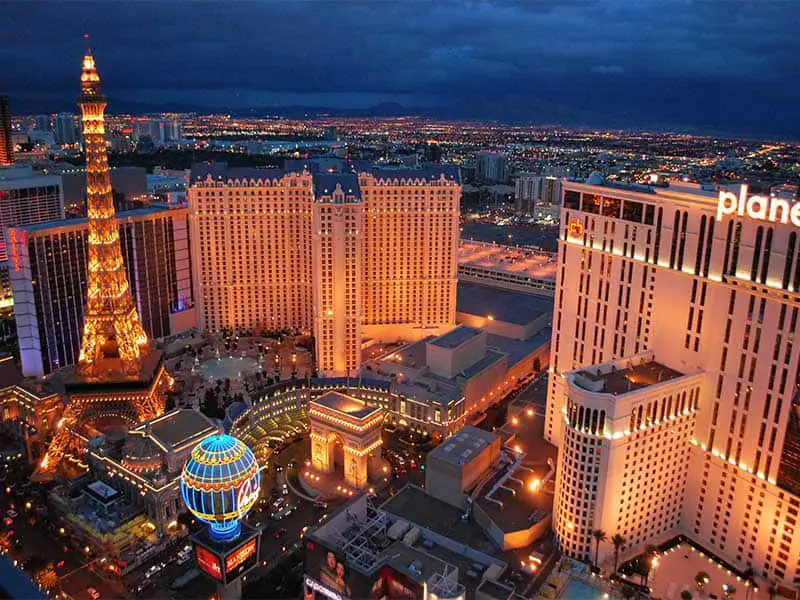 The Venetian and Palazzo hotel complex is down located at the Excalibur street, Vegas. Entering into this hotel is like a long way to enter a whole other dimension. 
The style of the Venetian Hotel is entirely different, which is also is the biggest hotel complex in North America. 
It has 4,027 guest rooms, but there are enormous rooms, many of which are suites bigger than those in other hotels. 
The 5-star Venetian resort is massive, so naturally, room prices start high at $163 per night. 
It was opened in 1999 and took control of the former Sands property.
The Venetian has a large shopping area full of designer label stores, and an enclosed waterway that is a replica of the Gondoliers in Venice. 
The Palazzo Hotel is directly next to the Venetian has a complex of over 7,000 suites.
Venetian Casino Resort LLC owns both Venetian and The Palazzo Las Vegas.
1. First World Hotel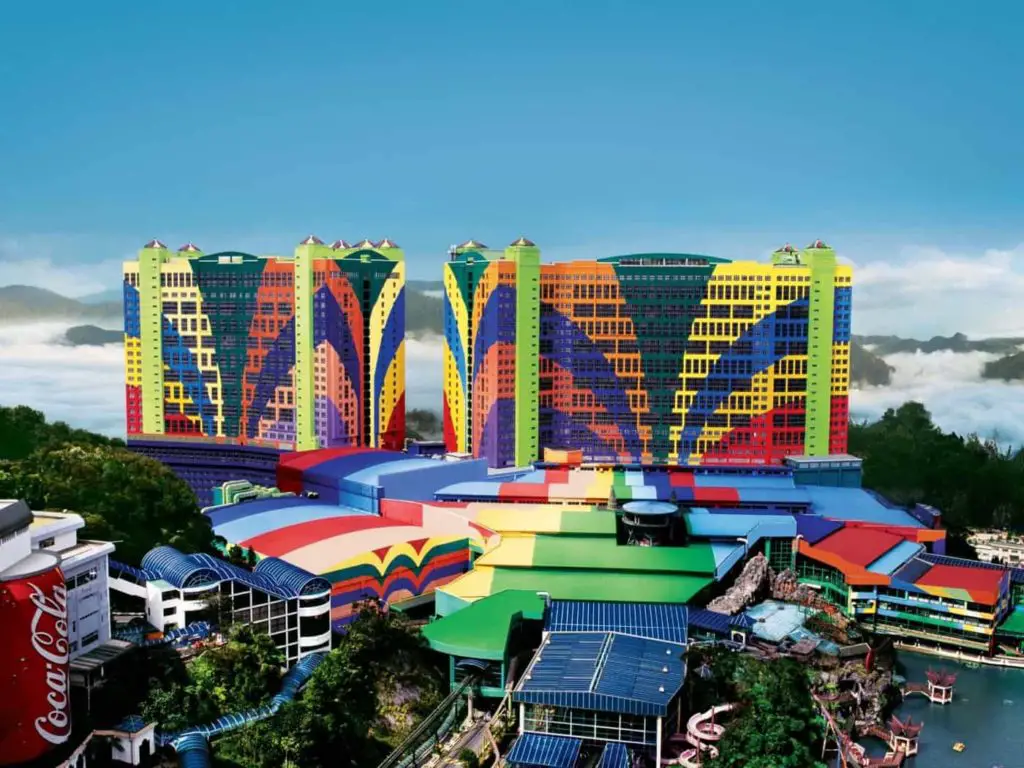 The First World Hotel with 7,351 rooms, between two towers is the largest hotel in the world located in Pahang, Malaysia.
Hong Kong-based Mandarin Oriental Hotel Group owns this hotel. It is a short walk from the Genting theme park. Today, in 2020, a hotel is being refurbished but has 6,118 rooms.
First World Hotel is listed in Ripley's Believe it or Not and Guinness World Records.
The Abraj Kudai in Mecca, Saudi Arabia, is soon to become the world's largest hotel. 
This colossal resort in the middle east will have 10,000 guest rooms, 12 towers with 4 and 5-star accommodation, and a huge number of 70 on-site restaurants.
Abraj Kudai is located just 2 km away from the third tallest building and World's tallest clock tower, Abraj Al-Bait.
It is currently under construction and was estimated to open by 2017.
But due to the financial problems in 2015, the construction was halted in 2015 and is now expected to open near the end of 2020.