Whiskey is a type of alcoholic distilled drink made from the fermented mash of grain.
Various grains (malt), including barley, corn, rye, and wheat, are used for different varieties.
Whiskey is usually aged in wooden barrels, usually made of white oak.
Perhaps it ranks among the most popular alcoholic drinks after rum and beer.
Whiskey can be pricey too, as most of the whiskey brands are high priced, not because of their quality or taste, but because of the bottles.
There are many premium brands available in the market with the rarest vintage collections that we can enjoy at expensive restaurants along with some other expensive wines.
But some are exceptional cases of the rarity with an unmatchable taste that arent available at regular stores but only in auctions or at most luxurious hotels or cruises.
If you are wondering these are the top 10 most expensive whiskey in the world:
10. The Macallan 1926 – $75,000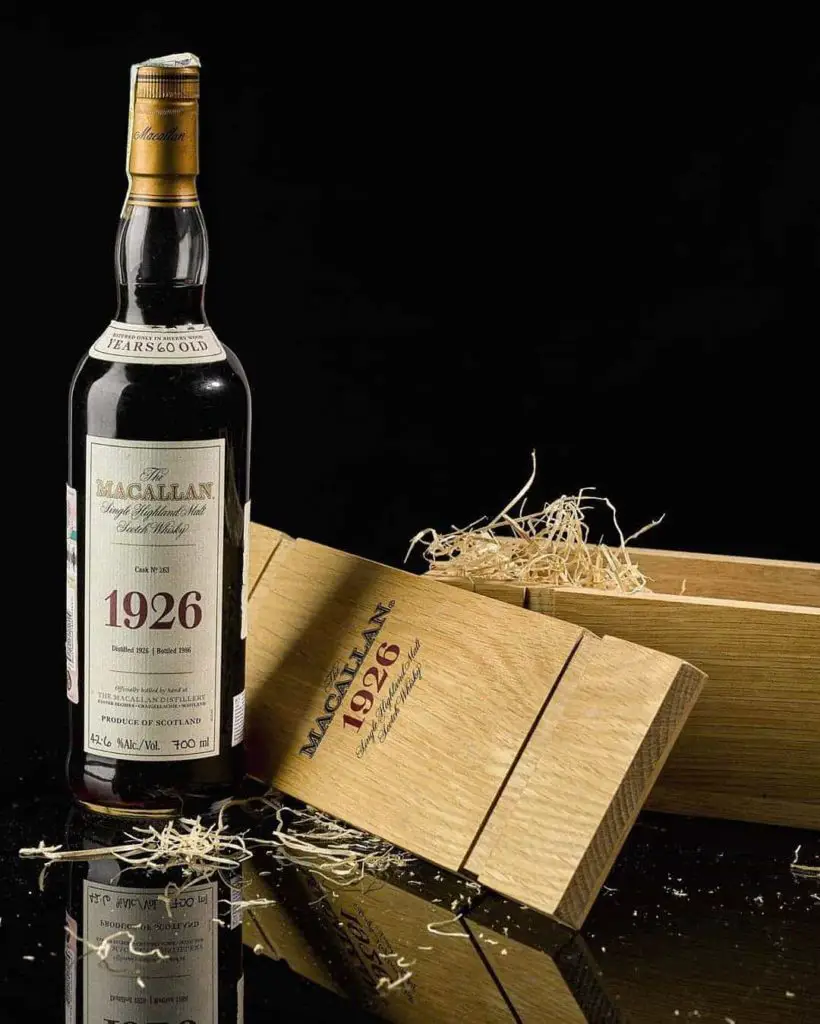 As the name suggests, Macallan 1926 was distilled in 1926 and bottled in 1986, the oldest one in Macallan's Fine and Rare Collection limited to only 40 bottles. 
The Macallan 1926 was and still is, the first distillery release in the Great and Rare range. 
Every year, a small number of bottles have been released, up to 75,000 US dollars per bottle.
Taste-
David Robertson describes its taste as,
"From memory, it was an incredibly rich, intense spirit – full of dried fruits, of prunes and dates and tons of incredible spicy notes of cloves, ginger, and cinnamon. I also recall zesty orange marmalade, hints of peat and smoke, finished with a delicious drying oak tannin from the sherry cask, and waxy, linseed oil and leather notes."
9. Springbank 1919 (fine & rare) – $78,000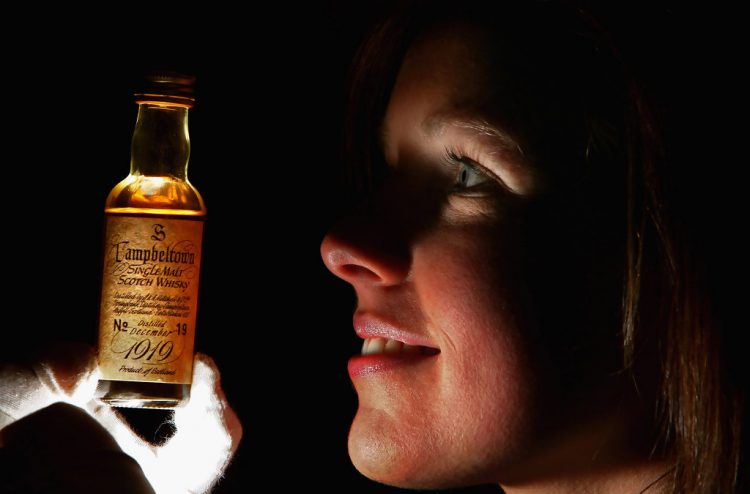 Springbank 1919 is one of the few top shelf whiskey bottles which are aged over 50 years old that you can purchase online.
It's a Scotch single-malt whiskey with a dedicated niche market. The Whisky Exchange has it from a reputable distributor and delivers it to your front doorstep. 
You will find it more at the costly whiskey auctions, and you probably won't have the chance to see it at the expensive wine stores of your area.
Once Springbank 1919 was listed as the most expensive scotch whiskey in the Guinness Book of Records.
It's one of the most popular whiskey bottles in the world today. This old distillery drink was bottled in 1970 and is part of the 1919 vintage series.
The whiskey has been created using traditional production methods and is therefore valuable.
It is also a limited edition product since only 24 bottles were released.
8. Glenfiddich Janet Sheed Roberts Reserve 1955 – $94,000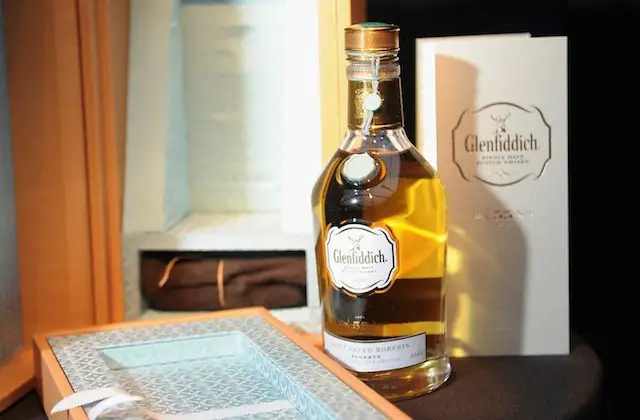 A bottle of Glenfiddich Janet Sheed Roberts Reserve 1955 was sold at an auction for $94,000 in New York City in 2012. 
Whereas other whiskey bottles are valued over their decanters, the rareness of this Glenfiddich 50 years makes it so expensive. 
The label comes from the name Janet Sheed, the granddaughter of Glenfiddich founder William Grant who lived till 110. 
Only 11 bottles of Glenfiddich Janet Sheed were made at the time. Before she died in 2012, Sheed was the oldest woman in Scotland. 
Glenfiddich Janet Sheed Roberts Reserve 1955 is a combination with a pleasant flavor, woody oak, and hints of heather, hay pear with notes of spice. 
The light and smoothing Scotch whiskey with a note of cured meat and has a delicate aromatic nutmeg finish.
Taste-
The whiskey's taste also has a valuable factor and is described as having a heavenly flavor of barley, pear, and heather. Its pale gold, with the hue of autumn barley in color. 
In terms of notes, it has light and delicate with soft-orange flavors and delicate violets, with roasted almonds and the smoothest whiff, and sweetness with a few drops of water. 
It's light and delicate and has a surprisingly light taste of oak; quite amazing for one of the world's best whiskeys that spent so much time in European woods, in the fruity harmony and floral aroma. 
Creamy vanilla with a soft smokiness and some sweeter oak notes are beautifully balanced. 
A drop or two of water gives off the additional orange sweetness and incredible vibrancy. The finish is slightly dry right after tasting but grows very long, vivid, and sweet with time.
7. Dalmore 64 Trinitas – $150,000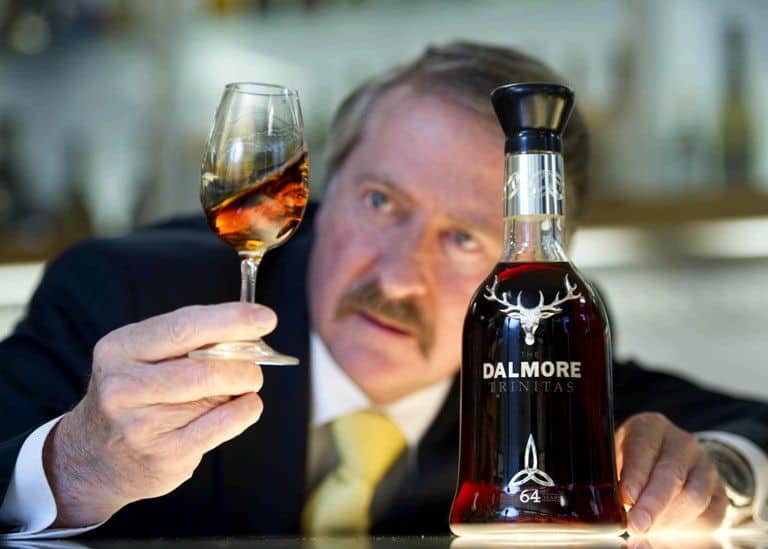 Dalmore 64 Trinitas is a combination of the most exclusive and rare vintages in the distillery, including the 1939, 1926, 1878, and 1868 series.
As one might expect, there seems to be little left (or none) of whiskey from over a century ago, which is why only three bottles of Dalmore 64 Trinitas were made.
Only one for direct sale is available and no reference to what happened to the two others.
It's a possibility that the owners are enjoying this exotic drink or not in a mood to sell.
However, the Dalmore 64 Trinitas bottles are more likely to sell much higher than their original purchase price, after it finally appears at the auction.
Dalmore 64 Trinitas is sold for a price tag of 160,000 USD, terming it as one of the most expensive whiskey ever sold.
Its decanter has a sterling silver decoration of the bottle represents the "inner strength and outer shine" of the drink.
Dalmore, with Macallan, is among the most expensive brands of whiskey.
Taste-
64 Trinitas' notes are a glorious fusion of grapefruit, sandalwood, white musk, and Indonesian patchouli follows powerful notes of sweet raisins, rich Colombian coffee, crushed walnuts, and bitter orange.
To explore every hidden flavor, the spirit must be nurtured and sipped long in the mouth.
You will receive a hint of mangoes, figs, caramel apples, roasted coffee, treacle toffee, marzipan, and soft licorice after you sip it for the first time.
Then is a wave of lingering sensations: Vino Dulce Moscatel, marzipan, toffee treacle, soft licorice, roasted coffee.
This unforgettable fanfare is a smooth caress of truffles, walnuts, and muscovado sugar in your palate.
6. Dalmore 62 – $192,000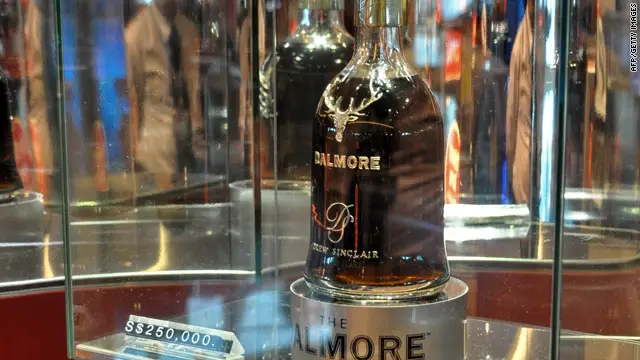 Dalmore 62 is one of the costliest whiskey bottles sold for $250,000 in Singapore dollars or $192,000 in USD. This auction created history at Changi Airport.
The company has just released 12 bottles of different names in a limited edition of the series. 
Dalmore sold one for £22,000 in 2002, and the other for £32,000 in 2005.
By blending four different single malt whiskeys from the Scottish Highlands of 1939, 1926, 1876, and 1868 have been the creation of Dalmore 62 Single Highland Malt Scotch Matheson. 
Like the Dalmore 64 Trinitas, Dalmore has whiskeys dating from the beginning of the 19th century, 62 series a century-old, rare, and unique whiskey. 
The wood mold for which Dalmore created its decanter took 100 hours to be handcrafted, and its quarter-million dollars.
Its decanter is made up of beautiful platinum and special crystal.
Taste-
According to a CNBC post on the executive chef of Modena, Massimo Bottura, 
"The single malt has aromas of sun-kissed raisins, bitter chocolate, and old English marmalade; hints of Java coffee, Demerara sugar, pecan pie and crème brûlée in taste; and Sanguinello blood oranges, figs, and treacle linger on the aftertaste."
5. Macallan 64 Lalique Cire Perdue – $464,000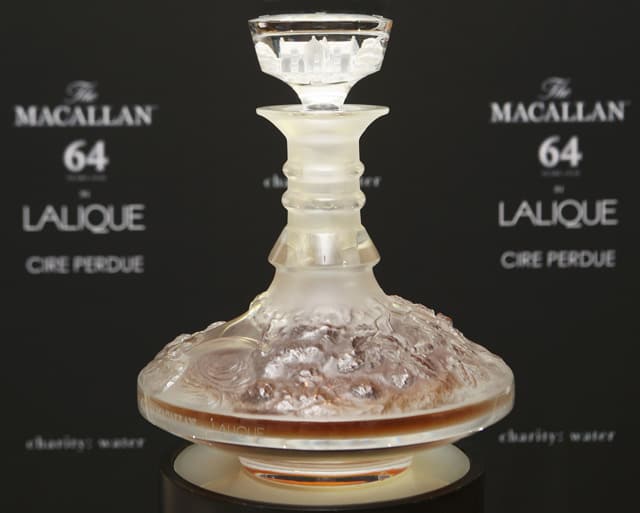 Macallan 64 is one of the whiskey brands Speyside distillery that have a high price for its use of valued decanters. 
Lalique Cire Perdue's Macallan 64 was last seen at the 2010 auction sold for $464,000.
The quality of premium old whiskey was obtained by the blend of three by aging in Spanish oak casks from 1946, 1945, and 1942. 
As the most precious whiskey at the time, the brand was able to register in the Guinness Book of World Records.
Because of its unique combinations and subtle dark chocolate notes, it is a sophisticated drink. 
The brand donated the earnings to Charity: Water, a clean water organization.
Iconic French brand, Lalique, designed and produced the exceptional crystal decanter, can be found nowhere else.
The floral decanter was handmade by the cire perdue method and is considered exceptional, artistic, and extremely costly.
Taste-
Its taste at first comprises several flavors like cloves, cinnamon, cedarwood, orange peel, and peat smoke while subsequent transitions into concentrated peat smoke, treacle, walnuts, cocoa, and raisin. Graeme Russell, the brand ambassador, sips to describe the taste on Forbes Life,
4. The Macallan M – $628,205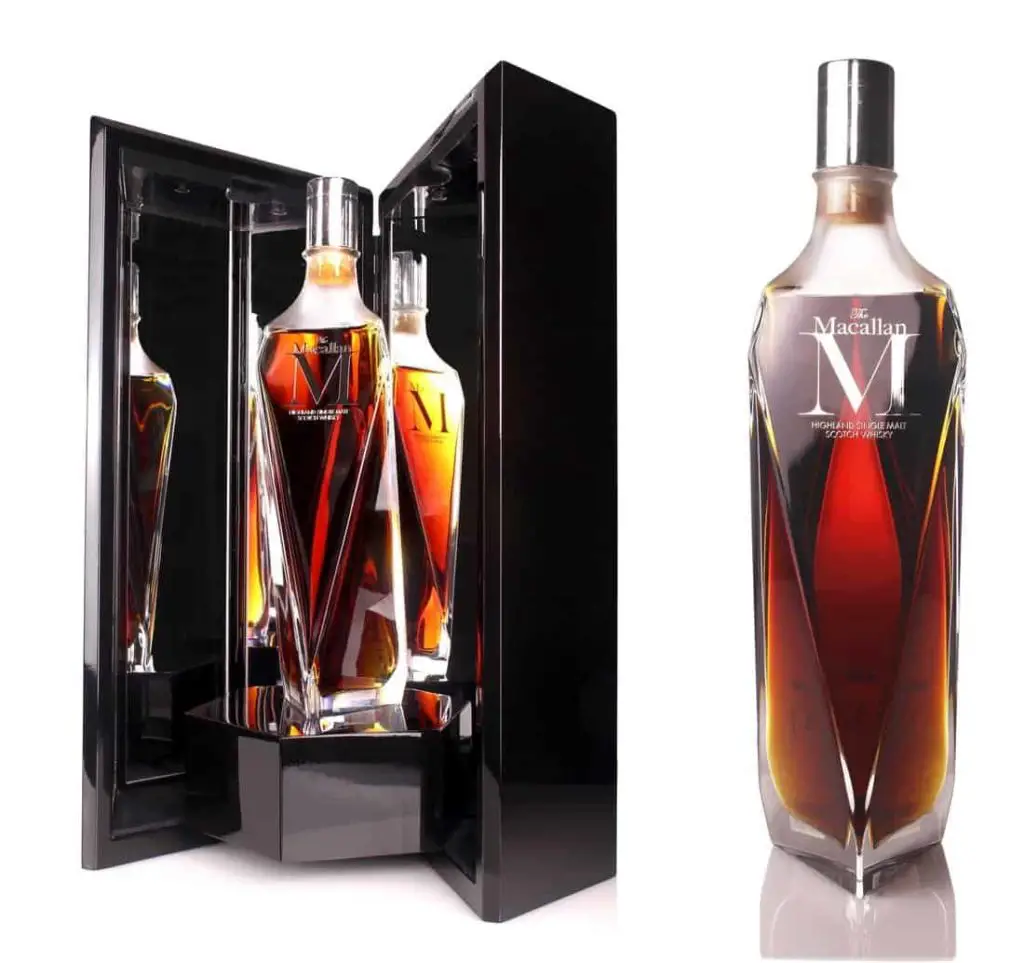 The Macallan M is the old and rare king of whiskeys that are stored in special cases like Macallan 18 sherry cask made from Spanish oak. 
Macallan M's decanter is made of handcrafted crystal that has been crafted and developed by a team of 17 craftsmen. 
A collaboration between the designer Fabien Baron, Lalique crystal and Macallan, is the creation of the beautifully designed 6-liter rare bottle.
The crystal stopper is put in a luxury box later, so it has a beautiful and exclusive look.
Last known Macallan M was sold at a Hong Kong auction had an ABV of around 44.7%.
You might wonder what makes it so special to Macallan M that someone paid $628,205? 
Whiskey experts agree that the Macallan M is an exceptional product, as it can contain its quality in such a bottle–a decadent, gazing decanter of the crystal of nearly six liters capacity.
Taste-
Taste-wise, M edition has fruity overtones, including the delicate flavor of leather violet, apple cedar, and lemon enriched with the raisin.
According to the distillery, "vanilla accompanies green apple hand in hand, neither taking the lead. Ginger, nutmeg, and cinnamon create an ensemble in the background, with polished oak offering to overstate, yet never does, but plays with a depth of resinous, juicy oranges, before the heavier raisin and sultana flavors take over, meandering to a long full finish."
Experts also note the amber-colored liquid with a leather and tobacco overtone.
3. The Macallan Valerio Adami – $ 1.05 million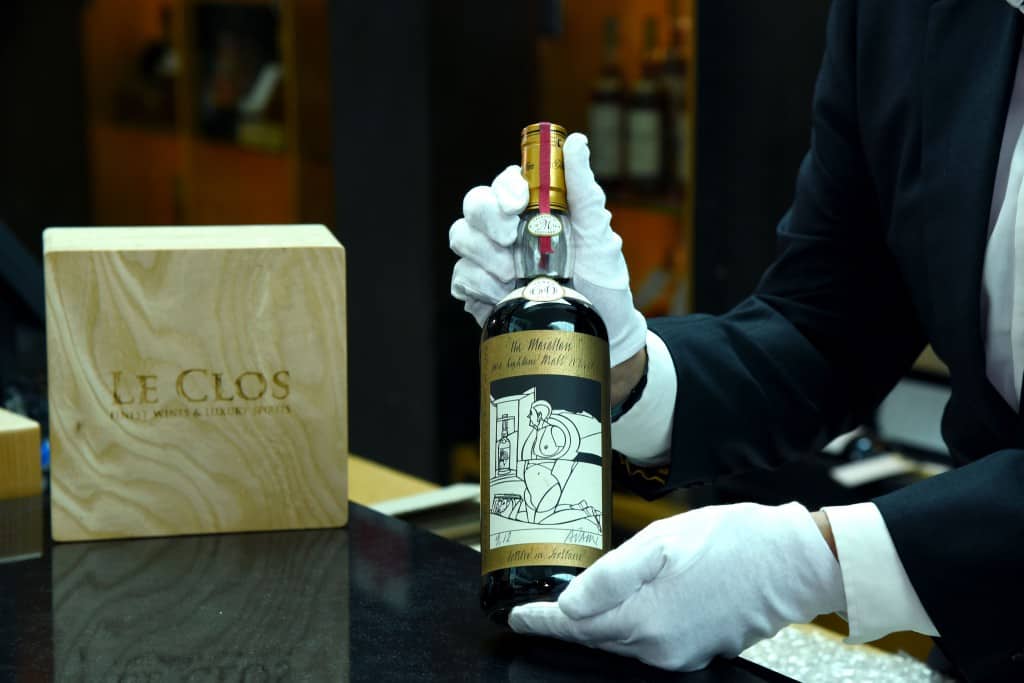 On 3 October 2018, the obsession for Macallan Whiskeys came to a climax when Valerio Adami, a 60-year-old scotch, was sold for 1.05 million USD at Bonhams Whisky Sale in Edinburgh, Scotland, which was, one of the rare distilleries symbols.
The price was incredible but not unprecedented: in May, a similar-release bottle was sold for just over $1 million at another Bonhams auction in Hong Kong to set a new world record for the most expensive whiskey ever sold.
There are also considerable bragging rights for the Macallan: distillery launches claim three of the most expensive whiskey spots (it's 4 on our list).
Macallan bottled it in 1986 and commissioned Peter Blake and Valerio Adami to design the limited-edition labels-12 Adami labels and 12 Blake labels.
Firstly, the rare factor: there are only twelve Macallan Valerio Adami 1926 bottles that were made, and the number that remains in the world is unknown.
But speculations have it, one bottle has been drunk, and a bottle was demolished in an earthquake.
It also features an exclusive bottle tag designed by Valerio Adami, the eponymous pop artist.
Taste-
Christie's international head of wine, Tim Triptree,
"Obviously, after spending 60 years in cask it's going to be quite dark in color — amber, a bit of mahogany in there. And then you'll get some of the spices from the wood, little hints of vanilla, potentially some nutty characteristics, cinnamon, Christmas cake…. All sorts of different flavors and then the length — how long the flavors persist in the mouth — is going to be exceptional, and just reinforce all the aromas that you're smelling."
2. The Macallan 1926 – $1.5 million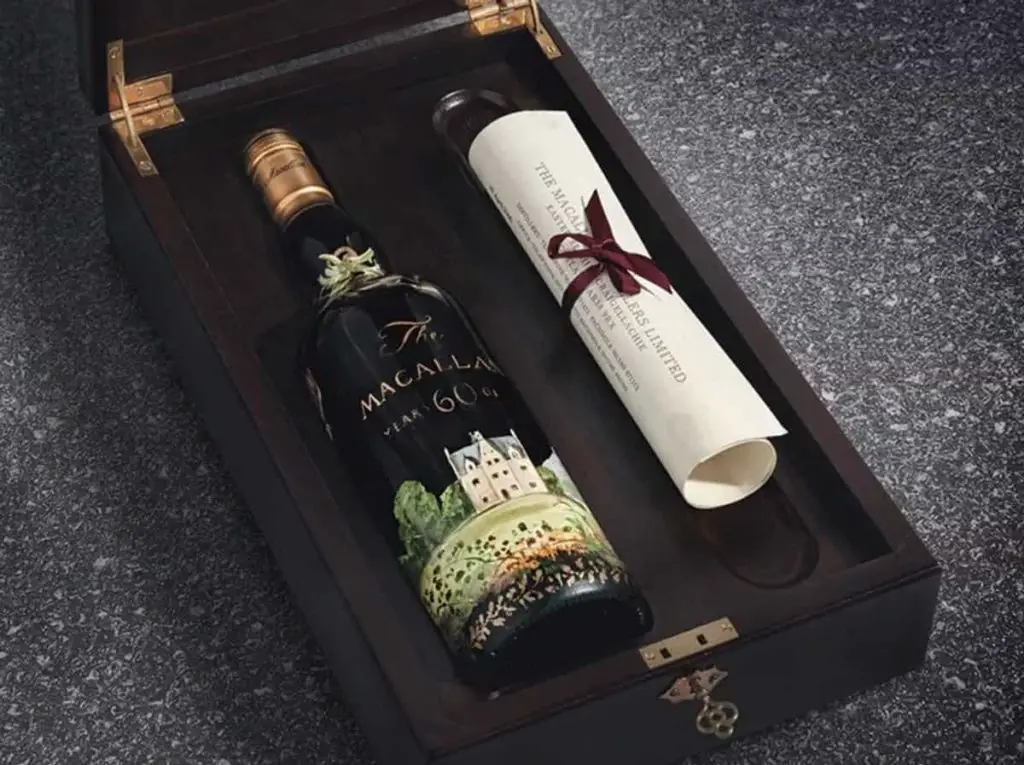 The 60-year-old Macallan was sold for a staggering $1.5 million, breaking the most recent records of the most expensive bottle of whiskey ever.
The premium bottle was sold on 29th November 2018 at Finest & Rarest Wine Spirits Christie auction in London.
60-year-old Macallan 1926 belonged to the 24-bottles limited edition series.
Along with Valerio Adami & Macallan estate reserve 1824, we cannot find this super rarest whiskey at ordinary auctions.
Valerio Adami designed half while remaining was completed by the other Peter Blake.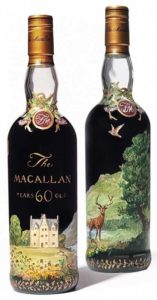 This extremely rare drink was distilled in 1926 and bottled in 1986 after sixty years of aging.
The Macallan distillers preserved it in the ex-sherry casks of Macallan distillery in Scotland for six decades.
Every single bottle is hand-painted by renowned Irish artist Michael Dillon.
Taste-
The master of Macallan distiller from the mid-90s to the middle of the 2000s, David Robertson, is among the few who tried this and in his estimation,
"When I tasted it, the whiskey was quite intense, dry, and tasted of fruit with some hint of warming spice. But I had to try a lot of whiskeys over the years and in my humble opinion, there was a number that was better than this one."
1. Isabella's Islay – $6.2 million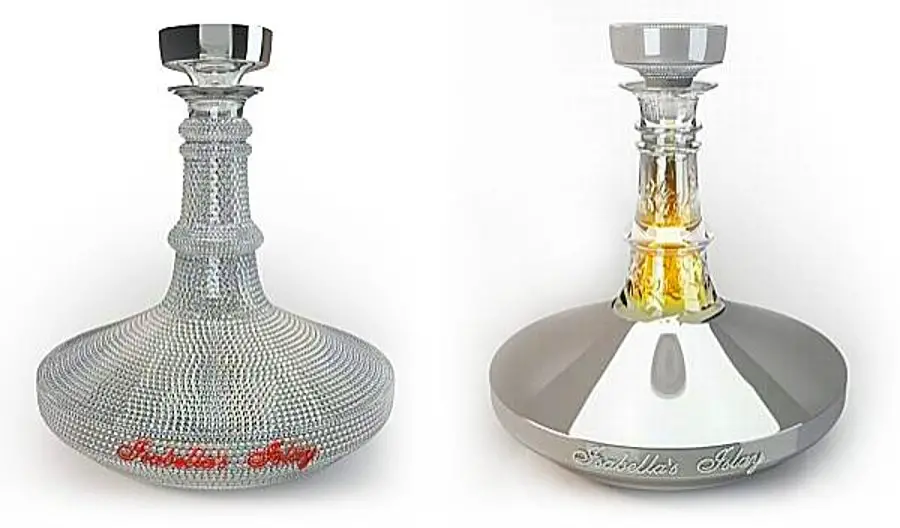 If you're not always as concerned about your whiskey as the bottle, this is the top-of-the-line scotch whiskey for you.
Isabella's Islay is the most expensive whiskey in the world, with an estimated price tag of US$6.2 million.
The reason behind its name is the place of origin, the island of Islay. The brand lets you customize and select the diamond-studded name on the bottle.
Isabella's is one of the finest whiskeys ever you will taste. The Brand makes it of rare ingredients and high-quality grains.
Islay Scotch Whiskey is a 30-year-old, aged single malt scotch that reflects Islay's complexity incredibly.
It's a blend of artistic talent and outstanding craftsmanship that makes it one of the world's most well-designed drink bottles.
It has the most valuable and costly whiskey, as rare as it can be for a drink.
If you are thinking why would anyone buy it for 6.2 million dollars?
The Islay value is all tied into its decanter, containing 8,500 diamonds, 300 rubies, and exquisite white gold. Put the just bottle alone, and it's worth moreover $6 million making it the most expensive bottle of whisky. Not just that its also the world's most expensive bottle for a beverage ever used.
It is one of the finest luxury money can buy, decanter apart, as far as the whiskey's taste is concerned.
Isabella is the ultimate expression of the luxury scotch whiskeys, and it costs a ton of money on its own, even without its diamond and jewel-encrusted bottle.