Top 10 Fastest Bikes in the World
Sports motorcycles have something enigmatic, like acceleration, laser-like precise handling, minimalistic momentum, agility, etc.
Since the beginning, motorcycle brands have competed in the consumer market and on professional racing tracks.
Regardless of aesthetics, marketing, and brand equity, superbike engineering's true potential can only be displayed on tracks.
Thanks to the premier class of motorcycle racing events like MotoGP, WorldSBK, and road racing events like the Isle of Man TT for showing us what these modern engineering marvels can do if throttled up freely.
But speed comes at a price; these motorcycles are also some of the costliest and potentially dangerous vehicles you can buy.
If you are a biker by heart and afford them or want to know more, here is the list of the top 10 fastest bikes in the world in 2023:
10. Suzuki GSX-R1000R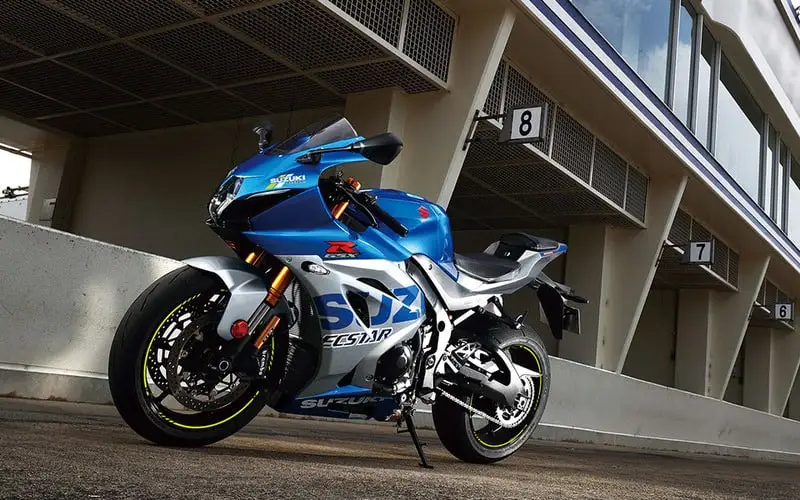 The GSX-R1000 was introduced in 2001 to replace the GSX-R1100.
The Suzuki GSX-R1000R is a special edition sport bike with a 199 horsepower inline four-cylinder engine featuring Suzuki's Variable Valve Timing (VVT) system.
The bike also features several high-end components, including a bi-directional quick shifter, lean angle-sensitive 10-mode traction control and ABS, launch control, three power modes, and a Yoshimura exhaust with an R11 silencer.
The GSX-R1000R is visually distinctive with gloss black decals, contrasting gold wheels, and gold Showa Balance Free front forks.
It has a lower primary gear ratio for stronger acceleration, as well as Showa's more premium Balance Free Front Fork (BFF) and Balance Free Rear Cushion Light (BFRC-Lite).
The motorcycle is technologically advanced and features several unique technologies, such as the Motion Track Brake System, Launch Control Mode, and Bi-directional Quick Shift System, making it stand out from other sport bikes on the market.
9. MV Agusta Brutale 1000 RR 2023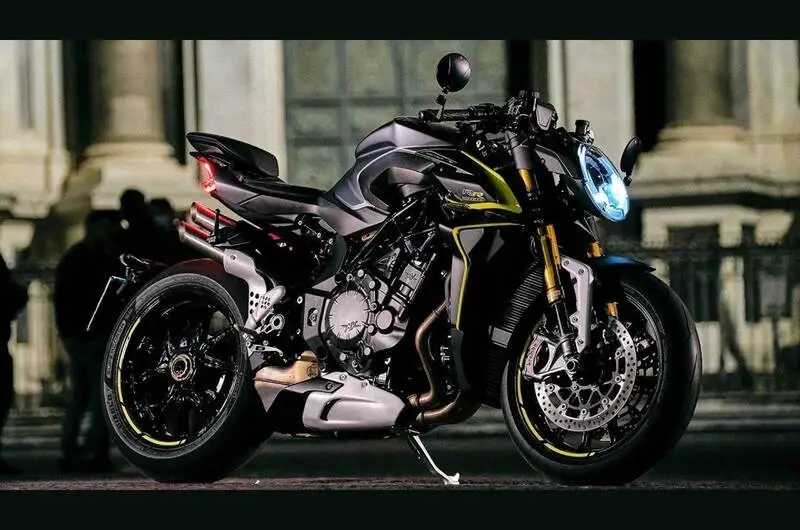 The MV Agusta Brutale 1000 RR is a powerful and stylish hyper-naked model.
It features a 1000cc inline four-cylinder engine with titanium valves and con rods, producing 208 horsepower.
It has optimized torque at medium/low rpm for improved efficiency.
The Brutale 1000 RR has an eye-catching aesthetic, described as "muscly, angry looking" like a "gym junkie in a dinner suit."
It is one of the most expensive mass-produced naked bikes on the planet, costing $33,800.
This world top speed bike is unapologetically raw and muscular but lacks real-world functionality, making it too brutal for its own good. Despite this, it offers excellent high-speed manners when tucking into a crouch and slicing through corners.
The Brutale 1000 RS comes with a conventional single-piece seat and more real-world functionality for those who want something more traditionally crafted.
8. Ducati Panigale V4 R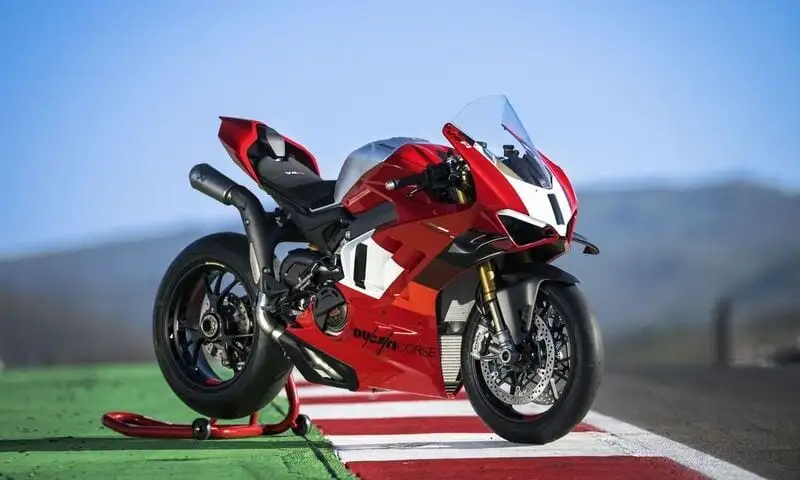 The 2023 Ducati Panigale V4 R is one of the fastest street bike with a powerful Desmosedici Stradale R engine that can produce up to 240.5 hp.
The Panigale V4 R variant is the closest production model to a competition motorcycle with technological features derived from MotoGP and WorldSBK Championship bikes.
It features advanced components such as titanium connecting rods, pistons with DLC surface treatment, new piston geometry, an aggressive intake cam profile, gearbox ratios from World Superbike bikes, and a lighter dry clutch.
It also has updated Quick Shift software and an adjustable suspension system for improved riding dynamics.
The Panigale V4 R has a mechanically adjustable suspension system with an Öhlins pressurized fork and shock absorber, as well as a single-sided rear swingarm made with aluminum. It also has a 4.5-gallon fuel tank with a profile that optimizes support for the rider's arms and legs when braking and cornering.
Ducati offers various accessories for the bike, such as Akrapovič titanium complete exhaust systems and lighter magnesium rims.
7. Yamaha YZF-R1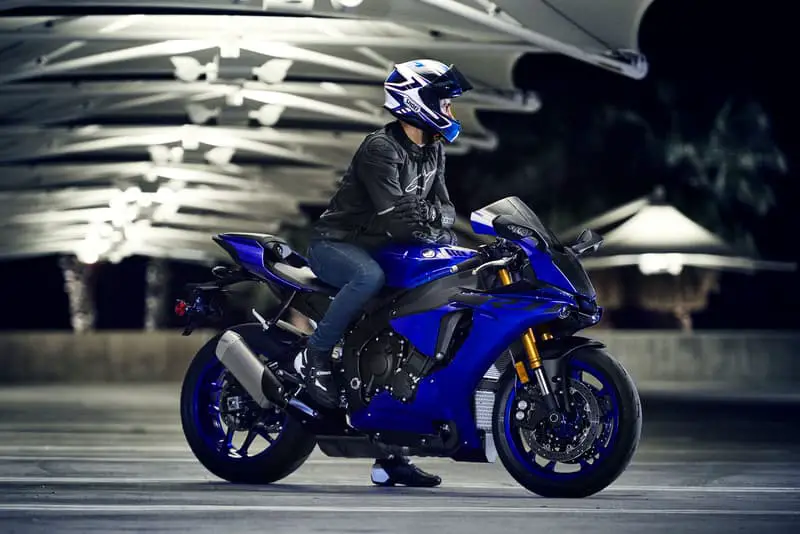 R1 is the company's flagship motorcycle, giving riders the chance to explore the MotoGP DNA with a street-legal bike.
It generates a 197.2 BHP peak power and a torque of 112.4 Nm.
The R1 is supported by an aluminum chassis with a diamond structure and a four-inline 998cc petrol engine.
The YFZ R1 receives forward telescopic forks and a backward double swing leg, ensuring controlled stability.
6. Honda CBR1000RR Fireblade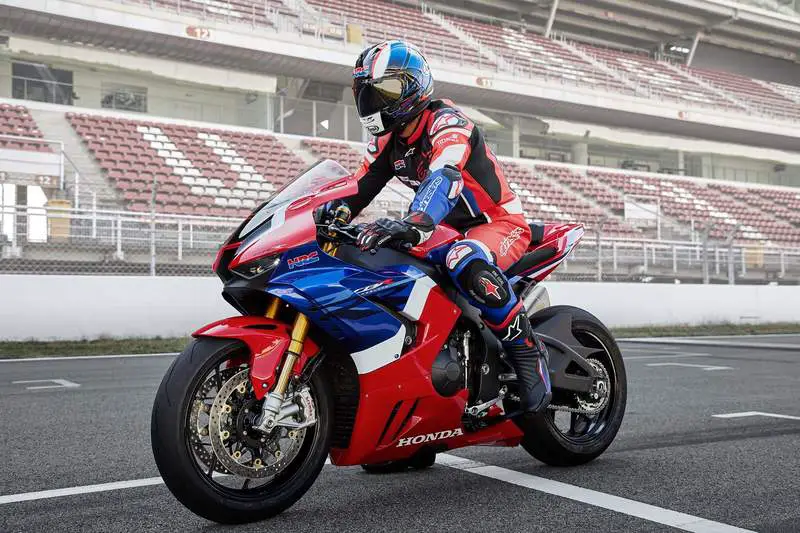 The CBR1000RR Fireblade is Honda's flagship sports bike for the masses, bringing racetrack technology to the road.
Since the 2019 version, the fastest honda motorcycle has now improved in power and innovation.
It receives a range of most advanced racing elements like Wheelie Control, Rear Lift Control, Powerful Engine, Braking, Riding Mode Select System, Power Selection, and a new ABS gyroscopic mechanism.
The new CBR1000RR weighs 195 kg using magnesium and other lightweight materials, about 15 kg lighter than the previous one.
Honda also has the CBR1000RR Fireblade SP besides the standard model with extra facilities such as semi-active Ohlins Electronic Control (SEC) steering at both sides and Brembo four-piston Monoblock radial calipers with high-performance brake pads.
It's been a long time since Fireblade has retained its position in MotoGP & market with the new 1000RR as one of the finest and best bikes in the world.
Honda will update the CBR1000RR with a new name, CBR1000RR-R, for 2020, with redesigned upgraded bodywork and a new engine based on RC213V MotoGP technology.
5. Aprilia RSV4 1100 Factory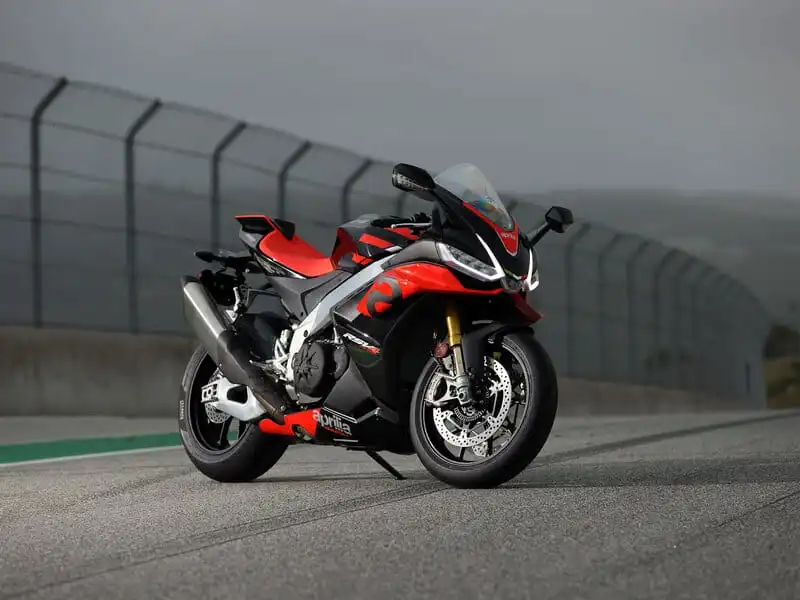 The Aprilia RSV4 1100 Factory is a 217-hp street-legal motorcycle that weighs just 445 pounds, giving it an impressive weight-to-power ratio of 2.1:1.
This makes it one of the lightest and highest-speed bikes in the world.
The Aprilia RSV4 1100 Factory is faster than the other Aprilias because of its increased engine displacement from 1078cc to 1099cc, which provides more power and torque.
It has a powerful engine with over 217 horsepower and is equipped with advanced electronics such as the Bosch 6-axis IMU and APRC (Aprilia Performance Ride Control) system.
It also features an adjustable aluminum chassis, quicker steering geometry, a braced swingarm, longer travel suspension, Sachs suspension, a nonadjustable steering damper, and cast alloy wheels.
The bike has revised bodywork with a larger windscreen and new winglets built into the double wall, fairing for more wind protection.
4. BMW S1000RR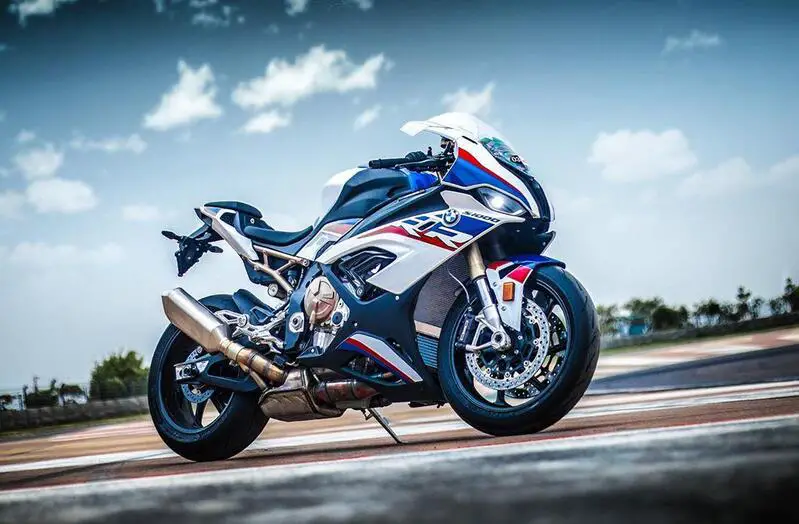 Unlike Japanese big automotive brands, BMW Motorrad receives its racing DNA technology directly from its parent corporation, BMW.
BMW S1000RR's top speed is 303 kph (188.2 mph), making it the fastest BMW bike.
So far, BMW has had an eye for advanced aerodynamics for this version's new feel.
The solution was a new 2019 S 1000 RR, an entirely restructured motorcycle from its previous editions.
THE 2019 BMW S1000RR's most prominent element includes twin LED projector headlamps with LED DRLs, which substitute for the unique asymmetric headlamps its predecessors used to have.
This engine is a newly developed, four-cylinder piston inline 999cc engine. The engine produces a 13,500rpm 204 HP and 113Nm of torque at 11,000rpm.
Thanks to smaller engine parts and exhaust systems, the new version weighs around 197kg (11 kg lighter).
3. Suzuki Hayabusa 2022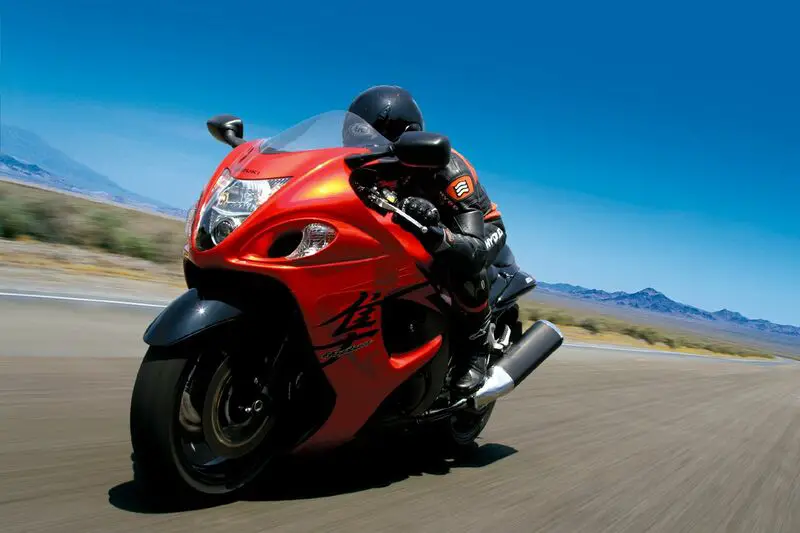 Suzuki's flagship, the big daddy Hayabusa, is probably the most popular bike globally that is still in production in 2023.
Hayabusa also has been the fastest production motorcycle for a long time before Suzuki's rival launched our top two-speed bikes.
Hayabusa's twin headlamps are stacked vertically, and that's how you instantly recognize the boss of superbikes on the streets.
Suzuki has updated it for the 2023 model year with three new colorways and no mechanical changes.
The bike is powered by a 1340 cc in-line four-cylinder liquid-cooled DOHC motor that puts out 190 PS of power at 9,700 rpm, and 150 Nm of torque at 7,000 rpm.
It features an advanced version of the Suzuki Intelligent Ride System (S.I.R.S.) with electronic rider aids such as Cruise Control and Bi-directional Quick Shift.
The 2023 Hayabusa is offered in a trio of two-tone body color schemes: Pearl Vigor Blue/Pearl Brilliant White, Metallic Mat Black No. 2 & Glass Sparkle Black, and Metallic Thunder Gray & Candy Daring Red.
No mechanical changes have been made to the bike, but it continues to be the flagship model of Suzuki's motorcycle division.
.
2. Lightning LS-218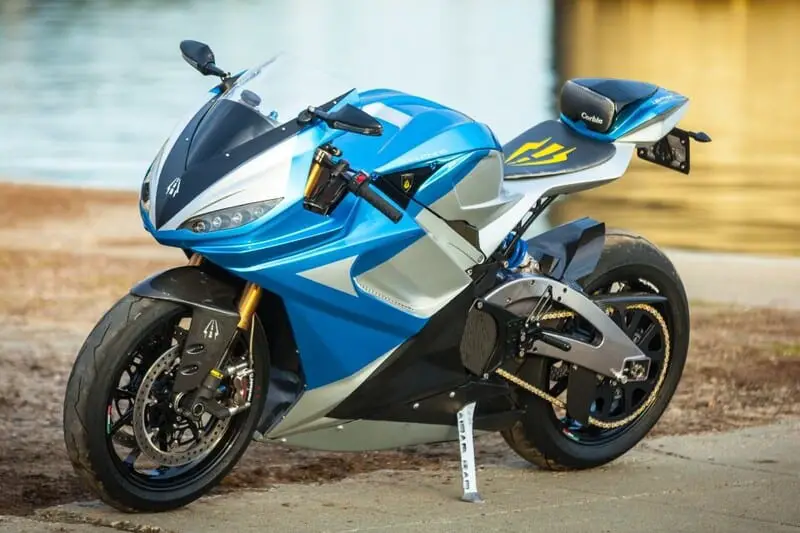 The Silicon Valley brand Lightning Motorcycles has launched a fully functioning motorcycle focusing on electric superbikes.
Brand's flagship, Lightning LS-218, has been in production since 2014 and is engineered, designed, and produced in the US.
Since 2014, Lightning LS-218 has been the fastest electric motorcycle, with a top speed of 218mph.
The electric motor is a liquid-cooled IPM unit (Interior Permanent Magnet) with a capacity of 150kW, a torque of 228Nm, and 203PS power.
That's hyperbike territory!
This Superbike is to Ducatis and Kawasakis of this world, just as Tesla Roadster is to Bugatti's Chiron.
This means that all-electronic power is used at its best, with unrelenting speed and torque in a package that always delivers huge benefits, efficiency, and economic and environmental efficiency.
Perhaps the first to define the electric revolution.
1. Kawasaki Ninja H2R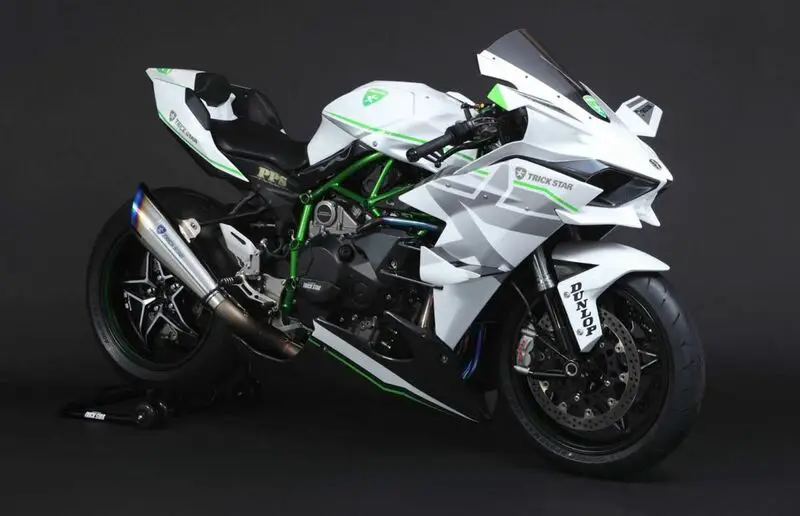 Street legal H2:
Kawasaki Ninja H2R is the fastest bike in the world in 2023, holding the speed record of reaching the speed of 400kmph (250mph) in record-breaking 26 seconds.
The combined lightweight and powerful engine of the track-only variant Kawasaki is the pinnacle of the engineering marvel that the world hasn't seen before.
Because of the overwhelming power, this liter-class model was a purely track-only motorcycle, not legal on public roads, and is the only bike to get supercharging technology on track. 
Thankfully, there is a street-legal variant, Kawasaki Ninja H2, and a highly rigid, lightweight CFRP trim, Ninja H2 Carbon.
Considering legality, Kawasaki Ninja H2 is the fastest street-legal motorcycle you could own.
But even so, Ninja H2R is 50 percent powerful and has a 5mm shorter wheelbase than the regular street-legal H2, which produces 197BHP of power. 
It looks like an astonishing piece of a motorcycle museum; H2R's devilish engine produces over 310 horsepower.
However, there is an honorable mention, You guessed it right, MTT Turbine Superbike Y2K. 
We did not include it as the world's no. 1 bike because of street legality, usage issues, and factual grounds.
This motorcycle is equipped with a helicopter jet turboshaft engine capable of producing astonishing 420HP power with a top speed of 250 mph. 
It can outperform any of the above top 10 bikes in world.
It can work with any thick fuel like kerosene, diesel & all biofuels as it is a turbine jet engine.
But you might question,
How fast can a motorcycle go?
Considering the fastest land-speed record ever achieved by a two-wheeler, the world record goes to The TOP 1 Ack Attack.
A specially built land-speed streamliner motorcycle was recorded as the fastest motorcycle in March 2013, which officially recorded a top speed of 634.217 kph (394.084 mph).
I hope you loved this post,
Please share this article with your friends on social media by clicking the share button below.