Sports motorcycles have something enigmatic, like acceleration, laser-like precise handling, minimalistic momentum, agility, etc.
Since the beginning, motorcycle brands have competed in the consumer market and on professional racing tracks.
Regardless of aesthetics, marketing, and brand equity, superbike engineering's true potential can only be displayed on tracks.
Thanks to the premier class of motorcycle racing events like MotoGP, WorldSBK, and road racing events like the Isle of Man TT for showing us what these modern engineering marvels can do if throttled up freely.
But speed comes at a price; these motorcycles are also some of the costliest and potentially dangerous vehicles you can buy.
If you are a biker by heart and afford them or want to know more, here is the list of the top 10 fastest bikes in the world 2022:
10. Aprilia RSV4 RR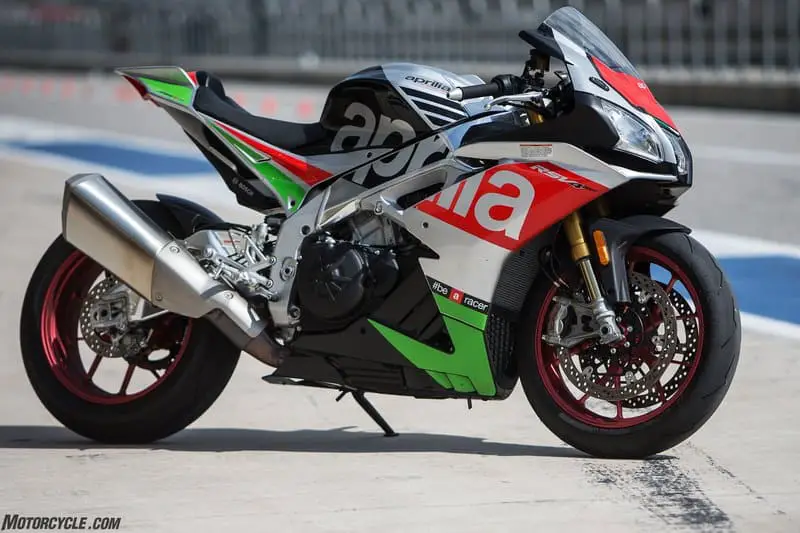 As soon as Aprilia launched this superbike in 2016, the RSV4 instantly entered the limelight.
The RSV4 RF is a limited edition track-oriented superbike variant featuring Öhlins fork, Performance Ride Control, Wheelie Control, Launch Control, Quick Shift, etc.
999cc, liquid-cooled V4 engine combines 198bhp and 115Nm of torque with a 6-speed gearbox that powers Aprilla RSV4.
There are two variants, a limited edition of the Aprilia RSV4 RF and a more hard-core RSV4 RR variant featuring Öhlins fork.
Indeed, the RSV4 RR is a ride-ready motorcycle, but RF is one step ahead.
9. Ducati Panigale V4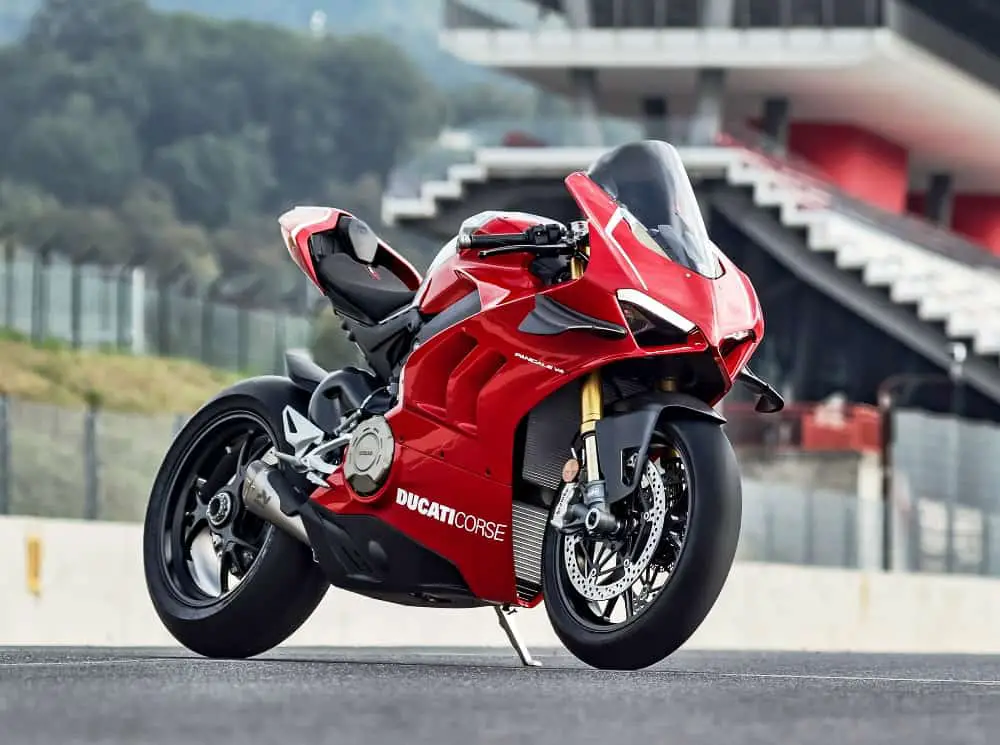 Ducati launched its current flagship, 1103cc Panigale V4, in 2018, as the V-twin engined Panigale 1299's successor.
Ducati Corse engineers cut down the feedback/data numbers of world top speed bike clients and the world championship SuperBike events for their best sports bikes.
Their analysis has brought changes like more aerodynamic chassis, electronic control, and Ride wire mapping.
These modifications aimed to improve stability and turn-in speed to facilitate riders to close corners and make it easier to control the throttle more confidently.
Ducati specifically improved the design aspects of cowlings, fairings, and other bits with fluid-dynamic engineers and then in the wind tunnels.
Panigale V4 is available in various trim levels: base V4, V4 S, V4 S Corse, V4 Speciale, and 998 cc variants: V4 R, Superleggera V4 2020.
8. Yamaha YZF-R1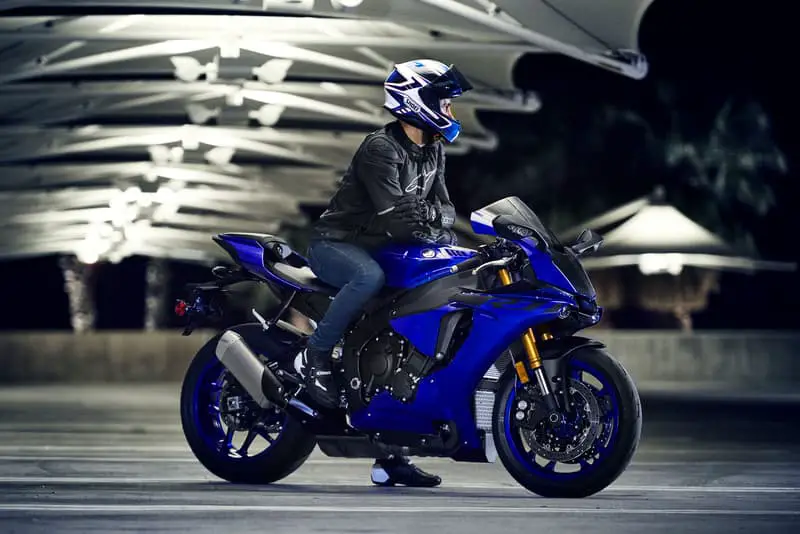 R1 is the company's flagship motorcycle, giving riders the chance to explore the MotoGP DNA with a street-legal bike.
It generates a 197.2 BHP peak power and a torque of 112.4 Nm.
The R1 is supported by an aluminum chassis with a diamond structure and a four-inline 998cc petrol engine.
The YFZ R1 receives forward telescopic forks and a backward double swing leg, ensuring controlled stability.
7. Honda CBR1000RR Fireblade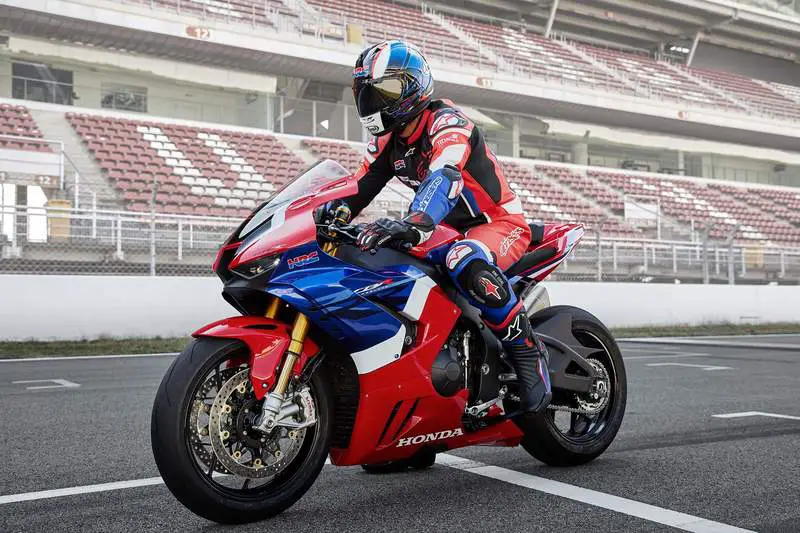 The CBR1000RR Fireblade is Honda's flagship sports bike for the masses, bringing racetrack technology to the road.
Since the 2019 version, the fastest honda motorcycle has now improved in power and innovation.
It receives a range of most advanced racing elements like Wheelie Control, Rear Lift Control, Powerful Engine, Braking, Riding Mode Select System, Power Selection, and a new ABS gyroscopic mechanism.
The new CBR1000RR weighs 195 kg using magnesium and other lightweight materials, about 15 kg lighter than the previous one.
Honda also has the CBR1000RR Fireblade SP besides the standard model with extra facilities such as semi-active Ohlins Electronic Control (SEC) steering at both sides and Brembo four-piston Monoblock radial calipers with high-performance brake pads.
It's been a long time since Fireblade has retained its position in MotoGP & market with the new 1000RR as one of the finest and best bikes in the world.
Honda will update the CBR1000RR with a new name, CBR1000RR-R, for 2020, with redesigned upgraded bodywork and a new engine based on RC213V MotoGP technology.
6. MV Agusta F4 RC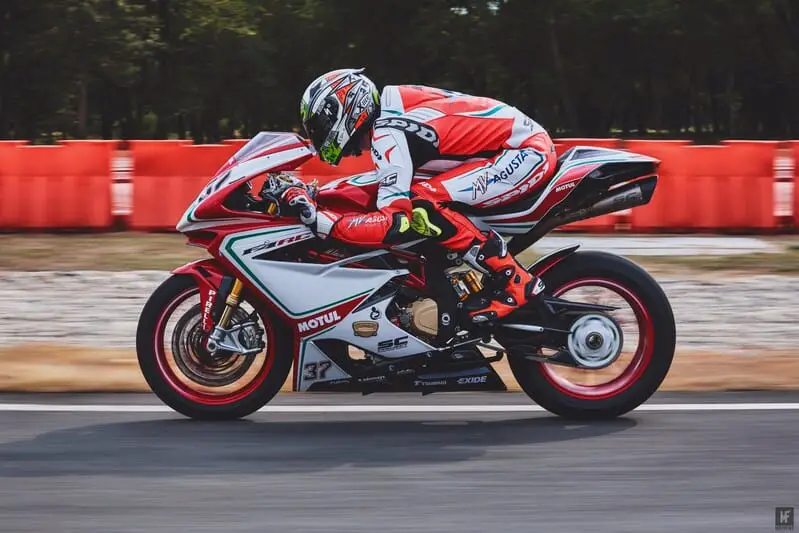 Your aim is unique; if 'iconic' isn't good enough for you, we can't get more specific than the MV Agusta F4 RC.
The street-legal version's four-cylinder engine produces 205bhp power (more than the standard F4 RR, which has 195 BHP).
Its body frame race kit also reduces the bike's weight to 175 kg, meaning that its maximum velocity is a race standard specified of 302kph.
The F4 RC is the motorcycle you want to buy if you want something powerful with an exotic Italian touch and lightness.
There is always an element of sleekness, both in Italian supercars and the fastest street bikes.
5. BMW S1000RR
Unlike Japanese big automotive brands, BMW Motorrad receives its racing DNA technology directly from its parent corporation, BMW.
BMW S1000RR's top speed is 303 kph (188.2 mph), making it the fastest BMW bike.
So far, BMW has had an eye for advanced aerodynamics for this version's new feel.
The solution was a new 2019 S 1000 RR, an entirely restructured motorcycle from its previous editions.
THE 2019 BMW S1000RR's most prominent element includes twin LED projector headlamps with LED DRLs, which substitute for the unique asymmetric headlamps its predecessors used to have.
This engine is a newly developed, four-cylinder piston inline 999cc engine. The engine produces a 13,500rpm 204 HP and 113Nm of torque at 11,000rpm.
Thanks to smaller engine parts and exhaust systems, the new version weighs around 197kg (11 kg lighter).
4. Suzuki Hayabusa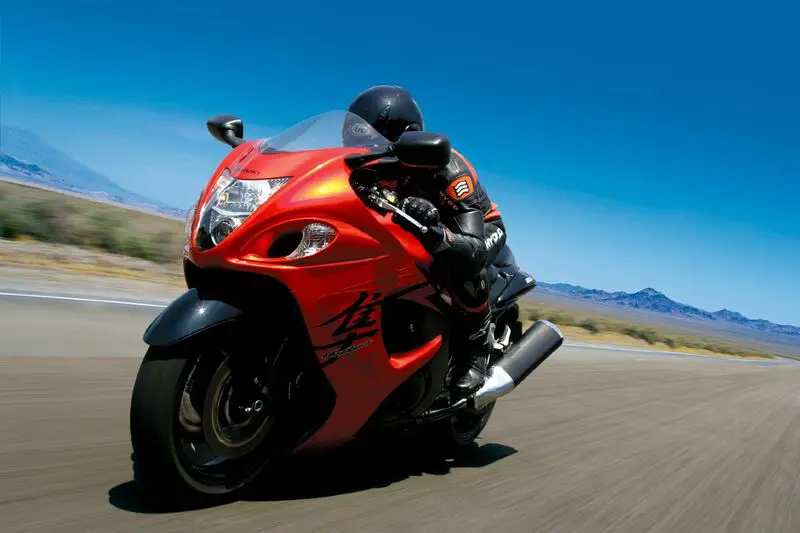 Suzuki's flagship, the big daddy Hayabusa, is probably the most popular bike globally.
Hayabusa also has been the fastest production motorcycle for a long time before Suzuki's rival launched our top three speed bikes.
Nowadays, people often confuse it with the previously held speed record, but now, Hayabusa is not the fastest production motorcycle 2022 anymore.
Hayabusa's twin headlamps are stacked vertically, and that's how you instantly recognize the boss of superbikes on the streets.
The motorcycle has new ABS and front brake calipers from Brembo Monobloc. 
There are four analog meters on the front, which include a speedometer, a fuel gauge integrated with water temperature with an S-DMS mode indicator on the drive gear, and an adjustable tachometer.
Powering the beast is a liquid-cooled DOHC 1300cc four-cylinder engine with 197 horsepower.
Hayabusa has a suspension upfront of the damped forks of the inverted telescopic coil spring oil and rear damped absorbers of the coil spring oil.
Unfortunately, Suzuki is planning to discontinue the production of the legendary motorcycle for some emission norm restrictions.
3. Kawasaki Ninja ZX-14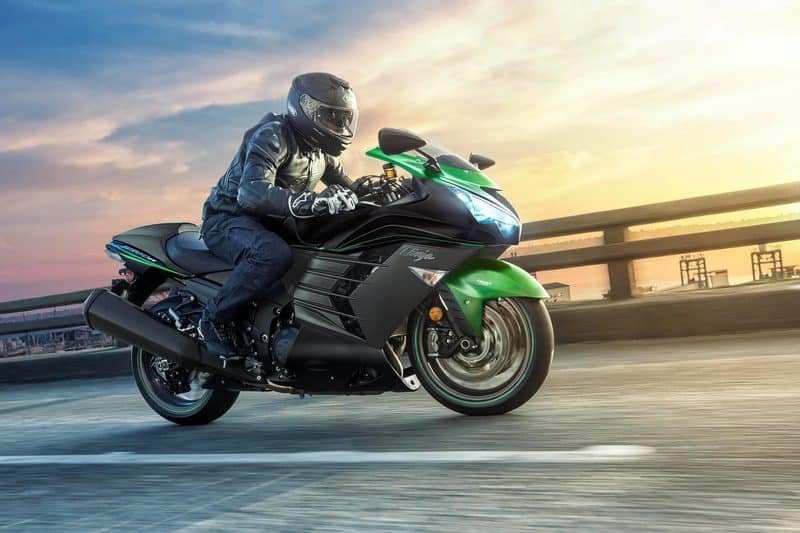 Kawasaki Ninja ZX-14R is the third-highest speed bike in the world, reaching the top speed of 208.1 mph.
In just 2.7 seconds, this super vehicle could travel from 0 to 100 kph.
Ninja ZX-14R uses a liquid-cooled engine of 1441cc with four valves & can produce 197.3 BHP@10,000 RPM peak power.
The Ninja series was consistently among the best street bikes for modern technologies and research for a long time.
Kawasaki intended to compete with Hayabusa and launch the most powerful sportbike (it eventually succeeded)
.
2. Lightning LS-218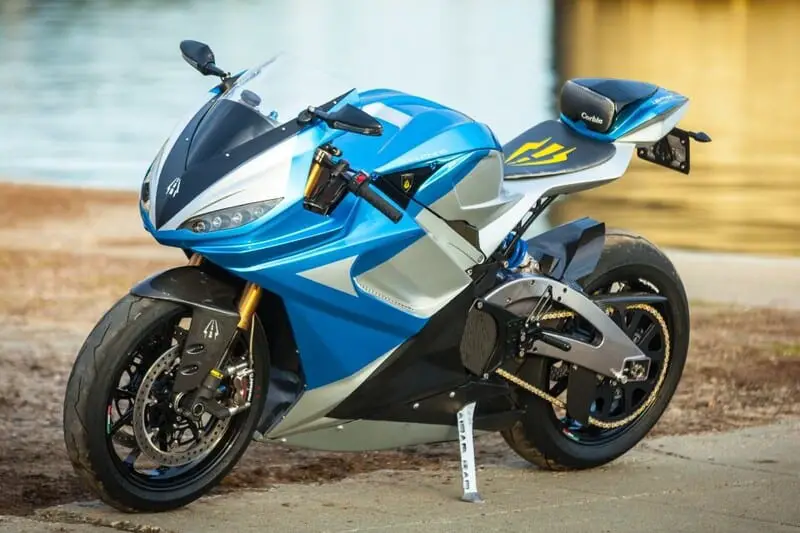 The Silicon Valley brand Lightning Motorcycles has launched a fully functioning motorcycle focusing on electric superbikes.
Brand's flagship, Lightning LS-218, has been in production since 2014 and is engineered, designed, and produced in the US.
Since 2014, Lightning LS-218 has been the fastest electric motorcycle, with a top speed of 218mph.
The electric motor is a liquid-cooled IPM unit (Interior Permanent Magnet) with a capacity of 150kW, a torque of 228Nm, and 203PS power.
That's hyperbike territory!
This Superbike is to Ducatis and Kawasakis of this world, just as Tesla Roadster is to Bugatti's Chiron.
This means that all-electronic power is used at its best, with unrelenting speed and torque in a package that always delivers huge benefits, efficiency, and economic and environmental efficiency.
Perhaps the first to define the electric revolution.
1. Kawasaki Ninja H2R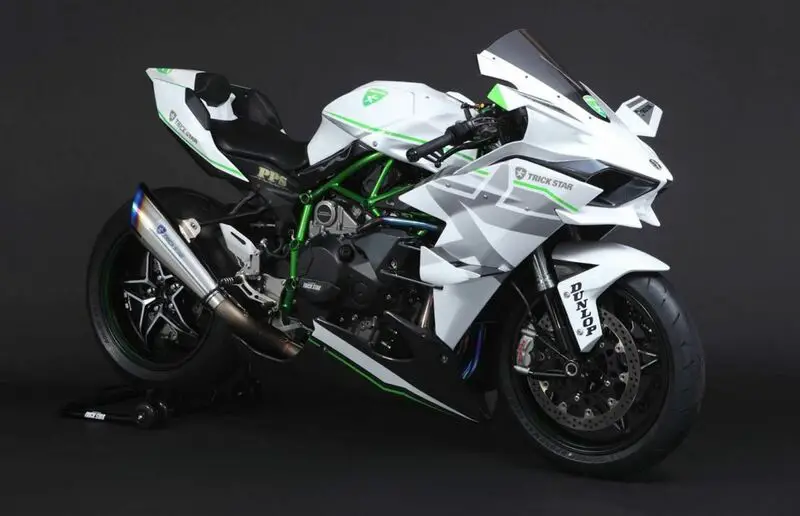 Street legal H2:
Kawasaki Ninja H2R is the fastest bike in the world in 2022, holding the speed record of reaching the speed of 400kmph (250mph) in record-breaking 26 seconds.
The combined lightweight and powerful engine of the track-only variant Kawasaki is the pinnacle of the engineering marvel that the world hasn't seen before.
Because of the overwhelming power, this liter-class model was a purely track-only motorcycle, not legal on public roads, and is the only bike to get supercharging technology on track. 
Thankfully, there is a street-legal variant, Kawasaki Ninja H2, and a highly rigid, lightweight CFRP trim, Ninja H2 Carbon.
Considering legality, Kawasaki Ninja H2 is the fastest street-legal motorcycle you could own.
But even so, Ninja H2R is 50 percent powerful and has a 5mm shorter wheelbase than the regular street-legal H2, which produces 197BHP of power. 
It looks like an astonishing piece of a motorcycle museum; H2R's devilish engine produces over 310 horsepower.
However, there is an honorable mention, You guessed it right, MTT Turbine Superbike Y2K. 
We did not include it as the world's no. 1 bike because of street legality, usage issues, and factual grounds.
This motorcycle is equipped with a helicopter jet turboshaft engine capable of producing astonishing 420HP power with a top speed of 250 mph. 
It can outperform any of the above top 10 bikes in world.
It can work with any thick fuel like kerosene, diesel & all biofuels as it is a turbine jet engine.
But you might question,
How fast can a motorcycle go?
Considering the fastest land-speed record ever achieved by a two-wheeler, the world record goes to The TOP 1 Ack Attack.
A specially built land-speed streamliner motorcycle was recorded as the fastest motorcycle in March 2013, which officially recorded a top speed of 634.217 kph (394.084 mph).
I hope you loved this post,
Please share this article with your friends on social media by clicking the share button below.