As a method of representation, people buy high-end watches to show how they managed to make in the world. 
It depicts the rich or those who inherit Rolex, Hublot Big Bang, Audemars Piguet, and other luxury watch brands, as this is a symbol of wealth and power.
The key factors determining the value of a luxury complex watch are:
Technology
Craftsmanship
Materials used
Brand
Several variables function together to assess a watch's ultimate value. 
The accuracy, craftiness, workmanship, and expertise of lavish makers differentiate them from other watches! 
For example, Rolex watches are all mounted with a handle, and the company has its own foundry, which manufactures gold in its watches.
Here is the list for the top 10 most expensive watches in the world ever sold:
10. Vacheron Constantin 57260 – $8 million

The Vacheron Constantin Reference 57260 is a single mechanical highly complicated pocket watch with 57 distinctly available complications, including a perpetual calendar and a double-second retrograde chronograph.
It has 2,800 components and the buttons are inside a white gold case.
It is made by an independent craftsman with traditional methods including bevelling, circular graining, design of "Côtes de Genève," and much more.
This beautiful series shows the innovative Reference 57260 by Vacheron Constantin, a masterpiece and the most complex watch ever built.
For over 260 years, Vacheron Constantin, the world's oldest watchmaker, is recognized for its watchmaking excellence.
Some of the brand's most expensive wristwatches include Vacheron Constantin tour de i'lle.
9. Patek Philippe Ref. 1518 – $11.1 million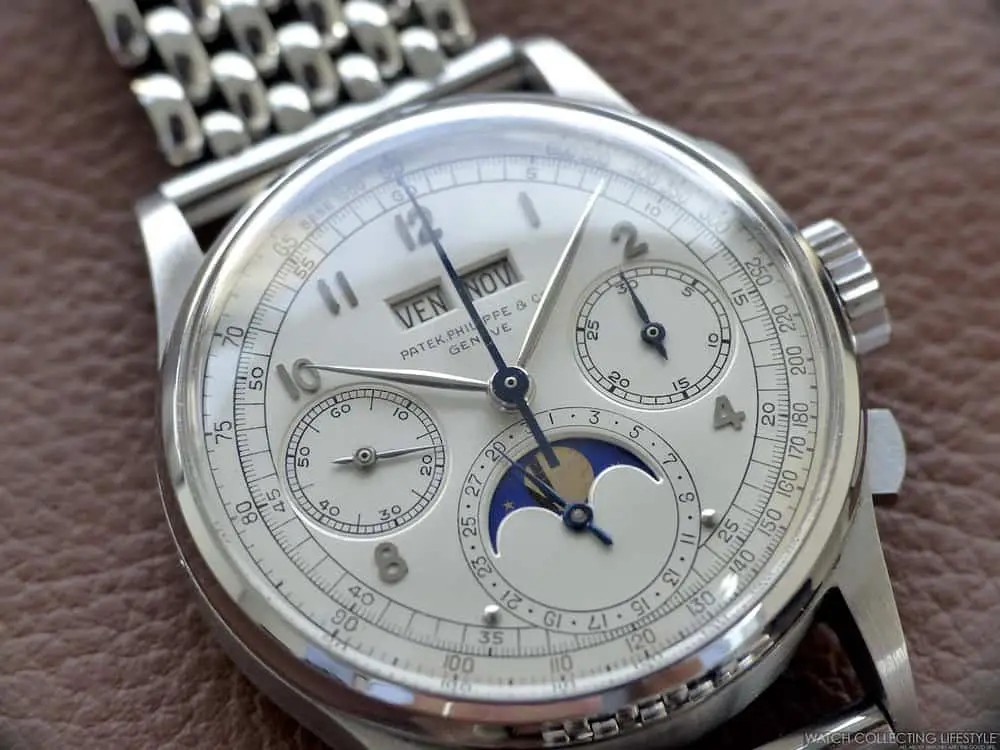 Patek Philippe ref 1518 was introduced in 1941 that represented the luxurious brand's beginning of an era.
The Swiss luxury watch brand and clock company Patek Philippe SA was founded in 1839 and are one of the most expensive watch brands.
Christie's will sell in the context of its Significant Uhren Auction Dubai, an 18-carat white gold watch owned once by the ruling king of Egypt and Sudan, King Farouk.
The first is a limited edition 4-piece collection by Patek Phillipe and was crafted in 1518 with high-quality stainless steel.
1518 is the only perpetual Patek calendar split-second chronograph made of steel that costs around $11 million in Auction.
It differs from most of the other Pateks luxury watches made of rose or yellow colored gold.
Patek Philippe Grandmaster Chime Ref. 6300A-010 is the most expensive watch in the world ever auctioned for $31 million at a charity auction in Geneva.
Who has most expensive watch in the world?
It was bought by a private telephone bidder following a five-minute auction at the Four Seasons Hotel des Bergues.
The reference 6300A-010 by Patek Philippe Grandmaster Chime is the only of its kind stainless steel watch.
It has 20 complications, including a grande and petite sonnerie, a minute repeater, an instantaneous perpetual calendar with a four-digit year display, a second-time zone, and 24-hour and minute subdial.
It wasn't included in the list because that's the only watch Patek Philippe made exclusively for auction for Duchenne muscular dystrophy research.
8. Paul Newman Rolex Daytona – $17.6 Million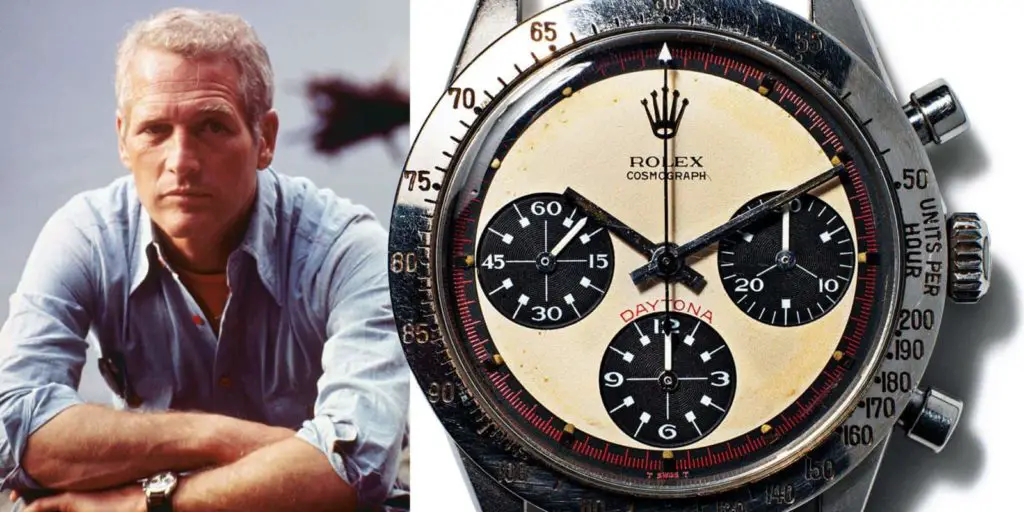 Once the world's biggest movie star, Paul Newman's 1968 Rolex Daytona was sold for $15.5 million in an auction in the Phillips auction house in New York.
It was a historical moment as the most expensive Rolex watch ever sold.
Opening offer for Paul Newman's Daytona started on $1 million and the price skyrocketed immediately.
The bid was set at $10 million by the first buyer, surprising Phillips' entire auction space.
The amount of the final price was $17,752,500 (including the buyer's premium of 12.5%) was lifted.
Only two bidders competed to settle the price for the watch to 17.8 million dollars.
Although this Rolex Daytona is fairly well maintained, it is not varied form or made up of valuable materials.
However, the story is what enthusiasts need the most.
Paul's wife and Hollywood actress Joanne Woodward offered it to Paul Newman during the shoot of the movie "Winning."
Another similar watch, Eric Clapton's Rare Rolex Cosmograph Daytona 6263 Oyster Albino was sold for more than $1.4 million (including buyer's premium).
7. Jacob & Co. Billionaire Watch – $18 million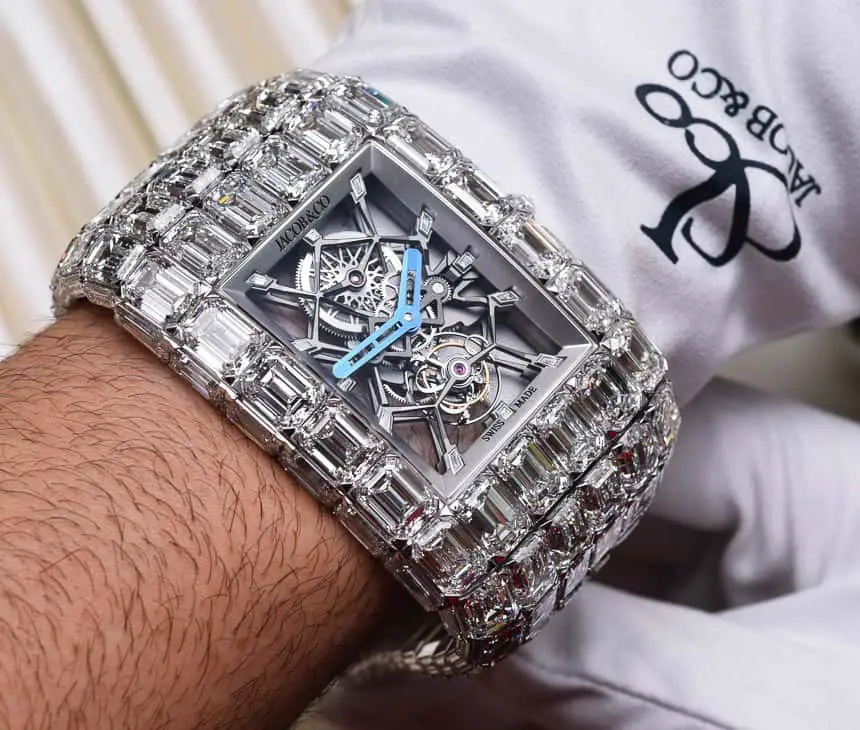 The Billionaire watch, which comprises 260-carat emerald-cut diamonds, is certainly up to its name. 
Billionaire's timepiece, first unveiled to the world in 2015 in Basel world, is a one-of-a-kind, world-class watch by Jacob Arabo with affiliation to Flavio Briatore's Billionaire Lifestyle SARL company. 
The bold cut enhances the sparkle of the diamonds that are set in an inverse pyramid-style. 
Bracelet of the watch contains a diamond set of stones that weigh up to three carats each, on the whole, 18-carat white gold case.
The rectangular case of the Billionaire Watch is skeleton-packed and is supported by an escapement of tourbillons.
These tourbillons are constantly in motion concerning the wrist. 
When the watch is in various positions on the wrist, the tourbillon compensates for time management errors related to gravitational effects. 
The JCAM09 is made up of 167 components and has a power reserve of 72 hours.
Popular American boxer Floyd Mayweather owns one of this watch.
6. Patek Philippe Supercomplication – $24 million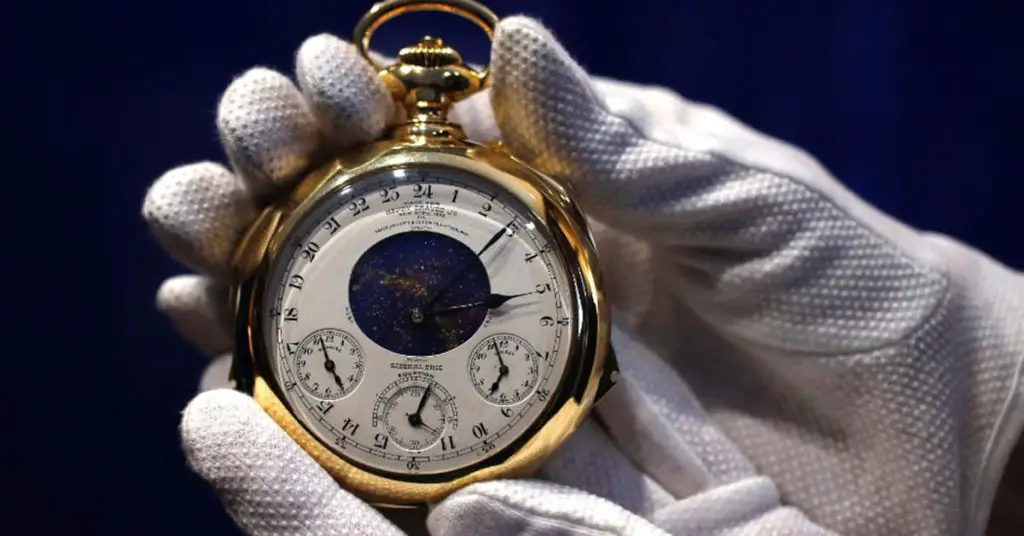 Another most expensive watch ever by Patek Phillipe is Patek Philippe Henry Graves' Supercomplication.
It was named after banker Henry Graves Jr. who commissioned it out of his desire to outdo the Grande Complication pocket watch of American automaker James Ward Packard.
This complex timepiece is worth $25 million and contains 24 complications, including a perpetual calendar, a minute repeater, sunrise and sunset times, and a celestial charts based on the sky of the night in Graves's home in New York City.
5. Chopard 201-Carat Watch – $25 million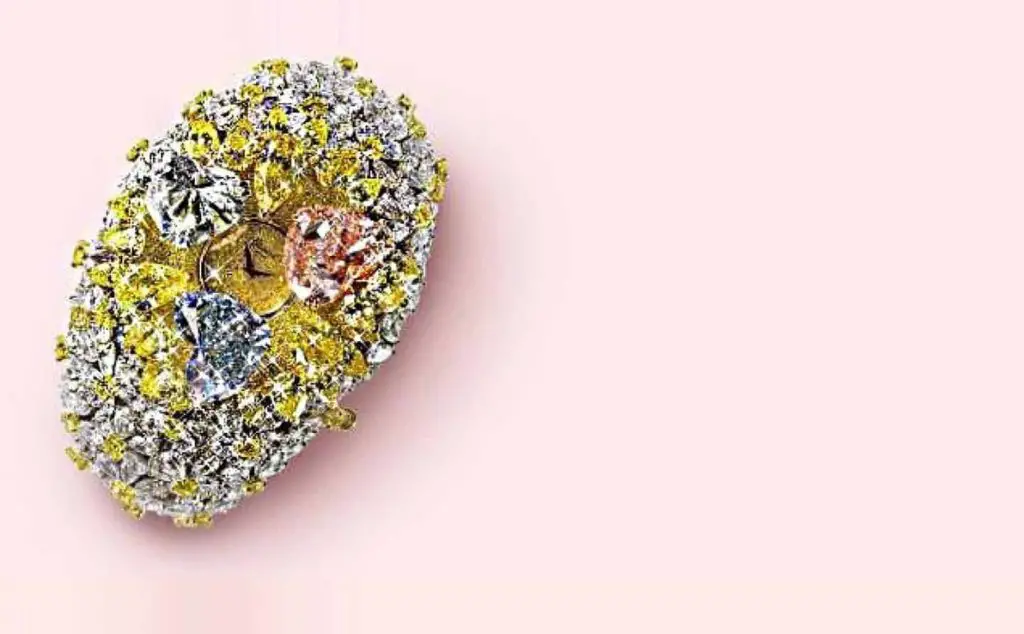 We can not talk about what crazy spectral imagination designers had while making this special, reflective watch, as it looks more like the sun.
Amazingly decorated in natural-colored diamonds, the second most expensive wrist watch for women ever created.
Naturally, we would expect its worth nothing less than $25 million.
All this razzle-dazzle, however, also includes a considerable amount of weight.
Using this watch requires a strong wrist and a big bank account.
Chopard 201carat watch is composed of a pink diamond of 15 carats, a blue diamond of 12 carats and an eleven-carate diamond, and an additional 163-carat white and yellow diamonds.
4. Jaeger-LeCoultre Joaillerie 101 Manchette – $26 million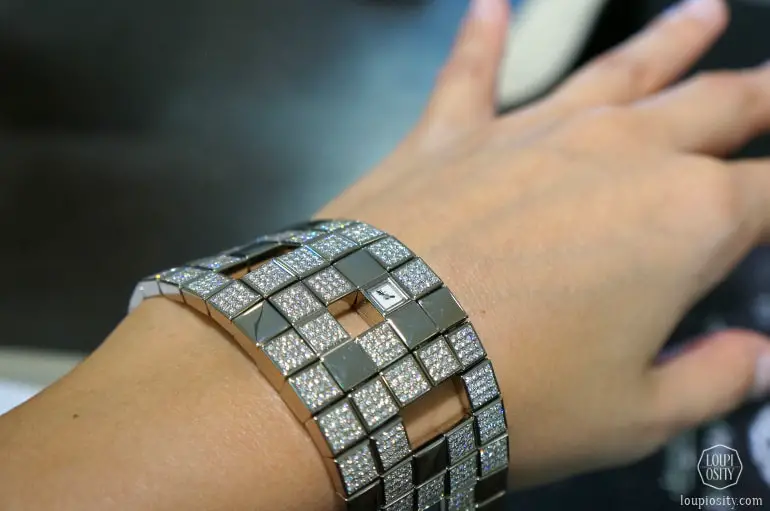 Jaeger LeCoultre, renowned for its luxury watches, has maintained its reputation as an outstanding brand of making elegant and classy watches.
The 101 Manchette watch Jaeger-LeCoultre offers a random number of polished or diamond-set links that cover the miniature 101 movements.
Jaeger LeCoultre gave this beautiful and fascinating watch to Queen Elizabeth II on her 60th birthday.
This clock has 576 diamonds and a grey dial of sapphire. The watch looks like a bracelet and has black leaves.
It uses manually-wound Jaeger-LeCoultre Calibre 101 mechanics. No estimate is included, but evaluators rate it for over 26 million dollars.
3. Breguet No. 160 – $30 million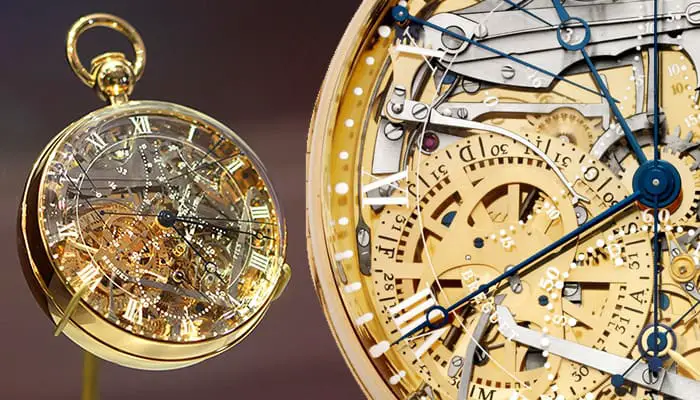 Often referred to as "a clockwork's poem" or Breguet Grande Complication Marie Antoinette.
French future Queen Marie Antoinette's lover allegedly commissioned the original first version of this watch before she married Louis XVI of France.
Abraham-Louis Breguet began to work on the watch in 1782, and before its completion in 1827 by Breguet's son, revolutionaries executed Marie Antoinette.
Every recognized complication, including a thermometer, chime, and a perpetual calendar, were included in the watch.
The clock was on display until 1983 as thieves stole it from L.A. Mayer Museum in Jerusalem.
The watch was finally recovered and is now on display at the Mayer Museum.
2. Graff Diamonds The Fascination – $40 million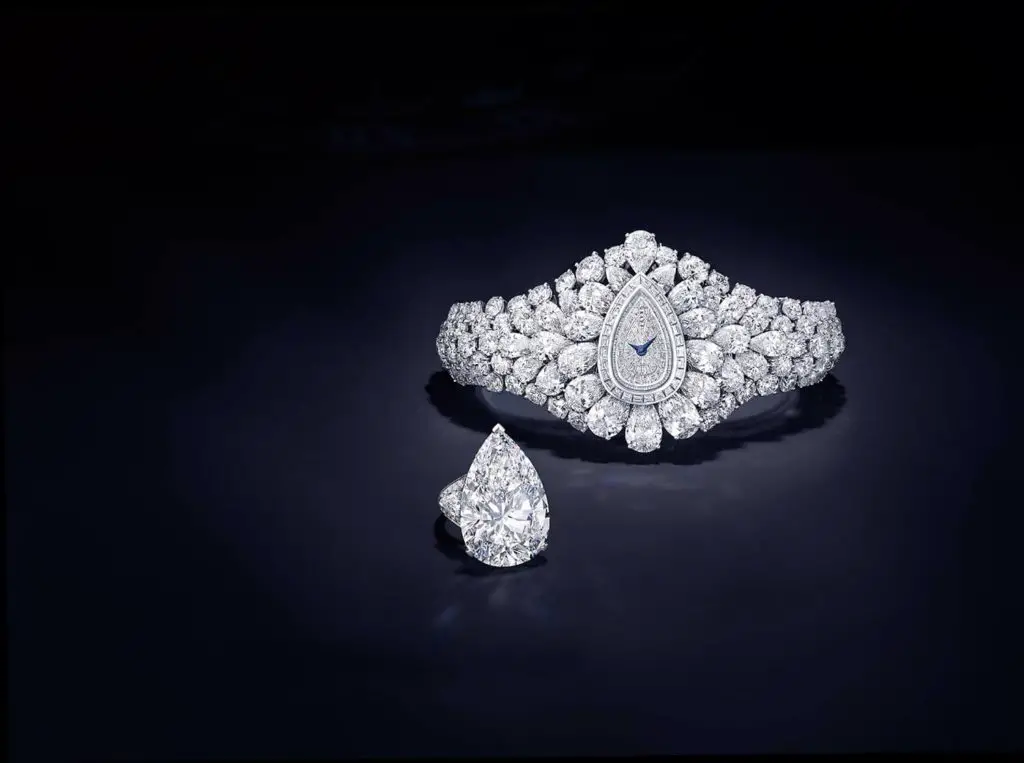 This is a special watch that transforms into a ring with a removable component.
Graff Diamonds The Fascination, this watch consists of 152.96 carats of white diamonds with an exquisitely unique center cut gem, which is a perfect pear-shaped diamond of 38.13 carats.
It is crafted and polished by world-renowned luxury jewelry and most expensive watch brand Graff in their workshops.
This pear-shaped masterpiece can be worn as a watch dial or detached and worn as a ring in a finely artistic diamond bracelet.
Makers meant the newest item to demonstrate the close relationship between the brands London-based diamond house and its Swiss watch-making atelier, according to Laurence Graff, founder, and chairman of Graff Diamonds.
1. Graff Diamonds Hallucination – $55 million
Graff has produced one of the most expensive series of hallucination watches worldwide since they launched it only a few years ago.
This high-end watch has an astounding 55 million US dollar price tag!
The Hallucination comprises of multicolored and unique 110 carats of embedded diamonds.
Each one is meticulously shaped by the craftsmen to create this vivid and spectacular masterpiece.
Upon unveiling this stunning, unique, crafted, diamond-encrusted watch, Graff Luxury House must be taken seriously.
The incredible worth comes from 110 carats of really unusual, bright diamonds set in a platinum bracelet.
Rarest colored natural diamonds include Fancy Vivid Yellow, Fancy Intense Pink, Fancy Intense Blue, Fancy Light Pink, Fancy Light Grey Blue, Fancy Intense Blue, Fancy Green, and Fancy Orange.
Several cuts are also used like the heart style, pear form, Marquet, emerald, sparkling, and round.
Graff Diamonds Hallucination is the most expensive watch in the world that costs around $55 million in 2020.
Some of the most famous and appreciated artistic innovations are luxury watches. 
Combining handicrafts, history, and design with the best, watch prices can reach millions.
Some other noteworthy luxury watches which we couldn't include are Louis Moinet Meteoris, Franck Muller Aeternitas Mega 4, Breguet Antique number 2667, and A Lange Söhne Grand Complication.
These are the most expensive watch brands, I hope you enjoyed this post & please do share it with your friends on social media.😊