Top 10 Best Vodka Brands in India
Vodka is a colorless and odorless drink made from potatoes or grains, originating in the Eastern European regions, namely Russia.
The volume of alcohol in it is around 20-50% v/v and is typically colorless.
Due to its colorless & mild flavor, the beverage is a mixologist's delight and a favorite part of a more comprehensive number of cocktails.
Many people in India, particularly youth, wish to keep their drinks a secret.
Still, usually, they have little or no choice.
Any aged alcoholic beverage (like expensive whiskey) will give your breath a strong smell when consumed.
The taste of vodka is relatively milder compared to other alcoholic beverages. A good quality Russian vodka brand will smell of mild lemon or berries.
If you are an enthusiastic alcohol lover who wants to try something other than Whisky or Rum, try any of these top 10 best vodka brands in India with a price list:
10. Grey Goose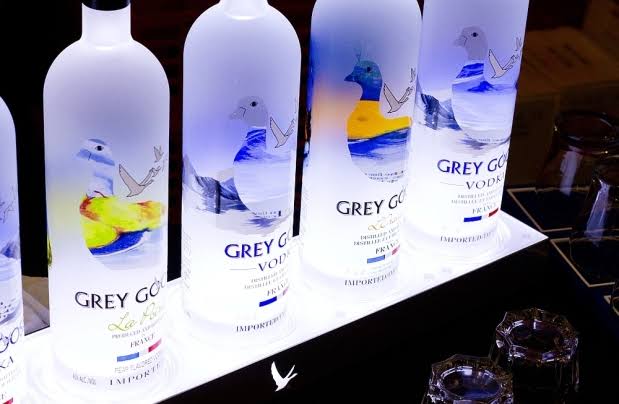 Grey Goose is one of India's leading imported premium vodka brands. It's brand from France, having its creative origins in Russia.
Founded by Sidney Frank in 1990, this is one of the few brands of vodka to be distilled with the French tradition, Maître de Chai.
The distinct taste of vodka can only be produced during the complex filtration process.
You can buy Grey Goose vodka in various flavors in India.
Try this vodka because the distillers make it of wheat from the Picardy region of France.
The distillation process also comprises transporting its distillate to the region of Champagne, where Grey Goose is finished before it's available in the market.
Sidney saw an opportunity in the spirit market for "high-end vodka" and started manufacturing Grey Goose.
9. Wodka Gorbatschow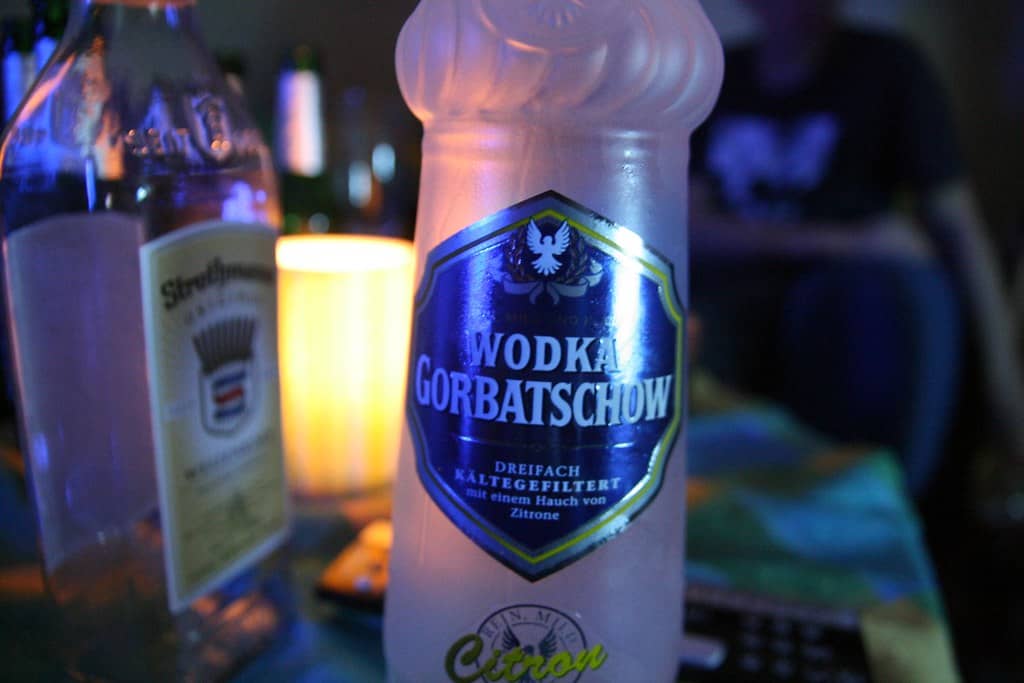 This vodka is produced and sold by Henkell & Company India Pvt Ltd from Berlin, Germany, but packaged locally in India.
In the beverage, the company sells it in 42.8% alcohol v/v. It is also one of Germany's most consumed spirits.
This brand is synonymous with quality, a high level of purity, and mildness.
This best-tasting vodka is collected by a quadruple-chill filtration process giving it a premium taste.
Wodka Gorbatschow has a pretty distinct taste, and after consumption, many connoisseurs will feel its light softness.
8. Eristoff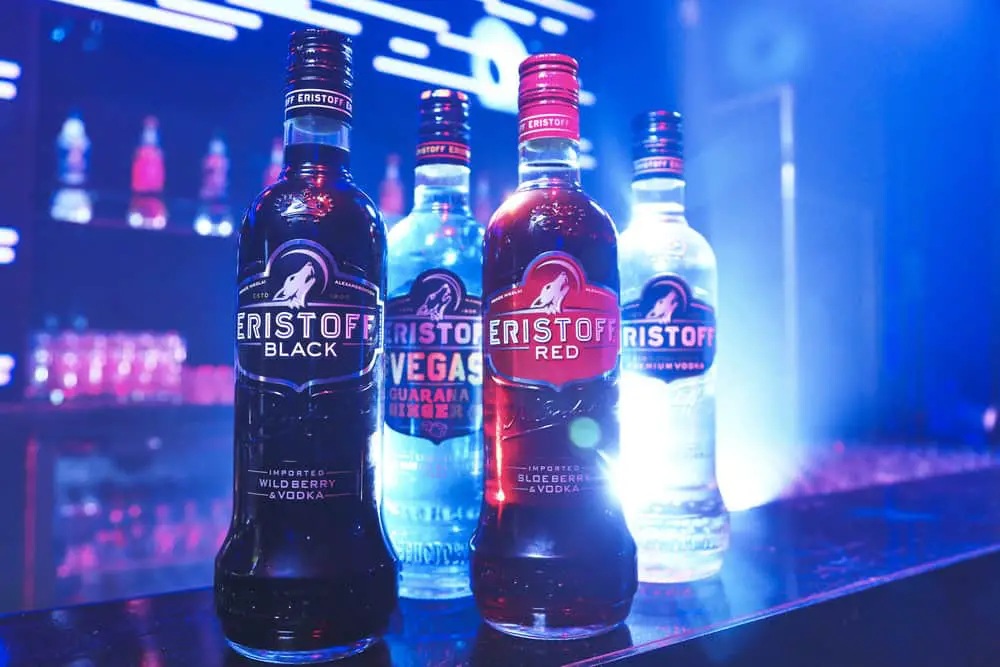 Eristoff is a Georgian Vodka brand and the first Russian vodka developed in 1806 in the Northwest Province of Racha. 
Eristoff's finest vodka is made of 100% grain spirit, triple distillation, and then filtration by charcoal, a technique first established by the Russian distillers of the 18th century.
In 2023, Bacardi India manufactures Eristoff.
Gorjestan, the Persian word for Georgia, is the Eristoff logo of a wolf howling at the crescent moon, meaning "land of the wolf."
Officers and business leaders in mature groups especially actively consume it in a very delicate, sophisticated manner.
In the Indian market, Eristoff is gaining momentum quickly as one of the top vodka brands in India and is now widely accepted by consumers.
7. Absolut Vodka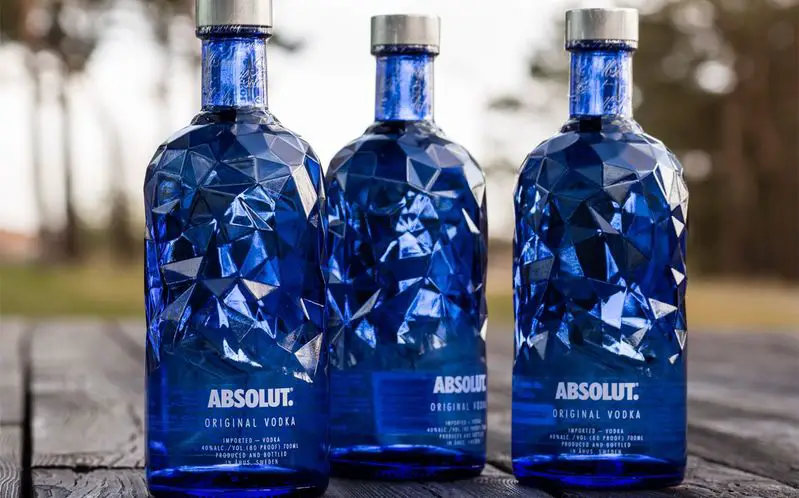 Absolut Vodka is an alcoholic brand in southern Sweden manufactured near Åhus. It is a subsidiary of the French group Pernod Ricard.
After Bacardi and Smirnoff, it's the world's third-largest vodka brand that serves 126 countries.
This fine alcoholic drink is the smoothest vodka, with 400 years of Swedish tradition behind it.
Absolut has maintained the tradition of perfect Swedish Vodka, using pure Swedish water from Ahus and wheat grown in the surrounding countryside.
Absolut Vodka makes this alcoholic drink up in 27 different variants and the most attractive bottles with excellent packaging.
The miniatures, in particular, are adorable and even better.
A gift to vodka lovers in the budget seems to have a set in 7 different Absolut flavors in miniatures is a perfect present.
6. Vladivar Vodka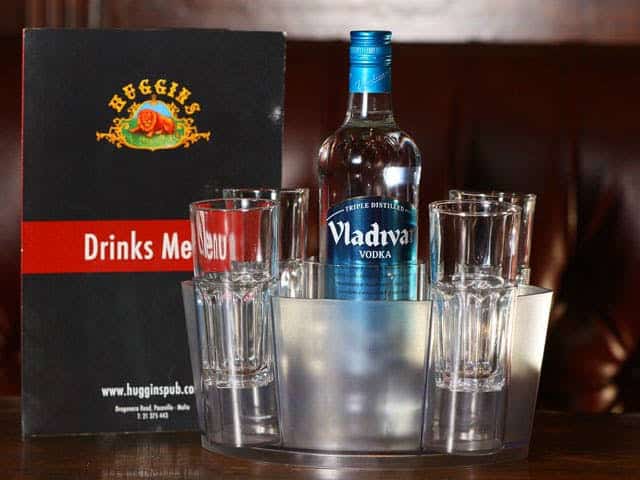 This vodka is a popular product of the United Breweries Group and a common among the masses. 
The clean taste and extraordinary smoothness of Vladavir, the number two vodka brand in the UK, is formally devised by a third-generation master distiller through the triple distillation process.
When filtered, the grain and the charcoal are 100% pure and have the highest transcendent pureness.
That is a beautiful combination of this premium vodka of Vladi, which gives it a super-smooth taste.
In India, there is only the classical version of Vladivar vodka. The brand also includes flavored Vodka drinks specially made for women in this price range.
In some of the top restaurants in India, you can enjoy Vladivar vodka.
5. Smirnoff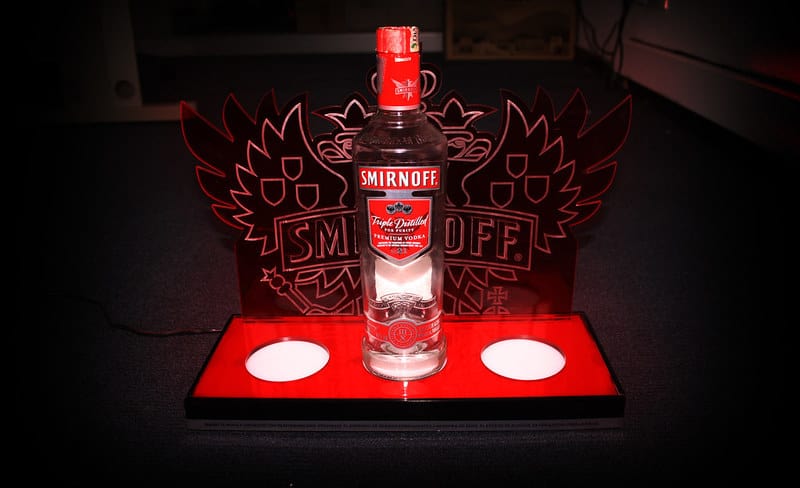 Smirnoff is a world-famous vodka brand and a rising premium vodka name in India.
Pyotr Arsenievich Smirnov launched this vodka brand in Moscow back in the mid-1800s. Shortly after its launch in India, Smirnoff captured a significant part of its liquor market.
Diageo USA claimed that Smirnoff was the world's largest vodka brand considering total alcohol sales by March 2006. 
An Indian Whiskey named Officer Choice was officially dethroned from its position in 2014.
Also, the 2012 World Spirits Awards were awarded the Gold Medal for producing the best vodka.
This vodka has a three-fold distilling process and prepares the vodka's content from the purest and most refined grains.
4. White Mischief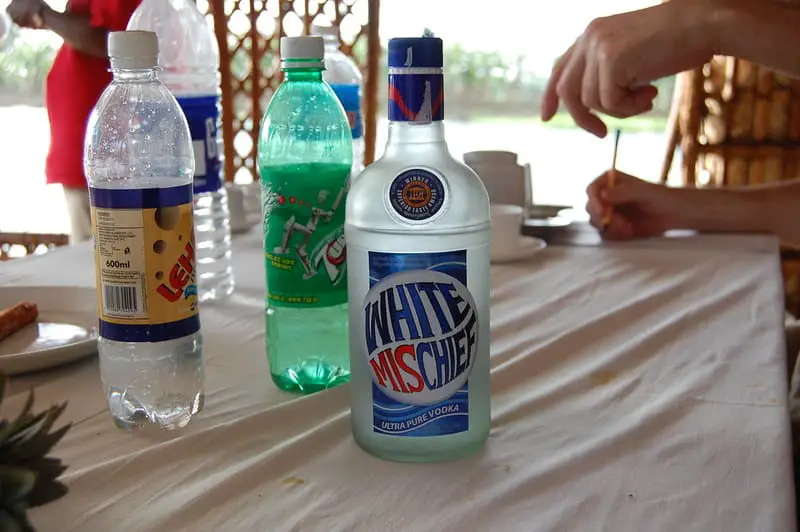 This is once again a blue-and red-packed translucent Vodka Bottle.
A good Vodka label is a famous cheap vodka brand in India. It is sufficiently good for our populous country's sales.
It is again a product of the world-renowned United Breweries group with a high-quality rating from the International Taste and Quality Institute (ITQI). 
It is made by a process in which the taste, flavors, and smoothness align with young vodka enthusiasts' flamboyance, threefold to the highest purity levels.
It comes within your budget if you don't want a very expensive vodka and want to get tipsy at a party.
White Mischief is an almost neutral, tasteless tasting vodka.
These characteristics enable White Mischief to be blended with any juice or soft drinks.
There's a unique flavor of strawberries that women prefer.
3. Fuel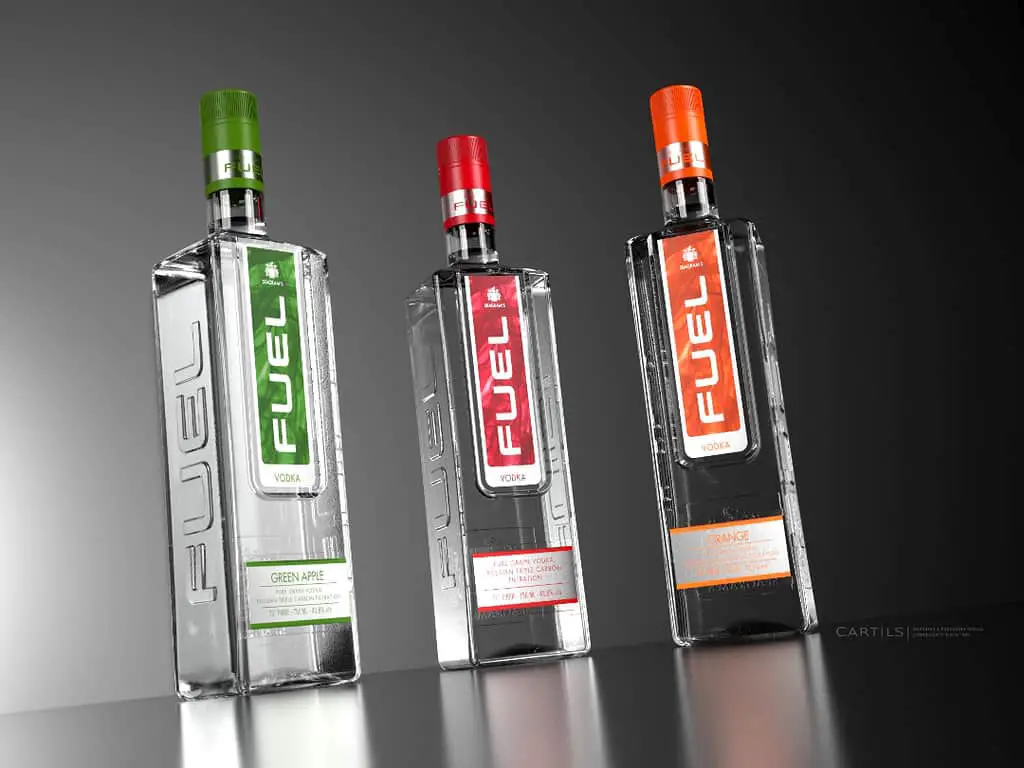 The second-largest vodka brand in India in the deluxe segment is Seagram's Fuel Vodka.
The brand is purely unique, innovative, and youthful. Brand owner, Pernod Ricard, describes it as India's second most popular brand.
Fuel is available in India in various flavors and offers value for money.
This vodka is made of the most refined grains and is filtered three times while keeping up with the traditions of Pernod Ricard.
The classic vodka version of Fuel is deprived of any flavor or taste.
Besides distilling fuel vodka in various exotic aromas, Pernod Ricard also considers the requirement of discretion for women and younger drinkers in this country.
2. Romanov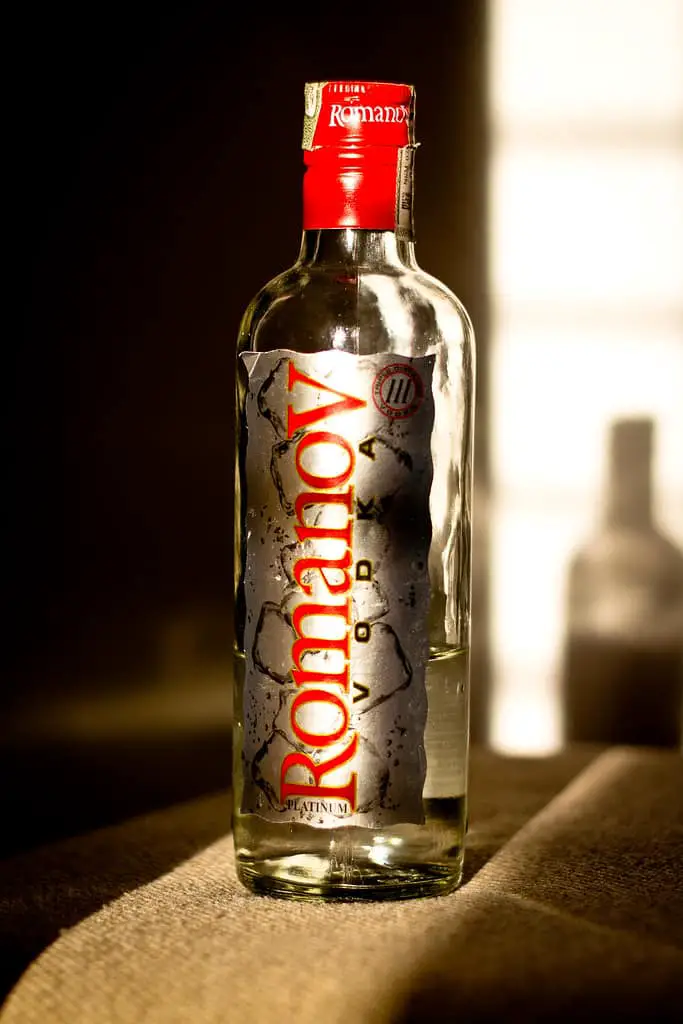 Though the name of this brand, "Romanov" sounds hardcore Russian but is owned by an Indian brand, United Breweries Ltd.
This vodka derived its name from the last Russian monarch Romanov Dynasty, overthrown by the soviets in the Russian revolution. 
Romanov and White Mischief majorly control India's domestic market, which in 2010 increased to 89%. 
In Romanov's case, it's because of two reasons: Extreme taste and Pocket-friendly.
Affordable clubs and college students consume this Vodka brand.
Cheaply priced, Romanov vodka is smooth to consume either neat, with some water, or mixed (with any cola or sprite).
1. Magic Moments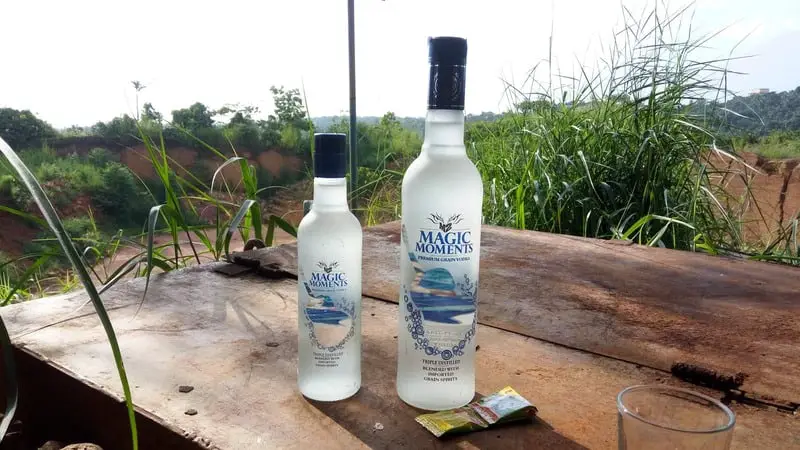 Magic Moments Vodka comes from Asia's second-largest distillery, Radico Khaitan, which also owns Contessa (one of the best Indian rums). 
Magic Moments was launched back in 2006 with Pure Blends and Smoothness; it is triple distilled, rice grain gluten-free.
Several international awards have been awarded, not only for its standard variation but also for its six flavors.
Magic Moments is distilled using the most refined Indian grains.
It is tripled filtered by a unique secret process, ensuring its crisp taste and almost no aromas.
Magic Moments say that, while drinking, their vodka has a "smooth as silk" taste.
Indeed, Magic Moments is the best vodka brand in India, with an affordable price you can buy for your next party.
Instead of mixing it with cocktails and food, we can best enjoy this Slavic drink on the rocks, enjoying its pure taste.
The fun fact is that the Vodka spirit was initially invented for medicinal purposes. This colorless and fragrant drink still has many health benefits.
Apologies for not including your favorite brand, as there are numerous types of vodka in India.
Share this post with your vodka lovers on social media.
Cheers🍸!